---
Advertisements

---
Singapore has a global reputation as a safe country, but scams, unfortunately, are still prevalent.
Just recently, a high-profile case involving rental scams totalling S$ 1.3 million came to light, prompting a five-day nationwide operation by the police. 
Another woman found herself the victim of a scam that left her with only $3 in her bank account.
What Happened?
Ms Liu, a 54-year-old, was scammed of $160 worth of welfare money in her bank account, leaving her with $3. 
On 8 March, she picked up a call from an unknown number, who claimed to be a police officer. The person on the other end accused her of being an ah long boss (a loan shark) and had already cooperated with her bank in freezing her bank account.
"The caller spoke in English with an Indian accent," Ms Liu recalled. "I didn't suspect him; I just kept defending myself."
According to her, they had argued over this for around half an hour until the caller asked her to provide her IC number, English name, and credit card information. 
He told her that the information was needed for an investigation to prove her innocence. 
Afterwards, he asked her to provide a one-time password (OTP) on the basis that her bank account was frozen. 
The next day, she found out about the scam, when she asked the bank if the welfare money she received had been deposited into her account. $160 was transferred from her account via PayLah! to another account, leaving her with only $3.42. 
Ms Liu had been unemployed for a long time because of health issues and hence relied heavily on money from welfare. 
---
Advertisements

---
The bank advised her to close the compromised account. Luckily, the $450 in welfare that the government gave afterwards was transferred to another account. 
She hopes that her experience will serve as a reminder to the public to be careful.
Scam Victims Cheated Of $661 Million in 2022
According to data released by the Singapore Police Force (SPF), scam victims in Singapore in 2022 were cheated of a total of $660.7 million in 2022.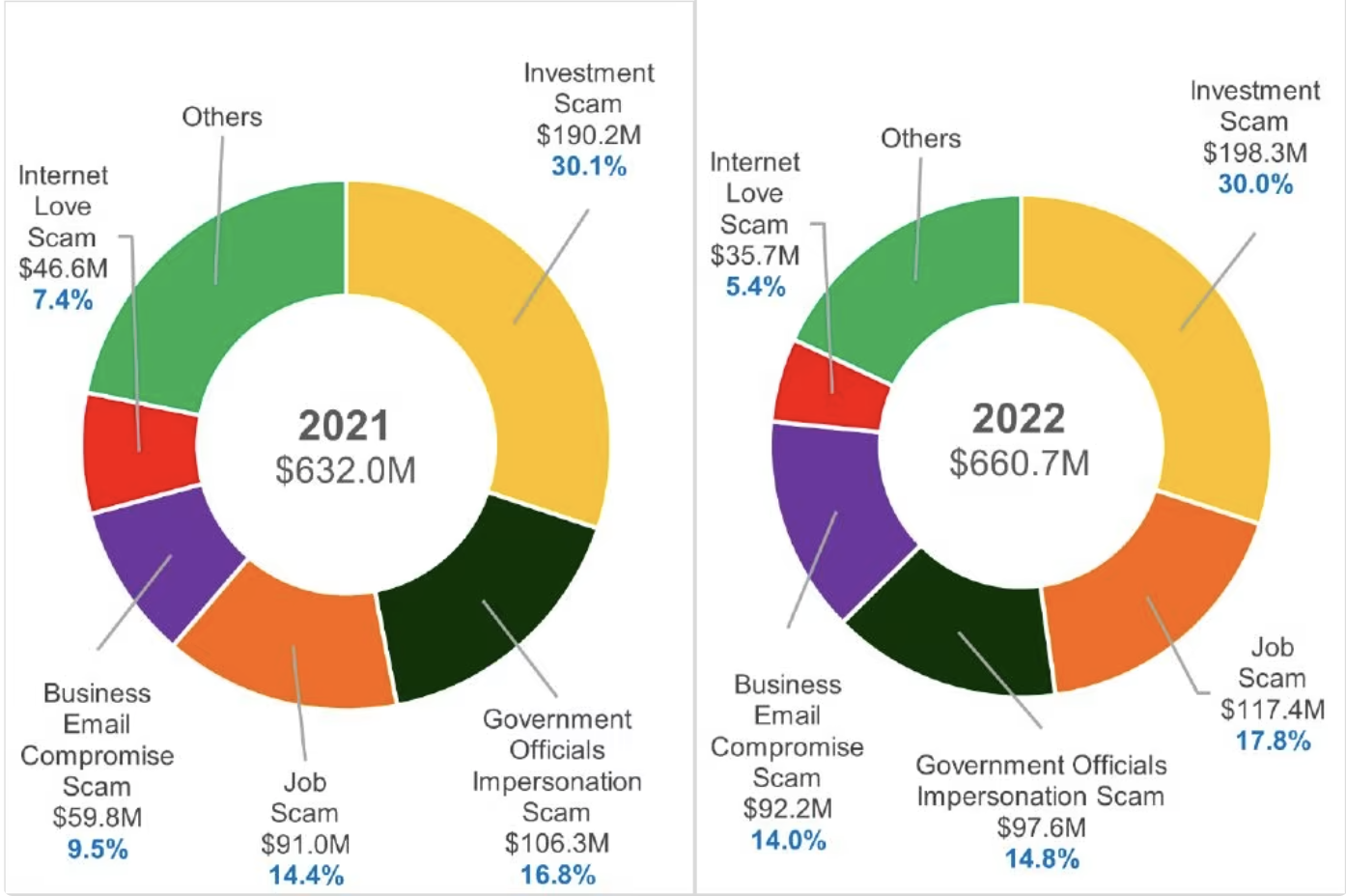 This is a 4.5% increase from 2021's $632 million.
Cybercrime scams and cases rose by more than a quarter in 2022, accounting for 94.2% of these cases. 
Phishing scams, like Ms Liu's case, were the most common scam type, and their incidence increased by 41.3% from 2021 to 2022.
The number of cases of the top five scam types also increased across the board. 
The police say that scam numbers have risen in recent years and overtaken many other physical crime types. 
Surprisingly, young adults aged 20 to 39 were most likely to be scammed, accounting for 53.5% of victims in 2022. Most of these victims were cheated in job scams.
How To Protect Yourself
Even if you're an avid fan of Crimewatch, you may find yourself overlooking some of these tips.
---
Advertisements

---
To stay safe online, look for numbers with a "+" prefix, especially if you aren't expecting overseas calls. 
Never disclose personal details or banking and credit details to anyone over the phone—government agencies will not ask for your personal details or bank transfers through phone calls or automated voice messages. Do not share your one-time passwords with anyone.
When you receive calls like in Ms Liu's case, make sure to verify the caller's identity, and hang up if it cannot be verified through official websites, apps, or by calling the company's hotline.
Use two-factor authentication to protect your accounts and turn on transaction alerts. Do not click on links in unsolicited text messages and emails.
If you've been scammed, you can call the Anti-Scam hotline at 1800-255-0000 or visit www.police.gov.sg/iwitness to report.

Here's why a 4-day workweek might finally really be possible in Singapore soon:
Read Also: