On Thursday (14 Apr), WhatsApp announced that a new feature called Communities will be launched, which will allow for group chats to be consolidated under one community, thus making room for more structured communication.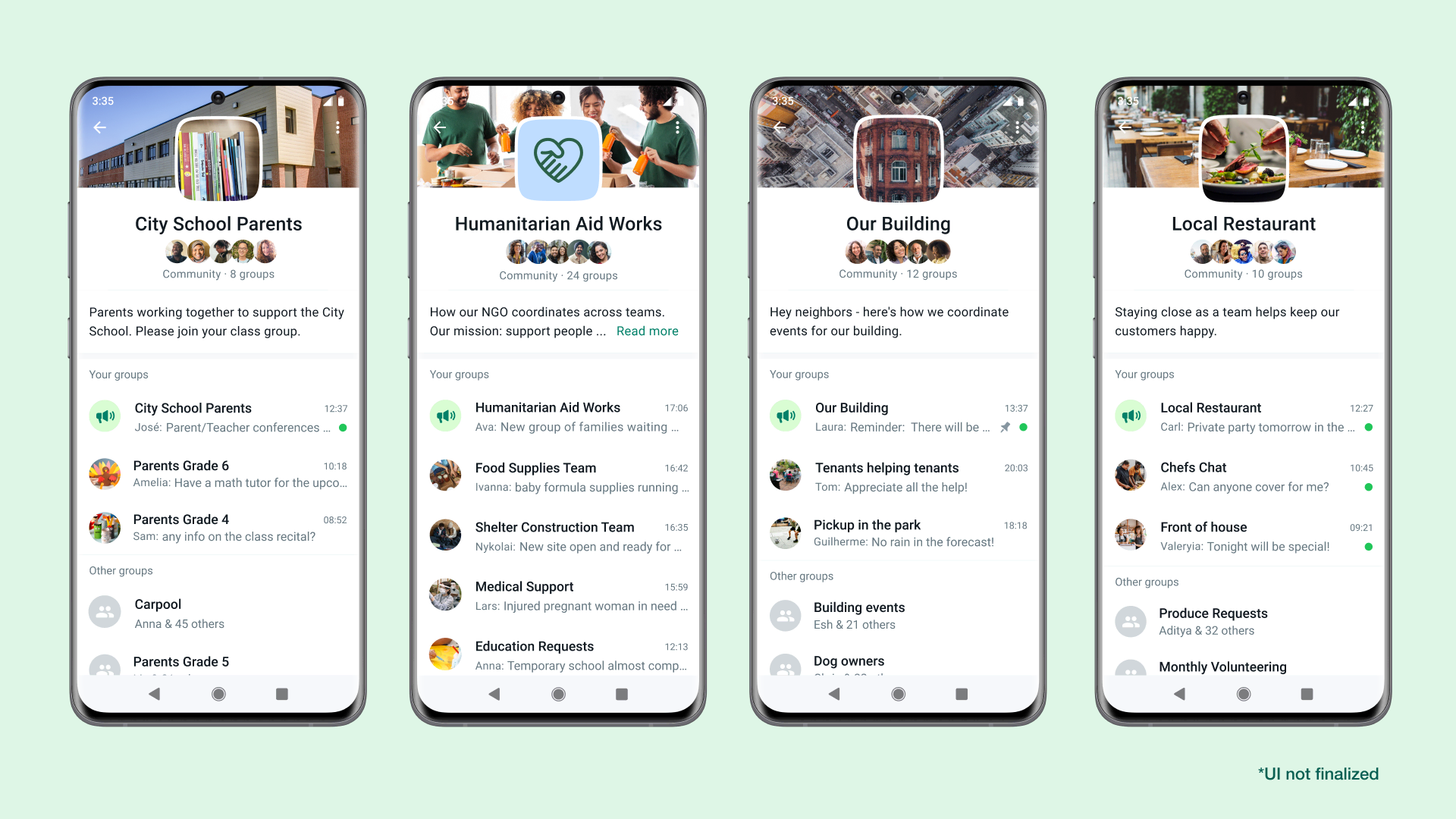 If you're tired of having one too many groups for the exact same function, or constantly find yourself annoyed that you have to forward the same message to tens of groups, well, WhatsApp finally created a solution for you.
---
Advertisements
---
How it Works
Communities on WhatsApp will enable its users to "bring together separate groups under one umbrella with a structure that works for them".
According to their blog post, this will allow people sent out updates to enter Communities—groups of people—who can in turn, have their own smaller discussions in their own respective groups.
The creation of Communities also comes with new tools for their administrators, like being able to send out announcement messages to any number of groups within the Community.
Since Communities are "inherently private", kind of like a cult, the admins are allowed to choose which group is part of the Community by providing invite links, as well as having the authority to kick out any groups.
WhatsApp assures its users that all messages will still be protected with end-to-end encryption.
If you're interested in the specific details regarding the security, privacy and safety of Communities, you can read up on it here.
Additionally, Communities cannot be searched for.
---
Advertisements
---
It's either you have an RSVP from the admins and have access to the entire Community, or you stay out of the circle.
Current Progress of the Community Feature
Since Communities is still in its infancy and the company needs to work out any bugs, they will only be rolled out to select countries for testing.
Once the beta-testing phase is over, the feature will be available globally.
Besides that, the product manager at Whatsapp, Ms Jyoti Sood, said that the company is "building support" and "working on different platforms at different times", so the Communities feature will also be implemented on the desktop and web version in the future.
Therefore, it's more than likely that the Community feature will only be accessible through mobile first.
Join our Telegram channel for more entertaining and informative articles at https://t.me/goodyfeedsg or download the Goody Feed app here: https://goodyfeed.com/app/
Other Updates to WhatsApp
Presently, any message can be forwarded to up to five chats at the time.
Never knew there was a limit, but it's good to know that it makes sending chain mail far more annoying for anyone who attempts to try.

Even with the new update, the rules of message forwarding remains the same: any message that has already been forwarded once will only be allowed to be forwarded to one group one at a time instead of five.
The whole point of this restriction is to ensure that people re-consider whether they actually need to forward the same message to so many groups, which thank the lords, because no one likes spam messages.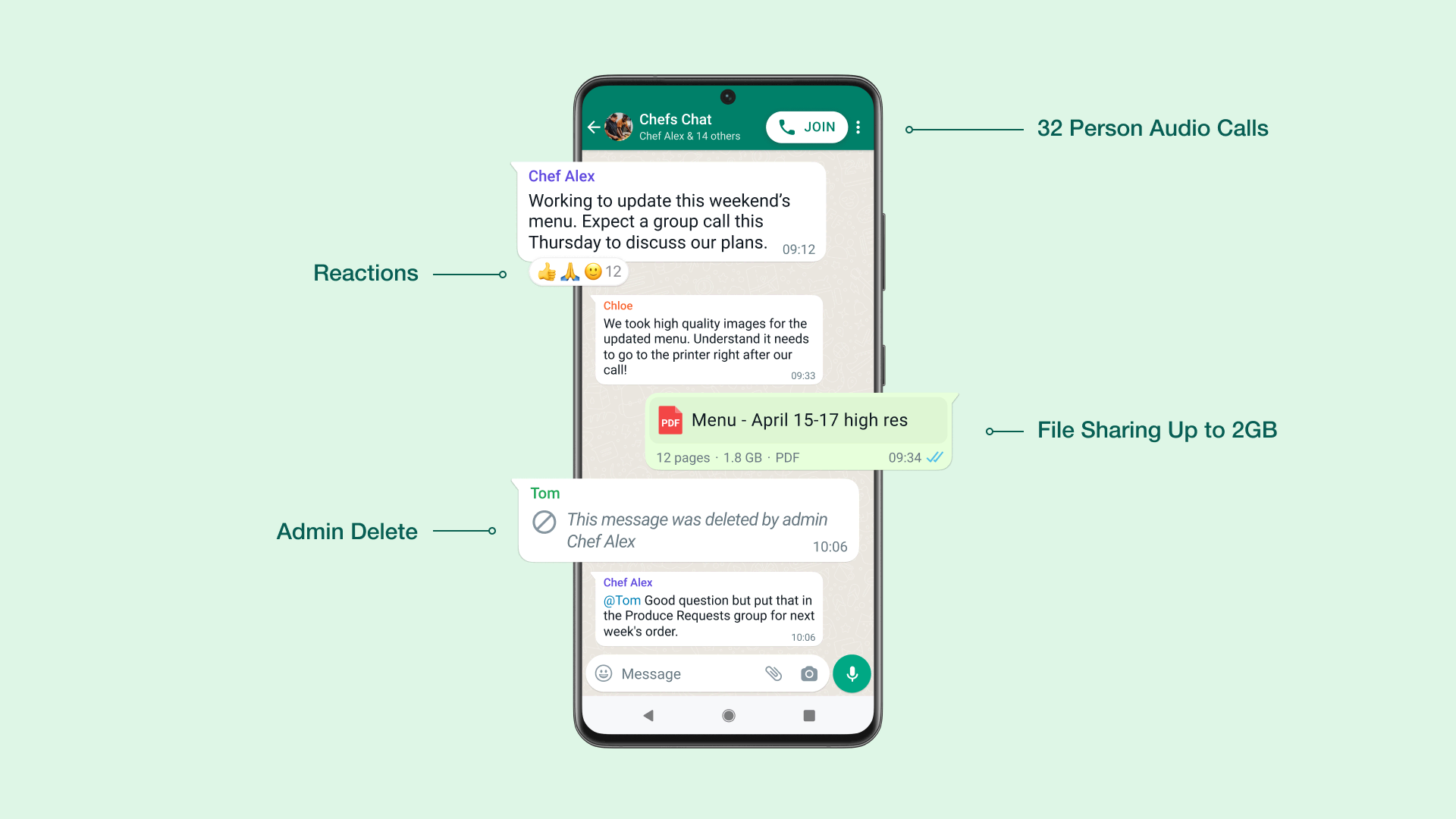 Similar to Facebook, Telegram, and Discord, WhatsApp will now include emoji responses to each message.
Ms Sood explains that it will allow users to send emoji responses to express their feelings instead of clogging up the chat with new messages.
Secondly, WhatsApp has increased its file sharing size to 2GB, which will make project collaboration easier.
Thirdly, one voice call can now accommodate up to 32 people.
---
Advertisements
---
Fourthly, administrators will be given the right to delete errant or problematic messages for everyone.
As a whole, the new update proposed by Meta and WhatsApp definitely increases the utility of the communication application, which is definitely appreciated.
Read Also:
Featured Image: WhatsApp Blog