---
Advertisements

---
Last Updated on 2023-05-16 , 12:43 pm
WhatsApp has launched a new in-chat feature in Singapore that allows local businesses to accept payments directly through the application. 
The feature, which is available from 9 May 2023, has been integrated with Stripe, making it possible for businesses to accept credit card payments and PayNow transfers. 
WhatsApp, which is owned by Meta, the parent company of Facebook, has stated that many businesses in Brazil and India are already using the feature.
Local customers will soon be able to buy from more businesses in the coming months. 
The payment feature was initially introduced on Facebook before being integrated into WhatsApp. 
Now, local businesses in Singapore that use the WhatsApp Business Platform can opt-in for the feature. 
You Can Now Pay Local Businesses In-Chat on WhatsApp
Facebook first adopted its digital payment measures through a feature called Facebook Pay, which enables customers to purchase products from the Facebook Marketplace.
Customers needed to provide their payment, shipping, and personal information to the social media platform for these transactions to process. 
This digital payment feature was first extended to WhatsApp in Brazil in 2017. 
Facebook stated that the move aimed to make its social network and messaging applications a hub for businesses to engage in online customer transactions, which it sees as a lucrative long-term revenue stream.
---
Advertisements

---
Several local businesses, including lifestyle boutique Tye Tye, pastry shop Baker's 13 and plant-based butcher Love Handle, have already adopted WhatsApp's new payment feature. 
Other businesses interested in using the feature can collaborate with WhatsApp's business solution providers. 
However, businesses eager to hop on the bandwagon should be aware that they will be charged a processing fee similar to standard credit card transactions. 
In contrast, customers will not be charged any extra or hidden fees for transactions made on the platform, and there is no limit on the amount they can pay in a single transaction.
Stripe, a payment service provider which has been providing software to startups and large corporations to facilitate payments and other processes since its inception, supports these transactions. 
As such, residents of Singapore with a locally-registered WhatsApp number can use various payment methods, including Visa, MasterCard, American Express credit cards, debit cards, or PayNow, to pay businesses on the platform.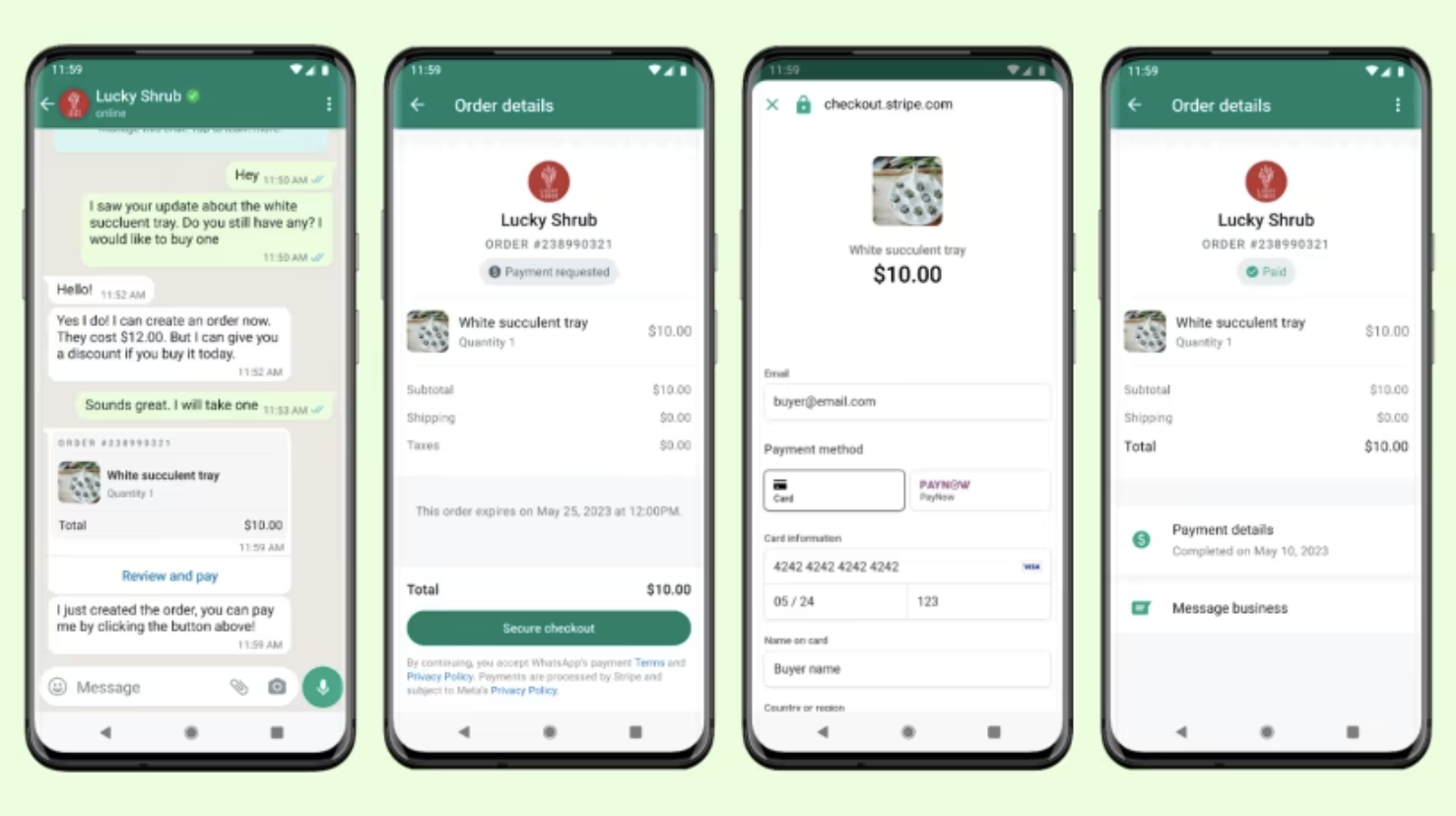 According to WhatsApp, once the customer makes the payment to the respective business, they will be shown a confirmation screen that "thanks" them for their payment.
Customers can also check on the status of their transaction via the "order details" page within the application.
Efforts Made to Prevent Scams
While this feature sounds potentially exciting due to the convenience it can bring to businesses and consumers alike, one can't deny that WhatsApp has since become synonymous with the prevalence of scams on its platform.
To safeguard their users against fraudulent activities involving their new payment feature, WhatsApp has stated that they will thoroughly screen any businesses interested in using it and collaborate only with trustworthy payment partners.
---
Advertisements

---
Moreover, partners must abide by the payment card industry data security standards, which require businesses to establish security measures to receive, process, store, or transmit credit card information.
Partners must also be equipped with fraud detection measures and adopt standard security practices such as encryption and tokenisation to protect card data.
Furthermore, transactions made with WhatsApp's payment feature will only be authorised with registered credit or debit cards, and every transaction will necessitate a unique identification code or fingerprint verification.
WhatsApp has also stated that users must verify their legal name and identity before being eligible to use the payment feature.
In addition, WhatsApp's platform is encrypted from end to end.
Any customer information provided for transactions will go directly to the payment partner and will not be processed, viewed, or stored by the messaging platform.
---
Advertisements

---
Individuals can also protect themselves by downloading the ScamShield application, which will screen out scam calls or messages by utilising information provided by the police.

How much cash are you getting in December 2023 from the Government? Here are the facts simplified for you:
Read Also: