According to the unofficial Whatsapp news site (which has often been accurate in their leaks), WABetaInfo, Whatsapp is supposedly working on a brand-new feature that will allow users on both iOS and Android to send (and receive) self-disappearing images.
The team at WABetaInfo has helpfully leaked some information about the new feature including the fact that these self-disappearing images cannot be exported from Whatsapp.
Unfortunately, Whatsapp doesn't seem to be able to overcome a little loophole that would allow a user to simply take a screenshot of said self-disappearing photo or image before it disappears forever.
Due to this, until screenshot detection is implemented, this feature would likely be postponed.
Of course, there are plenty of other ways to circumvent this restriction even if it's added, so it's always best to not send anything that might just come back and haunt you years later.
Also take note that this feature will only apply to images; not videos… yet.
Wait up… isn't this exactly the same concept as Instagram Direct?
Based on the very tweet that announced the upcoming feature… yes, it is.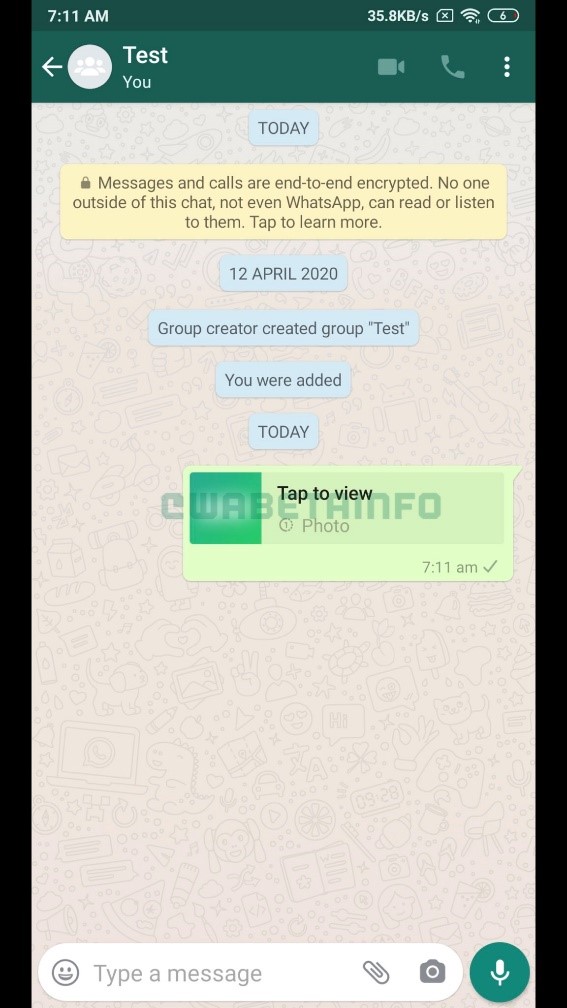 Self-disappearing images on Whatsapp will have a small circular timer indicating how many "views" is left for that particular image.
Since it's similar to Instagram Direct, we think it'd be safe to assume that the sender will also have the option of choosing between one of three options, namely "View Once", "Allow Replay" or "Keep in Chat", whenever a self-disappearing image or photo is sent.
If you are already using the self-disappearing messaging feature that Whatsapp rolled out last November, you should also have an idea of how this upcoming feature would work.
A Feature That isn't Actually Brand-New
Many users noticed that this work-in-progress feature is very similar to another popular messaging app that made its name on self-deleting everything you post on it – Snapchat.
However, unlike Snapchat, where the images shared will disappear within 10 seconds once it has been viewed by the recipient, Whatsapp's self-disappearing images and photos could potentially last much longer depending on the settings applied by the sender.
Users from their rival messaging app, Telegram, have also noticed the similarity between this upcoming Whatsapp feature with a feature that already exists on Telegram since 2017.
This isn't at all new though. Unlike in academia, it's okay to copy each other's features in the tech world.
---
Advertisements
---
If you've already lost confidence in WhatsApp and are thinking of moving to Telegram, you might want to watch this video to the end:
Featured Image: Rahul Ramachandram / Shutterstock.com
Like writing? Goody Feed is looking for writers! Click here for more info!