---
Advertisements

---
Were you looking for an event to go to with your kakis? Why not head down to the Wunderground Festival happening at Emerald Hill?
Here's everything you need to know about the Festival.
IG-Worthy Wunderground Festival 2023 Happening Until October
On Thursday (21 September), a new exciting lifestyle festival hit the streets of Singapore—the Wunderground Festival 2023, organised by the Singapore Retailers Association (SRA) under the Wunderground initiative.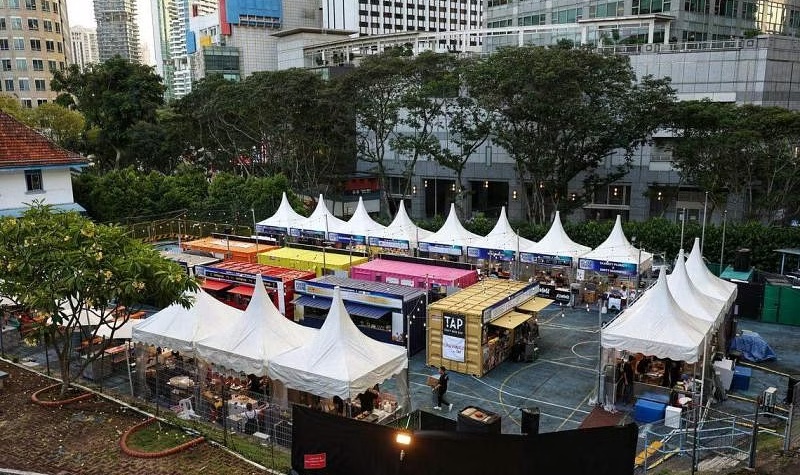 With more than 50 local retail brands setting up at the Festival, you can expect to shop until you drop. Be it accessories or fragrances, there's something for everyone.
Shopee? Pfft. You don't need that when you have the Wunderground Festival.
Anyway, the Festival also features 28 F&B stalls—foodies out there are bound to be pleased with their festival experience.
You can look forward to gourmet café-style offerings, a diverse range of Japanese food, and even a cocktail or two.
And the food is IG-worthy too. It's time to update your food blogs.
There'll also be live performances, tattoo sessions, tarot card readings, and a small dogs' playground at the Festival.
What's not to love?
First Half of Festival Held at Former Secondary School Site
If that isn't enough to entice you to head down to the Wunderground Festival, just wait until you hear about this.
The first half of the Wunderground Festival, also dubbed the City Experience, is currently held at 37 Emerald Hill, the former Singapore Chinese Girls' School campus.
Cool hor?
The City Experience portion of the Wunderground Festival will be on until 1 October. But if you're busy till then, fret not—the second half of the Wunderground Festival, known as the Heartland Experience, will be held from 6 October to 15 October.
And it's not called the "Heartland" Experience without a reason—it's because the Wunderground Festival will be brought to the heartlands, at Tampines West.
Too bad, Westies. Maybe the West side isn't the best side.
Both the City Experience and the Heartland Experience are held from 3 to 10 pm on weekdays and 12 pm to 10 pm on weekends.
So what are you waiting for? Grab your friends and head down to the festivals now!
Promoting Cross-Collaboration of Brands
When heading down to the Wunderground Festival, you'll realise that most booths are collaborative; that is to say, two different brands will collaborate to offer novel products at their booths. Such cross-collaboration is precisely the aim of this very first rendition of the Wunderground Festival.
For instance, we have collaborations between traditional dim sum businesses and bean bag manufacturers to make bean bags with dim sum patterns.
Buy for your mother-in-law, and she confirm plus chop will like. 
---
Advertisements

---
There's also a collaboration between the metaverse platform Memotics and a custom cake shop, which allows customers to choose their cake design through Memotics' digital platform.
Cake shops undergoing digital transformations; that's something we didn't expect, but that's precisely the spirit of the Wunderground Festival 2023—to rejuvenate the retail industry and accelerate business transformation.
The Retail Industry Transformation Map 2025 
But that's not all. Future renditions of the Wunderground Festival have already been planned, so boredom will be the least of Singaporeans' concerns.
According to the SRA, the second iteration of the Wunderground Festival, occurring next year, is focused on creating a flagship go-to event for residents. The third iteration, happening the year after, will aim to create opportunities for overseas brands to participate in the Festival.
Perhaps Olive Young will come to Singapore on the third iteration of the Wunderground Festival.
No need to go to Korea anymore.
---
Advertisements

---
The Wunderground initiative was catalysed by SRA's Roadmap Vision 2025 of "Inspiring Retail Experiences", which encourages collaboration between the retail and lifestyle industries.
And if that's not impressive enough, SRA's inspiring retail industry vision even aligns with the Retail Industry Transformation Map 2025 led by Enterprise Singapore (EnterpriseSG) alongside several industry players.
"Enterprise Singapore is supportive of the Wunderground initiative by the Singapore Retailers Association. The new experiential concepts and innovations by Singapore lifestyle brands that are part of the initiative will inject more vibrancy into our retail landscape," Jeannie Lim, the Assistant CEO (Lifestyle & Consumer) of EnterpriseSG, shared.
Shiok. SRA scores full marks lah.
The Retail Industry Transformation Map 2025 aims to strengthen Singapore as a global lifestyle and retail hub, accelerate business innovation, and encourage local businesses to try new experiential concepts.
---
Advertisements

---
Essentially, to make Singapore's retail businesses more OP than ever lah.