---
Advertisements
---
For those of you with pets, I'm sure one gripe you have as a pet owner is that it is difficult to find a place where you can spend time with your furry companions and enjoy a meal at the same time.
This is also of the reasons why you are torn between choosing to stay home and spend time with your pets or going out to indulge in good food.
For those of you who have pets, here some spots you can visit for a good meal without feeling guilty of leaving them at home and spend some quality bonding time with them instead.
Tanjong Beach Club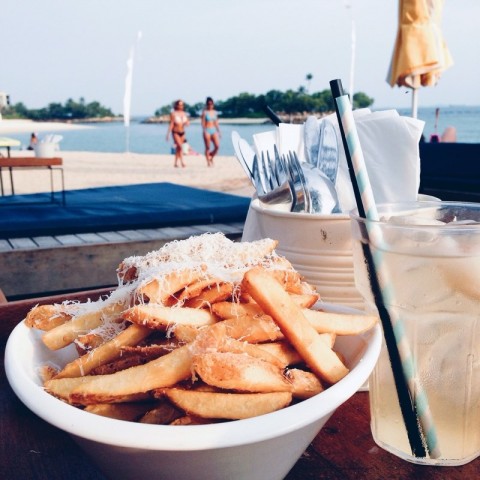 The beach is surely one place where you will bring your four-legged friend out for fun activities and the sunshine. For those of you who love beaches, here is a spot that is a must-go the next time you wish to bring your furry companion out for leisure time.
Tanjong Beach Club in Sentosa is the perfect place for you if you wish to get good food with an equally good ambience. Located next to the beach, this spot is one where you can let your pets get active and for you to fill your tummy.
The dishes here such as Truffle Fries and Calamari are ones you cannot pass when dining here as they are the perfect snacks for you while spending time with your pets.
Address:  120 Tanjong Beach Walk, Singapore 098942
Opening Hours: Tue to Sun, 11am to 10pm
Telephone: 9750 5323
---
Advertisements
---
Brussel Sprouts
If you wish to have some well deserved quiet time away from the hustle and bustle of city life, this is the perfect spot for you. This Belgian-themed restaurant is great for those quiet afternoons where you can chill with your pets over a cool glass of beer and just let your worries take a backseat while you enjoy some delicious Belgian food.
Seafood lovers will definitely love the mussels served up here as they are fresh and cooked to perfection. For those who love an Asian twist to this seafood staple, the Tom Yam mussels are something you must order for an experience you will never imagine was possible.
Address:  #01-12 The Pier @ Robertson, 80 Mohamed Sultan Rd, 239013
Opening Hours: Mon to Thu: 12 to 11pm, Fri to Sat: 12pm to 12 am.
Telephone: 6887 4344
The Green Door
I'm sure one of the joys as a pet owner would be to see your furry loved ones rushing up to embrace you when you return from a long day of work and if you wish to have some R&R after a stressful day at work with your furry companion, The Green Door is the place to go.
Situated in a quiet corner of Dempsey hill away from the more popular eateries, this is truly an escape from the fast-paced society where you work 9 to 5 daily and while you lay back and chill in this soothing haven, you can also have quality time with your pets and a bonus for this eatery is that they provide water bowls for any furry ones that tag along with you.
Address: 13A Dempsey Road, Singapore 247694
Opening Hours: Mon to Thu: 5.00pm to 12.00am, Fri to Sat: 5.00pm to 1.00am, Sun: 1.00pm to 12.00am
Jones The Grocer
Dempsey Hill is definitely the go to place for you if you wish to let your fur kids tag along while you enjoy great grub. This cafe welcomes you to bring your furry companions along and besides offering an excellent all-day breakfast menu, they also have freshly baked treats that will make you have a wholesome meal experience.
Address: 9 Dempsey Road #01-12, Singapore 247696
Opening Hours: Mon to Sun: 8am to 11pm
Colbar
Have you heard of the Green Corridor? If you have not, this is a great place for you to walk your fur kids and another reason why you should visit this place is for the great food here. Colbar serves up a unique dining experience with its unusual decor and hip atmosphere.
The menu here offers a mix of both Chinese and Western cuisine that will leave you spoilt for choice and if you love bacon, their English Full Breakfast will leave you wanting seconds, with hearty portions of crisp bacon and perfectly done sunny side up eggs. This joint also has a spacious outdoor seating area with a grassy lawn where you can let your pets get active while you gobble down all the delicious fare on offer here.
Address: 9A Whitchurch Rd, Singapore 138839
Opening Hours: Tuesday to Sunday 11.30am  to 8.30pm
W39 Bistro
For those living in the West, this bistro is a place that will make you remember the wonderful memories of your childhood with its vintage decor, the food here is also something that will make you scream out with delight as the prices here are not only wallet-friendly, their portions are also not lacking either.
---
Advertisements
---
A must try is their Eggs Benedict which is priced at $9, where else can you get a decent serving of such dishes without burning a hole in your wallet? For those who love sweet treats, their Salted Caramel Chocolate cake would be your new favourite dessert as the cake has the perfect balance of sweet and savoury flavours.
Address: W39 Bistro, 39 Jalan Mas Puteh, Singapore 128637
Opening Hours Tue to Fri: 11am to 10pm, Sat to Sun: 9am to 10pm
Casa Verde
Casa Verde literally means "Green House" in Italian and this restaurant nestled in among the greenery of the Botanic Gardens is an excellent selection for you to bring your pets along. After wolfing down the delicious Italian food served here, you can burn off those calories while walking your pet around the lawns of the Botanic Gardens
Address: 1 Cluny Road, Singapore 259569
Opening Hours: Mon to Sun: 7:30am to 9:30pm
Happenstance Cafe
Have you ever felt that your furry companions are missing out when you bring them out to restaurants while you eat? This place will solve that dilemma for you as not only do they serve food that you can enjoy, they also have a dining menu specially catering to the needs of your furry ones.
Address: 35 Opal Crescent, Singapore 328425
Opening Hours: Mon to Fri: 12 t0 10pm, Sat to Sun: 11am to 10pm
The Coastal Settlement
---
Advertisements
---
This cafe situated in a relatively quiet corner of Changi is a place that is not only a feast for your taste buds but your senses as well. The decor of this cafe is something you will not expect here in Singapore, giving visitors a taste of the outdoors while you dine within the soothing embrace of nature
Address: 200 Netheravon Road, Singapore 508529
Opening Hours: Tue to Sun: 10.30am to 11pm
Ah B Cafe
This place is definitely one place you must add to your go to places with your furry loved ones as a trip here will be the best experiences for your pets. With an outdoor pool where your pets can get active and a cosy corner with bean bags where they can hang out with other furry ones, this is one cafe where it will be the best of both worlds for both you and your pet.
Address: 110 Turf Club Road, Singapore 288000
Opening Hours: Tue to Fri: 1.30pm to 9.00pm, Sat: 12.00 to 9.00pm, Sun: 12.00 to 7.00pm.
This article was first published on goodyfeed.com
Enjoyed this article because it's both informative and entertaining? If so, you should download the Goody Feed app so that you won't miss out on any articles, as there are app-exclusive contents as well! Also, join our Telegram channel if you use Telegram often!
---
Advertisements
---
You won't want to miss these most-read articles: