---
Advertisements

---
Last Updated on 2020-03-03 , 6:38 pm
Hey, you! I know you're probably looking through the Goody Feed app when you're supposed to be working or studying instead. Don't worry, we've all done that.
So while you're still here, why not go on a journey with me?
Let's go to North Korea, the country of openly anti-US imperialist sentiment (at least what it used to be).
We'll head to the Kumsong Intersection in Pyongyang, where you'll see a green-tiled establishment with the Korean words Samtaesong, or Three Big Stars, on it.
When you walk in, things start to get a little uncanny. There's a counter with a brightly lit menu display board, in front of which a smiling person waits to serve you in a clean uniform. On the menu, there are pictures of waffles, fried chicken, fries, hotdogs and hamburgers. Customers can also choose from a selection of soft drinks.
To the left: North Koreans sitting opposite each other in booths, enjoying their food.
"Are you sure we're still in North Korea? Not South Korea?"
Yes.
If you haven't figured it out yet, I'm talking about a fast-food restaurant… in North Korea.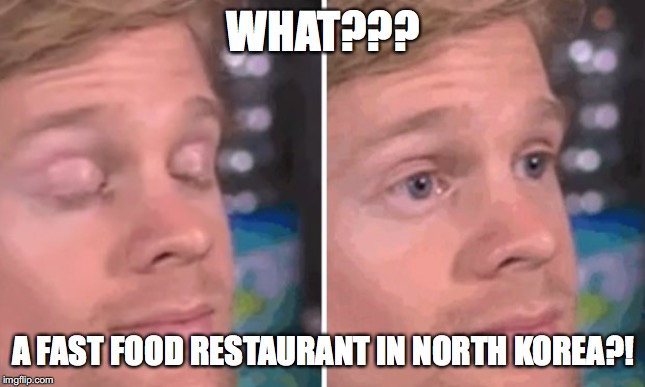 Despite its Korean name, Samtaesong is a Waffletown USA fast food franchise.
And here's something even more shocking: It is North Korea's very first fast food chain and was opened by 3 Singaporeans.
Yes, SINGAPOREANS.
Here are 10 facts about Waffletown USA in North Korea.
Its founder was a steel and minerals trader
Mr Quek Cher Lan, a steel and minerals trader who owns the company Aetna Group, started doing business with the North Koreans over 30 years ago.
Eventually, they asked Quek to invest in their country. Quek agreed and got Mr Timothy, whom he met in Shanghai, involved.
After exploring a few different options, including a supermarket, they eventually decided on a fast-food chain, given that they would face virtually zero competition.
As they had no experience in the fast-food industry, the duo roped Mr Patrick Soh in.
It opened in 2009
By April 2009, and after US$200,000 worth of investments, Samtaesong had opened its first branch in Pyongyang. They had to use a Korean name as English signage wasn't allowed in North Korea at that time.
Now, remember: in 2009, Trump and Kim weren't "in love" yet.
It's doing really well
Waffletown in North Korea now has five large dine-in eateries, over 20 takeaway outlets and an entire food processing plant across the city of Pyongyang, which has a population of over 3 million people. Soh describes the business as 'healthy'.
---
Advertisements

---
Its biggest outlet is in a three-storey building. The production facility is in the basement, restaurant in the first floor and administrative office in the third.
When asked why he thought the restaurant was doing so well, Soh suggested that it could be due to the cold weather. During Pyongyang's cold winters, locals enjoy the chain's fried chicken, which is served piping hot.
It's designed to look like Singapore's fast-food restaurants
The restaurant's initial design was modelled after Singapore's own fast food joints with furniture specially imported from China to achieve its desired layout.
Hmm…a piece of Singapore in North Korea, anyone?
Join our telegram channel for more entertaining and informative articles at https://t.me/goodyfeedsg or download the Goody Feed app here: https://goodyfeed.com/app/
It signifies pretty huge progress 
For several decades, North Korea banned fast food, labelling it as an evil Western influence.
These 3 Singaporeans therefore made history by opening the country's first fast food chain.
---
Advertisements

---
Well done!
But of course, in 2018, Singapore made history again but anyways.
Their menu is a little…strange 
You can't order a hamburger there.
Instead, you can order 'minced beef with bread', which looks like this:
(I don't know about you, but that kinda looks like a hamburger to me… It could be just me, though.)
---
Advertisements

---
They don't use the word 'hamburger' as they try to hide their American origins.
Because the government still doesn't like fast food, their burgers have more vegetables than usual.
Also, its coleslaw has been switched for a more traditional kimchi.
Beyond that, the menu resembles a typical Western fast food menu, with fried chicken, waffles, hotdogs and soft drinks.
Their food is pretty cheap, or expensive, depending on your nationality
Minced beef and bread costs about S$2, about the same price as a hamburger in Singapore. However, remember: the average annual wage in North Korea last year was just under S$1,200, making minced beef and bread almost half the daily income of an average North Korean.
Waffletown USA began as a homegrown American family restaurant
After opening its first outlet in 2719 East College Avenue in Avondale Estates, Georgia, Waffletown USA now has 2,100 outlets in 25 states in the United States.
So yes, it's not created by Singaporeans.
You can enjoy Waffletown USA in Singapore
For those of you who were beginning to suffer from FOMO, fret not. Singapore has Waffletown USA, too.
---
Advertisements

---
There are two Waffletown USA branches in Singapore, one in Balmoral Plaza and another in Ngee Ann Poly.
In fact, before the restaurant managed to open outlets in Pyongyang, four North Korean delegates were actually sent to the branch in Balmoral Plaza to sample the food.
You can save money on dessert on weekdays
From 11:00 a.m. to 4:00 p.m. on weekdays, you can get a single scoop ice cream and waffle for only $2.90 when it is purchased together with any set meal.
I don't know why I'm writing about a deal here in Singapore when it's about the fast-food chain in North Korean, but hey: everyone in Earth loves a good deal, right?

Fresh grads, you don't need any experience to earn up to $4,200 with this "secret":
Read Also: