If a stranger came up to you on the street in 2019 and said we'd have to carry around a device issued by the government in 2020, you'd assume he was either delusional or a skilled novelist.
But here we are, with no travel, no parties, and an inability to meet our beloved relatives.
Reader: You can actually visit your relatives now as long a-
Shh, we don't know that for sure.
In June, Minister-in-Charge of the Smart Nation Initiative Vivian Balakrishnan announced that the government would be distributing a portable contact tracing device.
We were told that we'd need to bring it around with us, which naturally prompted concern.
But do we have any reason to worry? How does it even work? Where can we get one?
Here are 10 facts about the TraceTogether Token, the tiny device that Singaporeans will soon be carrying in their pockets.
It Was Introduced to Increase Uptake of the TraceTogether App
On 20 March 2020, the government unveiled an app to facilitate contact tracing efforts, just two months after the country reported its first case of Covid-19, which we called the Wuhan Virus back then.
Called the TraceTogether app, it was launched to allow the authorities to quickly track people who had been exposed to confirmed Covid-19 cases with the participation of residents.
The only problem is that though many people downloaded it, few switched it on.
See, the government needed at least 70% of the population to use the app for it to work well. Right now, we're only at 45%.
And that's why the TraceTogether Token was introduced.
It would also be useful for kids and the elderly, many of whom don't have smartphones to download the app.
It's Part of the TraceTogether Programme Which Will Soon Be "Mandatory"
From the very start, the gahmen maintained that usage of the app or token would not be made mandatory.
However, due to a low uptake of the app, it will soon be compulsory for certain public venues.
---
Advertisements
---
By the end of 2020, you'll either need the TraceTogether app or token to enter most public venues in Singapore, including restaurants, workplaces, schools, and shopping malls.
This is because the government is progressively rolling out TraceTogether-Only SafeEntry from this month.
So, you'll no longer be able to check in at a public venue by scanning a QR code or NRIC, or by using the SingPass app.
This means that usage of the app or token will essentially be compulsory, unless you're comfortable staying at home forever, without visiting eateries, workplaces, schools, shopping malls, or entertainment venues.
Reader: This is what I've been preparing for my whole life
3. It's Bluetooth-Enabled
Do you remember what you had for lunch yesterday?
---
Advertisements
---
Reader: Mee Pok
Okay, but do you remember what you had for lunch exactly one month ago?
Reader: Nasi Goreng with an egg on the side.
Okay, you have a ridiculously good memory, dear reader, but this isn't usually the case for most people.
See, contact tracing relies on the memory of interviewees. If we can't remember all the places we've been to in the past week, how are the authorities supposed to trace our close contacts?
---
Advertisements
---
This is why the TraceTogether app and token were introduced.
Like the app, the token works by exchanging short-distance Bluetooth signals between phones to detect other participating TraceTogether users in close proximity.
MOH guidelines define close proximity (i.e. close contact) as two metres apart or up to five metres, for 30 minutes.
4. It's Not a Tracking Device Nor an Electronic Tag
When you hear that there's a device you'll have to bring around with you everywhere, you're bound to assume that the gahmen is tracking your every move, possibly to make you feel weird about visiting bubble tea stores so often.
But what many don't know is that the app and token were designed to protect users' privacy.
---
Advertisements
---
It doesn't track your location because it doesn't need to.
If I visited Ikea Tampines today and brought along the token with me, the gahmen would have no idea I was shoving delicious meatballs in my mouth.
Even I came into close contact with a Covid-19 case, the only personal data the authorities would collect is your phone number, so they can contact you and inform you about your contact with a Covid-19 case.
As the gahmen has explained, both the app and token do not capture GPS or geolocation data, just proximity data.
The Token does not have internet nor cellular connectivity either. And without internet connectivity, there is no possibility of data being uploaded without the participation and consent of the user.
---
Advertisements
---
In fact, if you're worried about your privacy, you should worry about the other apps in your phone. Here, watch this video about TraceTogether to the end and you'll understand (please also subscribe to our YouTube channel for more informative videos!):
5. For it to Work, You Need to Bring it Everywhere With You
Considering that TraceTogether-only SafeEntry will soon become mandatory at public venues, you'll either need the app or token to go out.
And even if you're not entering a high-risk public venue, you could still come into contact with a Covid-19 case.
This means that if you're not a fan of the app, you'll need to bring the token with you wherever you go for it to be effective.
---
Advertisements
---
6. Data Will Regularly Be Deleted
But what happens if you never come into contact with a Covid-19 case?
As previously mentioned, the app and token were designed to protect users' privacy.
If you don't come into close contact with a confirmed Covid-19 case, TraceTogether data in your app or token that is older than 25 days will automatically be deleted.
This is actually required by law.
All public-sector data protection rules apply to the data held by the Ministry of Health.
---
Advertisements
---
This means that the ministry is required to purge data when it is no longer required for contact tracing.
Data in the app and token are also encrypted in a format that makes it incomprehensible to unauthorised users.
So even if someone manages to unlawfully extract data from a TraceTogether Token, they will not be able to make sense of the data.
7. It Has Some Cool Designs
When the device hit the headlines, the only image the media provided was this:
---
Advertisements
---
As you can see, it looks like a Digimon device or a pager.
But ever since they've been made available for collection, some netizens have discovered that the token comes in several designs.
One design looks like an ID Card Holder had a baby with a bank token: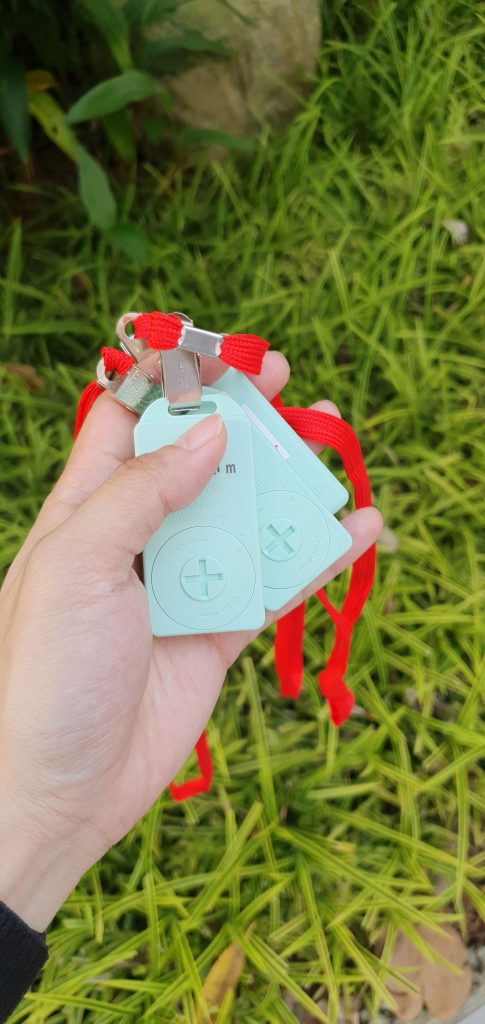 The second token looks like the original token ate lots of vegetables as a kid and goes to the gym regularly:
---
Advertisements
---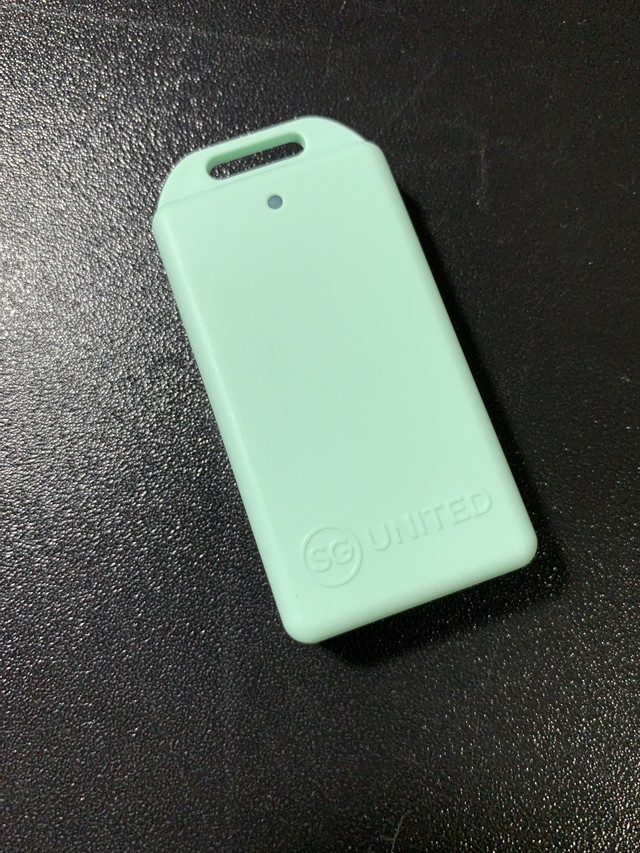 If only they came in different colours or design, like this…
8. It's Not Waterproof
Unlike your smartphone, the TraceTogether token, while water-resistant, is not waterproof.
Users are advised to take care of the device like they would their phone – avoid placing it in water or near fire sources, and dropping from height. Basically, treat it like your phone.
---
Advertisements
---
9. You Don't Have to Charge It
Unlike your iPhone which dies every 20 minutes, you won't have to charge this device.
According to TokenGoWhere, the Token's battery is expected to last 6 months and is non-rechargeable.
If the battery is depleted, a red light on the device will start blinking. If this happens, you can call 6973 6511 or email [email protected] for assistance.
10. Anyone Can Get it For Free
While it's not compulsory to have, the TraceTogether token will be distributed to any resident who wants one.
And the best thing about it? It's absolutely free.
---
Advertisements
---
To get yours, all you have to do is visit token.gowhere.gov.sg and key in your postal code for the details.
Non-citizens are also eligible to collect a token, provided they're a resident here.
If you happen to lose your token, you can get it replaced for free. Only the first replacement will be free, however.