---
Advertisements

---
Last Updated on 2022-09-20 , 2:38 pm
Ever wanted to book a flight, but the flight tickets are insanely expensive? 
There are ten methods that you can use to book cheaper air tickets. After all, the extra amount spent on expensive flight tickets can now be used on leisure and food during your trip. 
But before we unravel these tips, take note of the following steps.
Go Incognito
In case you are a boomer and have never come across this term, going incognito simply means that none of your browsing history or information entered in forms is saved on your device.
Well, most of the time this function is used for searching R21 content but it comes in handy in other aspects too.
If you do a search in your common browser on any Airline provider, you will start seeing annoying pop-up advertisements or sponsored Facebook ads.
These actually affect the prices of your flight tickets.
Clear Your Browser
Clearing your browser saves you the possibility of increased airfares or hotel pricing. This applies to browsing on your phone too.
Sign Up For Newsletters
Now that you've laid the groundwork, it's time to brush up on your auntie and uncle skills.
Start signing up for newsletters because you never want to miss a sale if it promises cheaper deals.
Different airlines pledge different sets of benefits and exclusive promotions. But the consumers like us get to benefit from it if you book during the sale.
Use Skyscanner to Book Flights and do Comparisons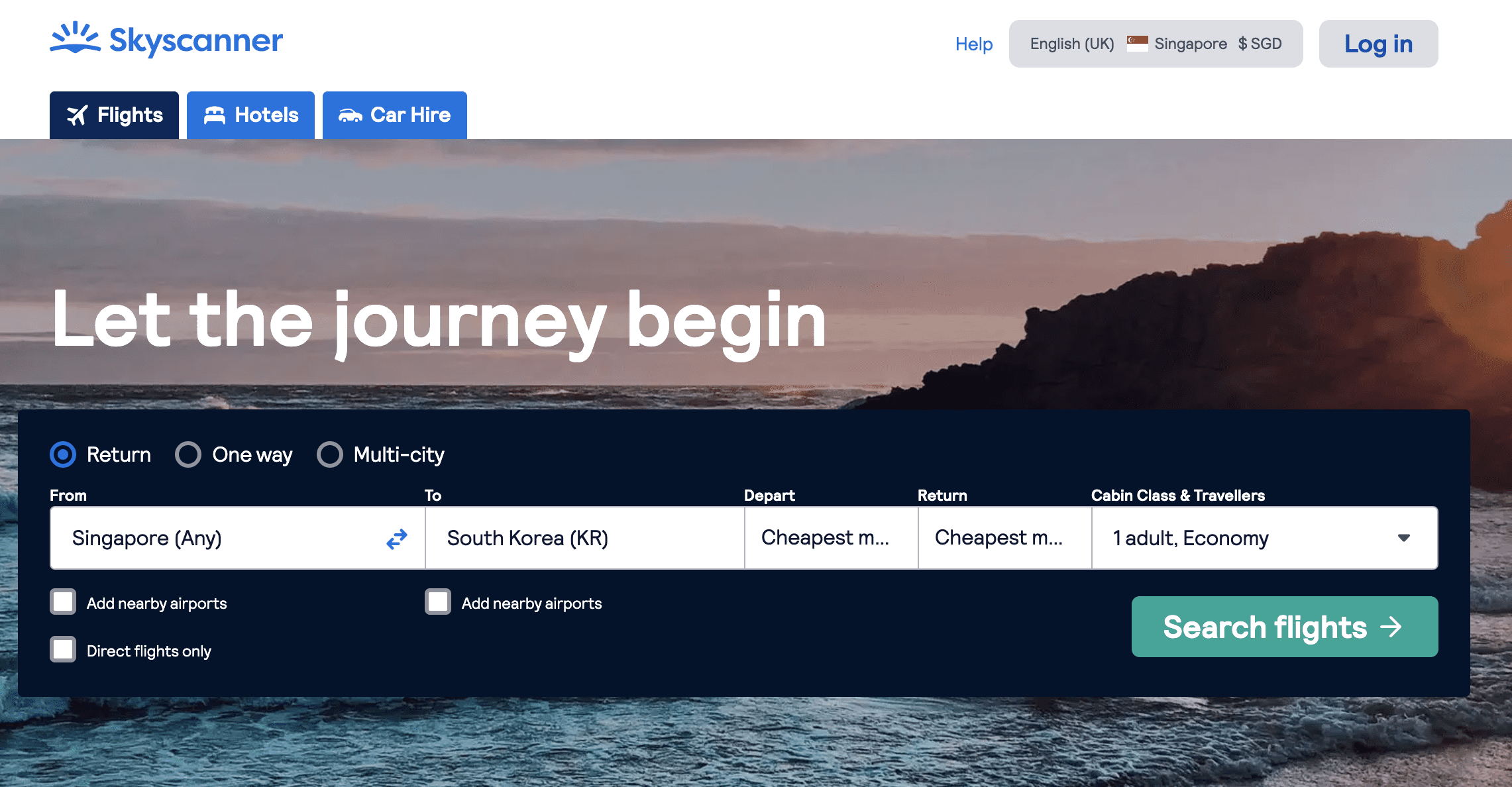 Skyscanner is a to-go website for booking cheaper flights and doing comparisons.
"Eh, Skyscanner not reliable lah. I just did a search for Tokyo and they suggested the cheapest month as something else. Not October leh!"
Chill, ladies, and gentlemen. You need to understand that airline prices fluctuate from minute to minute and sometimes within seconds.
Travellers who've had their fair share of break-ups with Skyscanner, I implore you to give others a chance who has never dated it before.
Join our Telegram channel for more entertaining and informative articles at https://t.me/goodyfeedsg or download the Goody Feed app here: https://goodyfeed.com/app/ 
Why Do Airline Prices Fluctuate?
It's all thanks to the concept of demand and supply as well as a little bit of marketing.
If an airline releases a certain amount of seats, its sales and marketing teams would have set various targets to meet their return on investments.
If they do not meet their target, they would throw in a sale enticing people to purchase the tickets.
Air tickets can also be instantly purchased and cancelled online, and can also be bought through travel agents by millions of people worldwide.
Any minor changes in the number of seats available can impact the price.
---
Advertisements

---
How To Deal With Fluctuations?
You can sign up for newsletters because it's where the juicy news comes from, as we've mentioned before.
Remember to check your emails regularly so you can go right to the booking page once the price drops.
Choose the Right Date to Book & Fly
"Eh, I use Skyscanner liao then I don't need to bother so much about which date to fly already right? Since Skyscanner gives me the options to choose with upfront pricing."
Well, it depends. Skyscanner is a good guide but it is good to have other alternatives.
Not anyone can afford to fly on a weekday but if you can, do it on a Tuesday. Also, booking midweek, between Tuesday to Thursday, will get you the best flight deals.
Don't Fly Direct
Most of us may have a conception that flying direct is cheaper. However, especially for long flights, it's cheaper to stop over for a few hours at the airport.
---
Advertisements

---
Although you might be spending hours at the airport, you can save up to hundreds by not flying direct.
Booking Early Does Not Always Help You Save Money
By now, we all know that prices fluctuate very much but sometimes booking early does not necessarily help you score a great deal.
Hence, keep a lookout for sales via newsletters and social media platforms.
Get Paid When The Price Drops
You read that right. So if you're game for a new experience on the block, then go to DoNotPay.
If you bought a ticket and the price falls within 24 hours for that flight or other similar flights, DoNotPay will cancel the original flight and rebook another at a lower price for you, with your consent of course.
---
Advertisements

---
Put In The Effort
If you want it cheap, and good, put in the effort. There's going to be a lot of shopping, price-watch and heart-thumping moments.
However, if you actually manage to score yourself a bargain, your bank account will thank you.
Featured Image: Shutterstock.com (Amirraizat & Printexstar)

Fresh grads, you don't need any experience to earn up to $4,200 with this "secret":
Read Also: