---
Advertisements

---
11.11 is either going to be the day where you and your friends celebrate how great it is to be single or it's gonna be the day you blow your salary on a number of deals and promotions up on various online shopping sites.
In the past, 11.11 or Singles' Day was celebrated in China to celebrate… well, singles.
It started in 1993 by students of Nanjing University.
But now, Singles' Day is a day where you essentially treat yourself and buy the things you've always wanted to have!
More facts on 11.11 can be read here.
So, if you're wondering what and where to spend your hard-earned money on, read on to find out!
Lazada
In case you already didn't know about it, Lazada is really hyping up the 11.11 sale by having Korean heartthrob and actor Lee Min Ho as its regional brand ambassador.
You've probably seen the ad on YouTube already before your actual video starts.
From 1 to 11 November, Lazada will be having daily sales, flash sales and vouchers up for grabs.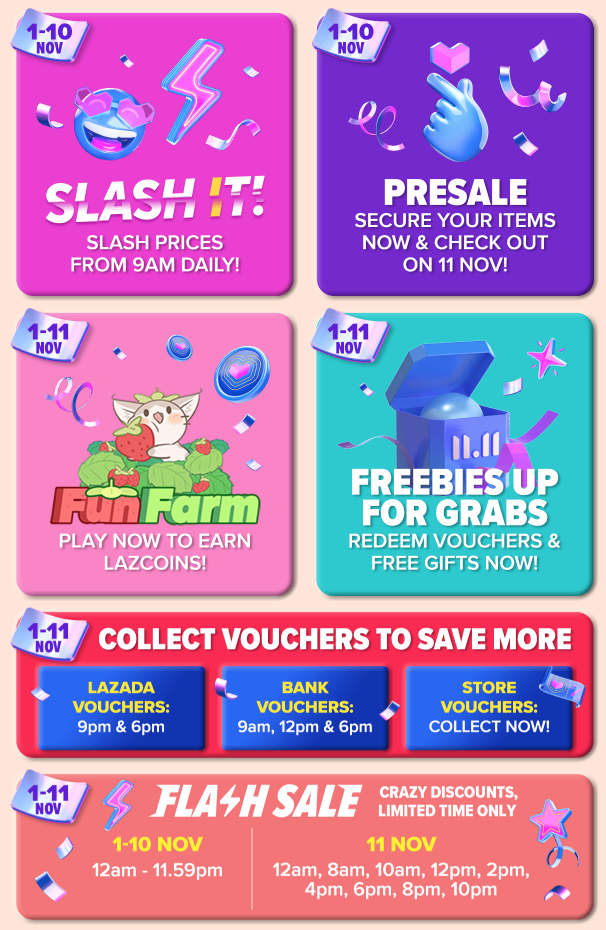 According to the website, this year's 11.11 will be even bigger with over 11,000 exclusive deals and over 11 million vouchers up for grabs from top brands and sellers.
Tune in to the Lazada homepage on 1 November where more activities will be revealed.
Zalora 
Thinking of getting some high-end brand clothes to spruce up your wardrobe…for cheap? Then Zalora would most likely be your go-to place.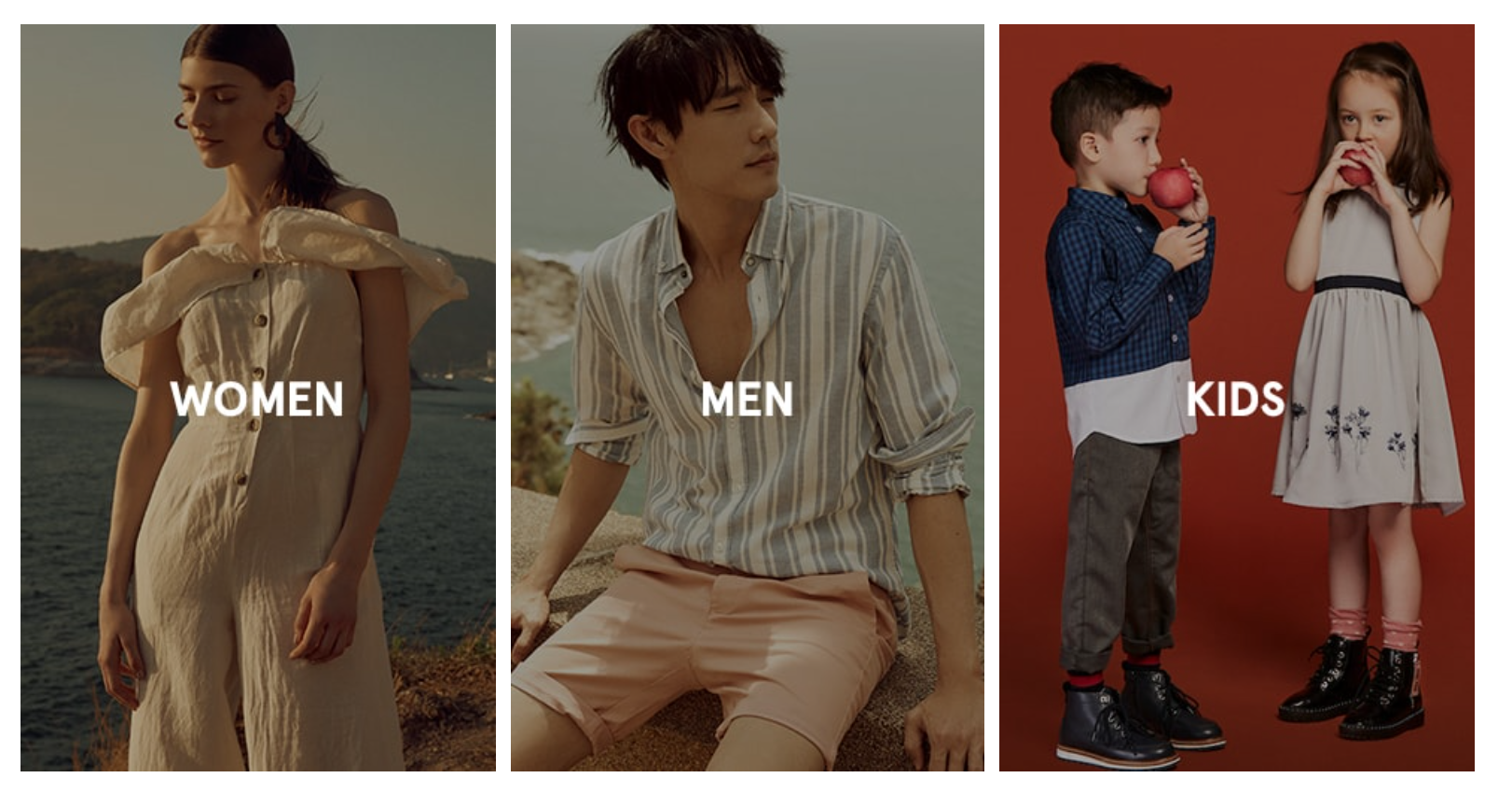 In fact, from 2 to 15 November, there will be "mad markdowns" on their items. With a capital M.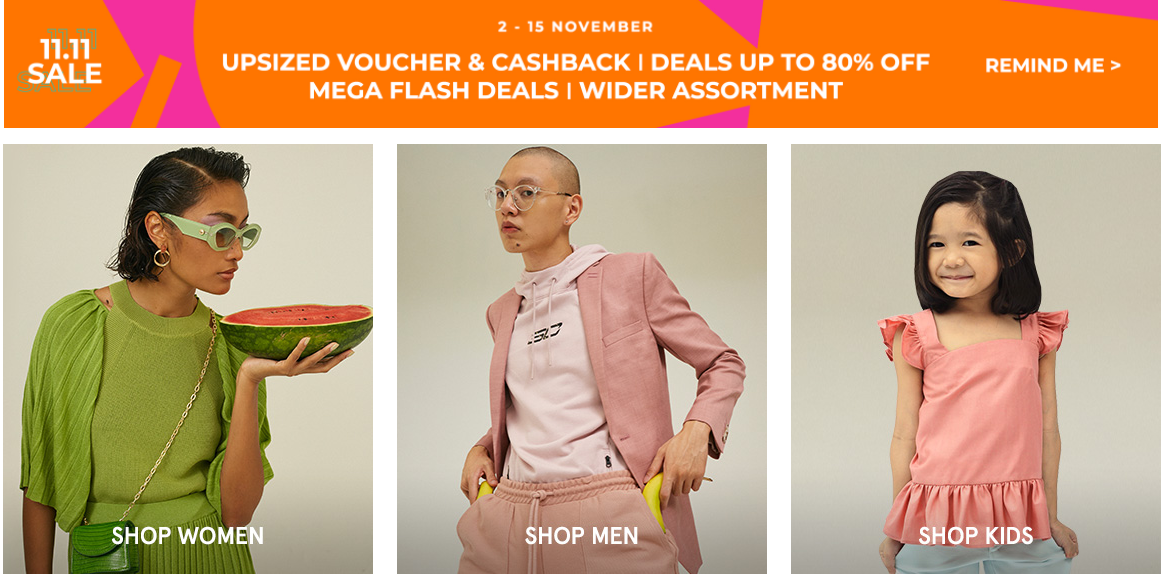 On Singles' Day itself, there will be a 50% drop in prices for some of its top brands which includes Adidas, Fila, Gucci, Tommy Hilfiger, Prada, Dr Martens, Superdry and more.
In fact, if you spend more than $40 during the sale, shipping will be free of charge!
So if you've been eyeing a new top or dying to get a whole new outfit, keep an eye out on Zalora's sale on 11.11!
You can find out more here.
Shopee
While Lazada has Lee Min Ho, Shopee has our much-beloved 90's icon Phua Chu Kang as its ambassador.
The ad also features Wang Wei Liang who played Lobang in Ah Boys To Men.
Instead of just having a big sale on 11.11 itself, Shopee is already counting down to the big day by giving customers loads of sweet deals from 21 October to 11 November.
---
Advertisements

---
Just like what Lazada is already doing, FYI.
You can even check out the calendar event right here to see what's in store over the next few days.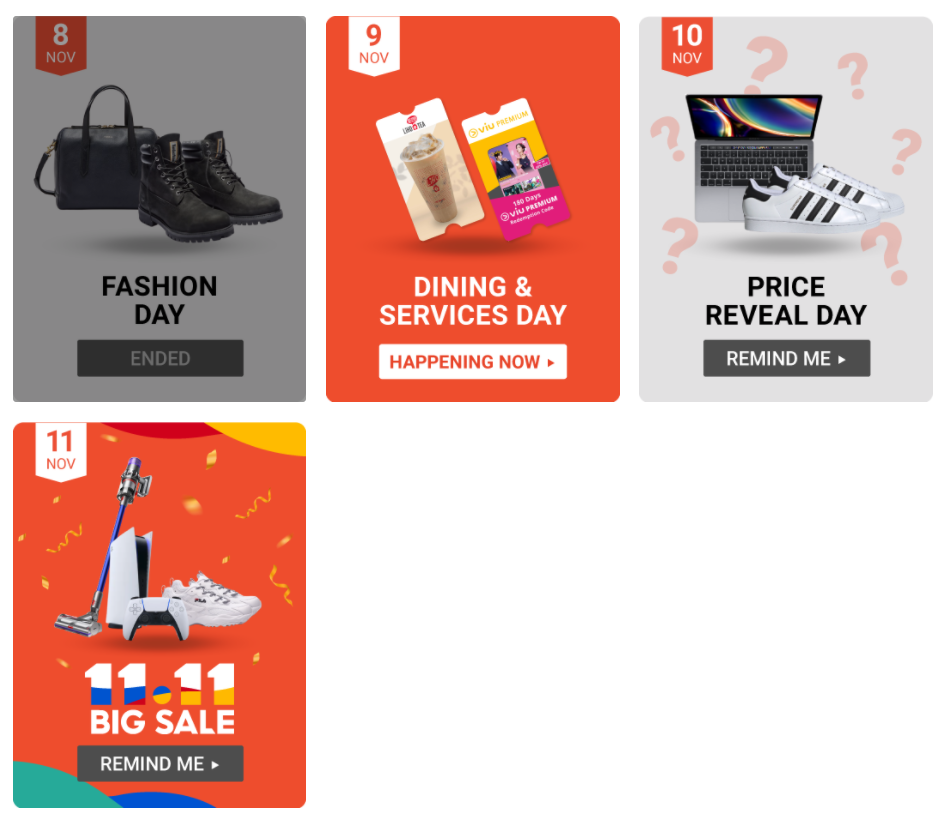 While it's not exactly sure what's up for sale on the big day itself, the icon shows that Dyson products, Fila shoes and even the PS5 will appear.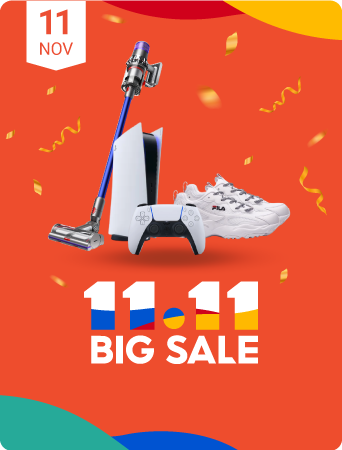 So if you're planning on getting any of these things, it's best to set a calendar reminder for yourself!
Qoo10
While Qoo10 does not have any ambassadors to amp up its 11.11 sale, I have to say the website itself already does a good job in hyping people up.
For one, there is a live countdown to the 11.11 sales.
---
Advertisements

---

Apart from the usual promotions and sales, one can expect cashback rebates, gift cards and more!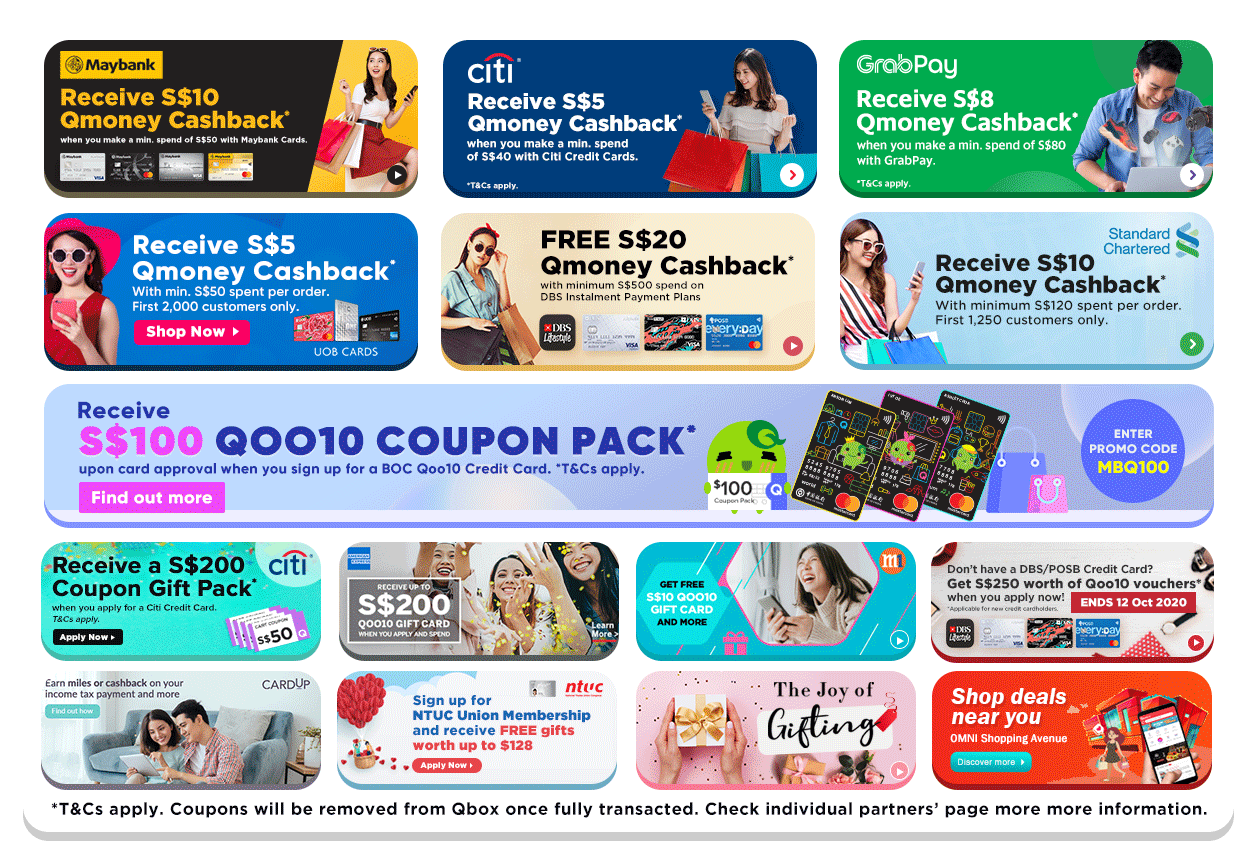 From 9 to 12 November, Qoo10 will also be having this coupon deal:
Besides that, Qoo10 will also be having one-for-one deals, brand sales and flash sales during Singles' Day.
But if you want to get lots of cashbacks during the 11.11 sale, I'd say Qoo10 is the place to be at.
You can start shopping here.
---
Advertisements

---
AliExpress
If you're more into the gadget scene, perhaps the 11.11 sale on AliExpress will interest you more.
On the day itself, there can be discounts of up to 70% off.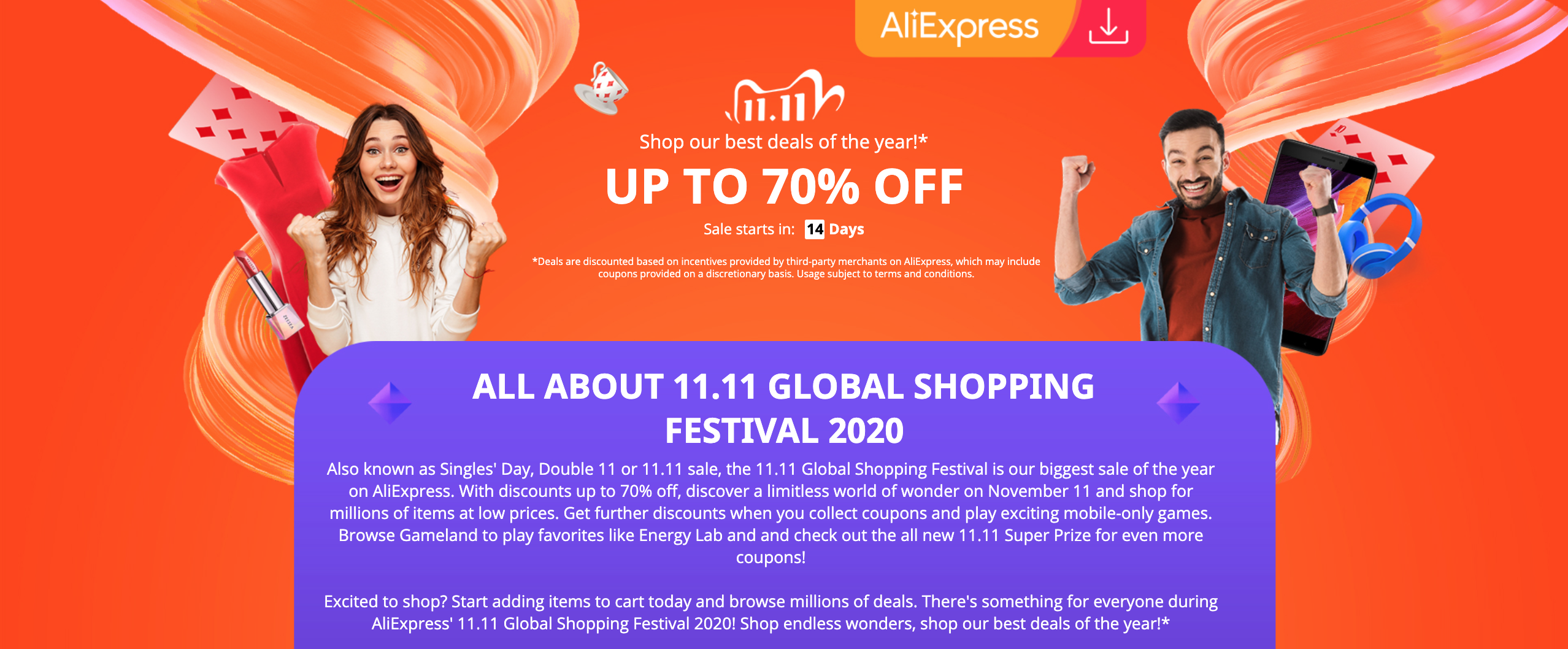 To enjoy further discounts, you can collect coupons or play mobile-only games, according to their website.
The website also gives further details on how coupons work, which is great because there are two kinds: Store coupons and AliExpress coupons.
The other great thing is they also have an FAQ session which you can see when you scroll all the way to the bottom of the website.
There is also a shopping guide for those unfamiliar with AliExpress.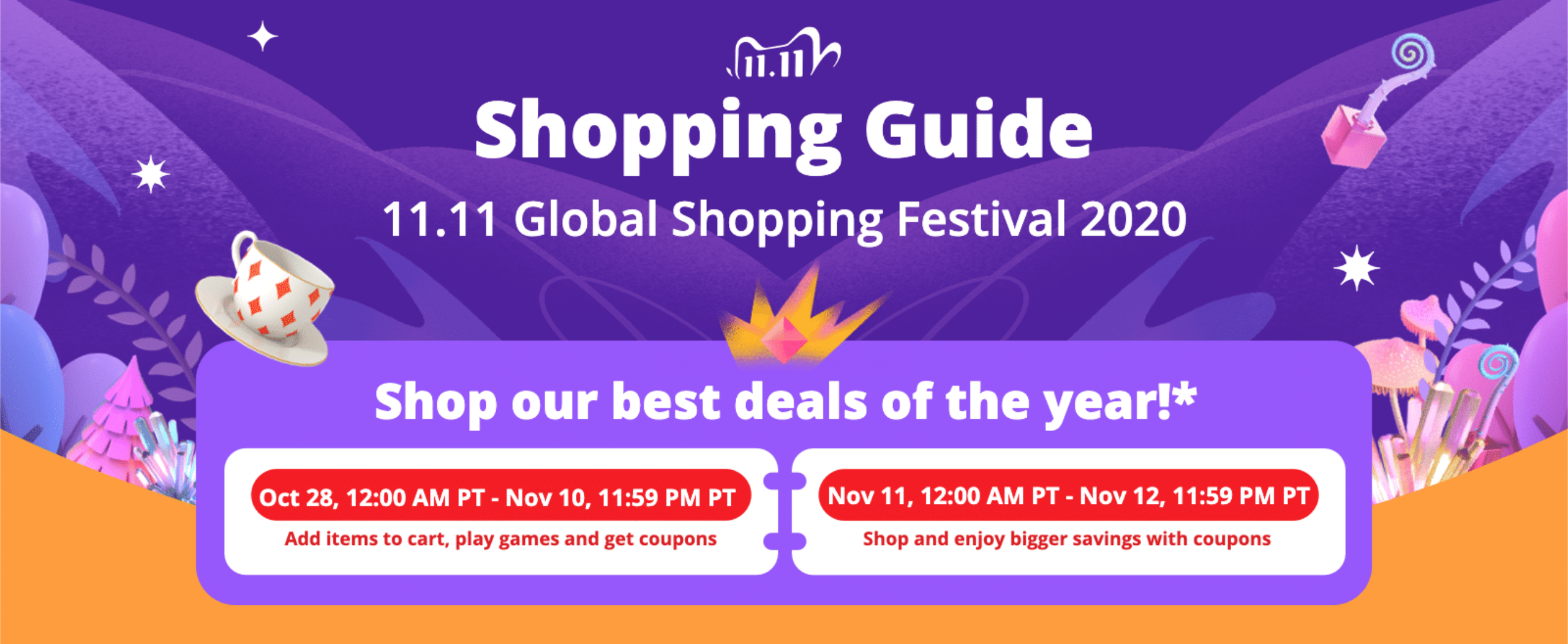 HardwareZone Coupons Galore
If none of these things tickles your fancy, how about some coupons for your favourite brands courtesy of HardwareZone?
---
Advertisements

---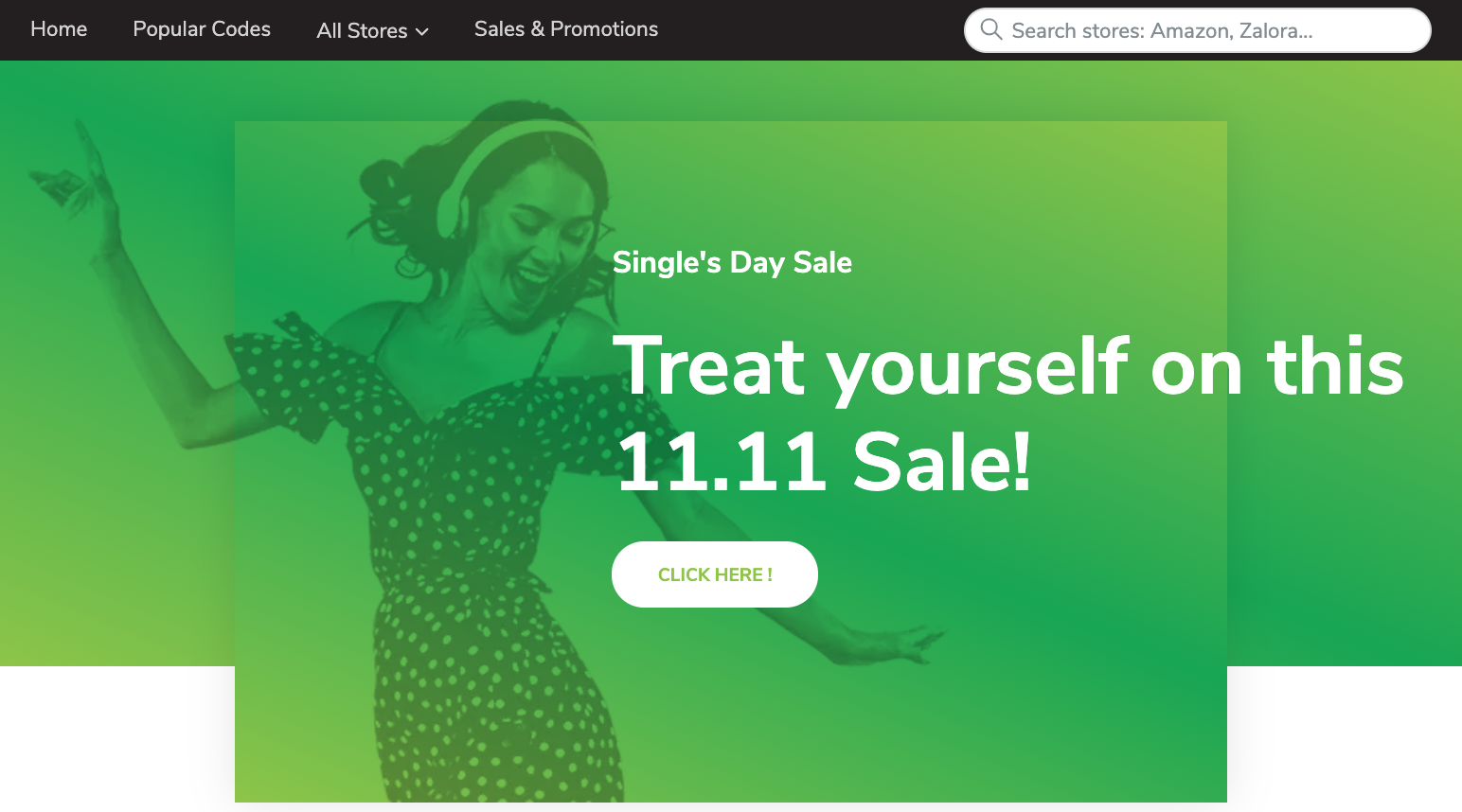 Not only do you find the latest tech news and updates, gadget and product reviews, you also get loads of savings when you use these coupons from HardwareZone!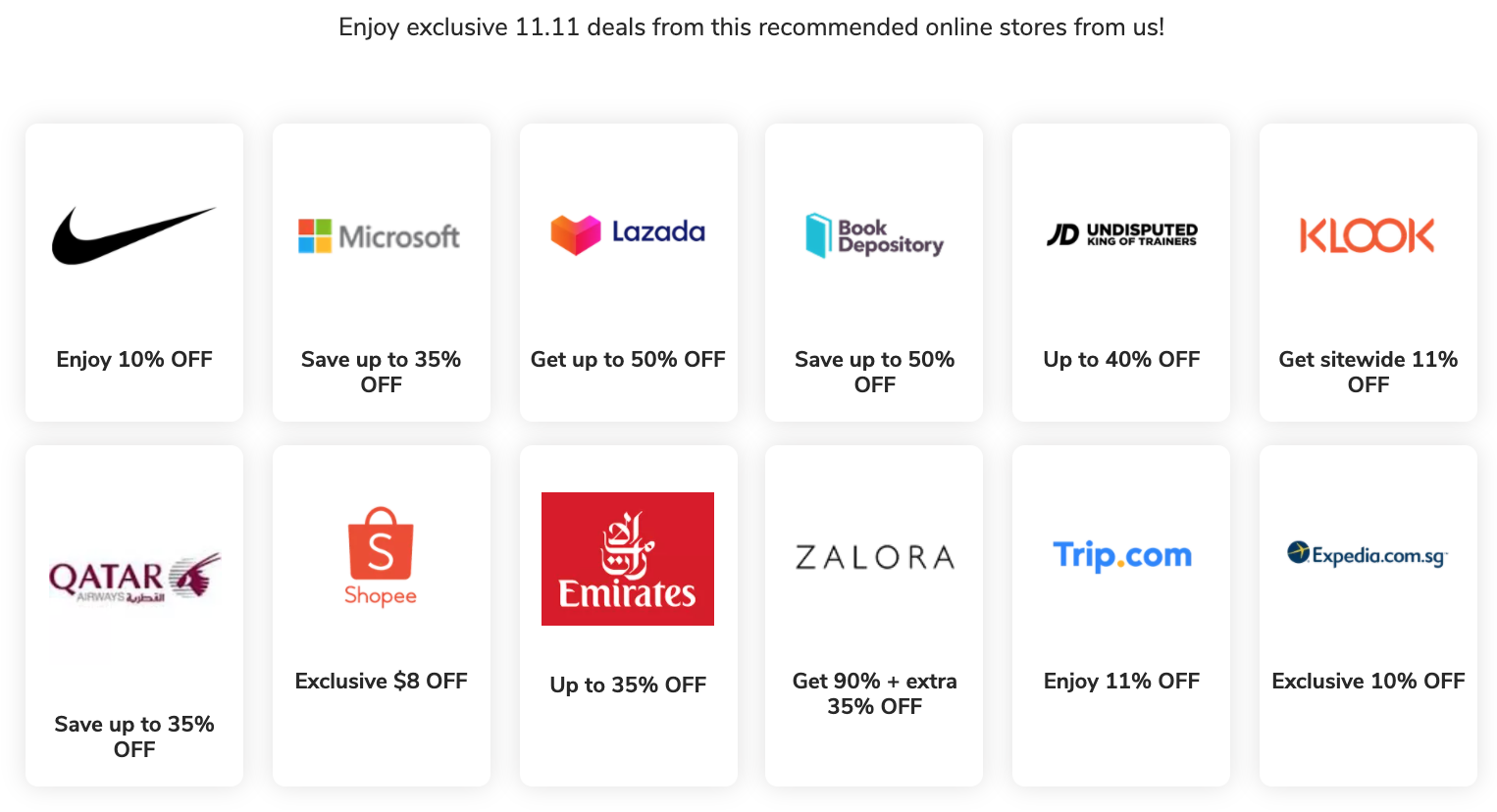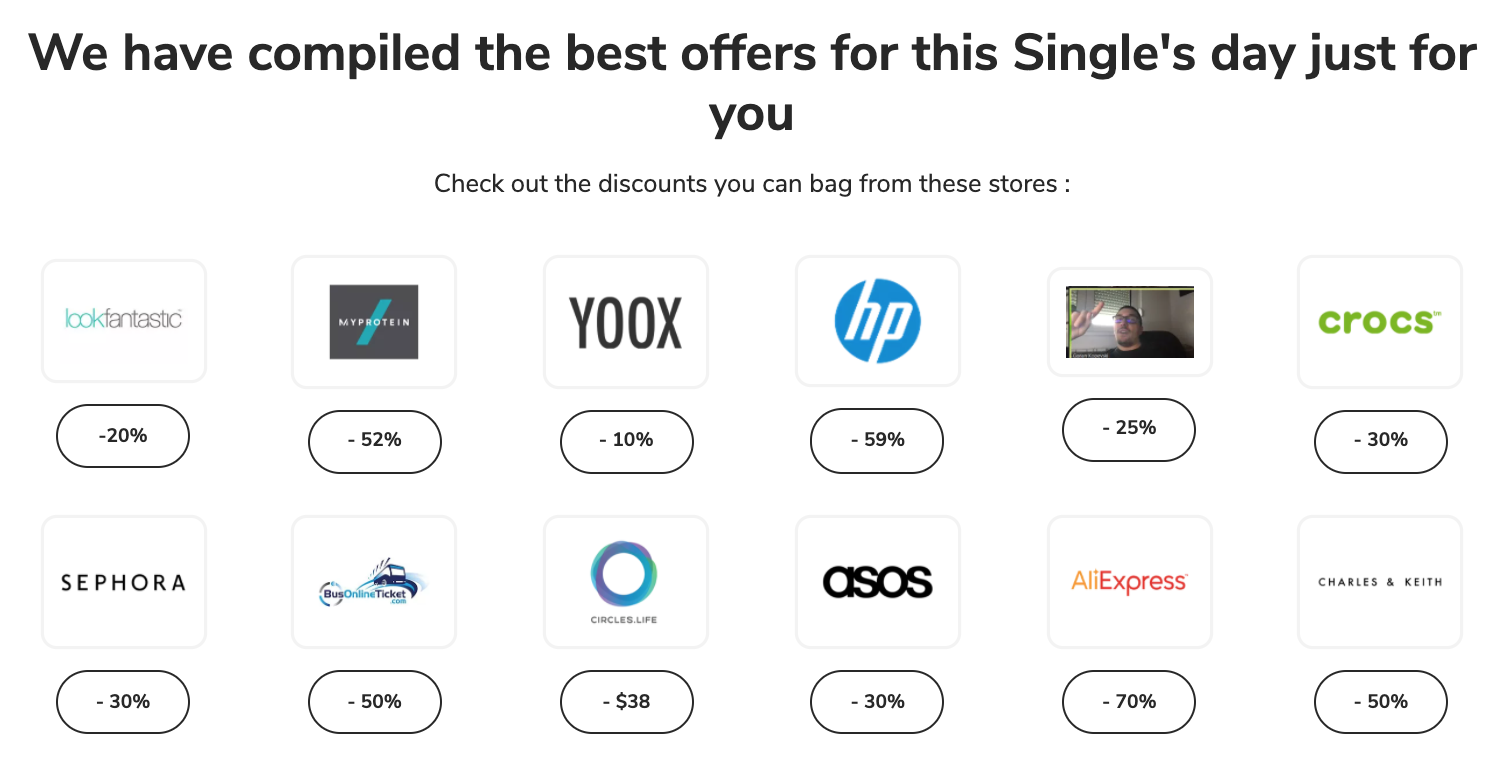 So if you're thinking of just getting maybe only one item from a particular brand, perhaps getting a coupon to help you save some money might just be right up your alley this Singles' Day.
Nike Up To 70% OFF 11.11 Sale
This 11.11, Nike is offering up to 70% discounts on their own online store.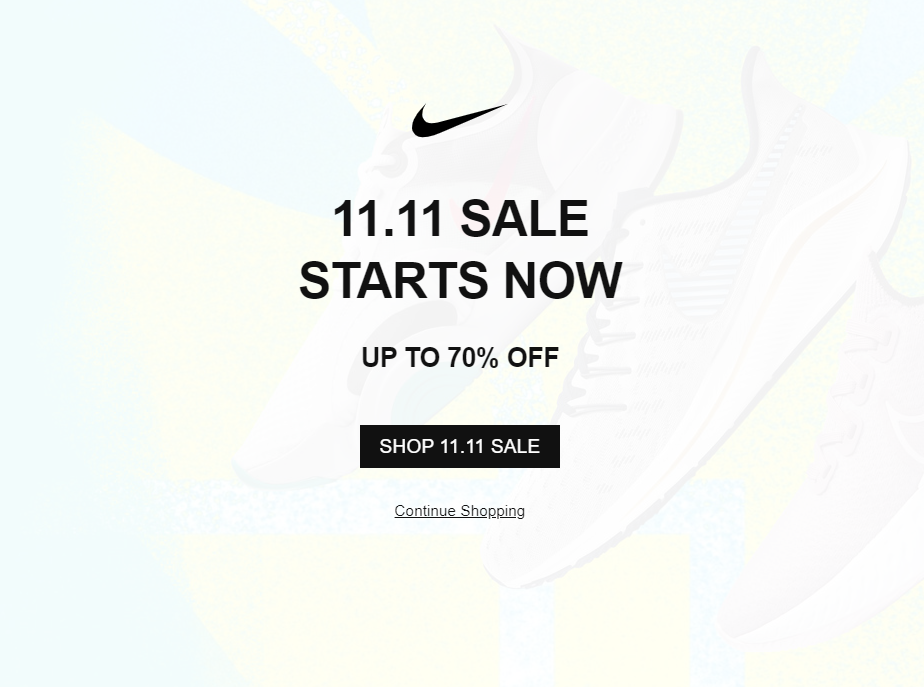 If you're on the lookout for new sportswear or running shoes, this is the place you might want to be at.
The sale started on 5 Nov 2020 and will end on 11 Nov 2020 at 2359 hours.
There are 845 items on sale across a wide range of products including shoes, sports bra, bodysuits, t-shirts, hoodies, jackets and even fitness equipment.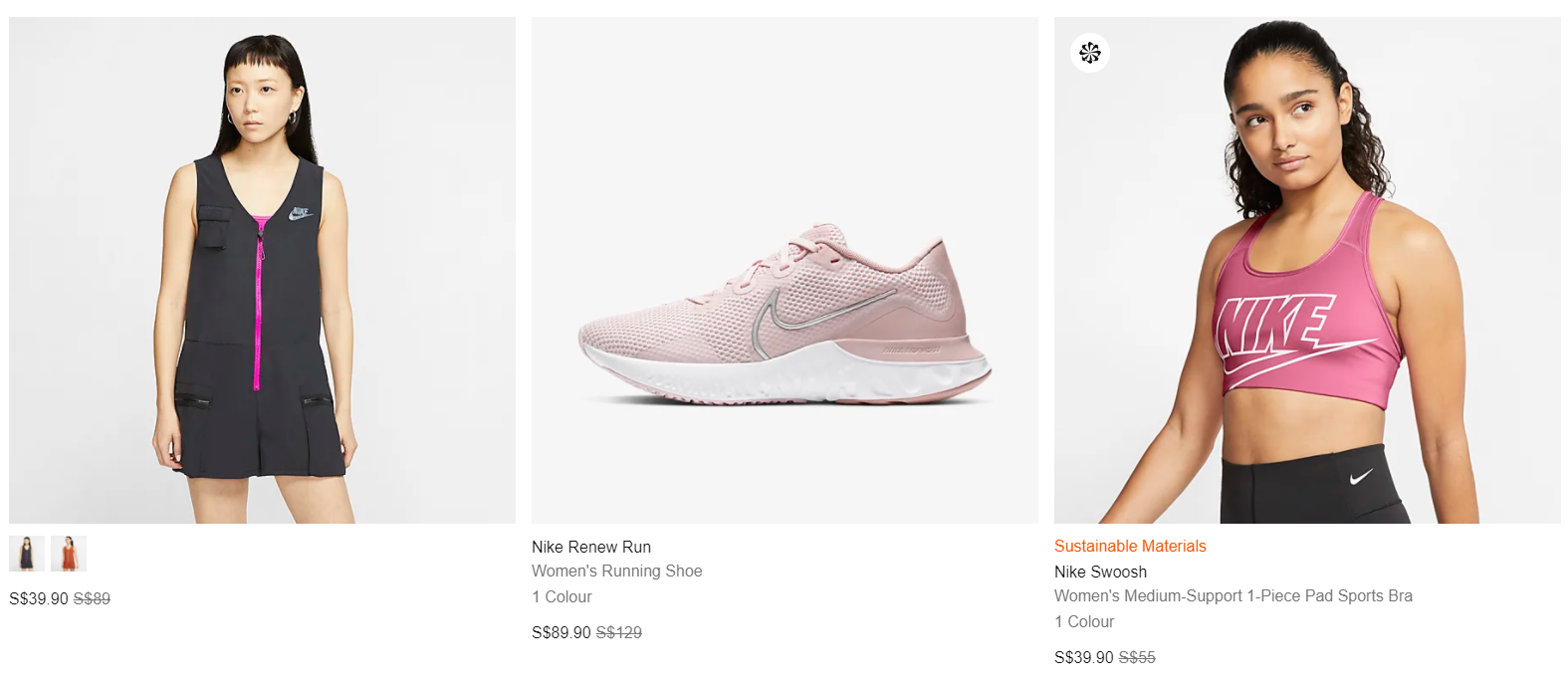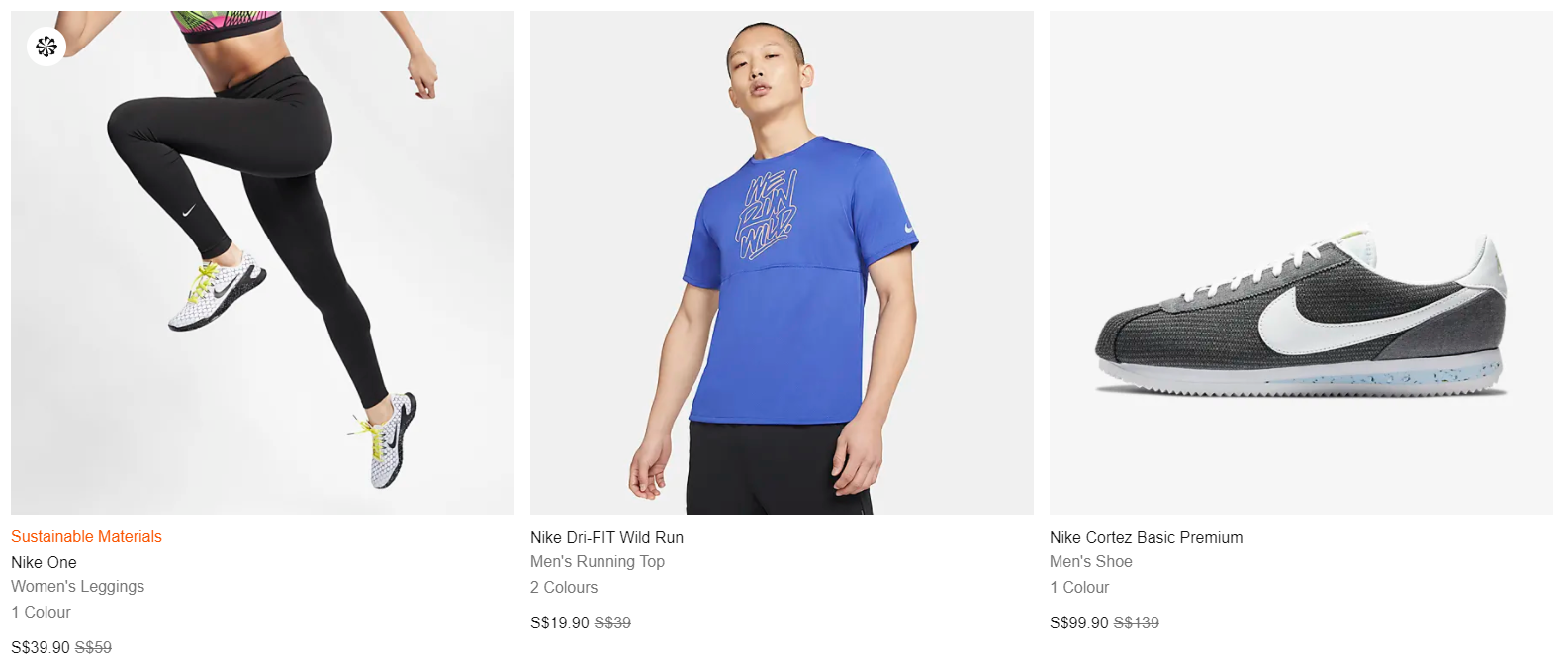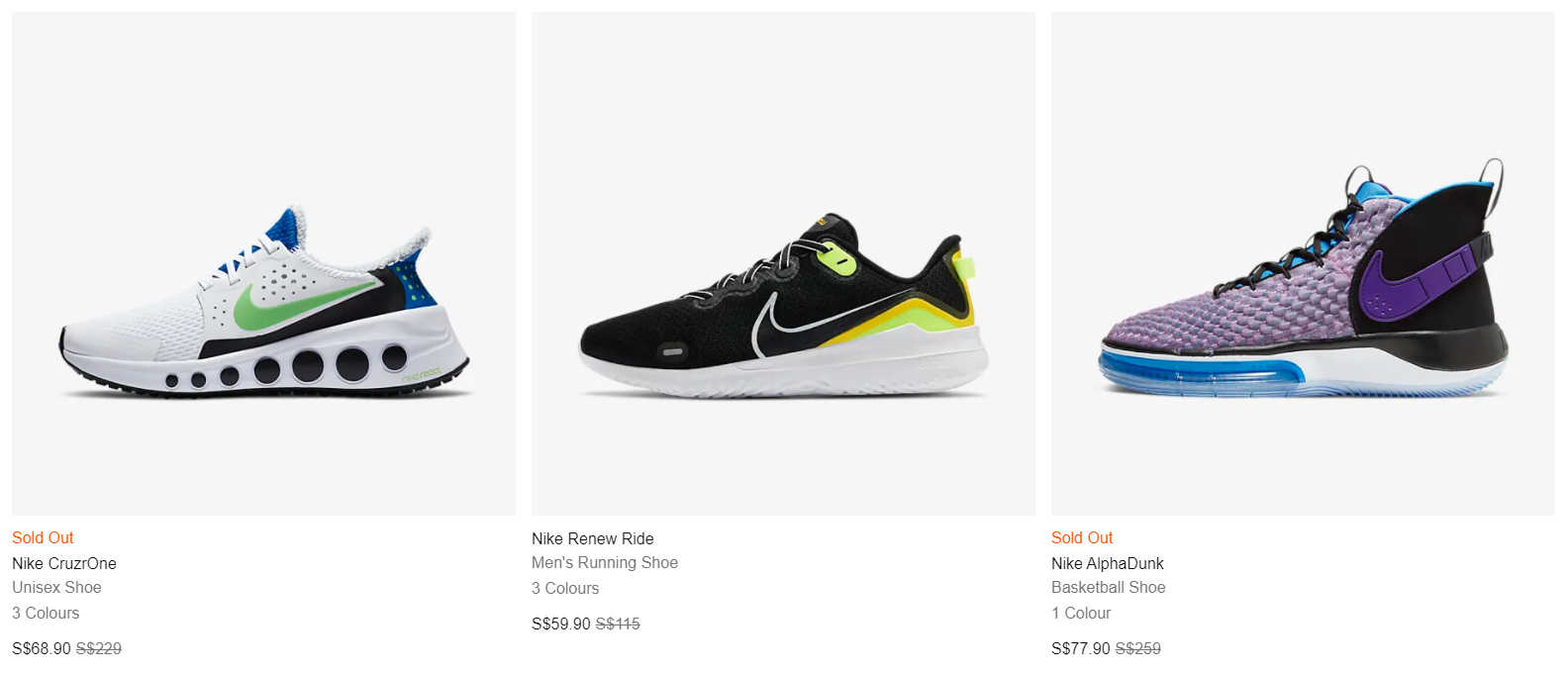 Better be fast though because as you can see from the image above, some items are already sold out, especially if they're ridiculously discounted.
You can start your shopping here.
Uniqlo 11.11 Online Sale
Prepping to get yourself some new clothes because you have to stop becoming a homebody now?
When it comes to affordable and comfortable clothes, Uniqlo's one of the options to come to mind.
After all, even their CEO says they're more of an R&D company than a clothing retailer.
Well, guess what?
From now until 12 Nov 2020, Uniqlo's going to become even more affordable.
This 11.11, Uniqlo's not just giving $10 off their range of limited offer items (and there's a lot of them, we've checked):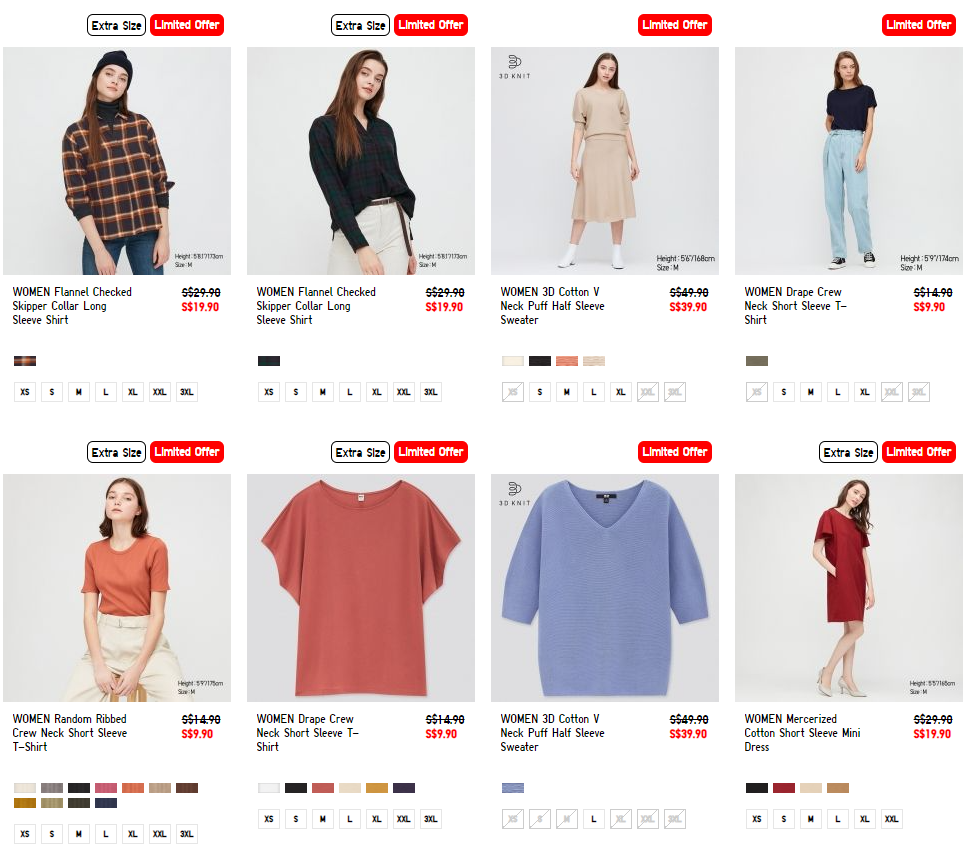 But they're also giving you an $8 welcome voucher if you download their app and use it for the first time.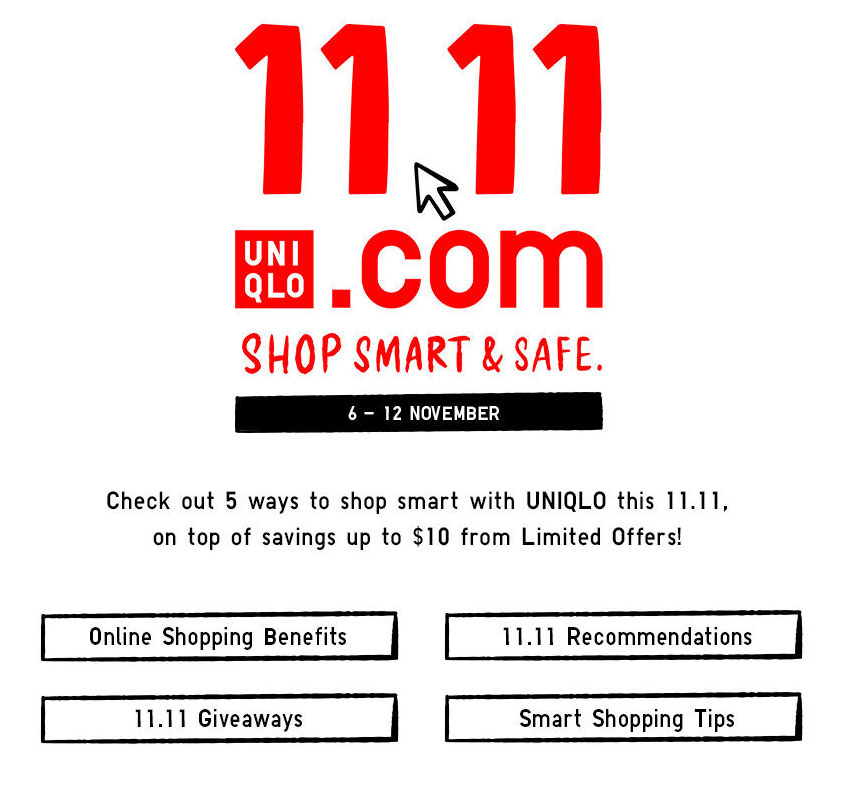 In fact, they're going the extra mile to offer styling tips and is running an entire week of giveaways which include staycation packages and $50 gift cards.
You can find out more here.
2-For-$11 Movie Tickets From Golden Village
Not a SAFRA Member? Don't worry because we've managed to find another deal for movie tickets.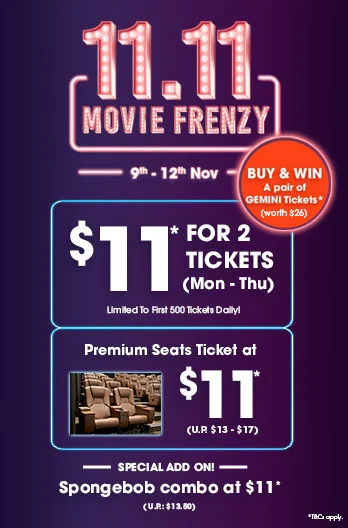 From 9 to 12 Nov 2020, Golden Village (GV) is offering patrons a series of promotions.
$11 For 2 Movie Tickets
The first is the option of getting a pair of weekday movie tickets for just $11 (U.P $19).
All you have to do is to book with the promo code <GV11WEB> on iGV app or the Golden Village website to enjoy the ticket deal.
You'll have to first select the price type of "GV 11.11 Movie Frenzy" before inputting the promo code on the payment page.
$11 Upgrade To Premium Seats
Always wanted to watch a movie in luxury? Now's your chance to do so…for cheap.
From 9 to 12 Nov, you can upgrade to premium seats at the price of $11 each.
Simply select the price type "GV 11.11 Movie Frenzy (Premium)" and use the promo code <GV11PRE> on the payment page to enjoy the deal.
Premium seats are available at:
Duo Deluxe at GV Paya Lebar
Deluxe Plus at GV Funan
Gemini at GV Grand, Citi Square and Funan
Grand Seats at GV Grand
$11 Spongebob Combo (U.P $13.50)
For the next four days, you can get your hand on Spongebob combos with a $2.50 discount.
The promotion is valid for both online purchase and walk-ins at all GV cinemas.
A: 1 x Regular Drink, 1 x Large Popcorn, 1 x Spongebob or Patrick Cup Topper
B: 1 x Regular Drink, 1 x Nachos, 1 x Spongebob or Patrick Cup Topper
C: 1 x Regular Drink, 1 x Hotdog, 1 x Spongebob or Patrick Cup Topper
You can find your nearest Golden Village outlet here.
1-For-1 Mint Chocolate Chip Cookie At Subway
Are you a fan of Subway, particularly their cookies?
If you are, I've got great news for you.
On 11 Nov 2020 only, head on down to any Subway restaurant and you can get a 1-for-1 Mint Chocolate Chip Cookie promo.
According to their Facebook post, the cookies are their usual chocolate chip cookies with a hint of mint.
You can find your nearest Subway outlet here.
P/S: It seems that they have a new meat stack sub on the menu too.
KFC 11.11 Delivery Bundles
Here's another well-known fast-food chain to tickle your taste buds.
From now until 11 Nov 2020, you can enjoy 2 KFC Zinger burgers + 3 Pieces of Chicken for just $11.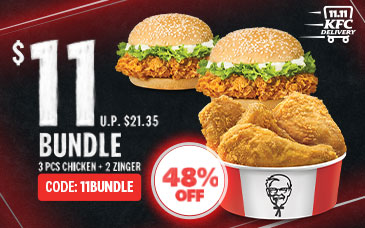 That's 48% off and usually costs you $21.35.
Not in the mood to eat that much?
They have a snack option too, where for just $1.10, you'll get 6-piece nuggets.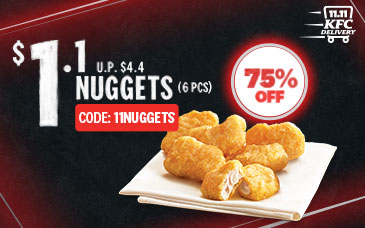 Both deals are applicable for delivery orders only.
Find out more here.
Watson's 11.11 Online Sale
Last, but not least is Watsons, the place you go to for all your health supplements, daily necessities or even tissue paper.
If you've been wanting to stock up for a while now, or even shop for early Christmas presents, now's the time to do so…online.
From 9 to 13 Nov 2020, Watsons is running an exclusive online 11.11 sale where you can enjoy $28 or $52 off with a certain minimum spend.

They have a host of other activities that are ongoing during this week too, including flash deals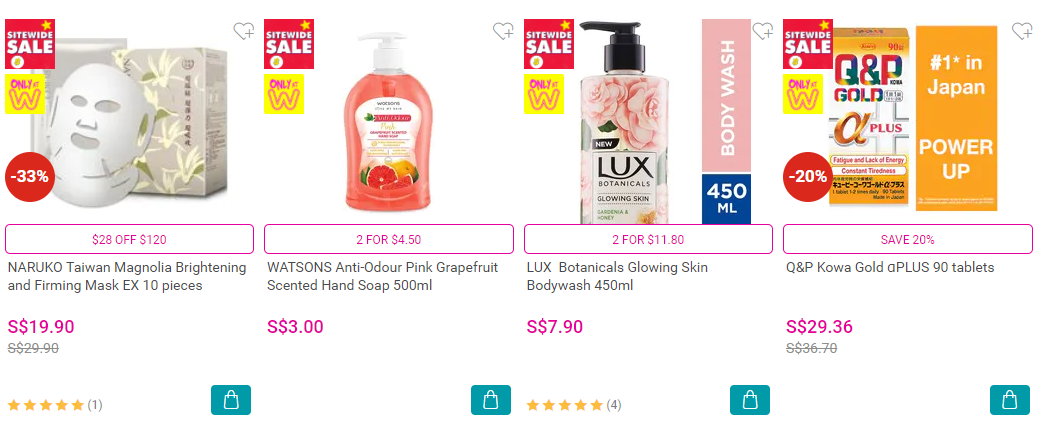 Brand vouchers for 11% off:

1-for-1 promotions: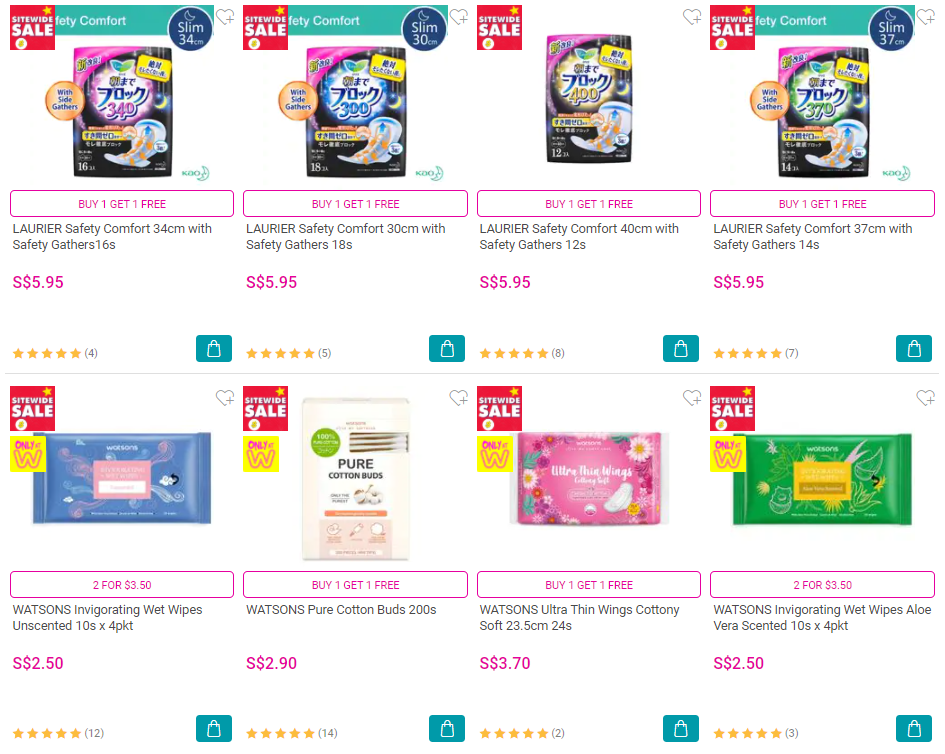 And even an online game where you can win some promo codes: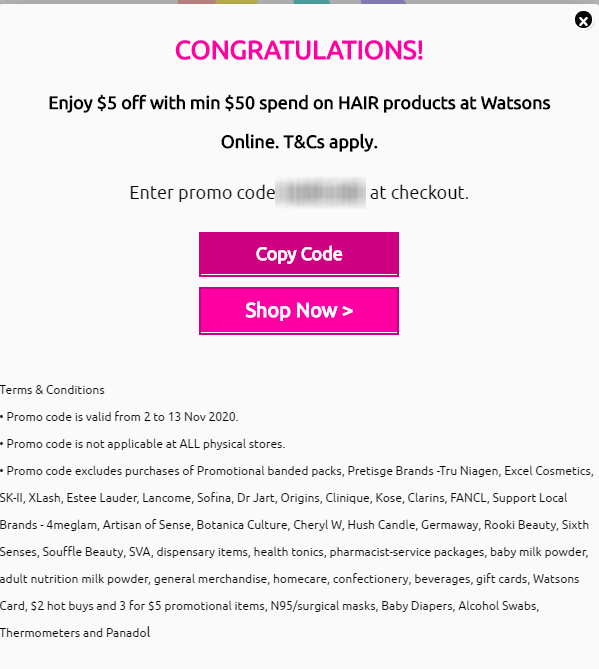 We've tried it ourselves and honestly, it wasn't that hard.
So what are you waiting for?
You can click here to start shopping.
It's so hard to say no to all these amazing deals and promotions on Singles' Day, but it's also the day to treat yourself so go get that Dyson vacuum or Prada bag you've been dying to get your hands on!