---
Advertisements

---
It is time to make it rain.
Not just in Singapore to get rid of the unbearable heat but also across the Causeway to take advantage of the attractive interest rates.
The Malaysian ringgit hit a new low against the Singapore dollar at 3.44 yesterday.
Here's what you need to know.
Malaysian Ringgit Hit a New Low Against the Singapore Dollar
Over the Vesak Day long weekend, a record number of visitors travelled across the land borders to visit Singapore's closest weekend.
What a pity that this mass exodus of people did not coincide with the ultra-low exchange rate which occurred soon after the long weekend.
After all, we can imagine the 1.5 million Singaporeans spending like crazy in Malaysia, with the value of 1 Singapore dollar giving one 3.44 Malaysian ringgit.
This new low occurred yesterday (8 June) and appears to be staying the status quo for now (based on a check done in the afternoon of 9 June).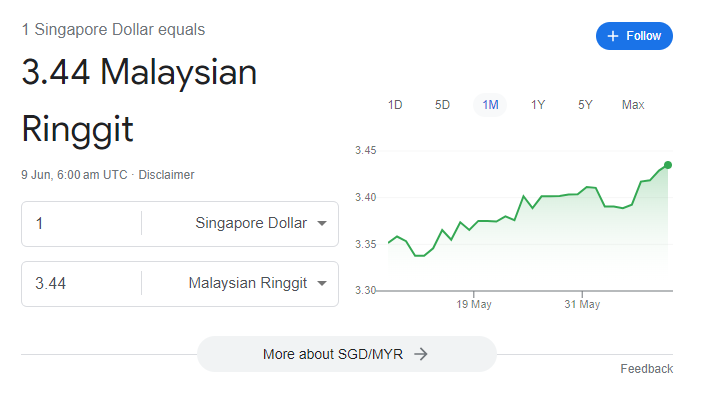 If you are in need of a quick getaway, it is time to call your kakis (friends), grab your passport, and head over to Johor Bahru (JB) for a trip.
For those who have more cash to spare and are looking for a "holiday home", you may live your landed housing dreams over in JB, similar to this influencer.
Malaysian Ringgit May Weaken Further
If you are planning to exchange more Malaysian ringgit now to "hold and keep", you may want to hold your horses instead.
---
Advertisements

---
After all, the Malaysian ringgit may depreciate even more against the Singapore dollar, giving you more bang for your buck.
Back in the second last week of May, when the Singapore dollar rose to an "all-time high" against the Malaysian ringgit, analysts speaking to CNA speculated that the Malaysian ringgit could "spike to new highs in the near term".
The analysts reasoned that China's ongoing economic recovery and Malaysia's impending structural reforms may have affected its value. The strengthening of the US dollar against the Malaysian ringgit may also have contributed to the latter currency's drop in value.
Whatever the reasons, the analysts' predictions came true. What was formerly the record of 1 Singapore dollar providing for 3.41 Malaysian ringgit has now been replaced by 3.44 Malaysian ringgit.
And we hope this appreciation of the Singapore dollar continues for the sake of our wallets.

Here's a rather unexpected timeline of the $2.8 billion money laundering case in Singapore as revealed by Minister Josephine Teo during a parliament sitting on 3 October 2023:
Read Also: