---
Advertisements

---
Last Updated on 2023-01-19 , 5:25 pm
We have taken your jokes about bringing a passport whenever you come to us, we have kept mum as you told us how we are basically in Malaysia.
But the West shall never back down from a fight when it concerns cafes.
Bring it.
From coffee to good food and desserts to unique fusions, the cafes of the West have it all and we're about to prove our hipness.
1. Atlas Coffeehouse
Nestled in Botanic Gardens and within walking distance from the station, Atlas is Assembly Coffee's sister cafe and has earned some fame over the years for its coffee's consistent quality.
Aside from their coffee, Atlas also serves up a wide array of desserts, savouries and brunch items for you to choose from.
From their famous Butterscotch Banana Pancake to Cereal Prawn Pasta and Salted Caramel Waffles, Atlas is an all-round perfect cafe for brunch, chill-out afternoons or for anyone who just wants to drop by and pick up a perfect cuppa.
Address: 6 Duke's Road, S(268886)
Opening Hours: Tues – Sun: 8am – 7pm / Closed Mon
2. Carpenter and Cook
Carpenter and Cook is renowned for their pastries ranging from brioche buns and croissants to muffins, tarts and cakes. You name it, they probably have what you're looking for.
---
Advertisements

---
Aside from their selection of pastries, Carpenter and Cook also serve up light savoury bites throughout the day such as the classic Ham and Cheese Croissant and pasta.
To help you immerse deeper into their world, Carpenter Cook plays vintage music and decorated their whole cafe in a vintage theme to transport you to your happy place.
Regardless of the amount of love you might have for pastries, Carpenter and Cook is a must-go just for their ambience alone.
Address: 19 Lorong Kilat #01-06, S(598120)
Opening Hours: 8am – 6pm daily.
3. Jimmy Monkey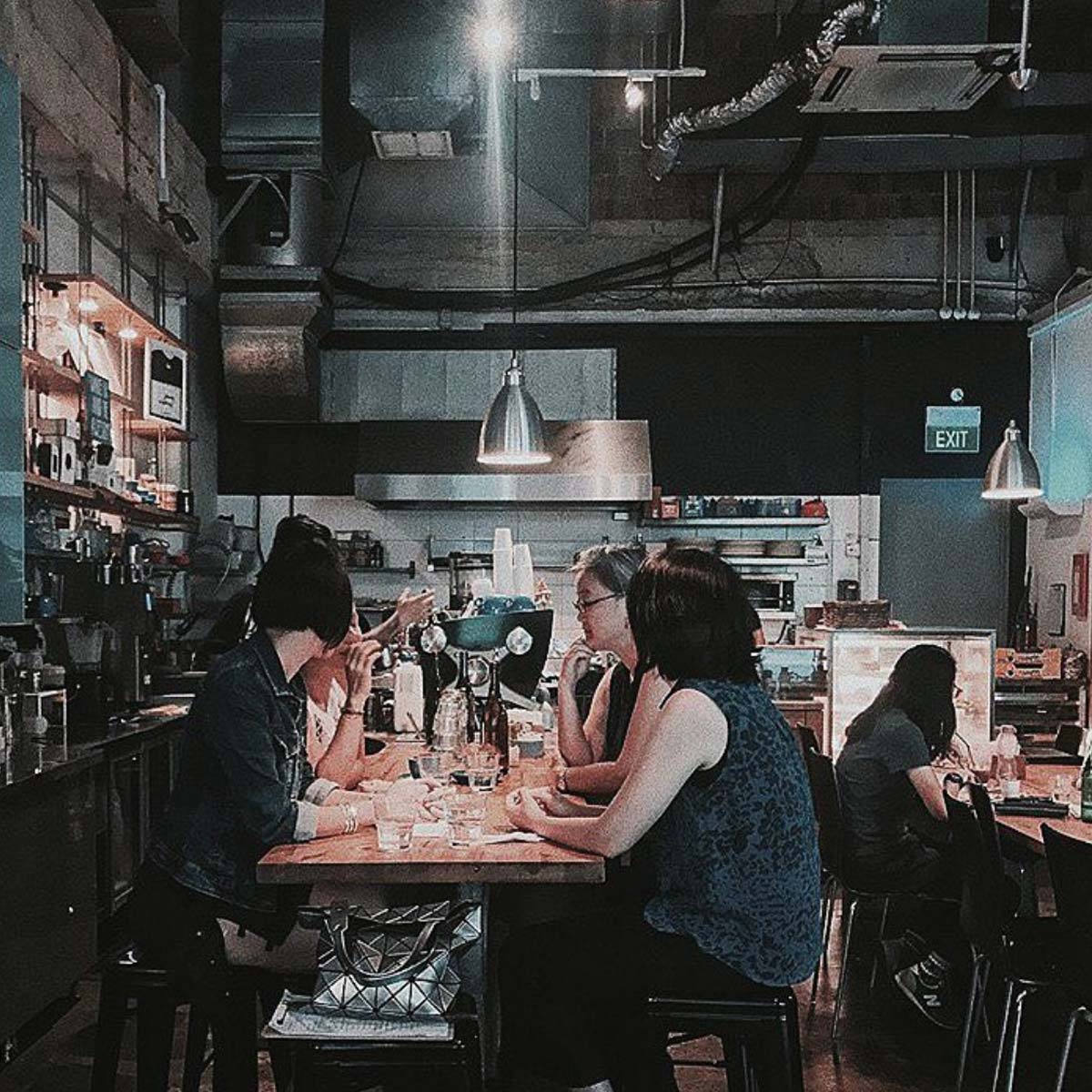 You, my friends, must absolutely try Jimmy Monkey's Christmas Burger. A tasty burger featuring Spicy Tomato Sambal pulled Turkey with a Cranberry and Coriander Yoghurt.
Aside from that, Jimmy Monkey was opened by a true blue native Melbournian. Just on that alone, you can trust that Jimmy Monkey serves up a kickass cuppa.
The cafe lies in a residential part of Buona Vista and Paya Lebar, and also presents some truly Australian food items such as Cheesy Vegemite Toast Soldiers.
Despite the horror stories and videos we've probably seen on Vegemite, Jimmy Monkey has somehow made it palatable for the locals.
Given all its interesting choices and funky interiors, Jimmy Monkey is definitely worth checking out!
Address: 9 One-North Gateway, #01-51 One-North Residences S(138643) and 2 Paya Lebar Rd, #01-10 Park Place Residences at PLQ, Singapore 409053
Opening Hours: 8am – 4pm daily @ One North, 8am – 10:30pm daily @ PLQ Parkside
4. One Man Coffee
One Man Coffee is a speciality coffee concept cafe that focuses on the art of espresso.
---
Advertisements

---
They have a branch at Kinesis, and another at Upper Thomson Road. The cafe's laid-back vibe coupled with its amazing food and a fierce cup of coffee makes this cafe one of the ideal lunch meeting cafes among office executives.
Offering up some mouth-watering items such as Ham and Truffle Cream Cheese Croissant and Grilled Four Cheese Sandwich, One Man is pretty much the Man with their killer food-coffee combination.
Address: 4 Fusionopolis Way, #01-15 Kinesis, S(138635) and 215R Upper Thomson Road, S574349
Opening Hours: Mon, Wed – Sun: 9am – 4pm / Closed Tues
5. Bok's Kitchen by Hidden Chefs
Trust us when we say this cafe is worth travelling all the way down to Boon Lay for. Rice bowls from just $10? Sign me up.
This industrial-themed cafe does the classics right with its Char Siew, Salmon Teriyaki and Grilled Chicken Rice Bowls. The meat is tender and well-seasoned and for its price, Bok's Kitchen gives real value for money.
Aside from rice bowls, you can also get classic Western brunch items such as Eggs Benedict and a Croissant Set. It's about time you ventured into the deep West and Bok's a pretty good reason to do it for.
---
Advertisements

---
Address: Blk 216, Boon Lay Ave, #01-01, S(640216)
Opening Hours: Tues – Fri: 11am – 2:30pm, 5:30pm – 9pm / Sat: 10am – 9pm / Sun: 10am – 9pm / Closed on Mon
Join our Telegram channel for more entertaining and informative articles at https://t.me/goodyfeedsg or download the Goody Feed app here: https://goodyfeed.com/app/ 
6. Time Table Cafe
Time Table Cafe is right smack in the middle of a residential area and thanks to this clever positioning, Time Table sees a steady stream of residents nearby who heads over to the cafe for a mid-afternoon chill.
Not only does this quaint little neighbourhood cafe serve your favourite western dishes such as Salmon Baked Rice and Seafood Vongole, but they also do it at pretty wallet-friendly prices with items mostly costing within $10.
This cafe may not be offering something completely different, but it checks all our good-cafe boxes: comfort, cheap and good food, and chill vibes.
Address: 

Blk 456 Jurong West St 41, #01-726, S(640456)

Opening Hours: Mon – Thurs: 11am – 11pm / Fri: 11am – 2am / Sat – Sun: 8:30am – 2am
7. Crown Bakery and Cafe
If Carpenter and Cook is known for its pastries, then Crown will be a familiar name to many for its great bread.
---
Advertisements

---
Aside from making great Sourdough and wholesome loaves and offering all-day breakfast, Crown's extensive menu now includes salads, sandwiches and burgers, and hearty mains like Grilled Ribeye Steak and Bacon and Oxtail Stew. Mains and pasta are available from 12pm onwards.
Crown's spacious and comforting interior and decor also make it a great place for families and kids.
Address: 557 Bukit Timah Rd, #01-03, Crown Centre, S(269694)
Opening Hours: Mon – Thurs: 7:30am – 7pm / Fri – Sat: 7:30 am – 9:30 pm / Sun: 7:30am – 7pm
8. W39 Bistro & Bakery 
People in the West should all be familiar by W39 Bistro by now. One of the first few cafes to become known for its rainbow cakes, this whimsical cafe also whips up a mean W39 Beef Burger with a home-made patty and Duck Confit with garlic mashed potatoes.
W39's colourful decor and cheery appearance grants this cafe the title of the happiest looking cafe in the West (for us at least).
Address: 39 Jalan Mas Puteh, S(128637)
Opening Hours: Tues – Fri: 11:30am – 9:30pm / Sat – Sun: 9am – 9:30pm / Closed Mon
Bonus: Rise & Grind Coffee Co.
This cafe in Bukit Timah Plaza has since relocated to Punggol, so it isn't strictly in the West anymore. But the quality of food stays the same, no matter where this cafe is at.
Rise and Grind brings in some local flavour with their Chilli Crab Linguini and serves up some mean burgers like the Nacho Libre Burger with chicken patty, guacamole, salsa, cheese sauce, sour cream, and tortilla chips.
---
Advertisements

---
Address: 681 Punggol Drive, Oasis Terraces #01-06, S820681
Opening Hours: Mon – Fri: 10am – 9pm / Sat – Sun: 9am – 9pm
Featured Image: Facebook 

How much cash are you getting in December 2023 from the Government? Here are the facts simplified for you:
Read Also: