---
Advertisements

---
When you stroll down to your favourite hawker centre, your wallet feels lighter upon realising that the price of your go-to laksa has gone up. 
One day, the cost of kaya toast decides to do a little hop and jump, making your wallet even lighter and lighter. And it's not just the prices of food that have been affected. Inflation creeps up everywhere, from food to transportation and even housing. 
With prices on the rise and many folks in Singapore feeling the struggle, the Singapore Government has announced an additional S$1.1 billion support package to help ease the rising cost of living.
The additional support was announced on Thursday (28 September 2023) by Deputy Prime Minister and Minister for Finance Lawrence Wong.
More than 2.5 Million Singaporeans are Eligible
The Cost-of-Living Support Package, valued at $1.1 billion, is set to benefit over 2.5 million adult Singaporeans. 
This initiative includes an additional cash disbursement of up to $200, which will be rolled out in December this year.
Its primary aim is to alleviate the mounting financial burden caused by the rising cost of living in Singapore.
These measures were introduced during the Budget 2023 announcement.
In the announcement, Minister Lawrence Wong acknowledged the widespread concerns among Singaporeans regarding the broader economic landscape, rising prices, and the impact on their cost of living.
Furthermore, the Ministry of Finance (MOF) has revealed that this supplementary support initiative includes an $800 million addition to the Assurance Package (AP), bringing the total value of the AP to over $10 billion.
Additional Cash Payment of up to $200 within the Assurance Package
It was initially announced that eligible adult Singaporeans would be entitled to a $600 disbursement within the Assurance Package (AP).
After this initial announcement, it has been announced that an extra cash payment of up to $200 will be provided in addition to the existing cash payout within the AP.
This means that individuals who meet the eligibility criteria – specifically, Singaporeans aged 21 and above in 2024 who do not own more than one property and have an assessable income of $34,000 or less – will receive an additional $200, in addition to the $600 initially outlined in the AP cash payout.
In total, eligible adult Singaporeans can expect to receive up to $800 in cash come December 2023.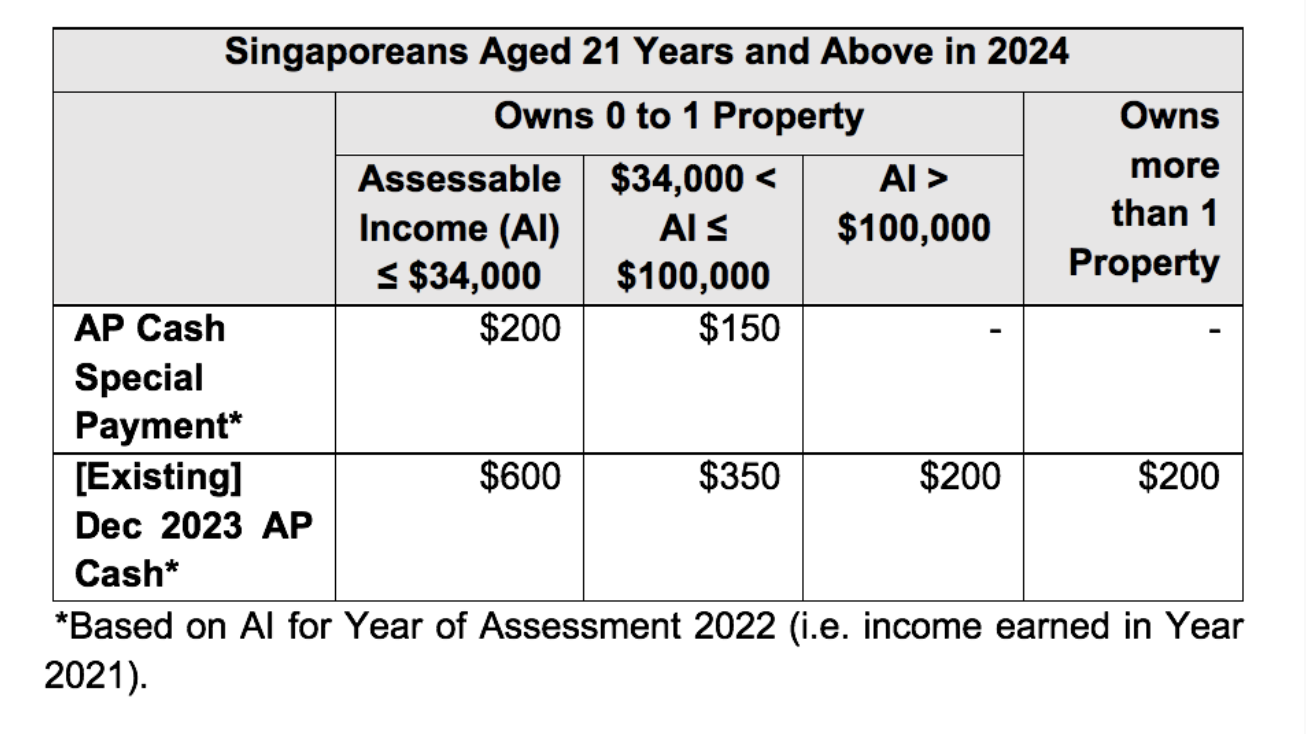 This special one-time payout will be distributed concurrently with the regular AP to provide more support for lower-income and middle-income Singaporean adults.
Meanwhile, eligible adult Singaporeans with assessable incomes exceeding $34,000 but not more than $100,000 will receive an additional $150 in addition to the established $350 payout outlined in the current AP.
It's worth noting that individuals who possess multiple properties or have assessable incomes exceeding $100,000 are not eligible to receive the additional payout under the AP cash payment. 
However, they will still receive $200 from the existing AP cash component.
CDC Vouchers to Increase to $500
Singaporean households will also enjoy an additional $200 in Community Development Council (CDC) vouchers, making the total CDC voucher $500 for 2024.
These additional CDC vouchers worth $200 will be divided evenly, with $100 for use at participating heartland merchants and hawkers and the remaining to be allocated for spending at participating supermarkets.
Under the CDC Vouchers Scheme for 2024, individuals can digitally claim their vouchers starting from 3 January 2024 here. 
---
Advertisements

---
These vouchers can be claimed at any time during their validity period and expire at the end of 2024.
Additional S&CC Rebate
In January 2024, eligible Singaporean households residing in HDB flats will receive an additional one-time 0.5-month service and conservancy charges (S&CC) rebate in addition to the standard S&CC rebates.
This supplementary rebate is expected to affect about 950,000 HDB households in Singapore.
According to MOF, this rebate is expected to entirely offset the initial S&CC rate hike for one to four-room HDB flats in its first year, while it will cover approximately 85% of the increase for larger HDB flats.
In June, an announcement was made regarding 15 town councils implementing a phased increase in S&CC rates, commencing in July 2023 and spanning over two years.
The first increment will range from $0.70 to $7.90 per month, depending on the flat type.
---
Advertisements

---
Subsequently, the second increase, set to take effect on 1 July 2024, will be slightly higher, ranging from $1 to $9.10 monthly.
U-Save Rebates
The 950,000 HDB households in Singapore will also benefit from an extra $20 per quarter in U-Save rebates from January 2024 and lasting through December 2025, resulting in a total annual rebate of $80 for a two-year duration.
These rebates will be distributed with the regular U-Save rebates and are intended to mitigate the effects of the carbon tax and water price hikes in 2024 and 2025.
The ministry has further indicated that, on average, these added U-Save rebates will completely offset the rise in utility expenses for one to two-room HDB flats and cover approximately 80% of the increased utility costs for three to four-room HDB flats.
It will also alleviate around 65% of the utility expenses for larger flats over the upcoming two years.
---
Advertisements

---
Public Transport Support Measures
Public transport vouchers will be extended to eligible individuals. 
With the price hike, the government will also roll out public transport vouchers worth $50 to mitigate the financial impact on lower-income households. These vouchers can be used to top up fare cards or purchase monthly passes.
Resident households with a monthly household income per person of no more than $1,600 will be eligible for the vouchers.
​​The vouchers will be disbursed from the end of December 2023. 
Moreover, to address the deferred fare adjustment quantum of 15.6%, there will be an additional subsidy of approximately $300 million.
This allocation aims to reduce fare increases and offset the heightened expenses related to providing public transport services. These increased costs are attributed to the ongoing rise in energy prices, core inflation, and strong wage growth in 2022.
Public Transport Hike from 23 December 2023
The public transport support measures come after the announcement that public transport fares will see a 7% increase, equating to a 10 to 11 cent hike per journey for most commuters.
Adult fares will rise by 10 cents for trips under 4.2 km and 11 cents for trips exceeding 4.2km.
---
Advertisements

---
If you're an adult who frequently uses a card to pay for public transportation, you'll be affected by this fare increase. 
With the government's ongoing support, hopefully, the burden won't weigh as heavily on our wallets.