---
Advertisements

---
Would you pay $1,800 for 4 pieces of luggage when the tickets cost half of that?
This family had no choice but to pay the hefty amount, and complained about it on TikTok.
Checked-In Baggage at Airport Instead of Pre-Paying Online
In a TikTok video on 5 June, Rocio Ocampo said that her family paid about 30.48 million Vietnamese dong, or about S$1,800, to check-in their luggage. The family was flying to Malaysia and Indonesia.
They had checked-in their luggage at Hanoi Airport, instead of pre-paying for them online, which thus caused the high fees.
In the video, Ocampo said that she was very disappointed in AirAsia. Her son also said that this was like being charged $100 for a lemonade.
Despite their luggage fees costing twice as much as an air ticket, the family had no choice but to accept it since their visa expires on that day. Otherwise, they could have easily cancelled their flight.
The family also compared the prices to Lion Air, which apparently only charges $15 for four bags.
She captioned her TikTok, "Shame on AirAsia for charging us $1,300 for our checked in bags #notcool". The video reached over a million views, with netizens giving mixed responses.
Didn't Read the Fine Print
Many netizens said that the blame wasn't on AirAsia, but rather on the family for not reading the terms and conditions of her flight. Whether or not the luggage was paid for is clearly in the fine print.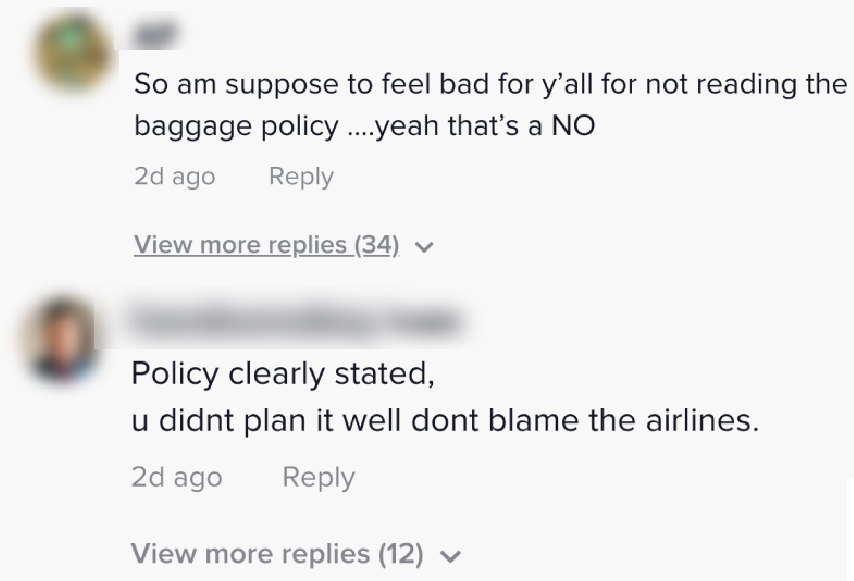 However, there were others that pointed out that even if they did read the fine print, $1,800 for luggage is way too expensive.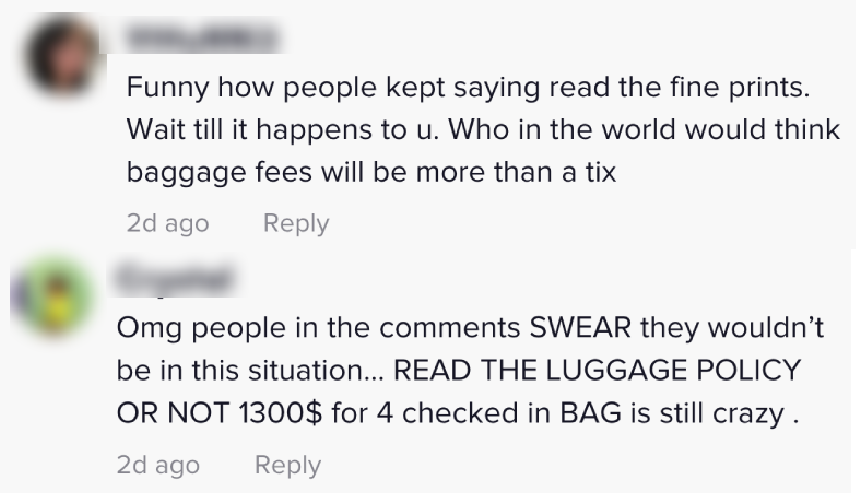 Join our Telegram channel for more entertaining and informative articles at https://t.me/goodyfeedsg or download the Goody Feed app here: https://goodyfeed.com/app/
What's Written on AirAsia's Website
According to AirAsia, checking in of luggage at the airport starts from S$56 per person.
However, after you add in the total weight of your luggage, the number of stops on your flights, taxes, and credit card processing fees… yeah, the numbers are bound to pile up.
Moral of the story? Read the fine print, and prepare yourselves well before going on holiday.
Read Also:
Featured Image: TikTok (Rocio Ocampo)

Fresh grads, you don't need any experience to earn up to $4,200 with this "secret":
Read Also: