---
Advertisements

---
Some have blamed bats, some have blamed civets, and Nas Daily once very weirdly blamed meat-eaters, but the creature that first transmitted COVID-19 to us may have been right under our noses this whole time, specifically on our laps: babies.
Yes, according to a lady on the train, babies are super-spreaders of the deadly coronavirus, likely based on studies she imagined in her head.
And while we all have our outlandish beliefs, most of us don't go spouting on and on about them on the MRT.
Because when that happens, you run the risk of getting Karen-ified. 
Karen-ified Woman in MRT Scolds Mum As Baby Isn't Wearing a Mask
A woman has gone viral online for scolding the mother of a baby who wasn't wearing a mask while they were on the MRT.
A video of the incident was first shared on TikTok yesterday (2 Dec) and has since been viewed nearly 390,000 times.
In the 29-second video, a woman in a dark blue dress can be seen arguing with a passenger seated across from her.
The video starts with the woman shouting: "Who the hell are you to shout at me?"
The passenger, whose response is muffled and indecipherable, is not visible as she's obstructed by the woman in blue.
The woman's next question, uttered in the same heated tone, must have been hard for the passenger to answer: "What kind of baby doesn't wear a mask?".
A socially irresponsible baby, clearly. Maybe it's time for a reformative training centre for infants.
When the passenger retorts that her child is just a baby, the woman insists that babies should also wear masks.
"How I know whether your baby doesn't have virus?" she argued. "Can you guarantee she doesn't have virus?"
She then chided the passenger for talking "rubbish".
This woman is clearly a fan of irony.
The pair continue to argue, with the woman in blue the louder of the two, but it's unclear what was said.
So… Are Babies Supposed to Wear Masks?
Unless it's Halloween, the answer is clearly no.
According to the Ministry of Health's guidelines, only children aged six and above need to wear a mask when leaving their homes.
Mask-wearing is not recommended for children aged two and below, however, due to "child safety reasons".
So, this woman either doesn't keep up with the news, or must have something against babies.
In the video, as the woman was berating the mother, an elderly couple could be seen staring at the woman, probably thanking their lucky stars that their parenting days were behind them.
---
Advertisements

---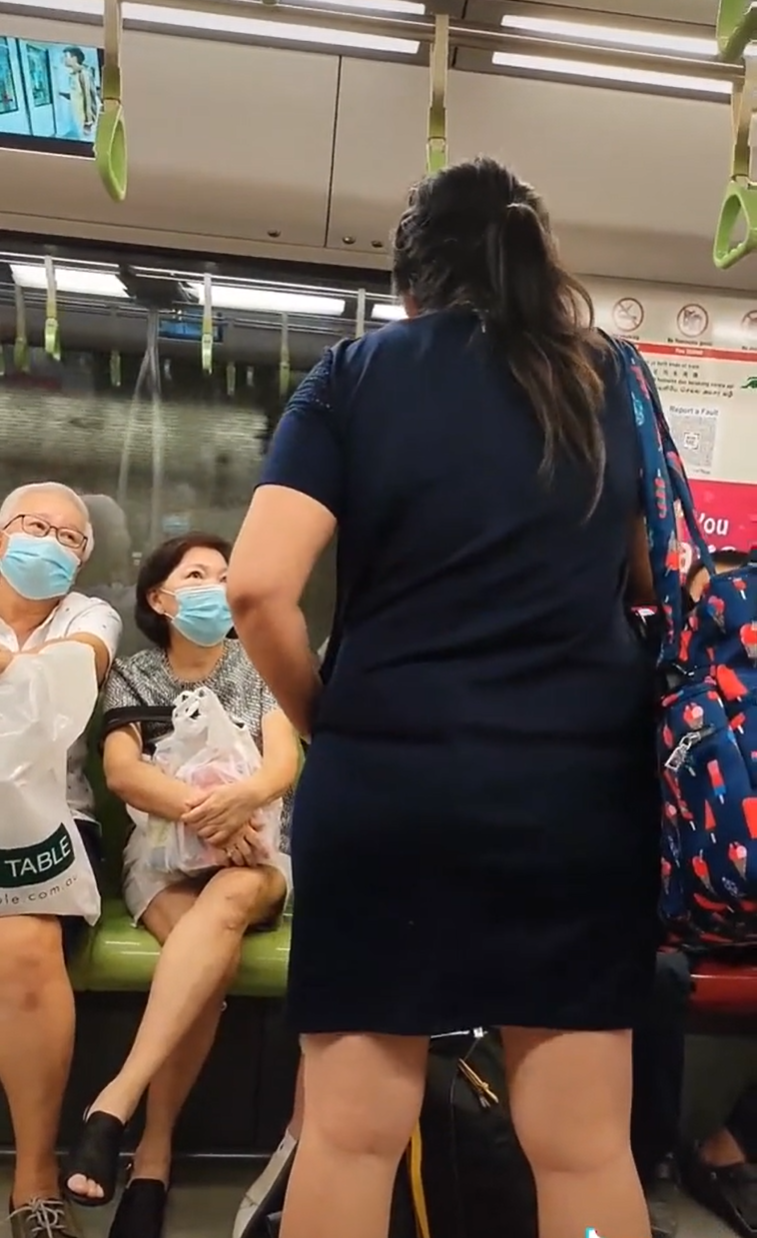 You can watch the video below:
Read Also:
Featured Image: TikTok (@user5081606485582)

Fresh grads, you don't need any experience to earn up to $4,200 with this "secret":
Read Also: