---
Advertisements

---
We've all seen plenty of disappointing and depressing headlines over the last two years with the emergence of the COVID-19 pandemic.
And as much as we would like to keep remaining goody, here's another sad piece of news, especially for IKEA and soft toy lovers everywhere.
That is, we may not be able to see blue sharks any longer in IKEA stores.
Introducing IKEA's Beloved Blue Shark Soft Toy
There are few animal armies like IKEA's range of soft toy animals.
While cute, cuddly and distinctive, don't be fooled of their power – the grip they have over adults everywhere remains terrifying.
If you're an avid user of social media, you may have been familiar with the IKEA animal soft toys that have made an appearance in several viral posts.
One of their most popular variants remains the metre-long blue shark soft toy, named Blahaj – which literally means blue shark in Swedish.
They began their reign of popularity two years ago, following social media posts of these soft toys pictured doing human activities like reading the morning paper and eating at dining tables.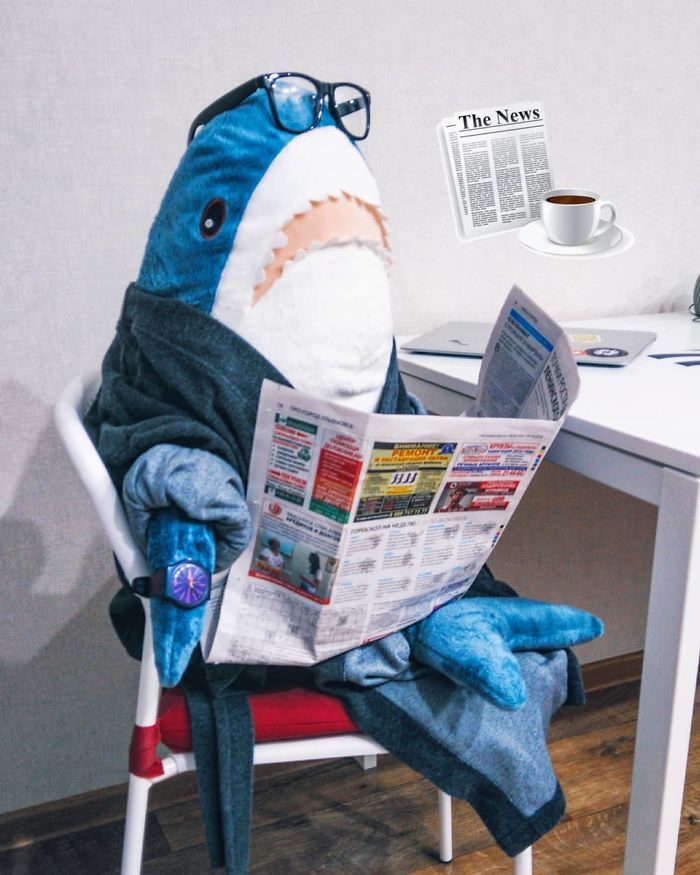 Who wouldn't want to own one as a companion to brighten up their mundane days, especially in quarantine?
Unfortunately, IKEA's struck the world with yet another blow – they will allegedly be discontinuing everyone's beloved Blahaj soft toys soon.
Blahaj To Be Discontinued In April 2022
One user took to Twitter on the fateful day of 23 September to ask IKEA UK why they were unable to find the Blahaj soft toy on the website any longer.
---
Advertisements

---
The company then replied that the shark was currently out of stock due to issues regarding supply, and that they had no information as to whether it would make its return.
In another reply, the blow was delivered – the team shared that even if it were to return, it would be for a limited time only as Blahaj was set to be discontinued in April 2022.
Worried, fans from various countries also weighed in to ask IKEA whether the soft toy would also be discontinued where they were.
Thankfully, IKEA USA and Canada assured that they currently have no plans to discontinue Blahaj in their regional and online stores.
It's not all relief for us here in Singapore, though, for the blue shark toy currently remains out of stock online here and other countries like Hong Kong, Taiwan, and China.
Just like a blue shark, it's starting to look like we'll have to cross the seven seas just to get our hands on one in the near future.
Netizens Are Upset
Although it may not be as much of a big deal in Singapore, Chinese netizens have not been taking the news well at all.
"IKEA toy to cease development" was one of the hottest trending topics on Weibo over the last weekend, with many expressing their shock and disappointment.
Some even shared that they regretted not grabbing it earlier while they had the chance to.
Others were excited to share photos of themselves rushing down to IKEA's physical stores to grab the toy before it ran out of stock, with the sharks sitting in their shopping carts.
---
Advertisements

---
IKEA's news also caused shockwaves all around the world, with petitions to continue selling Blahaj set up on Reddit and site Change.org.
Reddit users even created a subreddit titled "save the Blahaj" in protest of the move.
Meanwhile, if you're hoping to purchase one before it's too late, you can keep checking IKEA's website here to see if they'll restock it eventually, although it looks bleak.
Read Also:
Featured Image: Prachana Thong-on / Shutterstock.com

How much cash are you getting in December 2023 from the Government? Here are the facts simplified for you:
Read Also: