---
Advertisements
---
Like it or not, there are age restrictions for certain things you can do. Drinking, getting a driving license or simply watching a movie are just some things that have restrictions.
And if you don't meet the age limit, leave it as that and move on
You should also most definitely not stab someone in the process.
Stabbing Incident
If you've kept up with the news, you may have heard of this one.
On 7 October, Mr Lee Jing Wen, 23, was left bloodied at a FairPrice outlet in Boon Lay Shopping Centre.
The incident went viral quickly and pictures of the victim went around social media.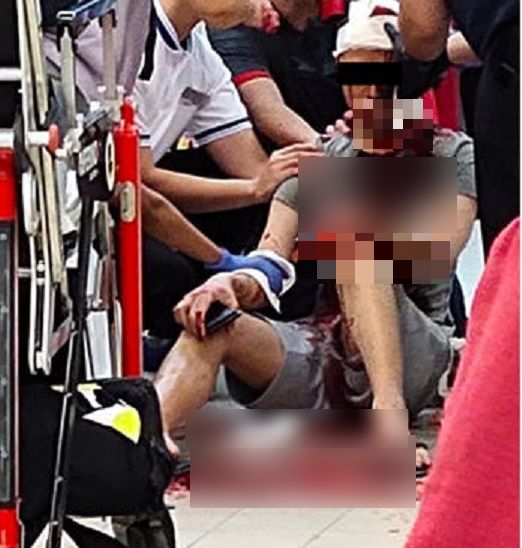 The attacker has been identified as James Teck Jing You, 18, according to The Straits Times.
Mr Lee reportedly suffered injuries to his face and head, including a deep cut across his forehead.
He was sent to Ng Teng Fong General Hospital shortly after.
Recently, it was also brought to light the reason behind Teck's assault.
Trying to Get Cigarettes
According to Zaobao, he tried to get Mr Lee to buy cigarettes for him.
And for those not in the know, the age restrictions for cigarettes recently went from 18 to 20 years old this year. Come next year, it will be 21.
So yes, Teck is technically underage to buy cigarettes.
In the afternoon of 7 October, Teck approached Mr Lee, asking him to buy cigarettes on his behalf from the nearby FairPrice outlet.
The two did not know each other before this.
Just so you know, this is rather common; my colleague, who looks remarkably old despite being in his twenties then, would often be asked by teenagers to buy cigarettes for them and even provided incentives. According to him, he rejected all of them nicely lah.
And so, Mr Lee did the same thing: he declined and proceeded to get his temperature checked.
That was when shit hit the fan immediately.
Teck then reportedly took out a knife and began slashing at Mr Lee.
The victim went into the supermarket to seek help, but the teen barged in and continued his attack.
He only stopped when Mr Lee collapsed.
---
Advertisements
---
Police were able to identify Teck through CCTV footage and arrested him on the same day.
The supermarket was closed for a few hours after the incident and no other shopper's safety was compromised.
A FairPrice spokesman said that the staff gave immediate assistance and their store operations would remain unaffected.
Aftermath
So what happened to Teck after the incident?
---
Advertisements
---
Today, (9 October), he has been charged with voluntarily causing grievous hurt with a weapon.
He will also be remanded at the Institute of Mental Health for psychiatric observation. The case has been adjourned to 23 October.
For his charge, Teck could've been jailed for up to 15 years and caned or jailed for life.
Yes, all for a pack of cigarettes that could also reduce his lifespan by 15 years or more.