Three things are certain in Singapore: Death, CPF, and the heat.
While it's been raining a lot more lately, it usually feels like your skin is melting when you leave your house.
And by the time you reach your school or workplace, it looks like you showered with your clothes on.
It's in times like these that Singaporeans ache for winter, for icy cold flecks of white to fall from the sky.
Well, I have some good news: it's about to snow in Singapore.
Not literally of course. That's never going to happen.
Rather, it's going to snow cheese.
Lots and lots of cheese. 
Burger King S'pore Has Snow Cheese Burgers Where the Snow is Cheese
The self-proclaimed king of burgers has been teasing customers about a new product on its Facebook account.
On Monday (16 Nov), Burger King shared a post asking customers a simple but very important question: What happens when a Whopper meets an avalanche of Cheese?
Well, customers got their answer the very next day.
On Tuesday (17 Nov), the burger joint announced the introduction of two new burgers: the Snow Cheese Whopper and Snow Cheese Tendergrill Chicken.
For $8.90, customers can get either burger with a side of medium fries and a small drink.
"Let it snow cheese," Burger King said.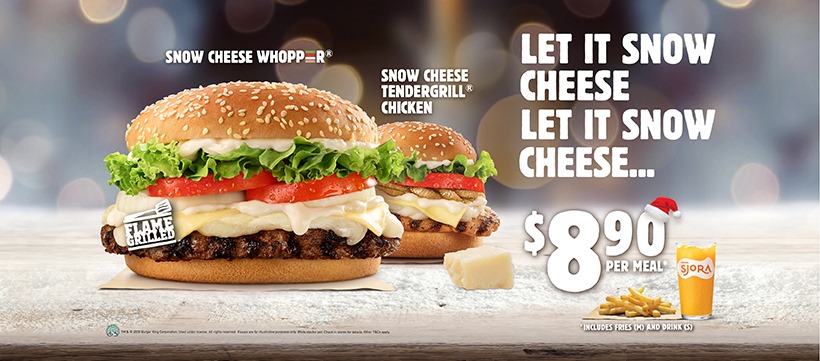 ---
Advertisements
---
As evident from the pictures, both burgers come with the avalanche of cheese promised. Glorious yellow flecks snowed all over the patties of both burgers, which eventually melted into a delicious cheesy mess.
Those who opt for the Whopper will get a flame-grilled beef patty, topped with tangy pickles, ketchup, fresh tomatoes, crisp lettuce and fresh onions, finished with creamy mayo.
Similarly, the Tendergrill comes with a juicy chicken thigh patty, topped with a tomato slice, freshly shredded lettuce, and creamy mayo.
Both burgers are served with toasted sesame seed buns.
Delivery Bundle
If you're planning to order for your family, or you live alone but can eat four burgers at one go, you could go for the delivery bundle.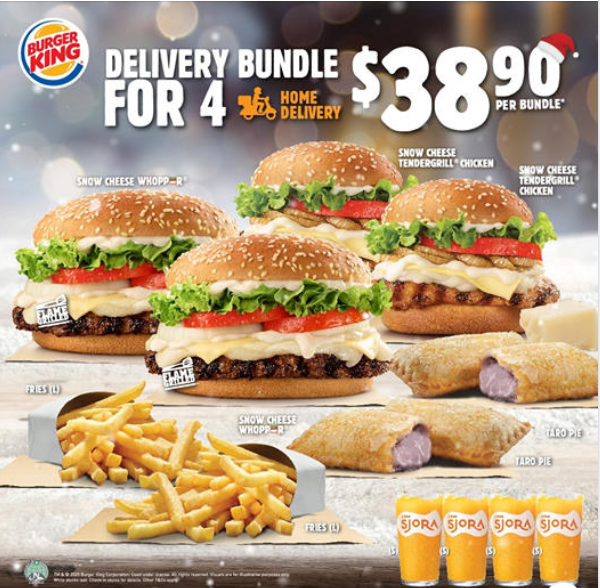 ---
Advertisements
---
Priced at $38.90, the delivery bundle comes with two Snow Cheese Whoppers, two Snow Cheese Tendergrill Chickens, two large fries, four Taro pies and four cups of Sjora juice.
A Japanese Creation
Singapore isn't the first country to experience snow in the form of cheese.
The Snow Cheese Whopper appears to be a creation of Burger King Japan, as it was featured in their Christmas menu back in 2017.
According to Japan Today, the burger came with a special blend of four different kinds of white cheese.
If the burger tastes as good as it looks and sounds, customers are in for a treat perfect for the festive occasion.
---
Advertisements
---
Featured Image: Facebook (Burger King Singapore)