---
Advertisements

---
The iconic superheroes of The Avengers will retire temporarily from their universe-saving duties to gather at Jewel at Changi Airport during the upcoming June school holidays in 2023.
From 26 May 2023 to 13 August 2023, visitors can immerse themselves in interactive exhibits celebrating 60 years of Marvel's Avengers at Jewel at Changi Airport.
The event, Avengers: Beyond Earth's Mightiest At Jewel, will feature 3-Dimensional (3D) installations and interactive displays inspired by iconic characters, paying tribute to six decades of the franchise's comic books, television series, toys, and movies.
Meanwhile, at Terminal 3, larger-than-life versions of beloved classics from Hasbro Gaming, including Monopoly, Hungry Hungry Hippos, and Twister, will entertain young and old for hours.
Marvel-Themed Exhibitions at Jewel at Changi Airport
In addition to the captivating giant installations and interactive displays available until 13 August 2023, there will also be a mesmerising Marvel-inspired Light and Sound showcase at Jewel. 
The iconic indoor waterfall, the HSBC Rain Vortex, which is also the world's largest indoor waterfall, will be illuminated with dazzling light projections, creating a spectacular visual experience.
The light show will last approximately two minutes, featuring light projections inspired by Antman and The Wasp soaring across the waterfall. 
This breathtaking spectacle will occur from 26 August 2023 to 13 August 2023, with showtimes at 8 pm from Mondays to Thursdays and at 8 pm and 10 pm from Fridays to Sundays
Many Photo Opportunities Available
Separately, those exploring the enchanting Shiseido Forest Valley at Jewel in a different area will be delighted by various interactive displays that provide excellent photo opportunities.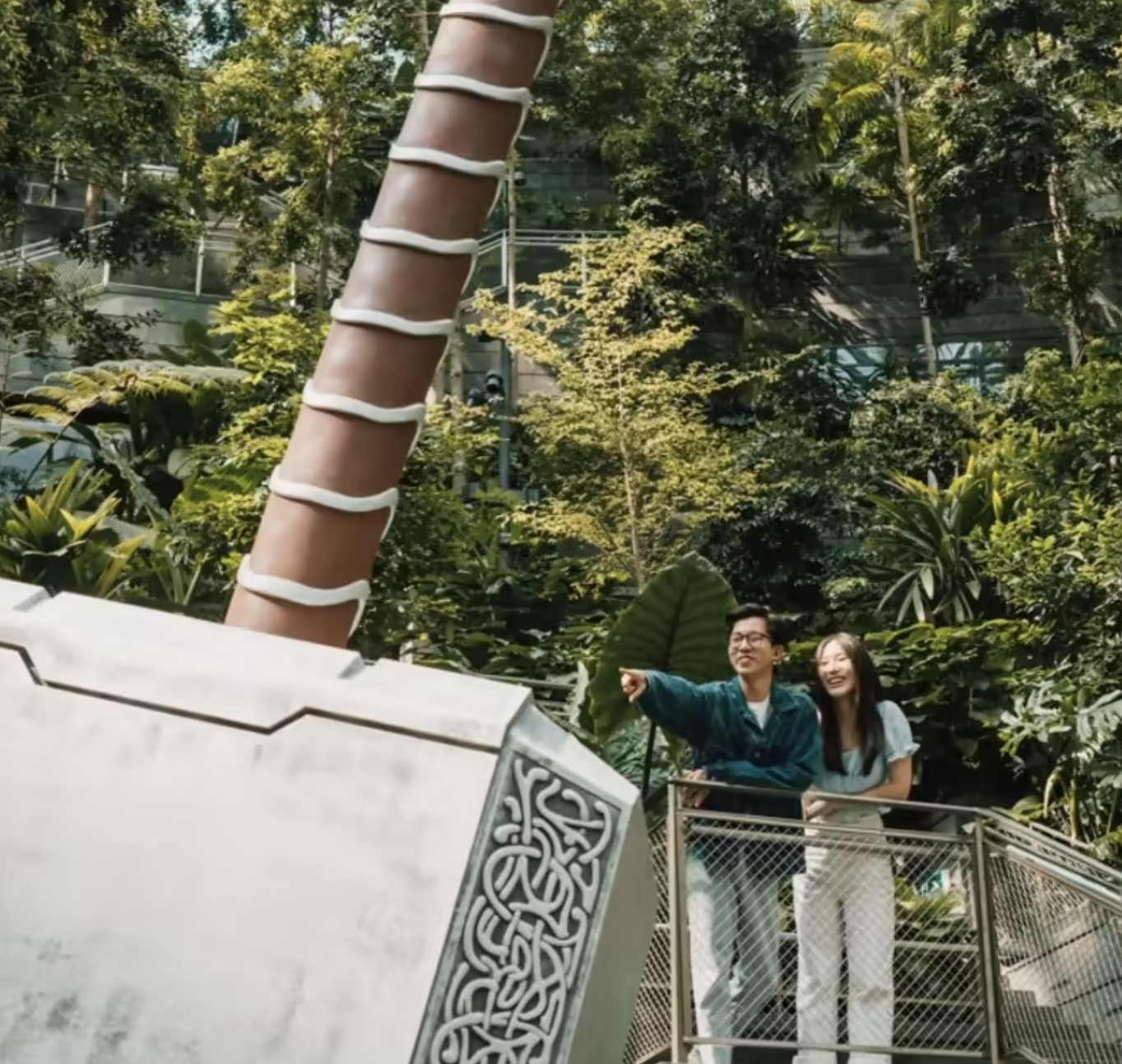 Visitors can capture memorable moments with impressive three-meter replicas of Captain America's shield and Thor's hammer, Mjolnir.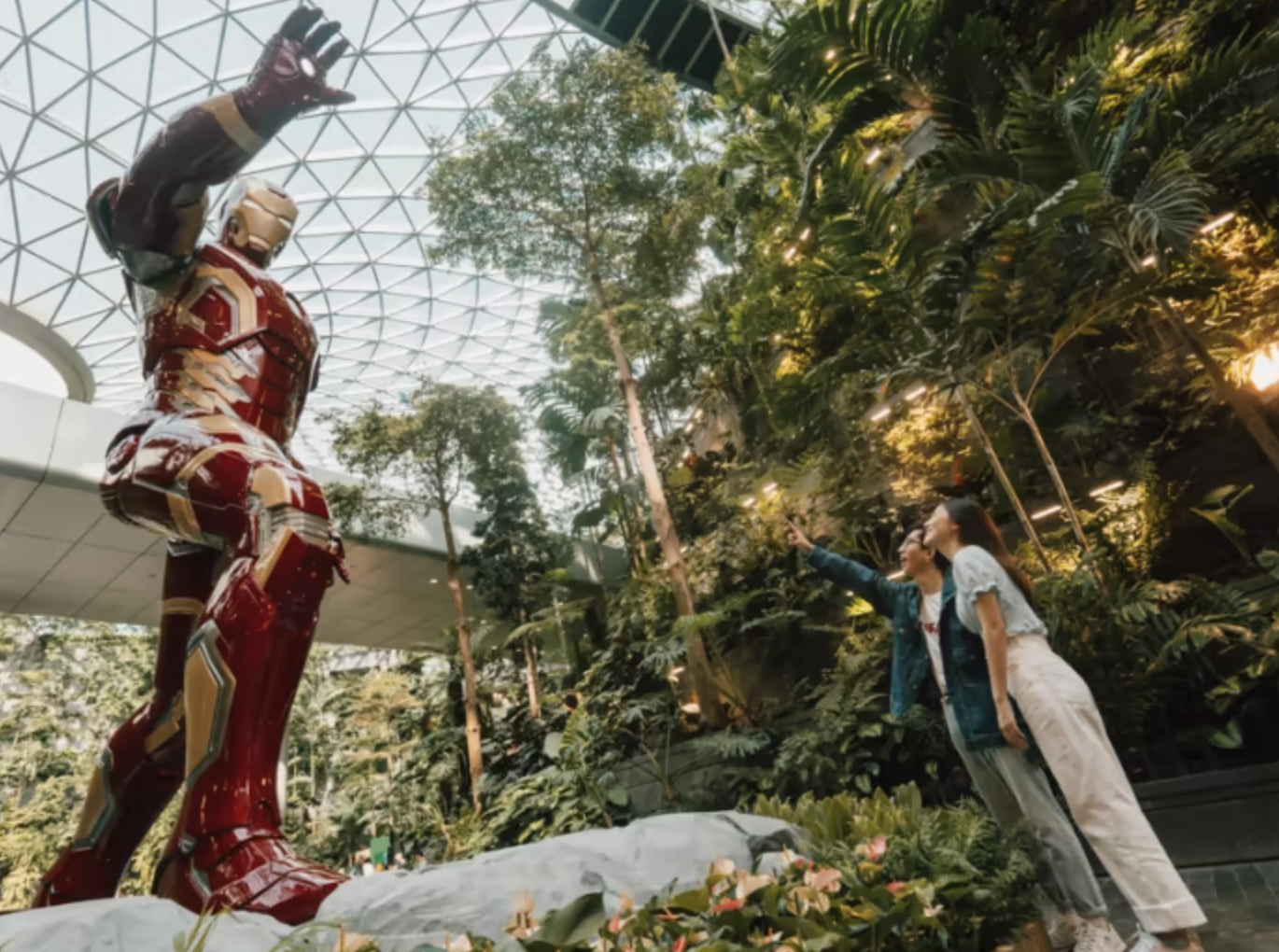 Additionally, near the entrance of the forest valley, visitors will encounter a striking five-meter-tall statue of Iron Man, perfect for capturing unique photos and creating lasting memories.
---
Advertisements

---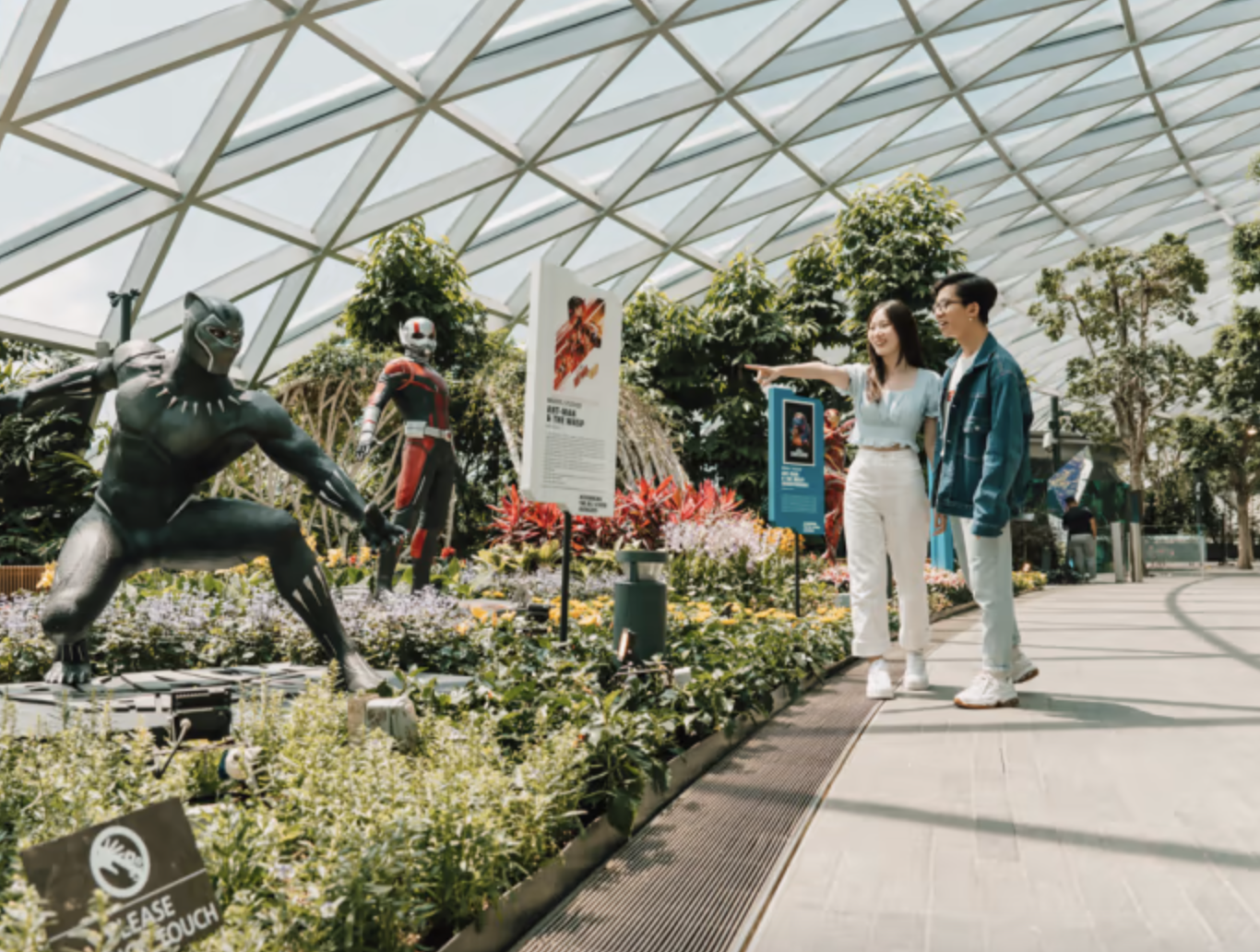 There will be interactive displays showcasing statues of popular Marvel characters, including The Incredible Hulk, Doctor Strange, Ant-Man and the Wasp, and Black Panther.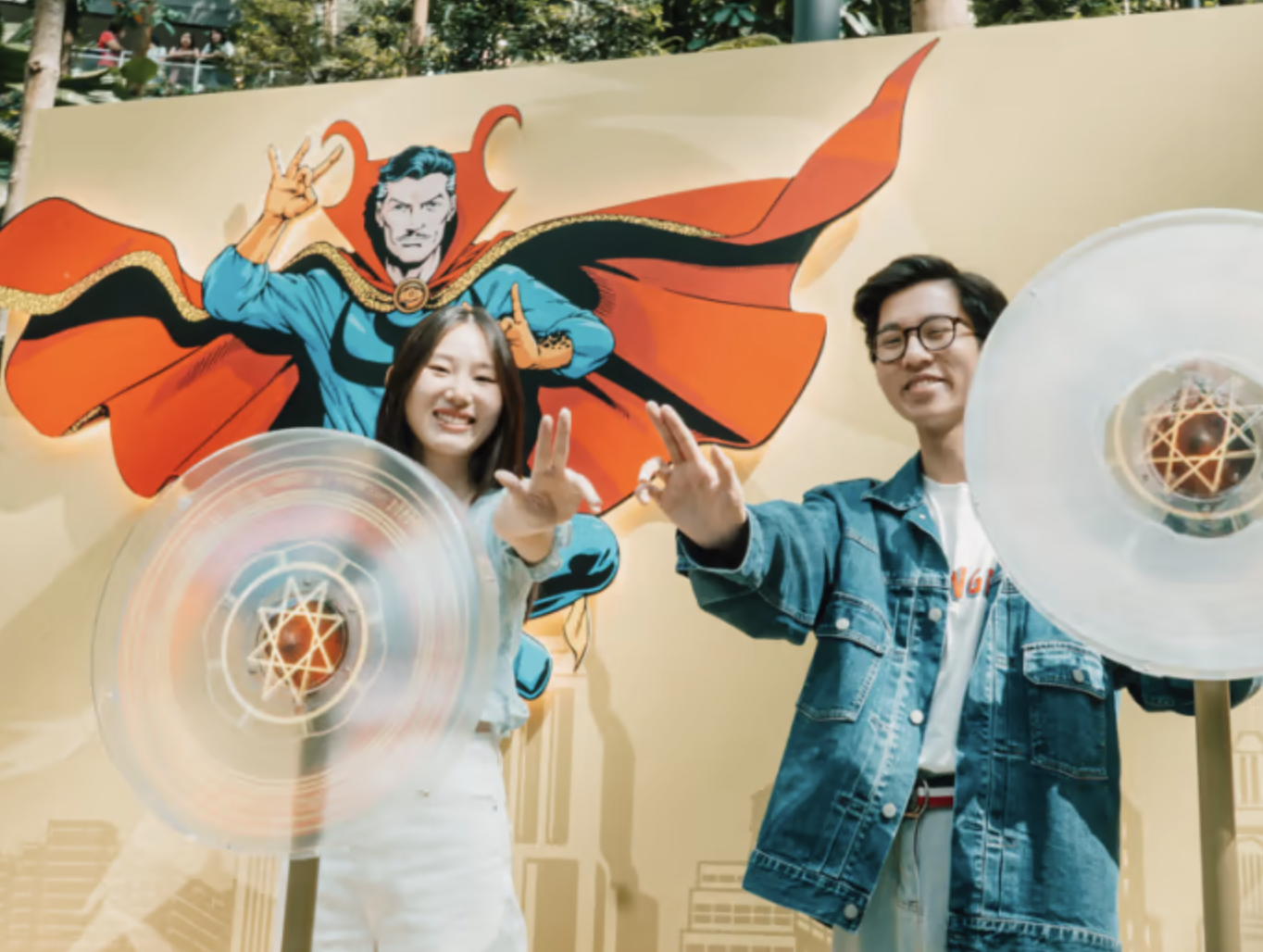 Visitors can also test their strength against The Incredible Hulk by engaging with a strength metre and participating in a unique experience of "casting spells" alongside Doctor Strange using holographic fans provided in the exhibition.
Visitors Can Tour Through the History of Marvel's Franchise at Jewel's Canopy Park
Apart from the interactive displays, at Jewel's Canopy Park, visitors can explore six Marvel-themed photo spots to get perfect shots for an aesthetic Instagram feed. 
More importantly, for Marvel enthusiasts, the exhibits in the park will showcase significant events and characters spanning six decades of Marvel's rich history. 
Visitors can delve into the world of Marvel through games like Contest of Champions, read about iconic story arcs like Secret Wars and the Infinity Gauntlet, and admire displays featuring beloved characters such as the X-Men, Defenders, and Eternals.
Highlights of the exhibition include the introductory story of Captain America in 1941, a rare action figure from 1972, and snippets of a cartoon series displayed on a television.
Marvel fans will also be thrilled to find life-sized statues of Avengers from the Marvel Cinematic Universe at the Petal Garden. 
To further engage with the experience, visitors can vote for their favourite Avenger using QR codes near the installations. 
Additionally, they can take photos or record videos with an Avengers-themed photo frame. 
By voting and sharing their photos on social media while tagging Jewel Changi Airport, visitors can receive a $5 voucher for any of their participating stores.
---
Advertisements

---
Meanwhile, entrance tickets to the Canopy Park start at $6, allowing visitors to enjoy all the exciting exhibits. 
However, if visitors come dressed up in outfits inspired by Avenger characters, they can enjoy complimentary admission to the Hedge Maze and the Canopy Park from 26 to 28 May 2023.
On the other hand, spectators can appreciate the daily light displays at Jewel's magnificent indoor waterfall for free.
Life-Sized Interactive Board Games at Terminal 3 of Changi Airport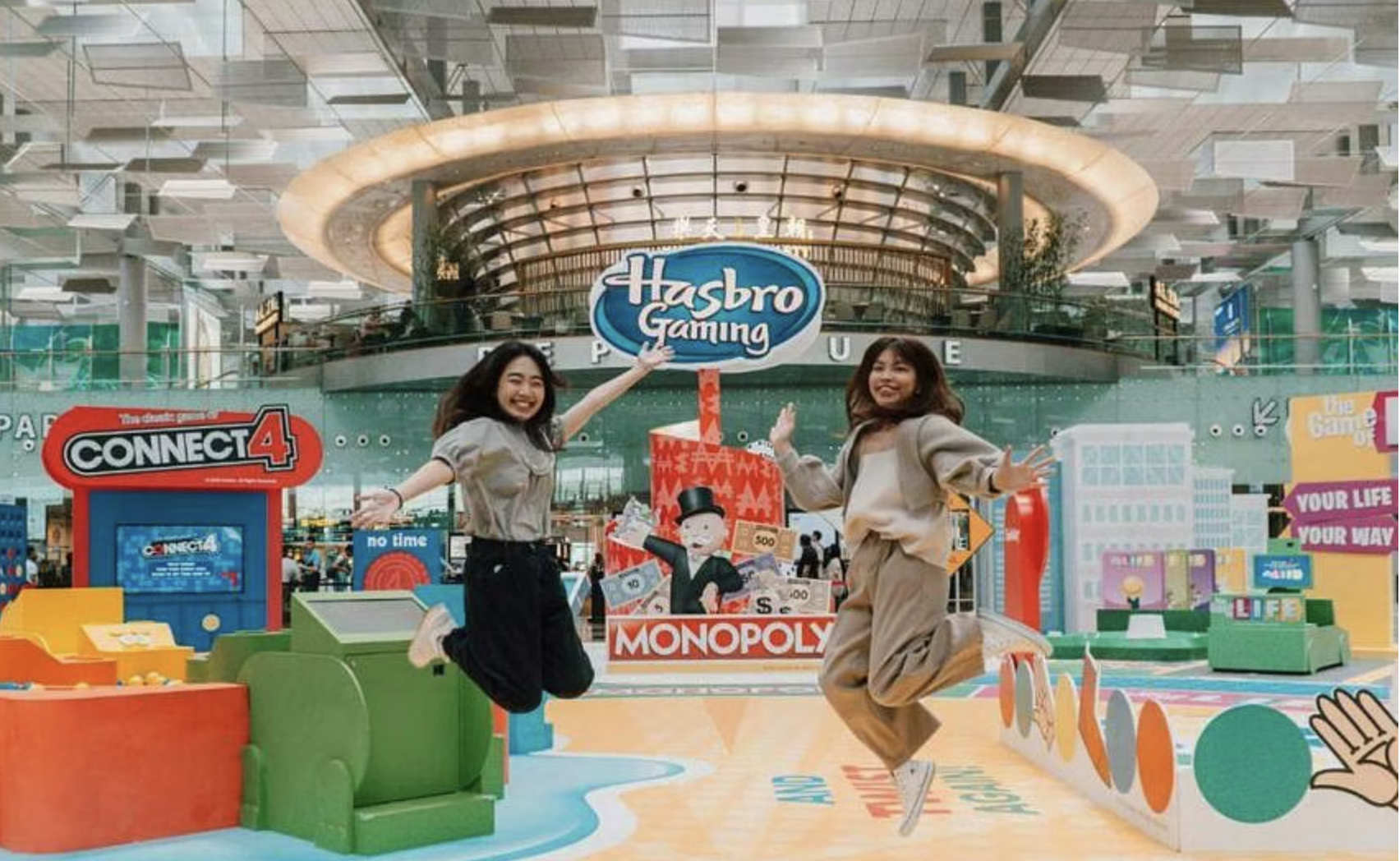 Those who aren't as big fans of Marvel can also enjoy fun interactive displays at Terminal 3 of Changi Airport.
An exciting gaming experience awaits visitors as the departure hall has been transformed into an immersive Hall of Games by Hasbro Gaming.
From 26 May 2023 to 16 July 2023, the gaming wonderland will offer larger-than-life physical and digital versions of beloved classic games, providing unforgettable experiences for the whole family.
---
Advertisements

---
Operating hours for the event are from 5:30 pm to 9:30 pm on Fridays and from 12 pm to 10 pm on weekends, allowing ample time for gaming enthusiasts to indulge in the fun.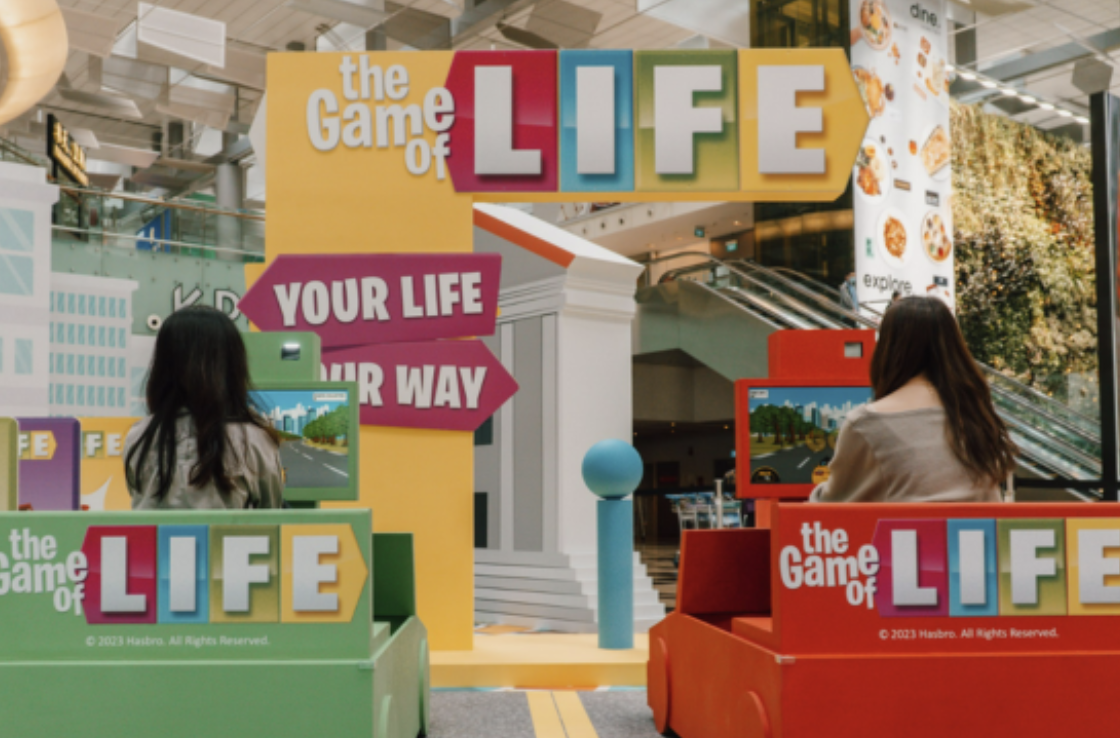 A thrilling twist on The Game of Life awaits visitors, where they can become characters in the board game by donning oversized car game "pieces" and racing to collect points on a screen while navigating obstacles.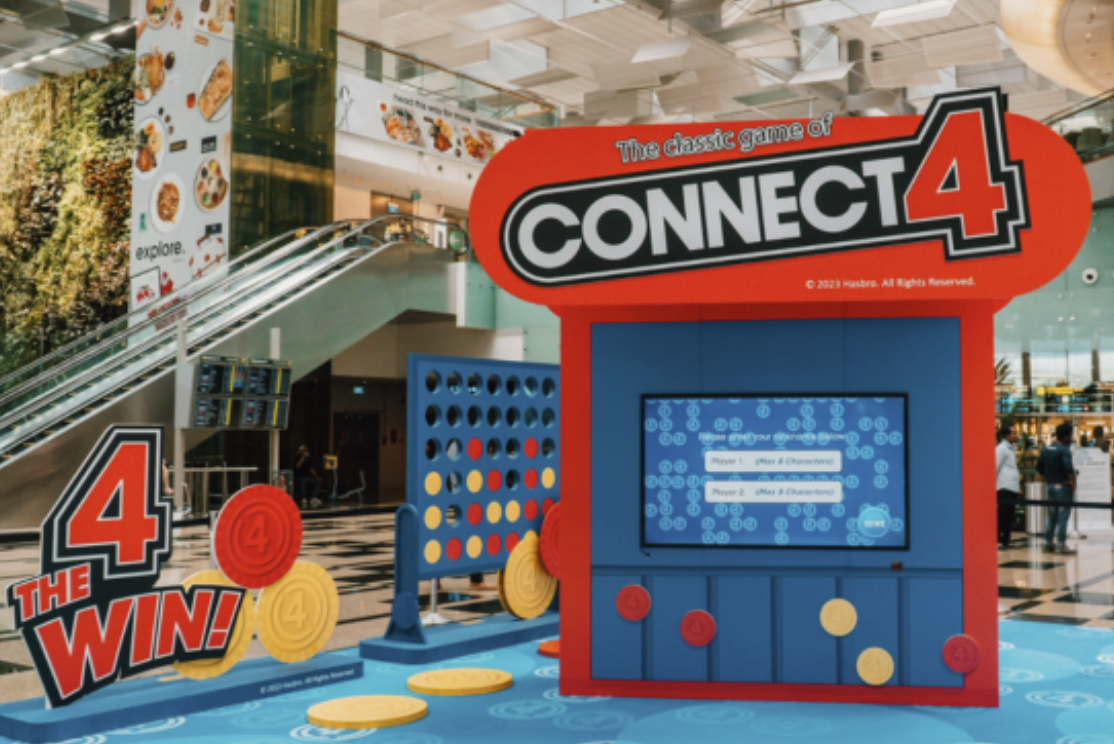 Digital versions of Connect 4, the classic game of strategically connecting four discs in a row, and Guess Who? will also be available for visitors.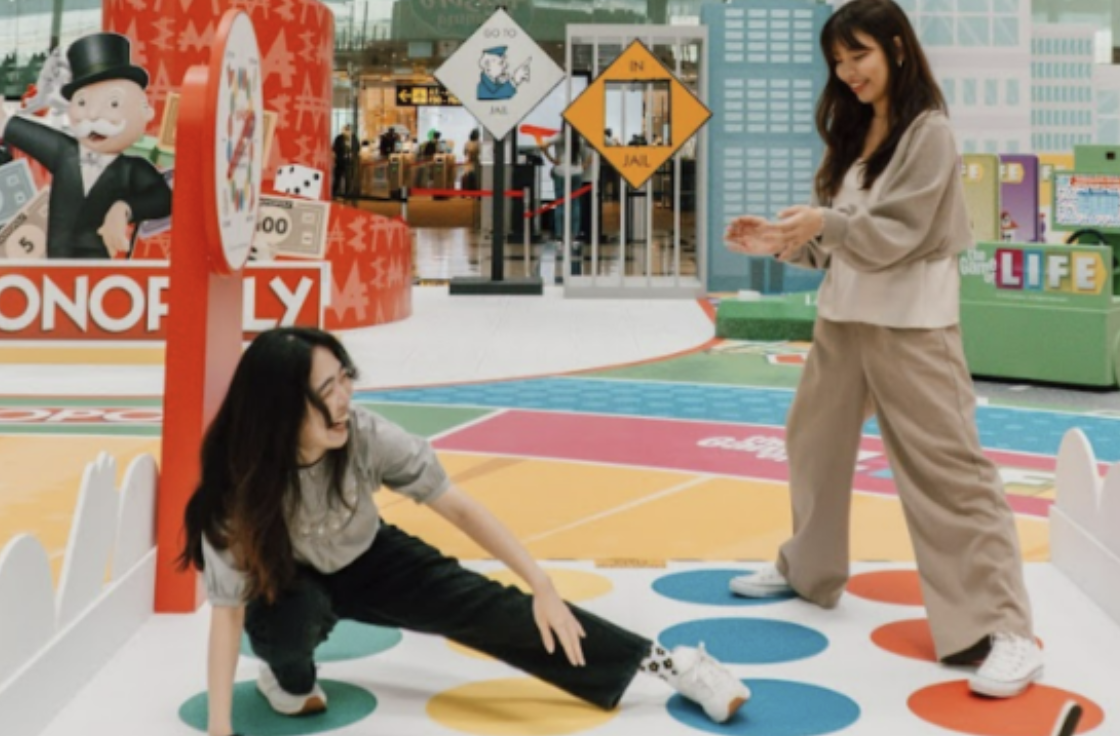 Additionally, a dedicated free-to-play Twister game area will allow visitors to play the game in a larger-than-life setting.
Exciting photo opportunities await visitors as well, with the chance to capture memories with iconic Monopoly tokens and participate in a supersized version of Hungry Hungry Hippos. 
---
Advertisements

---
In this 3D adaptation, players can compete to gobble up the most balls by tapping the interactive screens in the exhibition.
To participate in these engaging games, visitors will require a Gamer Pass, which can be purchased for $5 each through the iChangi application. 
Alternatively, shoppers can obtain a free Gamer Pass by racking up a minimum spending of $50 or $80 (for supermarkets) on a single receipt at the public areas of Changi Airport's terminals.

Here's why a 4-day workweek might finally really be possible in Singapore soon:
Read Also: