---
Advertisements

---
At 7:15am yesterday (12 Jan), the Chairman of the Opposition Party Reform Party (RP) Charles Yeo was allegedly arrested on charges of Criminal Breach of Trust as a fiduciary agent and for forgery.
After being arrested and locked up for 15 hours and placed under a bail-bond of $35,000, Yeo was then released, where he proceeded to make a Facebook video to explain the entire situation and ask for donations in order to fund his legal defence against these charges.
Yeo asserts that he has never committed any of the crimes he was being accused of.
He also states that the whole legal case is politically charged and wholly instigated by the PAP, who desire to have him imprisoned for a long time since he has always been very vocal about his views against the PAP.
The Charges Yeo Must Contend With
For the impending case, Charles Yeo is currently facing accusations of Aggravated Criminal Breach of Trust (CBT) under Section 409 of the Penal Code.
Under the Criminal Breach of Trust crimes, Section 409 contains the most severe punishments and is usually reserved for when a public servant, banker, merchant, lawyer, or fiduciary commits the crime.
If convicted, the offender can face an imprisonment for up to 20 years, in addition to a fine.
Besides that, Yeo has been accused of forgery and embezzlement as well.
Charles Yeo's Defence
Without any hesitation, Yeo immediately states that he had never committed any of these crimes.
With regards to the forgery that is mostly related to his previous work as a lawyer under Whitefield Law Corporation, most documents tendered were done on his behalf by the firm.
---
Advertisements

---
The documents were not signed by him, and Yeo confidently tells his Investigative Officer (IO) that he can send those documents to the Occupational Safety and Health Administration (OSHA) to check if there is any potential for embezzlement or fraud.
In terms of the CBT charges like the misappropriation of his client's funds, Yeo explains that it's a more complicated situation that goes further back, though it has everything to do with Joseph Chen, someone whom he deems as an agent of the PAP.
In Yeo's verbal account, he said that this was not the first time he had police reports or summons being filed against him, and this had been happening just before he stepped up as a member of an Opposition Party.
Around the time when Yeo decided to join the election, Chen had become angry because he learned that Yeo wanted to take some of the bar and legal personnel with him, some of whom had been working with Joseph Chen.
In retaliation, Chen's team started to write letters to opposition parties saying that Yeo was a foreign agent, which Yeo said, "is ludicrous, because you guys know my position regarding the primacy of Singaporeans over foreigners".
Having failed at that, Chen started to write to the Legal Services Regulatory Authority (LSRA) to hinder Yeo's law firm from being set up.
The next thing Chen did to harass Yeo was constantly putting in applications of summons to make Yeo a co-defendant in cases that he had no ties with, which he would later withdraw because they simply weren't tenable or reasonable.
But the main purpose of those actions had never been to truly summon Yeo to court and meet him on the other end of the table; it was just a wave of attack to ensure that Yeo would be faced with constant legal obstacles.
Thus far, Yeo alleges that the majority of his police reports and persecutions had been orchestrated by Joseph Chen.
This instance was not the first time Yeo has been accused of embezzling, complained against, or had someone try to persecute him:
---
Advertisements

---
For one of the clients that were supposed to be paid, the money had been entirely handed over to Sahara Ranjit Chandra, one of his colleagues.
A case of a Vietnamese woman wanting him to do a contested divorce at an agreed divorce price, which she later complained to the Law Society about, claiming that he had spent less hours and over-charged her.
A police report about Yeo making derogatory comments against religion and threatening a public servant as in the Jonathan Auyong case.
Innumerable injunction applications and defamatory emails sent to insurers stating that he had no law practicing certificate.
Currently has three more outstanding cases with the Singapore Police Force (SPF).
Had repeated false CBT charges laid against Sahara Rajit Chandra, which implicated him because Rajit was working under his firm.
Join our Telegram channel for more entertaining and informative articles at https://t.me/goodyfeedsg or download the Goody Feed app here: https://goodyfeed.com/app/
Yeo Before and After the Election
Yeo claimed that he has been investigated and taken into custody more times than he could count in just 2020 and 2021 alone, and his phone has already been confiscated four times for investigation.
Yeo even mentioned that his case echoes City Harvest Church Pastor Kong Hee's case, in which Kong Hee was convicted for misusing millions of Church funds.
The accusation of misappropriating church funds was only laid against Kong Hee after the City Harvest Church had filed a police report of picture of their founder Kong Hee wearing a digitally altered white shirt with a PAP logo on it.
Worst still, while Yeo is constantly being accused left, right, and centre, and being placed through hoops and hurdles…Joseph Chen gets away completely unscathed despite having persistently harassing Yeo, going as far as calling him to give him death threats.
When Yeo had sent a 250-page long affidavit for a Protection from Harassment (POH) against Joseph Chen because he was at his wits' end, little to nothing had been done to Joseph Chen because he was Joseph Chen.
Yes, he really said that.
---
Advertisements

---
The Law Society had similarly dismissed his complaints about Joseph Chen despite having pictorial evidence attached.
A Helpless Situation
Perhaps the most pessimistic thing about this entire ordeal is that Charles Yeo claimed that he had seen it coming.
He had known the moment he stepped onto the stage as the opposition, his lousy Mandarin making him a local online sensation with even merchandise satirising his speech.
For this arrest, Yeo alleged that he was not even given the right to ask for a re-scheduling of the statement taking, nor was he allowed to examine whether the police's orders allowed them to arrest him immediately.
Unlike his previous run-ins with investigative officers, he said that he was also not even allowed to re-schedule.
---
Advertisements

---
He was simply arrested, interrogated about forgery, and then locked up in the encampment.
His bail-bond was also priced at the amount of $35,000.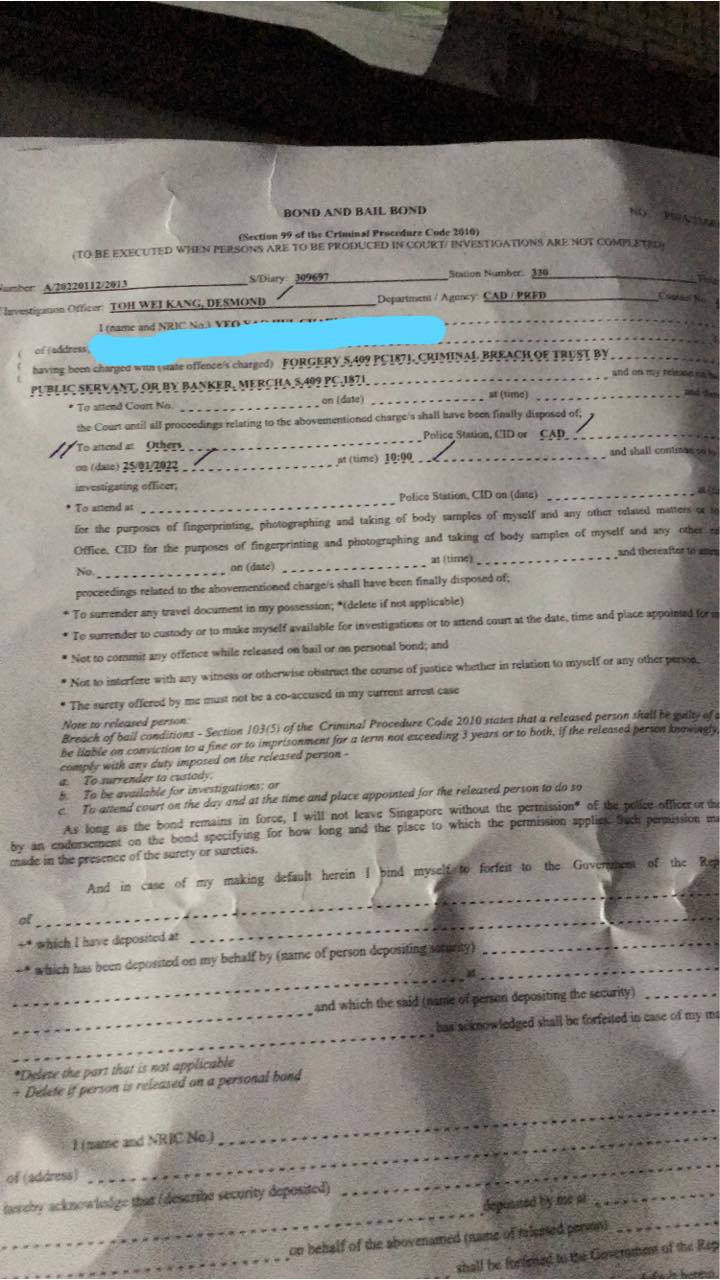 Against the charges, Charles Yeo looked straight in the camera and confessed:
"If I was a person who wanted wealth and riches, I would never ever have joined the opposition, and I also wouldn't have put my entire life and career at risk to speak up for want, I could have, you know, join the conformist party, and I never regret every, any single thing I did."
He said that he is facing such serious charges because he has never tried to censor himself when it comes to his views about the government, the current conditions of academic scholars, the education elitism, against the hyper-capitalist message and leaning more towards liberalism.
Despite that, Yeo dares to say that he never regretted a single thing he said or did.
He is aware that the consequences are coming.
"Even if the PAP imprisons me for very long, even if the PAP tries to put me all sort of financial worries and stress, like making me lose my lawyer's licence, putting me under a bail-bond of 35 thousand, arresting me, putting me in handcuffs, putting me in lockup, but I believe history stands on the side of those who are anti-establishment."
---
Advertisements

---
At the end of the video, he asks the viewers to donate money to fund his legal defence so he can hire a lawyer who will actually stand for him, so that he will actually have the opportunity to stand in court.
Unlike the optimistic 30-year-old man that stepped onto the stage as the Chairman of the Reformist Party for the first time during the elections…
Charles Yeo resembles a man defeated, but still struggling.
Read Also:
Featured Image: Facebook (Charles Yeo)

Here's why a 4-day workweek might finally really be possible in Singapore soon:
Read Also: