At times, you might feel that you can say anything you want online because, well, what's the harm, right?
Well, perish that thought because words? They have power, as this latest incident will show you.
Diner Found 'Cockroach' in Noodles
On 11 Dec 2020, STOMP carried an article about a man finding a cockroach in his ban main from a stall in Yishun.
The incident reportedly happened on 5 Dec 2020.
The man who ordered the noodles, Tan, had ordered three bowls of noodles from the same stall for him and two other friends via Foodpanda.
He started eating first because he was hungry.
After about "six to seven bites", he was shocked to discover a "six-legged insect" in the bowl of noodles.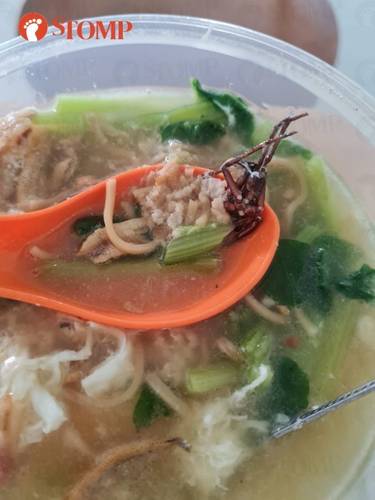 He claims that he screamed and threw up after the recovery, and felt unwell and traumatised for the entire day.
Tan immediately reported the matter to the Singapore Food Agency (SFA) and got a full refund from Foodpanda.
SFA Feedback
Upon receiving the feedback, SFA deployed officers down to the hawker stall for inspection.
After the inspection, SFA says they did not "detect any infringements of our food safety and hygiene requirements during (the) inspection".
Taking the position that food safety is a "joint responsibility", SFA emphasises that it puts in place regulatory measures that they will enforce, and that food operators must play their part.
"Food safety is a joint responsibility. While SFA puts in place and enforces the regulatory measures, food operators must play their part by adhering to good food hygiene and preparation practices.
Members of the public who comes across errant food practices can report them to SFA via its online feedback form.
Any food operators caught will have enforcement actions taken against them once enough evidence is gathered, the food authority said.
Hawker Claims It Could Be Dried Cuttlefish
The stall owner, reportedly a young woman, said in a follow-up interview with Shin Min Daily News that the diner could have mistaken a piece of dried cuttlefish, which was used to boil the broth, for a dead cockroach.
---
Advertisements
---
If it was really a cockroach, she says, she's willing to apologise to him personally.
Meanwhile, Tan has refused to be interviewed when contacted.
Hawker Stall Closed Down
Probably disheartened by the incident, the stall owner decided to give up the hawker trade and has closed her stall since last week.
She will take a short break before looking for other job opportunities.
A fellow hawker in the same coffee shop said that she has always kept her noodle stall clean and neat.
It was a "waste" that she decided to give up after this incident.
Feature Image: STOMP / Google Map
Like writing? Goody Feed is looking for writers! Click here for more info!