---
Advertisements

---
Last Updated on 2023-03-29 , 10:04 am
[Update: Nestle has responded to the TikTok video and pointed out that the Nutri-grade information on the vending machine is inaccurate. You can find out more below.]
Sweet drinks are a favourite in Singapore—food courts and hawker centres sell soft drinks and Milo, and people somehow enjoy bubble tea with 100% sugar (and why is 120% even an option?).
A TikTok user, though, recently made an unbelievable discovery. Apparently, Coke (the drink, obviously) has a higher NutriGrade than Milo.
Here's what you need to know.
The TikTok Video
The short five-second clip, posted on TikTok by user @almightlyalicia, has garnered more than 2,400 likes just two days after it was published. 
---
Here's Why We Might Not Need to Vote in Presidential Election 2023 After Tharman's Announcement:
---
In the video, the user zooms in on a Coca-cola can in a vending machine, showing that it's rated a B on the Nutri-Grade scale. She then pans the camera to a 100Plus, rated a C on the scale. 
Then, the video cuts frantically to a Milo can, which is shockingly rated a D. 
"It's healthier to buy a coke than a 100Plus… or a milo," she says in the voiceover. She expresses her disbelief by dropping a curse word, and the video ends.
In the caption, she lamented that she "wants to live in [her] delusion" and begged HPB not to "expose the truth because it [hurts]", with the last word all in capital letters in the original text.
---
Advertisements

---
Comments
TikTok once again expressed an eclectic range of opinions on the topic, which are all backed up by sources from… somewhere, as usual.
Some people thought themselves comedians by rehashing the same joke and praying it lands:


Others expressed their die-hard loyalty to Milo despite the news.


Of course, some were in disbelief at the revelation as well, with one going as far as to say the grading system is rigged:

And lastly, people attempted to provide surprisingly semi-accurate explanations for this. (No, Coke does not use Stevia, but it's a good attempt.)



Response by Nestle
In an official response, Nestle states that the Nutri-grade information displayed on the vending machine in the Tik Tok video is inaccurate.
All MILO products distributed by Nestle Singapore, whether in powder format or in any of its ready to drink forms, qualify as Nutri-grade B. They contain less than 5g of added sugars and less than 1.2g of saturated fat per recommended portion. They are all also "Healthier Choice" certified.

We are in the process of adapting  our labels to add this valuable information that will support increased transparency on the nutritional content of all our products.

The Nutri-grade information displayed on the vending machine in the Tik Tok video is inaccurate. We have reached out to the parties involved to clarify.
The Nutri-Grade Scale
The Nutri-Grade mark was rolled out just recently, on 30 December 2022.
Basically, it's a mandatory nutrition labelling for prepacked beverages sold in Singapore as well as those from automated beverage dispensers. 
It's rated on a scale of A to D, with A being the "healthiest" choice, based on the beverage's sugar and saturated fat content.
Drinks rated A should have a sugar content of 0% and not contain sweeteners, while drinks rated D boast a sugar content of 12% or more. 
---
Advertisements

---
The Health Promotion Board also plans to extend the mark to freshly-prepared drinks by the end of 2023. 
So, why is Coke rated a B?
The video is actually slightly misleading—according to this list of A and B packaged drinks, not all Coke drinks get a B rating, only those lower in sugar. Classic Coke actually gets a D.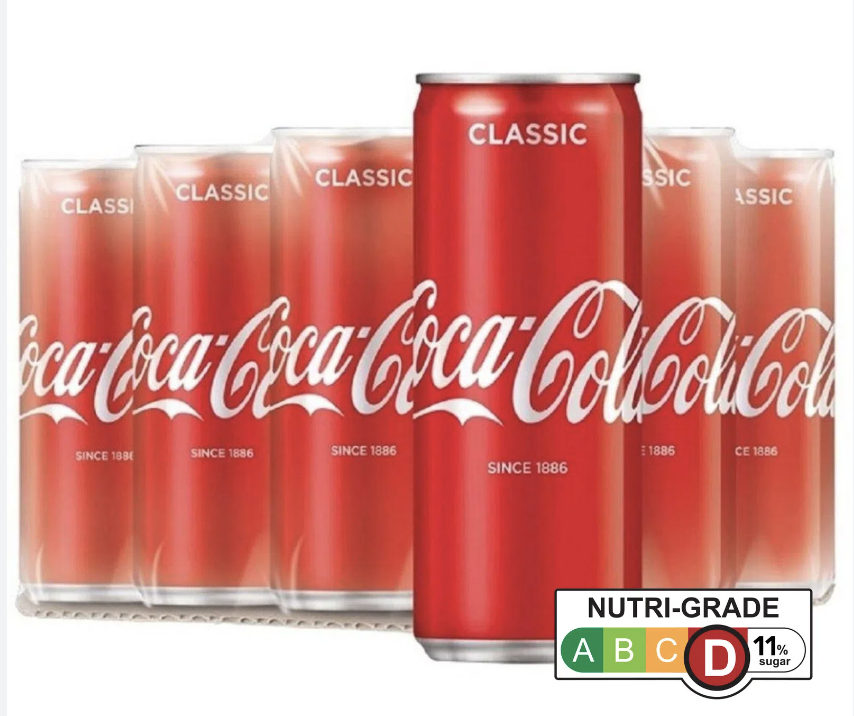 To add on, artificial sweeteners are not all that healthy either. Coke's artificial sweetener of choice is called aspartame, which can have carcinogenic (cancer-causing) or neurodegenerative properties. 
So, maybe the commenters are right and we should all just stick with Milo, or even better, plain water, as this comment so eloquently states.