---
Advertisements

---
We still have a week to go, but August has already become our deadliest month in the COVID-19 pandemic so far.
Previously, April 2020 had the highest number of deaths, with 12 fatalities. That was the peak of our coronavirus outbreak, with over a thousand new infections recorded for several days that month.
Yesterday, an 86-year-old woman passed away from COVID-19 complications, making her the 13th COVID-19 fatality this month.
She had a history of cancer and hypertension and was not vaccinated against COVID-19.
Naturally, with the sudden spike in deaths caused by COVID-19, residents are worried, but there's a reason for this.
Ong Ye Kung: Most COVID-19 Deaths Were Infections from Early-Aug When Fewer People Were Vaccinated
As our Health Minister Ong Ye Kung explained, most of the deaths were cases whose infections were detected earlier this month when fewer people were vaccinated.
Mr Ong took to Facebook yesterday to address the concerns over the recent "spate" of COVID-19 related deaths.
---
Here's Why We Might Not Need to Vote in Presidential Election 2023 After Tharman's Announcement:
---
In order to better understand why this was happening, he said, the health ministry plotted the incidence of deaths and ICU admissions by the date when the patient's infection was detected.
"This means that if a case was tested COVID-19 positive on 1 Aug but deteriorated and got admitted to ICU or passed away on 10 Aug, we plot the data point on 1 Aug, instead of 10 Aug," Mr Ong wrote.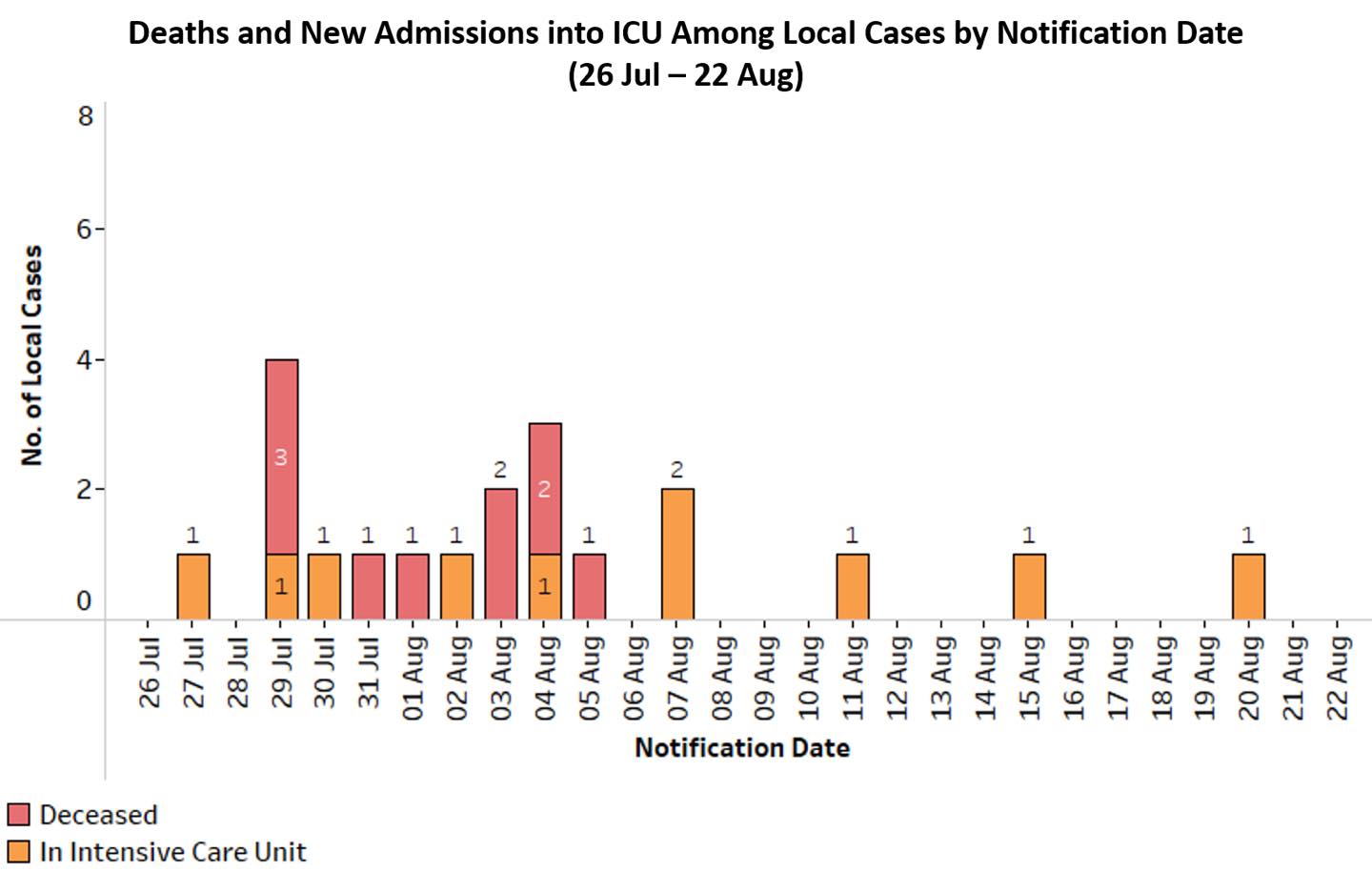 As Mr Ong pointed out, the chart shows that most of the COVID-19 patients who died this month were detected earlier in the month when fewer people were vaccinated.
Since fewer people were vaccinated at the time, the disease was more likely to spread, and those unvaccinated were at a higher risk of severe illness.
---
Advertisements

---
Of the 13 patients that died this month, 12 were not fully vaccinated against COVID-19.
Those With Underlying Medical Conditions Need Vaccines "Even More"
In his post, Mr Ong said he's encountered many residents who are worried about getting vaccinated because they have underlying medical conditions.
But since those with underlying conditions are more at risk of falling severely ill from COVID-19, they need the vaccine "even more", Mr Ong said.
"It remains important to get vaccinated," he added, imploring those who are still worried to consult a trusted doctor.
Here's the full post:
Employers Can Now Ask Unvaccinated Workers To Pay For Regular COVID-19 Tests
Yesterday, the Ministry of Manpower issued a new advisory for employers which allows them to implement vaccination-differentiated measures.
This includes requiring those who are medically eligible for vaccination but choose not to get jabbed to pay for regular COVID-19 tests.
Companies can also make unvaccinated employees undergo pre-event testing before they engage in work and social events.
Read Also:
Featured Image: Facebook (Ong Ye Kung)
---
Advertisements

---