Starting from 1 May, Daiso will no longer be always $2.
There's no explanation given. It just is.
Okay, it's probably because of global inflation, Japan's underperforming economy and its shrinking workforce, the oil prices, and a whole multitude of reasons that makes the $2 business model unsustainable, but this isn't an economics crash course class.
Or, you could let the Goodyfeed mascot explain why the prices are changing to you!
Let's just go ahead and cover the changes, shall we?
The Price Changes
In its Instagram post, Daiso announced that there will be price changes and it will function like any store.
Instead of having a single fixed price, items will be priced according to coloured tags or quality/quantity of the product, like coloured plates at a sushi restaurant.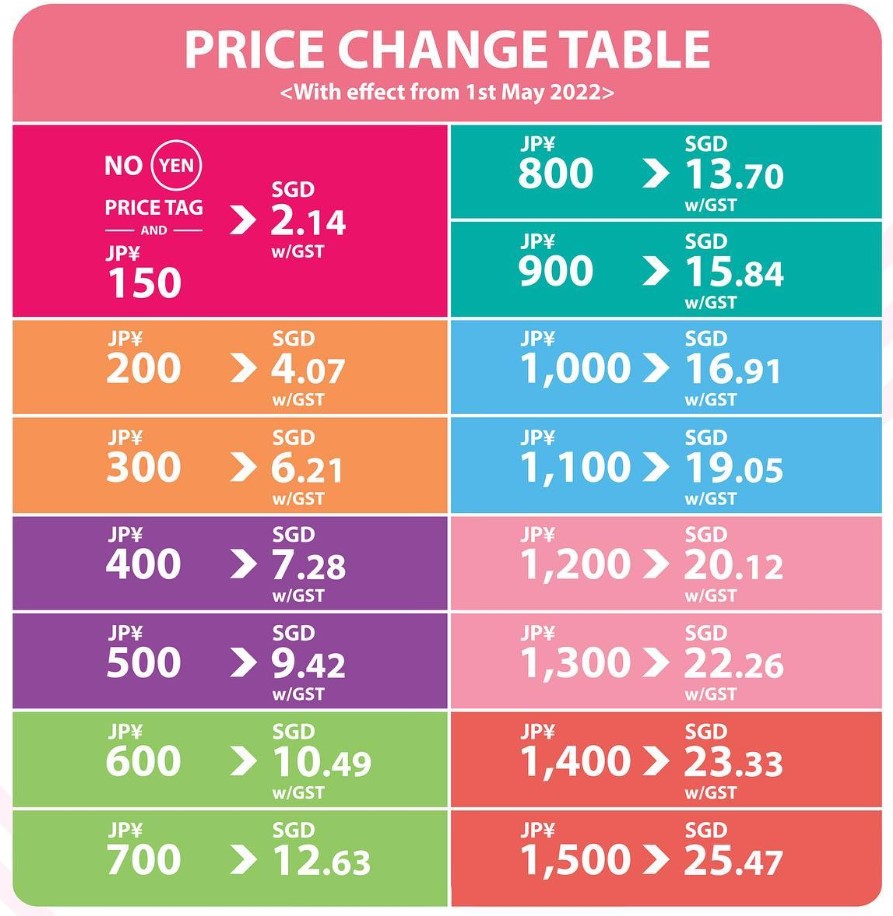 The price changes are rather straight-forward; whatever the product is priced at in Japan will be converted to Singaporean dollar accordingly.
If there are no Yen price tags, automatically assume that it costs JP¥150 or S$2.14, which is the lowest price range.
Oh, Daiso is also charging Goods & Service Tax too.
However, some products can be as expensive as JP¥1,500 which is S$25.47.
I'd hate to be the cashier with all the varying cents… Does Singapore even produce one cent coins anymore, or will the cashier have to round up the price?
Join our Telegram channel for more entertaining and informative articles at https://t.me/goodyfeedsg or download the Goody Feed app here: https://goodyfeed.com/app/
If you have any enquiries or complaints, you may direct them to [email protected].
Daiso signs off their post by thanking their valued customers for their understanding and continued support.
Truth to be told, if you've visited Daiso recently, you'd know that the price changes aren't exactly new.
---
Advertisements
---
Recently, there have been new sections in Daiso popping up, with their own varying price tags depending on the product.
Perhaps that was just a trial test of sorts before the inevitable switch, but the fact remains that Daiso can no longer afford to keep their products at such a low price, lest they want to make losses instead of profits.
It's just business. If your chicken rice stall can increase the price by 50 cents, why can't Daiso do the same?
Read Also:
Featured Image: Google Maps
---
After two years, Japan is finally reopening for Singapore tourists, but it's not the usual reopening you'd have expected. Here's what you need to know: