10.10 might be over but that doesn't mean that the time for shopping and deals are just yet.
From 1-for-1 nasi lemak to $1.50 KFC chicken, here are 10 best-est deals happening in Singapore this week (12 Oct to 18 Oct)  that you might not want to miss.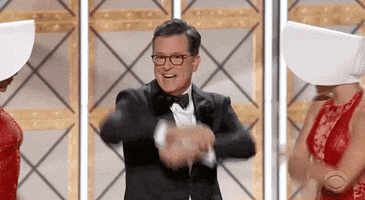 1-For-1 Crave Nasi Lemak (Until 14 Oct)
Craving for some Crave nasi lemak these few days? Wish that it could be a lot cheaper?
Well, Crave only has one thing to say to you: Wish granted.
From now until 14 Oct 2020, Crave is holding a 1-for-1 promotion for their Nasi Lemak with Chicken Wing at two specific timeslots: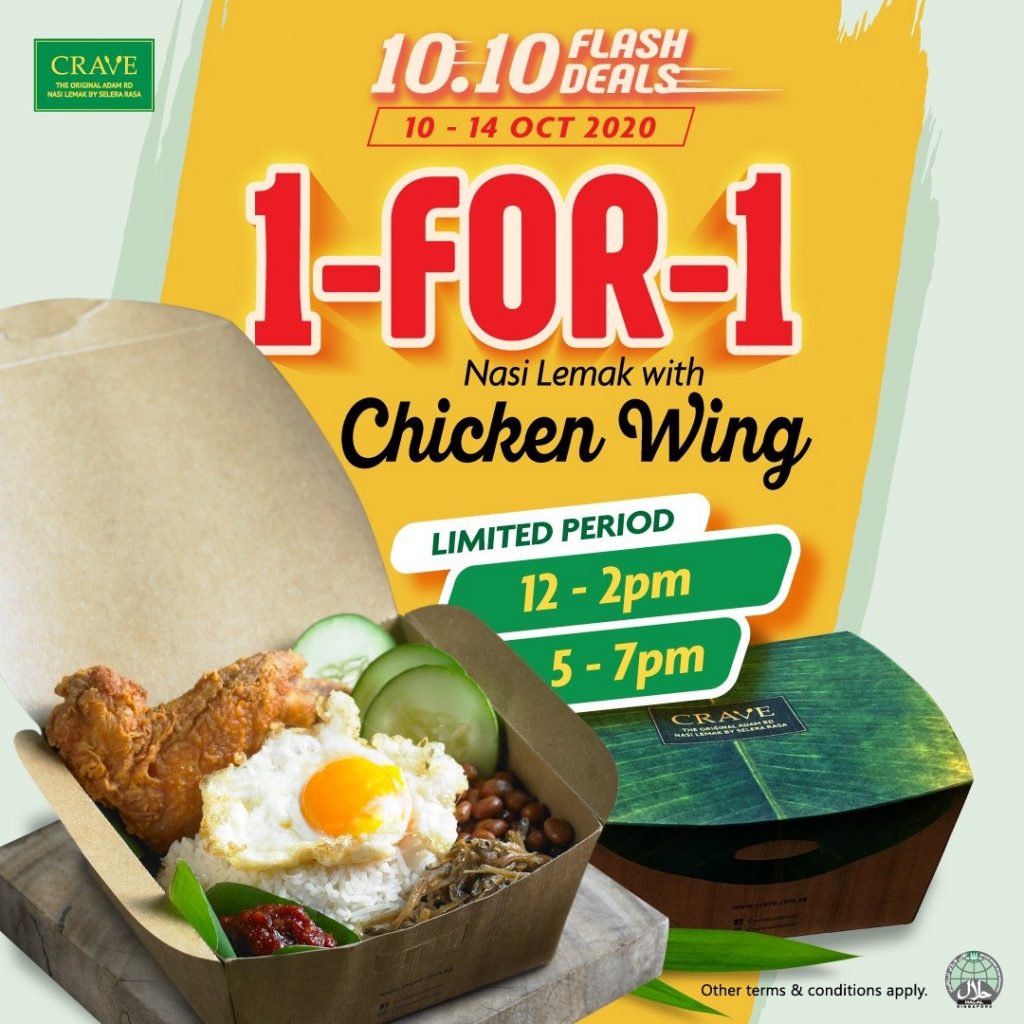 Just nice for lunch and dinner time, really.
This offer is available at all Crave outlets except for the following:
Grab Kitchen
Junction 8
Lot 1
Yusof Ishak House
Each customer is only limited to one redemption per transaction so if your colleagues want to enjoy the deal, they'll have to make their way there themselves.
But really, this deal is worth going out of the office for, don't you agree?
You can find your nearest Crave outlet here.
Chicken Tuesday: 6-Pc KFC Chicken For $9
If your greatest love, other than your girlfriend or wife, is fried chicken, specifically those from Kentucky, you're going to love Goody Feed for bringing you this news too.
KFC, which used to run the popular Chicken Tuesday promo, is back at it again.
For just $9, you can enjoy 6 pieces of your favourite KFC fried chicken on Tuesdays, starting from 13 Oct 2020.
Not Friday, Saturday or Sunday. The best day of the week is…TUESDAY! Why you ask? Because Chicken Tuesday is…

Posted by KFC on Sunday, 11 October 2020
The best part? It's available for dine-in, takeaway and delivery so you have tons of ways to enjoy this amazing promo on different weeks.
You can find your nearest KFC outlet here.
By the way, this isn't exactly a deal but did you know that their iconic Grilled Chicken is back in Singapore again?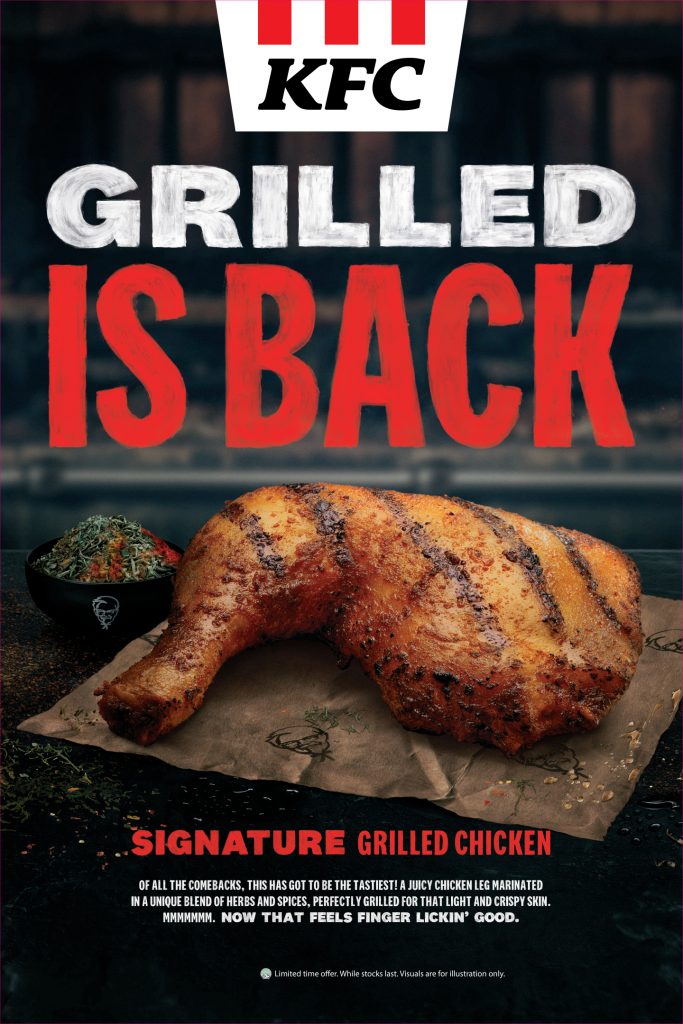 Up To 30% OFF At Adidas Factory Outlet (IMM)
Covid-19 might be bad for people's wallets and health but if there's one good thing to come out of the entire pandemic, it's people getting out to exercise even more now.
If you happen to be one of those looking to get fit during this period (since your usual exercise of dancing in clubs is temporarily over), here's a place you might be interested in visiting for cheap(er) shoes and apparel: IMM.
---
Advertisements
---
First spotted by the folks at Singapore Atrium Sale, the Adidas factory outlet at IMM is holding an up to 30% off sale storewide.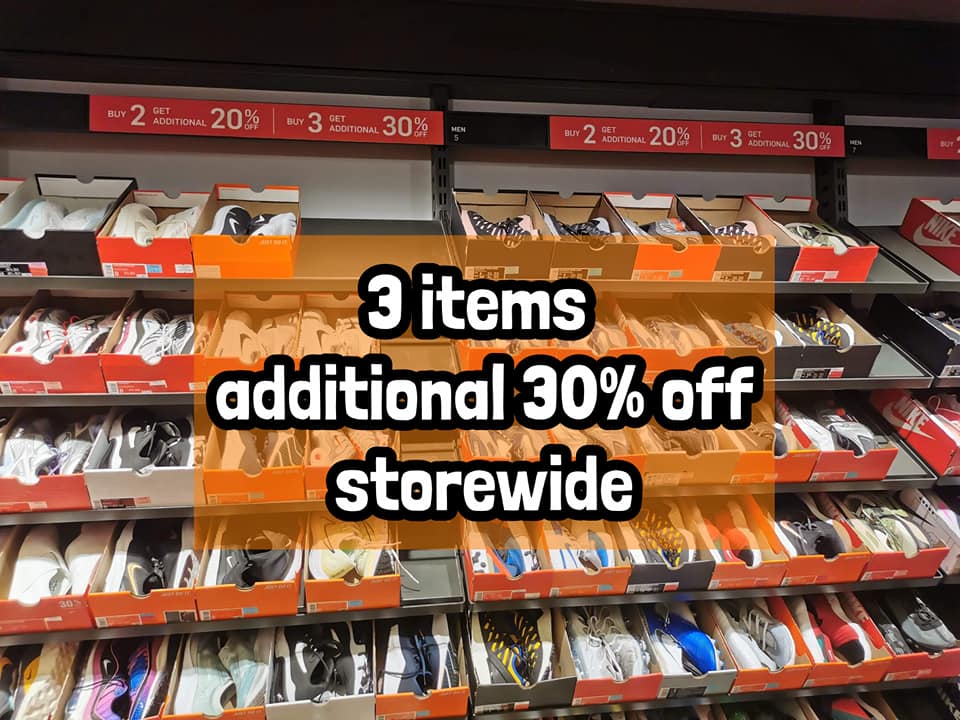 It might be good to jio some friends along to shop with you because the more you purchase, the higher the discount:
Buy 2 get 20% off
Buy 3 get 30% off
There's no end date specified but it's probably on a while stocks last basis.
Location: 2 Jurong East Street 21, 02 – 14 / 16, Singapore 609601
---
Advertisements
---
P/S: If you're thinking of purchase your Adidas stuff online by today, did you know they have a 35% off for their 10.10 promo? This ends today, by the way.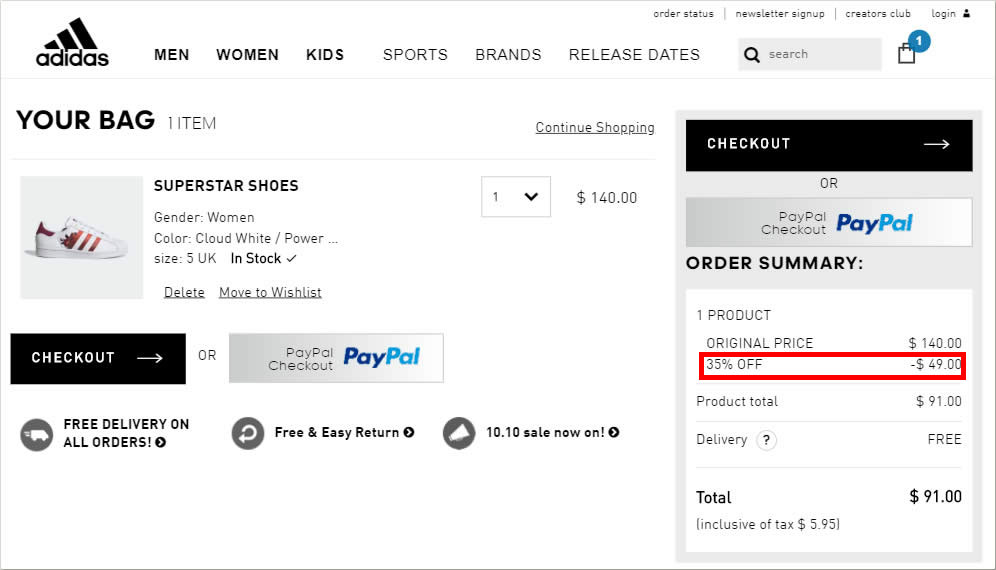 50% OFF Everything At All TEMT Outlets
There's not much to be written about this deal because it's uncomplicated and simple to understand.
"50% OFF All Items Across All TEMT SG Outlets"
TEMT is well-known for offering clothes and accessories for ladies at very affordable prices.
---
Advertisements
---
From 8 Oct 2020, they're now going even further and giving you their clothes and accessories for very, very affordable prices.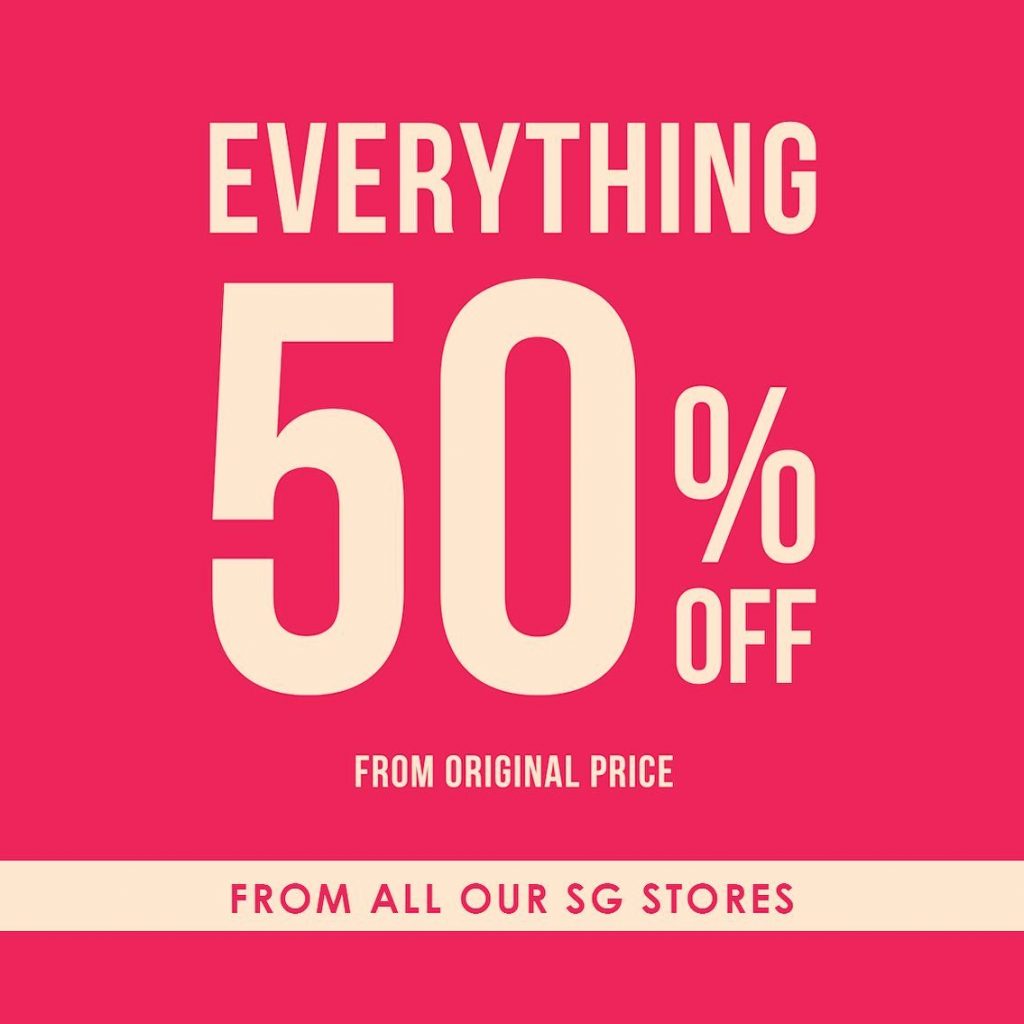 There's no end date given but just to be safe, you might want to gather your shopping buddies and make your way down fast.
You can find your nearest TEMT outlets here.
$10 Off Whole Cakes From Secret Recipe Singapore (Until 31 Oct)
Looking to celebrate someone's birthday this month? Or maybe, you're just craving for a whole cake to dig into.
---
Advertisements
---
Whichever it is, here's one deal that you might be interested in.
When it comes to cakes, especially, gigantic ones, Secret Recipe is one place that always comes to mind.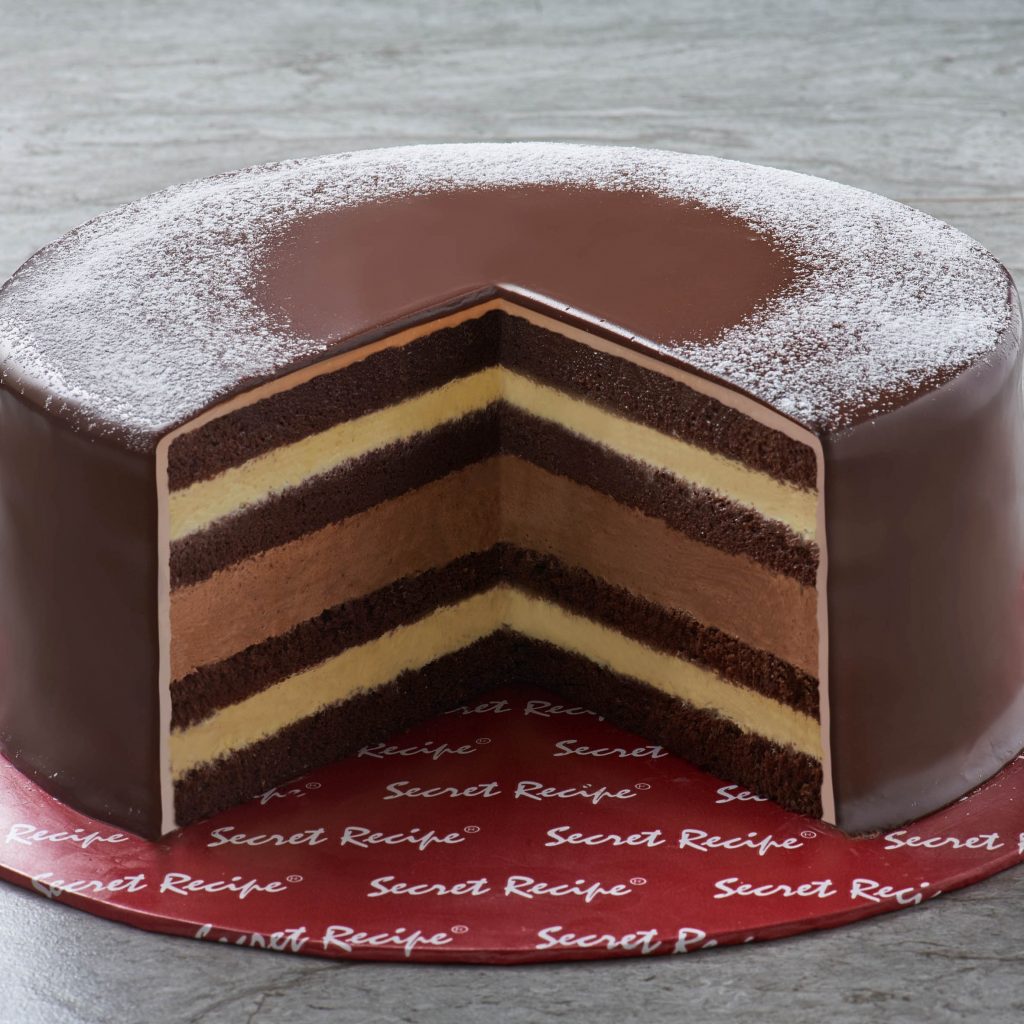 ---
Advertisements
---
And for the entire month of Oct 2020, you can enjoy $10 off whole cakes from Secret Recipe Singapore.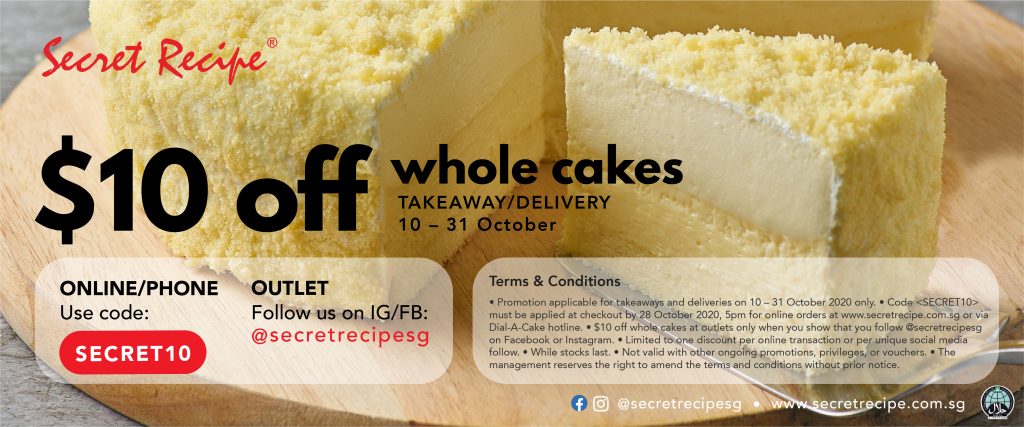 This deal is valid for both takeaway and deliveries from 10 Oct to 31 Oct, which makes sense because who would eat an entire cake in-store?
At checkout, use the code <SECRET10> to redeem the deal.
For online/phone orders, you need to place your order by 28 Oct 2020, 5pm.
---
Advertisements
---
If you go to the outlet to order the cake specifically, you'll have to show that you have @secretrecipesingapore on Facebook or Instagram.
By the way, did you know they have 58 different flavours of cakes to choose from?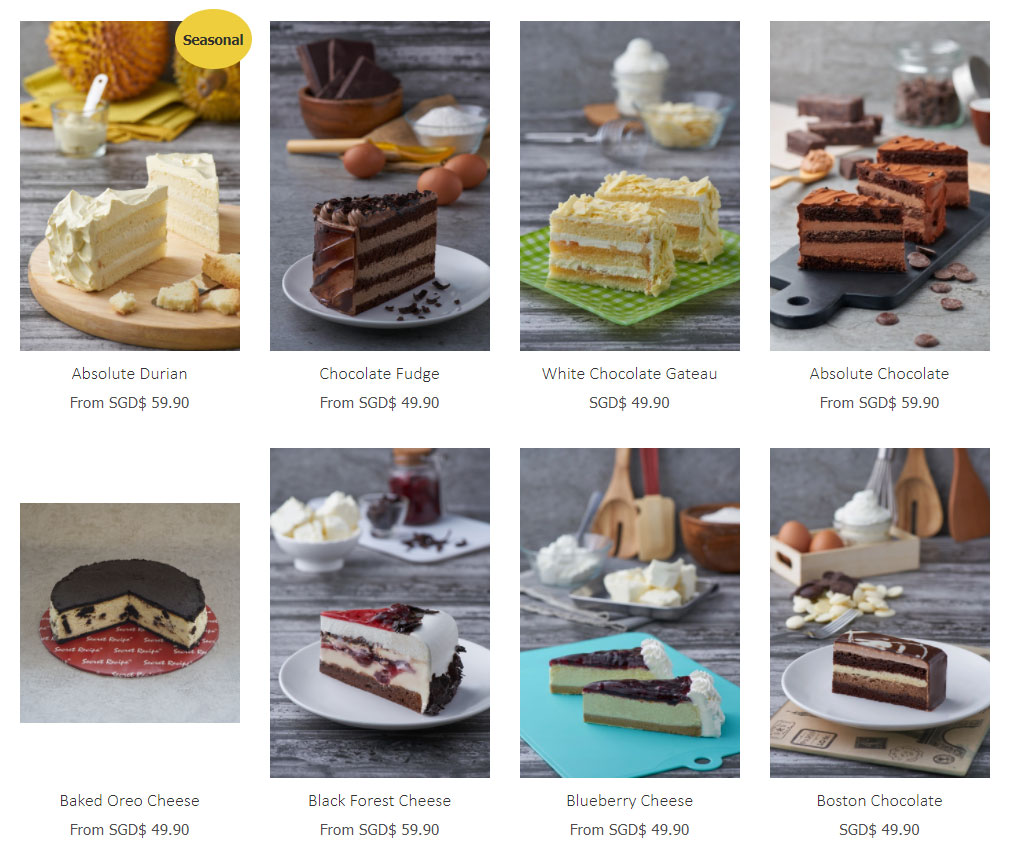 You can order online / browse through their choices here.
6. Prima Deli's 1KG Cake For $28 (Until 18 Oct)
Speaking of cakes, here's another place you might be interested in if you're looking to indulge in a whole cake this week: Prima Deli
---
Advertisements
---
For this entire week, Prima Deli is selling their Truffle & Fruit Flan 1kg cakes for just $28.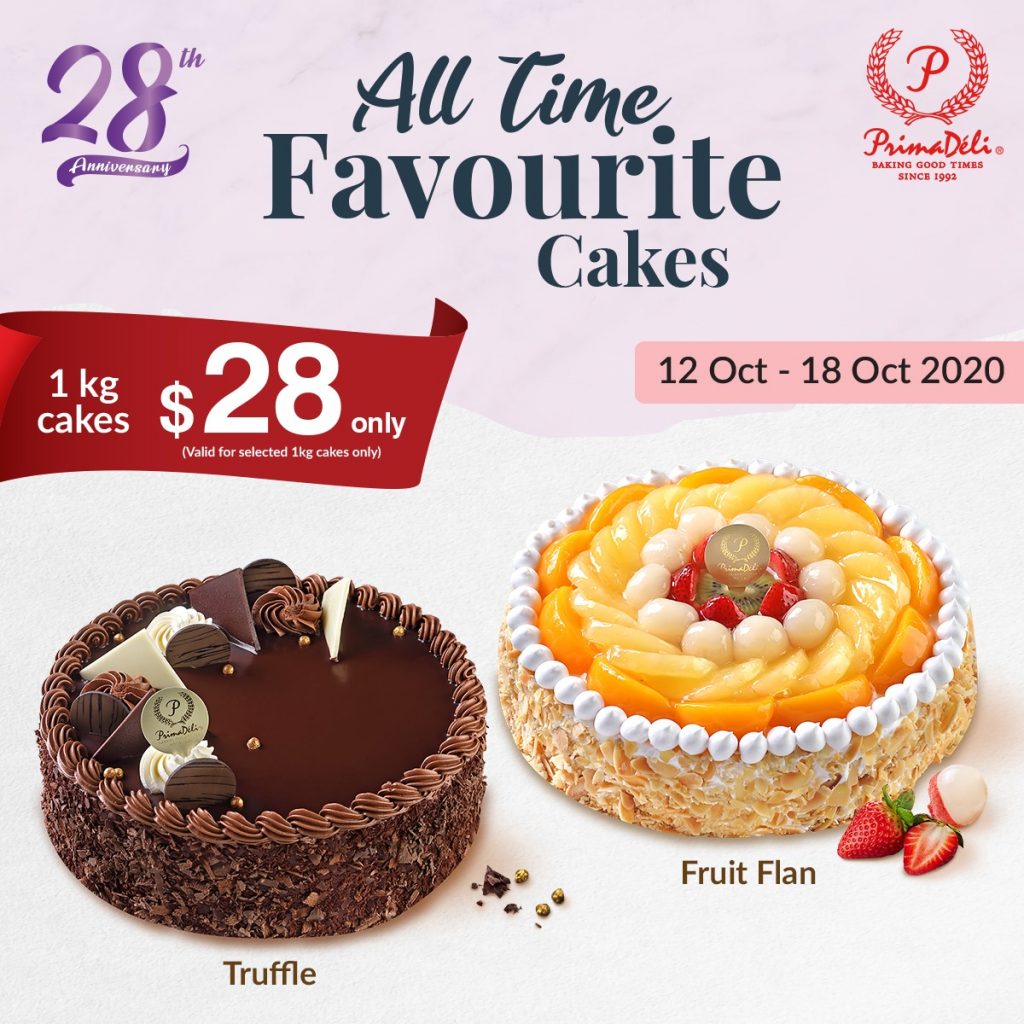 Usual price is S$43.80, so you're looking at a 36% discount, at least.
This promo is valid for walk-in purchase or pre-orders with a lead time of 2 days in advance.
Unfortunately, it's not available for online orders or delivery so you'll have to do some groundwork yourself.
---
Advertisements
---
But hey, for 36% off? I'll even buy the milk if they want me to.
These two cakes not to your liking?
They have another two flavours up for grabs (also at $28) next week: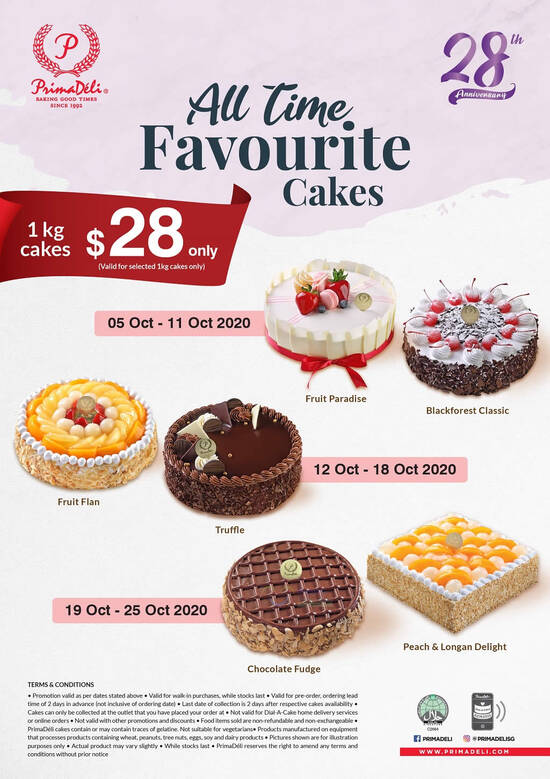 You can find your nearest Prima Deli outlet here.
---
Advertisements
---
7. Amazon Prime Day (13-14 Oct)
We all love online shopping.
You can window shop from the comfort of your room and get it delivered to your doorstep.
The only drawback is that sometimes, you got to wait for quite a bit before your goodies get delivered to your house.
But what if I were to tell you that for two specific days, mainly 13 and 14 Oct 2020, you can shop online and get it delivered to you within two hours…for cheap?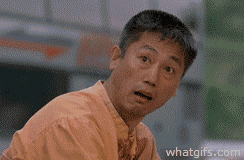 ---
Advertisements
---
Amazon has launched its Annual Prime Day in preparation for the holiday season and this year, Singapore will be joining in the festivities.
Amazon Prime members can enjoy great deals on Amazon.sg and Prime Now, as well as small and medium-sized businesses in Singapore, across a huge variety of products, including:
Toys
Electronics
Kitchen
Home
Baby products
The best part? There are two-hour delivery options.
New deals will also be launched every four to six hours and members who purchase gift cards can enjoy additional value credited to their account.
You don't have to wait till tomorrow either as Amazon Singapore is running a huge gauntlet of deals in the leadup to these two days.
---
Advertisements
---
You can find out more details here.
8. Pizza Hut $10.10 Deals (Until 14 Oct)
Just S$10.10 for 3 sides or 3 personal pan pizzas?
Sounds too good to be true? But that's exactly what Pizza Hut is offering this 10.10.

From now until 14 Oct, or while stocks last, you can enjoy 3 personal pan pizzas or 3 sides from Pizza Hut with a minimum spend of $15.
Perfect for a family meal if you're feeling particularly lazy to cook.
This promo is only available for delivery orders and the standard delivery surcharge applies.
Other terms and conditions apply:
Not valid on eves of and on public holidays
Not valid with other promotions, promo codes or discounts
Limited to 1 redemption per transaction
Prices are GST-inclusive
You can start ordering your Pizza Hut meal here.
9. BreadTalk 20th Anniversary Promo (Until 14 Oct)
When BreadTalk first launched in Singapore, Singaporeans were tickled by the insane names of their bread.
It's been 20 years since they've opened here in Singapore and since then, they grew into a mega-chain that sells more than just bread not just in Singapore.
Growth which wouldn't have happened without Singaporeans.
So for their 20th anniversary, they want to give back to people in Singapore by giving out a crazy promotion for selected bread and tea cakes.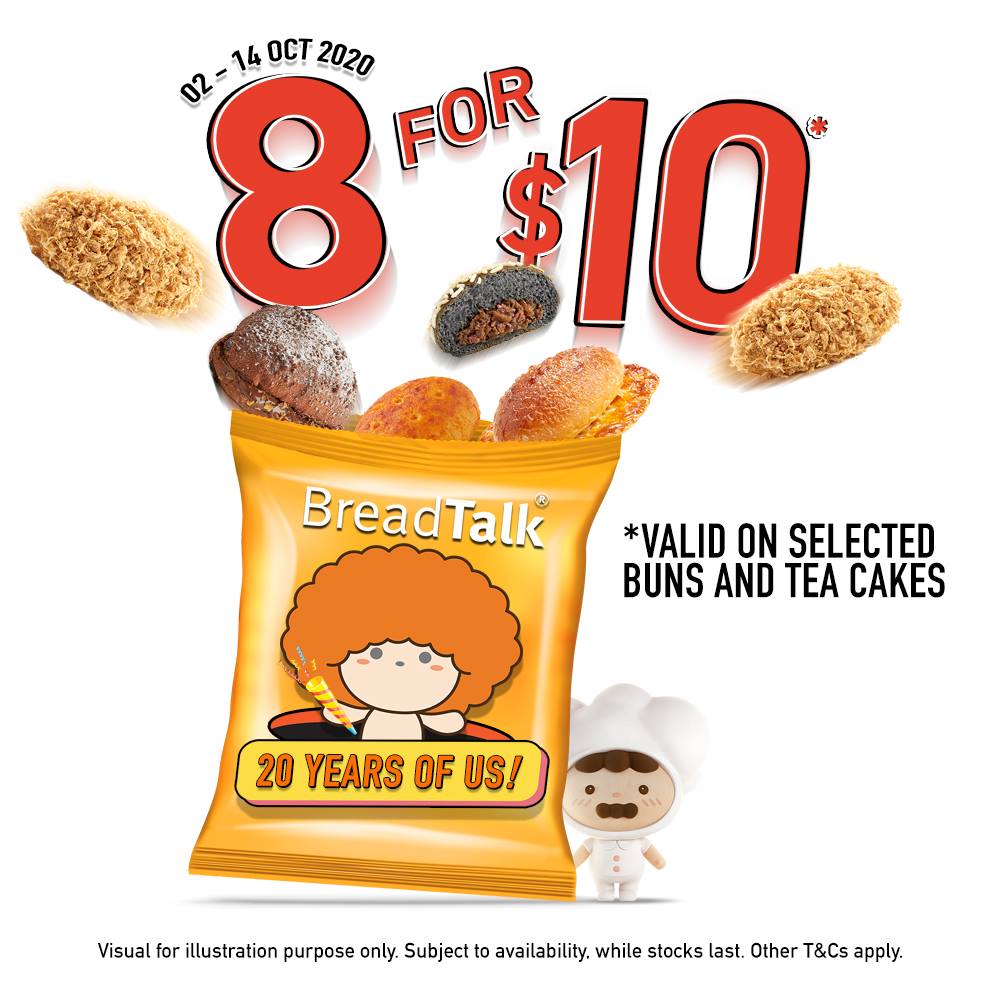 From now until 14 Oct 2020, you can enjoy 8 selected buns and dry cakes from BreadTalk for just $10, which comes out to $1.25 per selection.
While they say "selection", don't be worried about it being two or three.
We went to check their website and turns out, they have 19 different selections available for the promo, including their iconic Floss bread (and the fiery version), Seafood Laksa (???), marble cake and more.
Other than the bread promo, they are also holding anniversary promotions for other products, including whole cakes and more.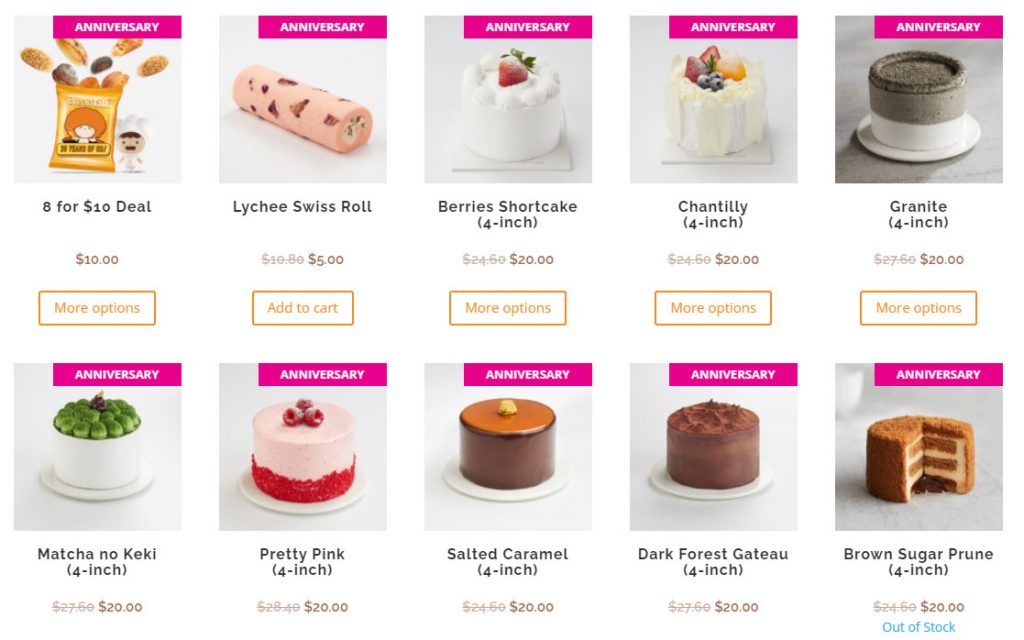 You can find out more here.
Alternatively, you can check where's the nearest outlet here.
10. Burger King 1-For-1 Dining Coupons
Want to feast like a king while paying like a pauper?
Then you're not going to want to miss out on Burger King's 1-for-1 e-coupons, valid for dine-in or takeaway while ordering in-store.
In order to redeem, simply flash the image of the coupon on your phone while ordering, or print it out to use as a hardcopy.
Deals include selections like breakfast Corissaan'wich: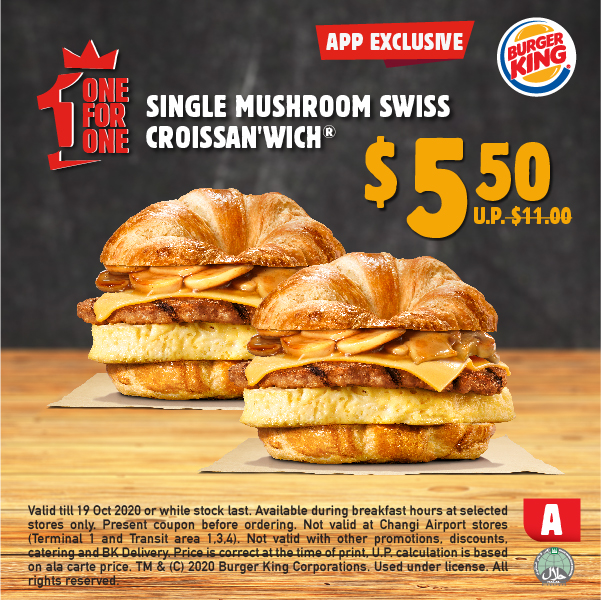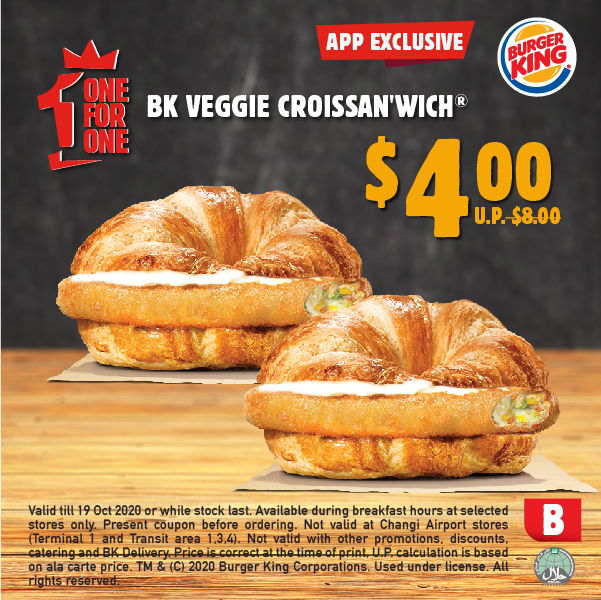 Regular burgers: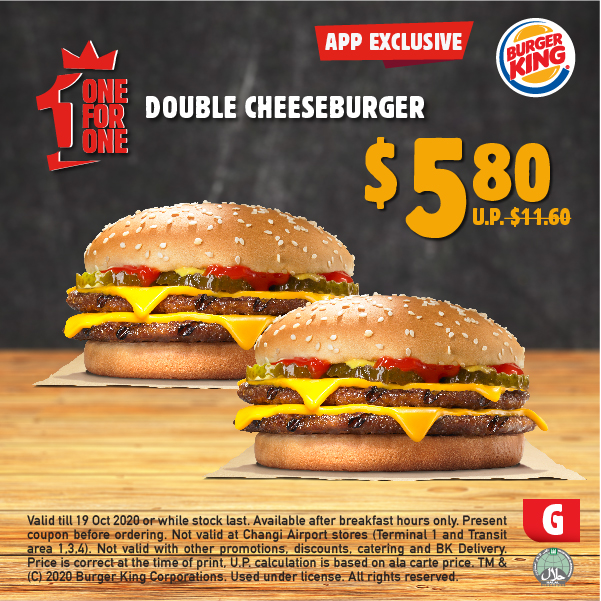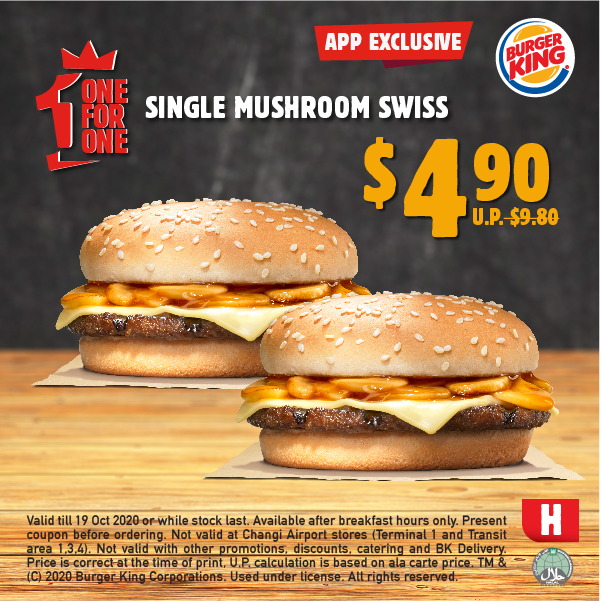 And even drinks and snacks if you're just feeling a tad bit peckish: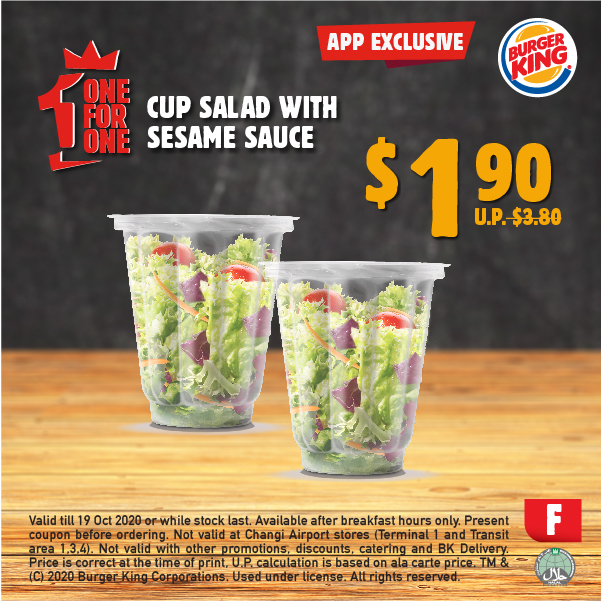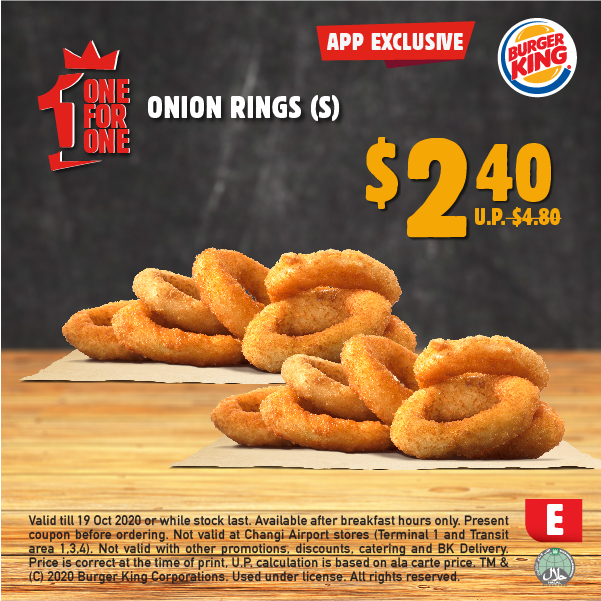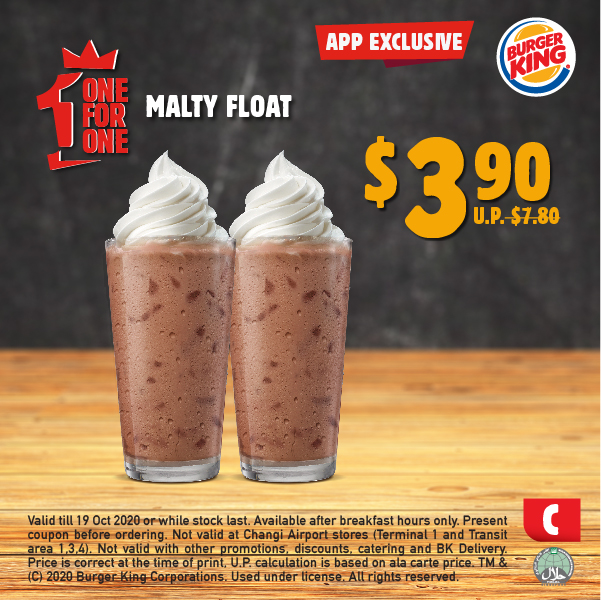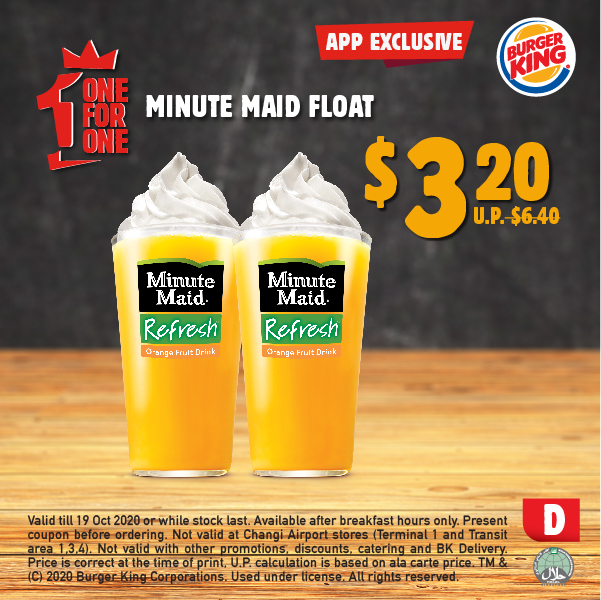 These eCoupons expires on 19 Oct 2020 so make sure to be fast, eh?
So there you go, 10 best-est deals happening in Singapore this week.
For those who are interested in something a bit pricier, like staycations, you might want to check out this article here.