---
Advertisements

---
We all say things we definitely wouldn't say when we're angry and it's a perfectly natural reaction.
But if you're going to be angry and put it out on social media, then the apology is going to be on another level.
Especially if you write that you're thinking of putting down your dog because it's not behaving properly, the netizens are going to come after you.
About Sofie the Mongrel
In a Facebook post dated on 23 August, a man posted on the private group Singapore Pet Adoptions & Rehomers that he wanted to rehome his dog, Sofie the mongrel, permanently.
For those unaware, rehoming a dog simply means giving your dog a new home instead of putting it in a shelter.
In the post, the owner said that his friend found Sofie and her siblings when they were just puppies at a construction site. She's now four years old.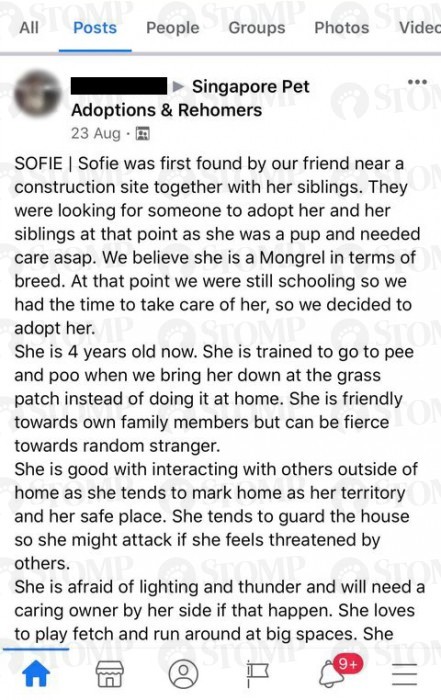 The owner then continued by listing down some of Sofie's characteristics such as that she's toilet-trained, able to listen to commands, enjoys interacting with other dogs outside the house, loves playing fetch and running around and is afraid of thunder and lightning.
Even though Sofie is friendly towards her family, she might act fierce towards strangers and outsiders.
The owner explained that when he decided to take in Sofie, he was still schooling and hence, was able to put in the time to take care of her.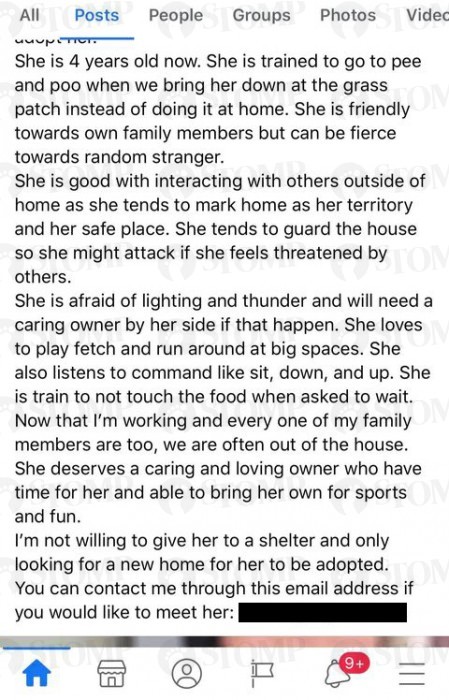 However, the owner said that he and his entire family are currently working and are usually out of the house, which hinted that they might not have the time to properly look after Sofie.
The owner then said that he was "not willing to give her (Sofie) to a shelter and only looking for a new home for her to be adopted."
He then provided his email address should anybody be interested.
Sound okay so far? Yeah. Then this happened.
So Much Can Happen in Two Months
However, just in 2 months, the owner posted on the same Facebook group a rather disturbing post.
In short, he was thinking of putting down Sofie.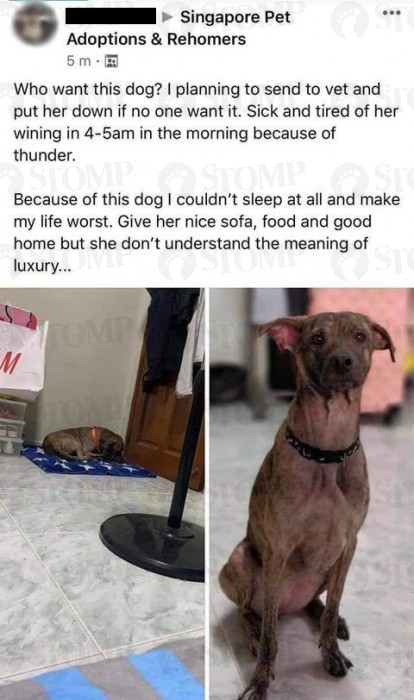 The tone, to say the least, changed so much.
Apparently, the owner was getting fed up with Sofie because he was "sick and tired" of her whining in the early hours of the morning due to the thunder.
He also claims that because of Sofie, his "couldn't sleep at all and (made) his life worst."
To top it off, he also said that Sofie did not appreciate the luxuries he provided for her.
Because of these reasons, he was planning to send Sofie to the vet to be put down if no one wanted her.
Of course, when you post something like this on Facebook, you're asking for it.
---
Advertisements

---
And true enough, many netizens came forward and called out the owner for being irresponsible. According to STOMP, the netizens were also worried about Sofie and whether she would be put down.
In the Heat of the Moment
On Wednesday (28 October) night, the owner made a formal apology and said that his words were written "in a heat of anger" because he did not sleep well.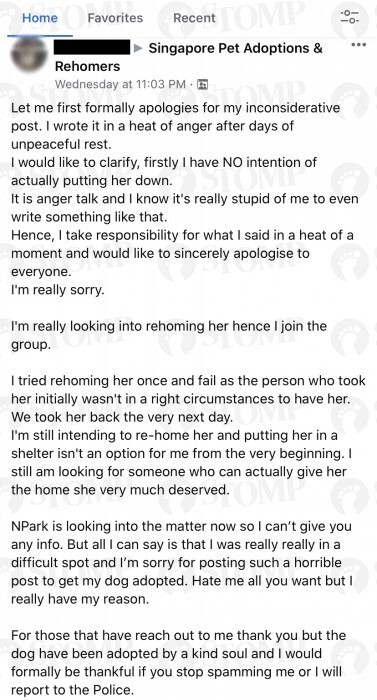 He has clarified that he has no intention of putting down Sofie.
The owner reflected that he should not have written something like that and that it was "stupid of (him)" for doing so.
He further wrote that he has tried to rehome her once but the person who took Sofie wasn't in the "right circumstances to have her" and as a result, Sofie was taken back the next day.
The owner is still trying to rehome her is unable to give out any more information as National Parks Board (NParks) is currently looking into the matter.
---
Advertisements

---
To ensure that Sofie is doing well (and alive), the owner uploaded a video of her enjoying the outdoors.
Reminded of Loki
As a dog owner, hearing people wanting to put down their dogs for selfish reasons honestly break my heart. If you remember, Loki the mongrel was put down earlier this year because of his "aggressive behaviour" which could have been taken care of if the owners accepted the offer from the group where Loki came from.
If you're thinking of adopting a dog, remember that you're giving them a second chance at life and providing a furever home for them is probably the one thing dogs would love.