It appears that someone has developed the Pokedex, though instead of attack-based critters…
It caters to durians.
Yes folks, you didn't read that wrong. You'll now be able to identify several durian species with just a few taps on your phone. This means that essentially…
You'll never get duped by an unscrupulous durian seller again. Theoretically anyway.
There's an App That Helps You Identify What Durian It Is
There's a new Durian-dex in town, and it's none other than the "Musang King App".
According to the app's website, the "Musang King App" operates via artificial intelligence to procure results within the span of mere seconds.
To use it, one simply has to take a photo of a durian, let the A.I. identify the traits and they can receive an accurate depiction within seconds.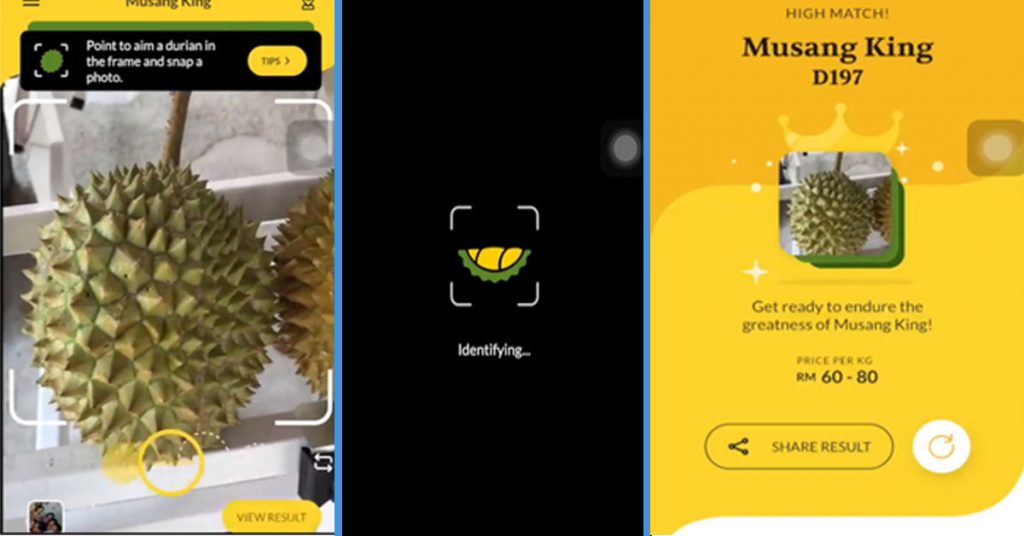 Thus far, the durian-dex is capable of recognising six durian varieties: the Musang King (D197), Sultan (D24), Golden Phoenix (D198), Golden Bun (D13), Red Flesh (D101), and Darling (D88).
Apparently, the app's recognition library will continue to be updated in due time.
App usage will be free for users, but interested durian sellers would have to pay an insignificant fee to be listed on the app (for exposure).
Apart from identifying durians, the app will also be able to pinpoint trustworthy durian stalls in the area.
However, it should be noted that the app's based in Malaysia at the moment.
Singaporeans, on the other hand, may find it hard to use the app until perhaps a few months later, when the borders officially reopen.
To Empower
The app project was reportedly started in 2019 by a group of durian lovers.
As for the objective, it was to "empower all durian lovers".
---
Advertisements
---
"The Musang King app is intended to empower all durian lovers," said Jake Thui, part of the founding team.
"All of us who enjoy durians have definitely encountered situations where we are unsure of the durian variety in front of us. Most times it is because we are unfamiliar with the identifying characteristics of the varieties we like."
But it seems that with the app, such dilemmas would soon be a thing of the past.
You can check out the app here (iOS) and here (Android).
Meanwhile, Singaporeans might find solace in this article here, which teaches you to identify between ten types of durians.
With durian price scams a rather common thing, it may be wise to teach yourself about the different types of durians, and the usual market rates they entail.
And also, if, for some reason you dislike the smell of durians, don't worry, you're not alone. Watch this video to the end and you'll understand:
Featured Image: Facebook (Musang King)
---
Advertisements
---
Like writing? Goody Feed is looking for writers! Click here for more info!