In 2009, Dyson introduced this revolutionary product to the world: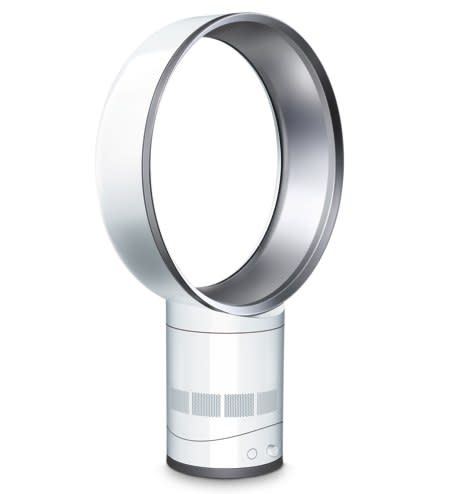 While it looks like a mirror or something that belongs to an obstacle course for dogs, this little nifty item is actually a fan.
Some may have fond memories of trying to stick their hand through that big hole and marvelling at how wind would blow onto you skin like magic.
Though the concept was first developed by Toshiba in 1981, James Dyson—the founder of Dyson—improved upon the design and technology, wowing sweating humans all over the globe.
If you're a big fan of the company and have always wanted to work there, well, you won't have to move to the U.K. to do so.
Dyson Looking to Hire 250 Engineers & Scientists Locally as Its Global HQ Prepares to Move Into S'pore
For those who don't know, Dyson will be moving into its new global headquarters at the historic St James Power Station here.
When? "Shortly", the company said.
In addition, it will also be building a global cybersecurity centre in Singapore.
As a result of this expansion, Dyson is looking to hire 250 more engineers and scientists in Singapore over the next five years.
The firm's first facility here was opened in 2007, and the company now employs around 1,400 staff in Singapore. Almost half of them are engineers and scientists.
With job postings already up on Dyson's website, an additional 250 employees would doubly increase the size of its existing software and electronics engineering teams.
Dyson's chief executive officer Roland Krueger commented, "Here in Singapore, we are expanding in specific areas such as robots, machine learning, artificial intelligence and connectivity. And we are looking to hire experts in that field, which goes across all products."
The move was prompted by their plans to expand in specific areas such as robots, machine learning, artificial intelligence, and connectivity.
Hiring these experts will allow the company to enter "entirely new fields and develop a new generation of high-performing technology products with increasing intelligence," it said.
Founder James Dyson encouraged engineers and scientists here to join the company.
---
Advertisements
---
"We are in a race to develop patentable technologies which will power our future products and we hope that Singapore's most enterprising and creative engineers will consider joining our team."
Mr Krueger also praised Singapore for having "a very good talent base" in an interview with CNA, which would aid Dyson.
He cites that 26% of university students in Singapore do engineering or engineering-related subjects, which gives Dyson a base to source for "very, very good talent".
In fact, Dyson has ramped up its recruitment efforts and branched out into local universities. Some examples include launching an engineering studio in Nanyang Technological University (NTU) in 2018, a new university research programme to amp up product development, and various internship opportunities.
These are all attempts to "groom the next generation of engineers for Dyson", according to Mr Krueger. While the company sources for the best talent from all around the world, he said that its endeavours in Singapore are "definitely on Singaporean talent".
Despite Singapore facing a technology talent crunch like many other countries, Mr Krueger remains optimistic, and said that Dyson did not face the issue of competing for employees in the same talent pool.
Abandoned Plans in 2019 to Build Its First Electric Car Factory in Singapore
In 2018, Dyson announced that they would be building their first electric car factor here in sunny Singapore.
The factory was supposed to be launched in 2021, and the company said they were on the lookout for engineers.
But then, just a year after the announcement, Dyson announced that they were abandoning the electric car project as it was not commercially viable.
---
Advertisements
---
Let's hope that same thing doesn't happen here. 
Dyson has not been immune to the effects of the pandemic.
The company revealed in July that it was cutting 15% of its UK workforce and slashing 900 jobs globally because of the pandemic, as lockdowns changed consumer behaviour.
The move also affected Dyson himself, as he reportedly sold his triplex penthouse at Wallich Residence for $62 million, more than $10 million less than he paid for it.
Feature Image: EQRoy / Shutterstock.com
---
Advertisements
---
Like writing? Goody Feed is looking for writers! Click here for more info!