Normally, when you order a cup of bubble tea, you'll want some additional ingredients in it. Pearls and other brilliant inventions like pudding, tapioca pearls and more.
But for one individual who ordered a cup of Chocolate Milk Tea from Each-A-Cup, he "earned" an extra ingredient that no one would ever want to see in their own drink.
Choc-Roach-Milk-Tea
On 20 Nov 2020, a man had ordered a cup of chocolate milk tea from the Each-A-Cup out located at The Poiz Centre at Upper Serangoon Road.
He was apparently a true connoisseur of bubble tea and knew that sometimes, you don't need pearls to make it taste good.
Unfortunately, things went wrong when he was finishing up the drink.
He felt some jelly-like in his mouth.
Suspecting something to be wrong, he spat it out into the cup.
Here's what he saw.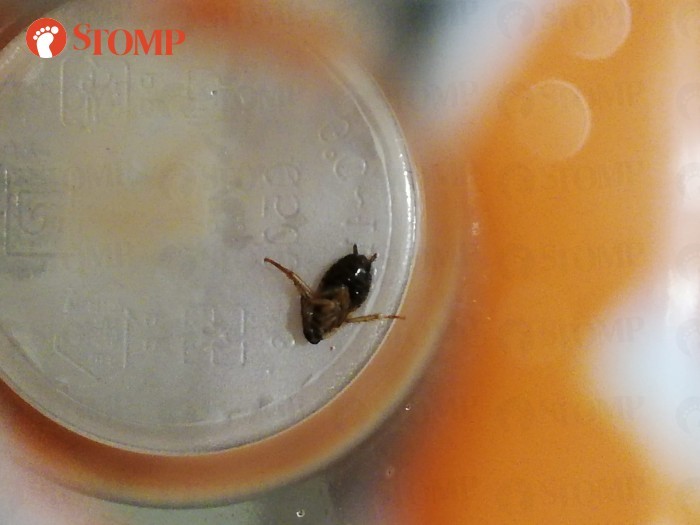 That's right. A dead cockroach.
Nearly Finishing The Drink
According to the man, he had finished the drink "relatively quickly" and only found the cockroach when he nearly finished the drink.
He added that when he asked his grandmother to confirm if it was a cockroach he just had in his mouth, she agreed with his verdict.
Questioning whether this is a "serious health violation", the man expresses his disappointment with Each-A-Cup, a brand that is well-known in Singapore.
Each-A-Cup's Response
According to STOMP, Each-A-Cup is aware of the incident and has apologised for the incident.
"We regret that such an incident has taken place and we would like to assure everyone that we take such matters very seriously."
"At Each-A-Cup, food hygiene and food safety are of utmost importance to us. Therefore, all our outlets go through thorough pest control checks on a regular basis," said the spokesman.
---
Advertisements
---
"Following the unfortunate incident, we have immediately called for pest control checks to inspect our outlet at The Poiz to ensure food hygiene and food safety.
"We will also continue to carry out pest control checks regularly at all our outlets, as this is part of our commitment to food hygiene and food safety.
"In addition, we have also given a firm reminder to all of our staff to be extra cautious in ensuring proper cleanliness in preparation of drinks, and maintenance of the stores.
"Although this is an isolated incident, we will continue to take the necessary steps to prevent such incidents from reoccurring."
Each-A-Cup is also conducting a review of the incident.
Featured Image: STOMP / Google Map
Like writing? Goody Feed is looking for writers! Click here for more info!