---
Advertisements

---
Happy Earth Day to all!
For 22 April 2022, the theme of this year's Earth Day is "Invest in Our Planet".
The grand goal that the Earth Day Climate Action Summit is trying to achieve?
Reaching net-zero greenhouse gas emissions by mid-century, and to keep the global temperature from rising by more than 1.5 °C.
For decades, we've talked about climate change and its effects, commonly using infographics with sad polar bears or penguins to showcase how devastating and destructive climate change can be.
But now?
This is our imminent reality.
You can feel the brush of the rising temperatures in Singapore. We're a tropical island close to the axis, but the weather has never been odder.
Other countries are experiencing more untameable wildfires, the permanent ice at both poles of the Earth is melting faster at unrecoverable rates, and ecosystems are being destroyed as a result.
So, what can be done? What initiatives are already happening around the world?
Well, here's a quick summary of everything you should know!
Google Doodle Marking Earth Day with Stark Images of Climate Crisis
Always on top of their game, Google made good use of the satellite imagery that they have been hoarding for decades, creating time-lapses to show the melting glaciers, retreating snow covers, deforestation and coral bleaching at large.
If worded evidence and studies can't do anything, let visuals speak.
The 2022 Earth Day Google doodle includes four gifs that were made from satellite imagery and photographs courtesy of The Ocean Agency, which will rotate throughout the day.  
It exhibits the glacial retreat at the peak of Mount Kilimanja in Tanzania between December 1986 and 2020, and the glacial melt in Sermersooq, Greenland, between 2000 and 2020.
The other animated imagery features the result of the coral bleaching that occurred at the Great Barrier Reef, near Lizard Island, Australia, between March 2016 and October 2016.
Besides that, it also shows the gradual deforestation of the Harz forests in Elend, Germany, between 1995 and 2020.
In New Zealand, the vast and ancient glaciers that used to span the land are thinning at an alarming rate.
To put things into a simpler perspective, the National Institute of Water and Atmospheric Research (Niwa) has discovered that a third of the permanent snow and ice has been lost from the Southern Alps, a drastic decline that happened in just 15 years (1977-2014).
Earth Day Clean-Ups in Singapore
If you're interested in having a more hands-on approach in helping the environment, there are currently two clean-up events that are going to take place in Singapore.
The first is the Bishan – Ang Mo Kio Park Clean-Up.
---
Advertisements

---
It happens on 24 April 2022, from 3pm to 8pm.
The event is being hosted  by ME&U, and you can register here if you're interested.
All you need to do is show up at the location, preferably in workout clothing since you'll be moving around a lot. Equipment like metal tongs and pails will be provided on site.
The second actually happens today (whoops), but it bears mention either way!
The clean up took place at Lazarus Island from 8am to 1:30pm, with the objective of cleaning up the marine trash and plastic waste in the waters and along the coast lines.
Fashion Revolution Week at Orchard
From 18 to 24 April, Fashion Revolution Week, the world's largest fashion activism movement, has returned to Singapore.
---
Advertisements

---
The theme for this year is "Money Fashion Power".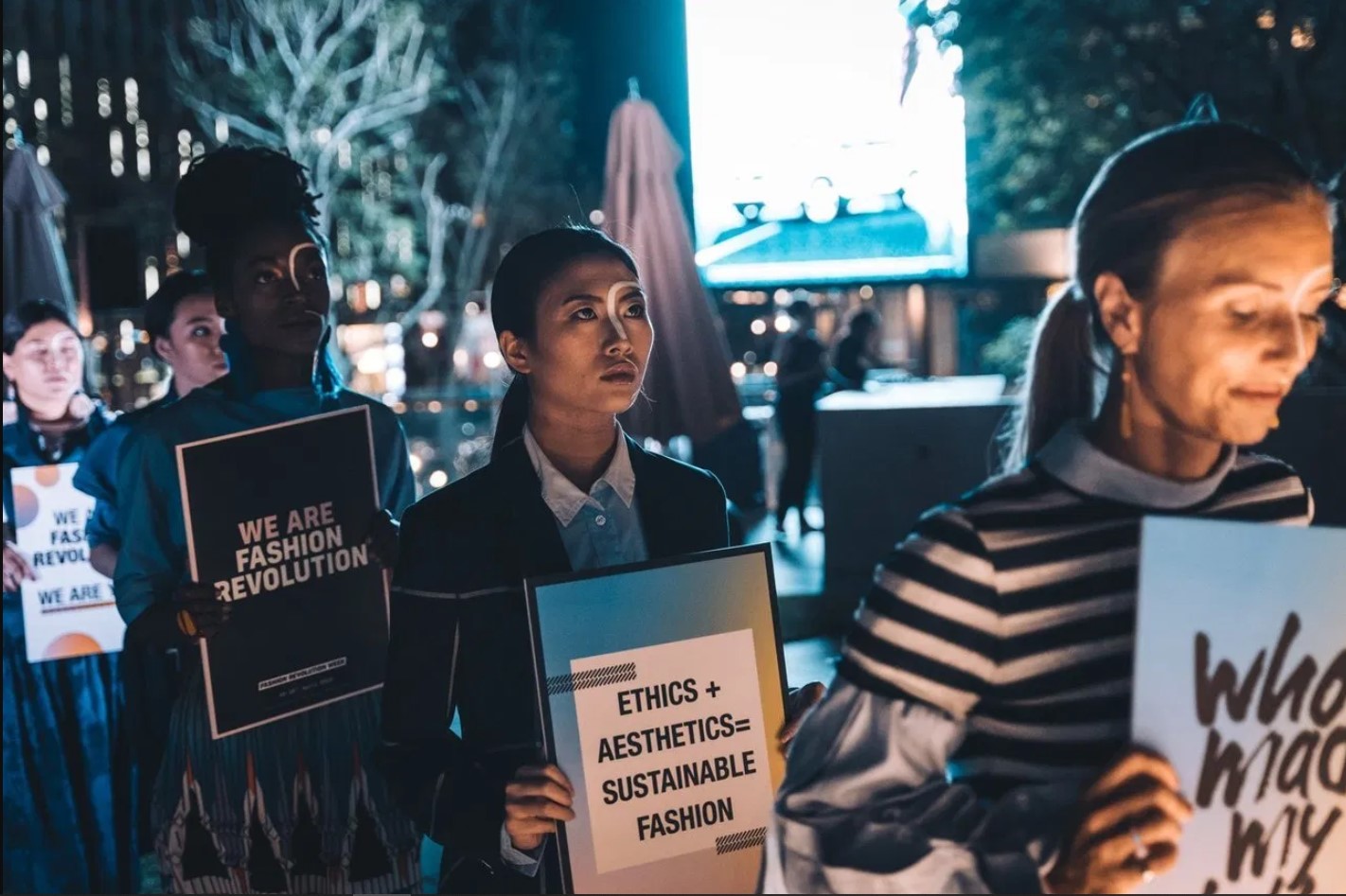 There will be in-depth talks and workshops at the festival, discussing and analysing the systemic exploitation of labour and natural resources in fashion to equip participants with the knowledge and skills to overcome these problems in everyday life.
There are also hands-on workshops at Open Studio @ Cineleisure, where you can pick up practical clothing and shoe-mending skills, the know-hows of textile dyeing, and gain a deeper comprehension on how garments are made.
If you wish to know about all the events that are happening throughout the week, you can visit fashionrevolution.org for more details.
Earth Week at The Farm
Open Farm Community is also celebrating Earth Day in a grandiose manner this year, with a three-day programme and workshops at the side.
---
Advertisements

---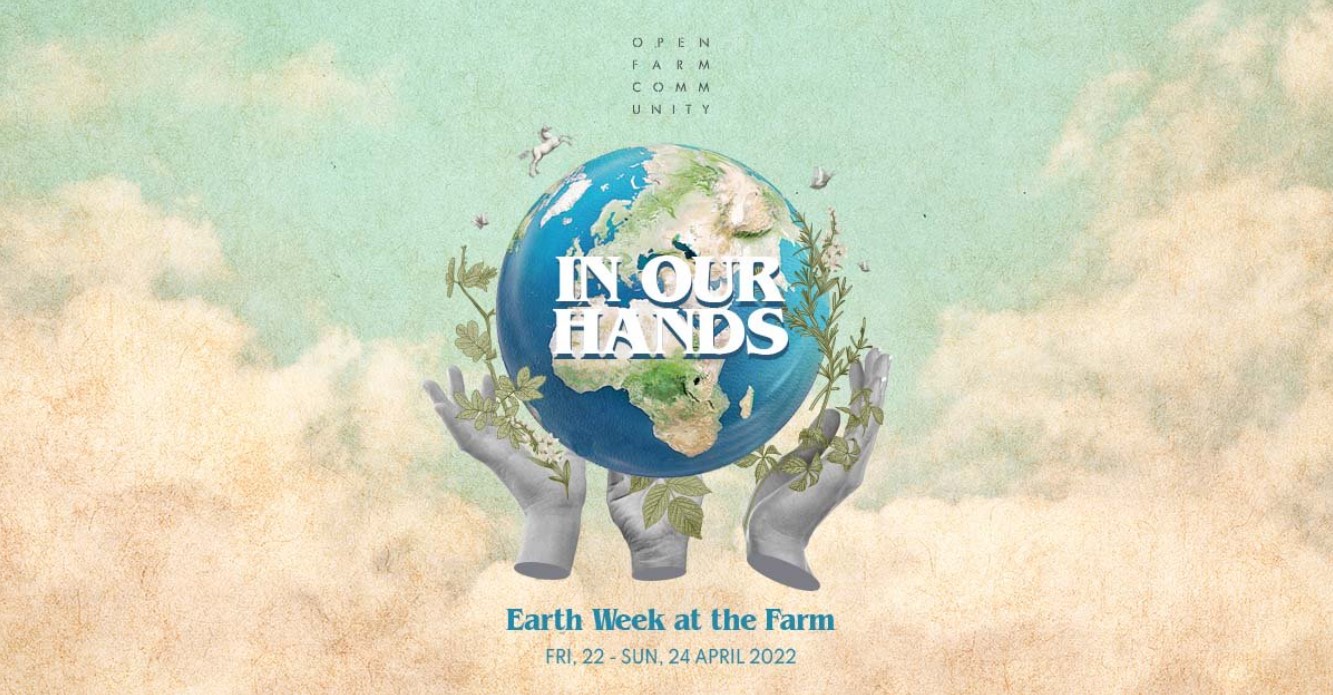 Open Farm Community is located at 130E Minden Road S248819.
From 22 April to 24 April, there will be collaborative workshops where you can learn how to make soap with coffee grounds, repot plants, and hand make seed paper.
If you're more of a foodie, eat healthy and organically with the five-course dinner prepared from and by the Open Farm Community, aptly named Kampong Global.  
If you wish to reserve a table or join the workshops, you can do so at the OFC website.
There are also various pop-up shops you can catch at Open Farm Community:
22 Apr: Shop for Bamboo Straw Girl's eco-friendly products from 5pm to 7pm.

22 Apr: Shop for various delicious plant-based milk from 11:30am to 6:30pm.

23 Apr: Shop for houseplants and planters from Soil Boy from 11:30am to 3:30pm.

24 Apr: Print N Matters will be offering handmade paper products from 11:30am to 6:30pm.
Join our Telegram channel for more entertaining and informative articles at https://t.me/goodyfeedsg or download the Goody Feed app here: https://goodyfeed.com/app/
Loco Earth Month
This is another Earth Day event dedicated to the foodies!
In order to present more environmentally-conscious menus and activities, Mexican hospitality group Super Loco Group has partnered up with Australian plant-based food brand, Fable Food, for its first-ever Loco Earth Month.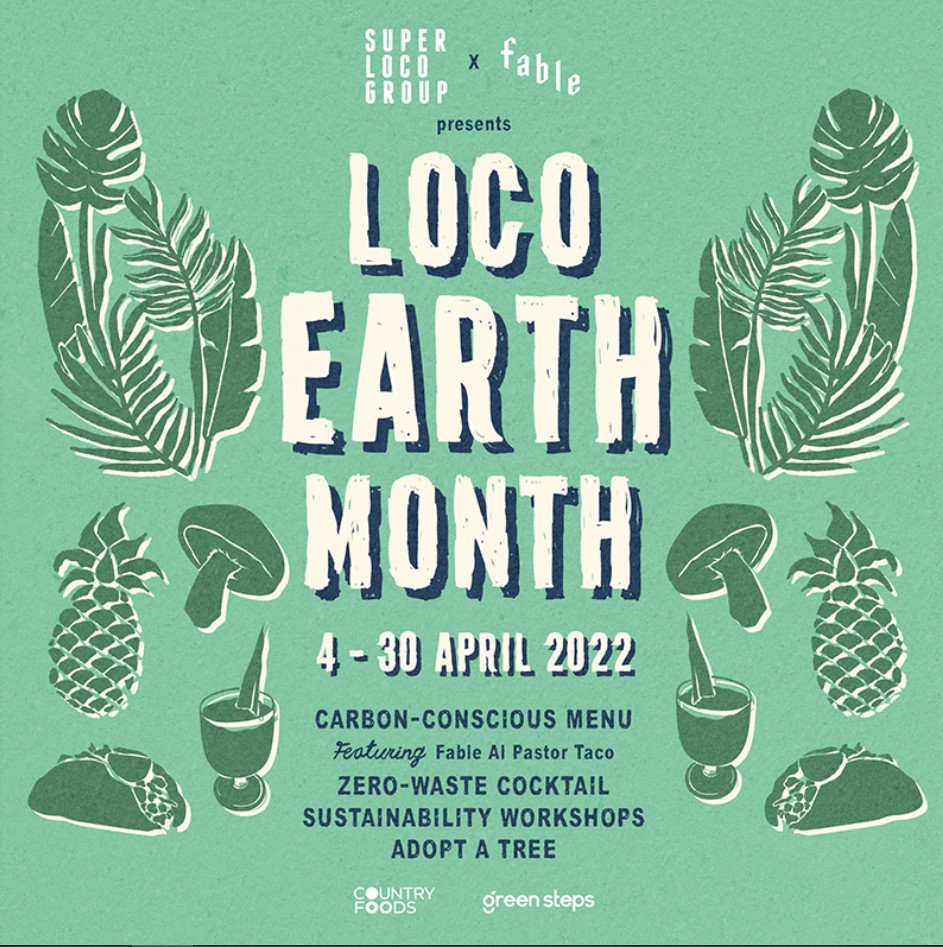 From 4 April to 30 April, there will be a special four-course set menu, priced at $80 per pax, that includes an incredible array of food, from spinach herb tortillas, crispy quinoa, their signature Fable Al Pastor Taco, and sustainably farmed Barramundi.
---
Advertisements

---
Of course, no good meal is complete without some refreshing cocktails.
The best part?
All of the food used are sustainably sourced, ethically raised ingredients with a low carbon footprint. The cocktails are also made out of fruit scraps to ensure minimal amount of food wastage.
You can check out the menu here.
Planned Protests All Around Europe
From Berlin, Warsaw, to Brussels, climate change activists have raised their boards and rallied outside German government or embassy buildings, where they are handing out red-stained roubles to symbolise the blood covering the currency that is fuelling both climate change and the invasion of Ukraine.
The main goal of the demonstration is to push demands for an immediate halt of European imports of Russian oil and gas, and put an end to building fossil fuel infrastructure.
The European Union has placed a tranche on economic and financial sanctions on Russia, but one of the matters that they haven't budged on, nearly two months since the Ukrainian crisis began, is placing an embargo on Russian oil.
You see, Germany, the fourth largest economy in the world, is extremely dependent on Russia for its energy sources, and it fears that cutting off supply to Russian oil will damage their economy.
However, Natalia Gozak, the head of the EcoAction civil society group argues that every euro Germany pours into buying gas and oil from Russia, is an additional rouble to fund the Kremlin government's construction of new war machines and bombs.
Presently, the 27 members in the European Union (EU) have agreed to ban Russian coal imports starting from August, as part of their sanctions that have already targeted Russian banks and Russian oligarchs.
When it comes Russian oil and gas, however, the economic cooperation coalition is split in opinions.
Countries like Italy and Germany have proclaimed that they can wean themselves off Russian gas within a few years, while other European companies have already shunned Russian energy sources voluntarily to avoid reputational damages and possible legal troubles.
It's a hard decision to make, especially when the EU purchases oil and gas from Moscow as a bloc at favourable rates, and the EU receives 40% of its gas from Russia.
The costs of replacing Russian oil with other imports is something that the European Commission will have to reckon with, and is assessing, should they decide to initiate an embargo on Russian oil and gas.
Other Earth Day Initiatives
In the words of the Earth Day Organisation, "every day is Earth Day".
These efforts that we put into changing our environment for the better isn't something that can be accomplished within a day. Rather, it takes consistent effort to make a difference.
In light of that fact, here are 52 ways to invest in our planet.
It can be as simple as choosing to peruse e-books instead of paperback books, picking up trash, reducing your plastic consumption consciously by using less disposable bags and one-time takeout containers.
When it comes to your diet, be more conscious of what you put in your mouth: push for plant-based options, make sure that you're utilising reusable utensils, pick pesticide-free produce, support organic ingredients, and eat less meat.
There are so many little things that you can do to reduce your own footprint and make the world a better place.
Happy Earth Day, readers. 
Read Also:
Featured Image: Earth Day

Fresh grads, you don't need any experience to earn up to $4,200 with this "secret":
Read Also: