---
Advertisements
---
Halloween is just around the corner, and more places are beginning to set the spooky mood and atmosphere by using Halloween props.
This includes Sheng Siong…unintentionally, though.
Sheng Siong Selling "Batman Nut" That Looks Like a Halloween Prop
A Reddit user spotted "Batman nuts" at Sheng Siong and that has garnered many people's attention.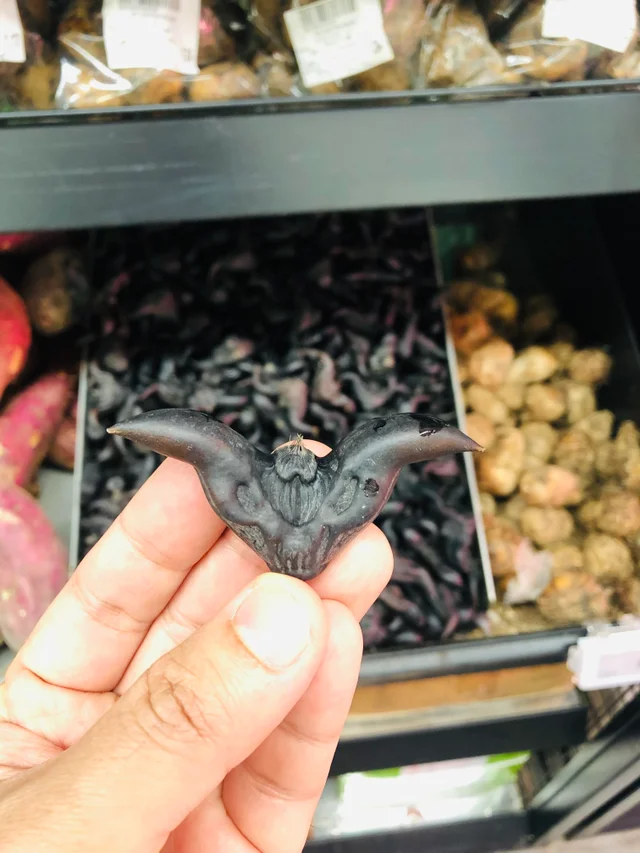 Some users on Reddit also commented that they look like batarangs.
In case you don't know what batarangs are, it is the iconic bat-shaped boomerang weapon that Batman uses.

Well, in fact, these are actually water caltrops, not mini batarangs that Bruce Wayne has decided to sell to fight inflation.
What Exactly Are Water Caltrops? 
Water Caltrops are a type of water chestnut. They have irregularly shaped pods and have a tough and hard exterior. They also have an unusual, rustic, and earthy odour.
They can be eaten, but they must be cooked before consumption as they are considered toxic when raw.
Their seeds have a dry and slightly chewy consistency with a subtly sweet and distinct flavour.
But…why is it being sold now? Is it a seasonal thingy, or is it for Halloween?
No.
Water Caltrops are Commonly Eaten During the Mid-Autumn Festival 
Today you've just learned something, eh?
Apart from mooncakes and pomelos, this odd-shaped food is actually commonly eaten during Mid-Autumn.

This is because it is shaped like bats and bats are symbolic creatures to the Chinese.
Bats symbolise luck and these water caltrops are believed to bring you luck if you eat them.
Not sure if this still holds water after the COVID-19 pandemic, though. 
How Are They Prepared and Eaten? 
All you need to do is to boil them.
Once they are cooked and cooled, simply crack open the nut. It will take a few strong bites to crack it open though.
If you haven't got to try these out during Mid-Autumn this year, you missed out on a chance to huat.
Don't worry, you can always try them again next year.
Read Also: 
Featured Image: Reddit.com
---
Advertisements
---