---
Advertisements

---
Last Updated on 2023-03-28 , 10:23 am
Scams are really, really, really on the rise in Singapore—to the point that I've written five scam-related articles in two weeks. Check out this one about a woman whose landlord ghosted her.
Recently, another woman got scammed when she bought fake AirPods for $265 off Carousell, and took to TikTok to lament about it.
So, as an experienced scam writer, I can attest to this—sometimes, you actually just need to think, but we can get careless sometimes. 
Her TikTok Video
Her expletive-laden TikTok video was a whopping 1 minute and 44 seconds long, explaining how she got scammed in great detail.
Posted by user @jiaxuanwithnof, the video has amassed more than 50,000 likes so far. 
---
Here's Why We Might Not Need to Vote in Presidential Election 2023 After Tharman's Announcement:
---
She had purchased what she thought was a pair of Apple AirPods Pro Gen 2, worth $365 on the market. The listing she chanced upon offered them at $265, $100 cheaper than the retail price.
Admitting that she had been "outsmarted" by the man, she shared the story of how he covered his tracks.
When she met him to purchase the item, he asked her to pay in cash. He explained that this was because they were a gift from his uncle, but he already had a pair of AirPods Max, so he was selling it away. The cash payment was because he did not want his mother to discover he sold the AirPods.
"How did I not see the red flag?" She supplied.
---
Advertisements

---
Gave Her A "Freebie"
But wait—he's not entirely terrible. At the end of their transaction, he offered her an AirPods case worth a dollar, for free.
He even taught her how to check the serial code of the device, and it worked when she tried to connect the AirPods to her phone. 
Grateful, she messaged him on Carousell and said, "thank you for not being a scammer".
Unfortunately for her, she eventually realised the AirPods were fake when she brought them to be fixed. 
After taking them to an iStudio store to repair a malfunction, she was told that they were not genuine.
Closing off the video, she remarked that the man was handsome, which probably explains the whole thing.
Comments on the video were mixed, with people expressing that the situation was hilarious, but they still felt bad for her.


Others gave her (questionable) advice on what to do next.

A user even provided tips on how to check if AirPods are real—I suggest searching for tips instead of looking at a TikTok comments section, though, because the latter isn't exactly known for reliability.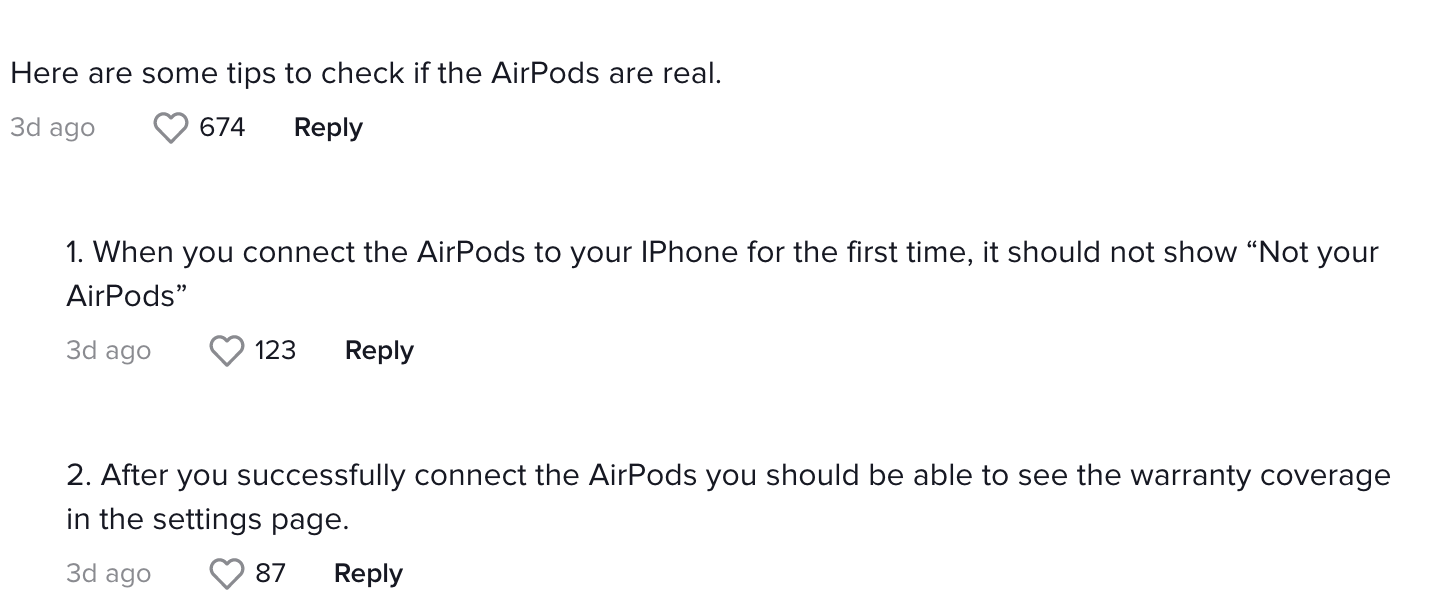 AirPods Scams Not Rare?
Shockingly, this kind of scam isn't rare. 
---
Advertisements

---
Just recently, on 18 March, two men aged 26 and 31 were arrested by the police for a series of suspected scams involving the sale of fake AirPods. 
They were represented as authentic and packaged deceptively in sealed boxes with serial numbers, just like in the TikTok user's case.
The men were charged in court with cheating, a crime that carries a jail term of up to 10 years, a fine, or both. 
Hopefully, this incident is a tale of caution against handsome men on e-commerce platforms peddling deals that seem too good to be true.