---
Advertisements

---
It's that time of the year again when the most popular weekend date idea is watching the NDP rehearsals at Marina Bay.
Here's what you can expect from the parade this year.
More Fighter Jets to be Featured in NDP 2023 Aerial Display in Celebration of RSAF's 55th Anniversary
For the first time since the SG50 celebration in 2020, this year's NDP will be held at the Padang field instead of the familiar floating platform at Marina Bay.
However, a change in location doesn't mean the segments lined up for the celebration aren't as exciting. Classics like the Presidential Gun Salute and the State Flag Flypast are must-haves still happening this NDP.
And, of course, expect to be wow-ed again as the Red Lions perform their free-fall displays at this year's parade.
That's not all. Singaporeans can also catch the spectacular aerial display from the Republic of Singapore Air Force (RSAF) with more fighter jets, greater heights and more manoeuvres!
But no, the zhnged display isn't in celebration of finally being able to get back in the skies now that COVID-19 is over—it's in celebration of the RSAF's 55th anniversary.
---
Why Bird Paradise Suddenly Became Singapore's Yishun:
---
In 2021, we saw RSAF commit 14 aircraft assets to the NDP aerial display and in 2022, 16 aircraft assets. This year, you can expect even more.
Be prepared to have your Marina Barrage picnics in the coming months soundtracked by the roar of the rehearsing fighter jets.
Other Highlights to Expect from NDP 2023 
This year's NDP will also feature the familiar marching contingents, with the Digital and Intelligence Service (DIS) 's guard-of-honour marching contingent making their first appearance at NDP after their formal establishment last year. 
Well, that's one more flag that can hardly be seen from the spectator stand.
---
Advertisements

---
A total defence parade featuring all six pillars of Singapore's Total Defence is also bound to keep the audience on the edge of their seats.
Not only will there be eye-catching floats paraded during this segment, but also hardware from the Singapore Armed Forces (SAF), the Singapore Police Force (SPF) and the Singapore Civil Defence Force (SCDF) being showcased.
Join our Telegram channel for more entertaining and informative articles at https://t.me/goodyfeedsg or follow us on Twitter : https://twitter.com/goodyfeed
You can also look forward to catching local celebrities and icons on stage, including national sprinter Shanti Pereira, who recently did Singaporeans proud with a double gold in the 100m and 200m events at the SEA Games.
And, of course, what would NDP be without fireworks?
The parade will wrap up with a fireworks display, which will go off together with five other fireworks displays at the heartland areas, including Our Tampines Hub, Bedok Stadium, Jurong West Stadium, Toa Payoh Stadium and Woodlands Stadium.
Hopefully, you can snag a good spot to watch the fireworks from. Worse comes to worst; you'll just have to watch the fireworks from your TV instead.
NDP 2023: "Onward as One"
The phrase to hardwire into your brain in preparation for NDP is "Onward as One"—this year's parade theme.
And unlike your Instagram bio, much thought was put into the NDP theme. "Onward as One" is meant to urge Singaporeans to unite in building a future together—it is reminiscent of our national anthem itself, titled "Majulah Singapura", which translates to "Onward Singapore".
"Onward" also refers to Singapore's resilience to challenges ahead and "as one" refers to the importance of inclusivity and unity.
Well, we hope these "challenges ahead" don't mean more GST hikes.
---
Advertisements

---
The "Onward as One" phrase is also featured in this year's NDP logo, alongside the number "58" representing Singapore's "age", and a lion head facing the horizon.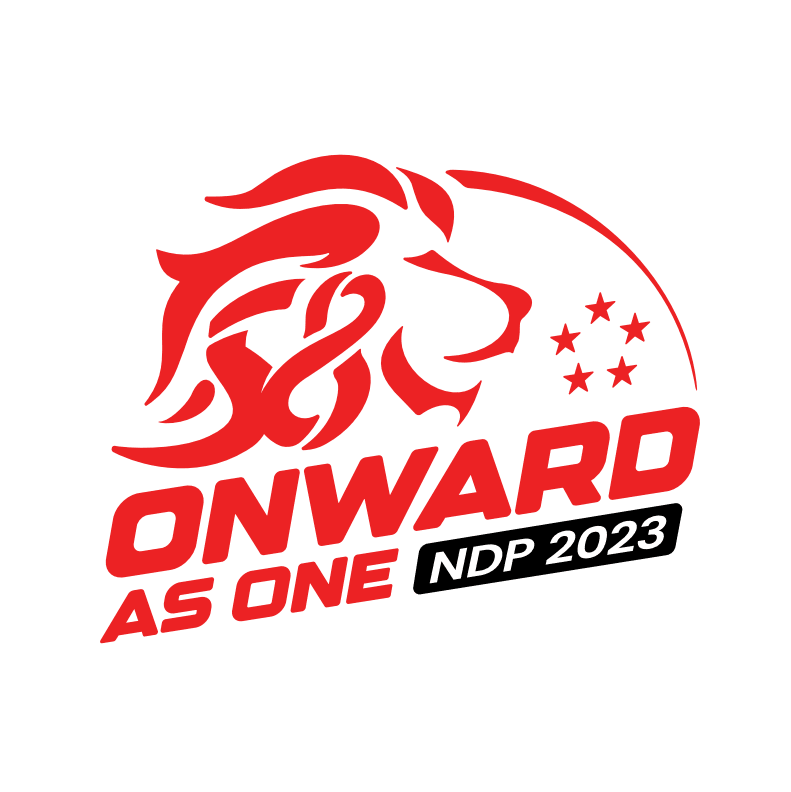 You'll also notice that the logo is slanted upwards—this was intentional. The upward slant represents taking Singapore to greater heights.
Hopefully, this means taking budget payouts to "greater heights" as well.
The logo also sports the familiar five stars, which, if you paid attention in school, represent our national ideals of democracy, peace, progress, justice and equality.
Other initiatives by the NDP committee that you can look forward to include #GiveAsOneSG, which promotes volunteerism and #UniteAsOneSG, which urges Singaporeans to learn more about the nation and this year's NDP.
Well, I guess Goody Feed is already playing a part in #UniteAsOneSG.
---
Advertisements

---
NDP 2023 Theme Song: Shine Your Light
What's NDP without an iconic theme song?
This year's theme song, composed by Don Richmond and co-written with Singaporean rapper Shigga Shay is called "Shine Your Light", which aims to be a cheerful sequel to last year's NDP theme song "Stronger Together".
According to Mr Richmond, the team behind this year's theme song hopes that it will be "embedded in the minds and the memories of future generations".
---
Advertisements

---
We'd say that's great—better than having various TikTok audios "embedded" in the minds of Gen Zs.
"I kind of feel like, if we kind of get the kids to clap along, they will usually be the ones that will inspire the older generation to also come along for the ride," he added.
The song's title is also meant to be a nod to this year's theme, referencing hopes of bringing out the best in Singaporeans as the nation moves "Onward as One".
Well, what do you think about the theme song? Does it join the major leagues of other theme songs like "Home"?
Pre-NDP Hype: GetActive! Singapore Heartland Festivals
Can't wait for NDP to roll around already? Fret not—there'll be events before 9 August for Singaporeans to soak in the national day spirit before the parade.
On 5 and 6 August, make your way down to the GetActive! Singapore Heartland Festivals happening at various heartland locations for pre-NDP fun and games!
These festivals will be held at Our Tampines Hub, Bedok Stadium, Jurong West Stadium, Toa Payoh Stadium and Woodlands Stadium.
Aren't you glad you're an "HDB person" now?
---
Advertisements

---
Despite Sport Singapore's recent controversies, the statutory board will co-organise the festivals, introducing a slate of events including live performances, carnivals and sports activities.
If you're feeling inspired after the SEA Games, you can also head to your nearest heartland festival for sports tryouts. Perhaps you could be the next Shanti Pereira.