---
Advertisements

---
Things aren't just collapsing in Singapore—
Wait, let's try again.
Things aren't just collapsing blockbuster-style, like in the latest and hottest movie Oppenheimer. 
A section of a road in Johor, Malaysia, just collapsed, and the scene looks almost like it's straight out of a movie.
Thankfully, though, there were no casualties or injuries.
25m Section Of Road Collapsed
On Sunday (23 June), authorities in Malaysia were alerted that a section of road in Iskandar Puteri had collapsed.
The road connected the residential development project Forest City to the Tanjung Pelepas highway.
The incident was reported to the Iskandar Puteri Fire and Rescue Department in the afternoon that day. 
According to operations commander Hairulnizam Mohd Noh, the department received a call regarding the incident at 2.09 pm.
Seven firemen were deployed to the scene, and confirmed that the area was safe. 
Upon arrival, though, they found that a whopping 25-metre section of the road had collapsed, leaving what appears to be a giant hole in the middle of the road.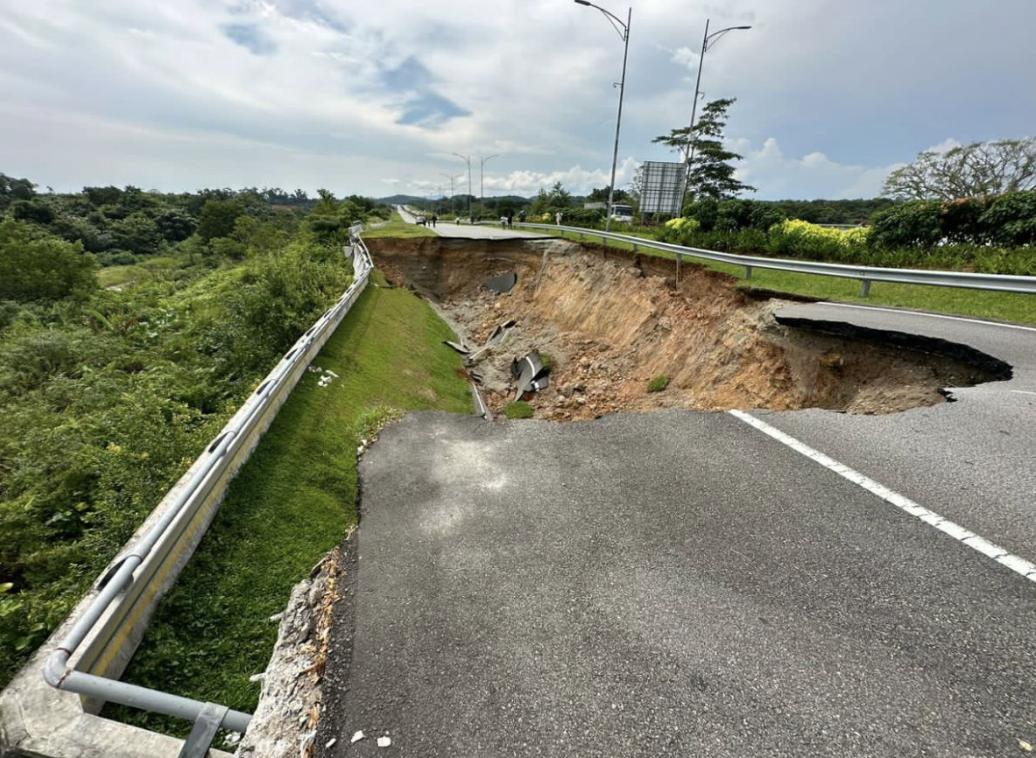 It really does resemble an explosion from a movie.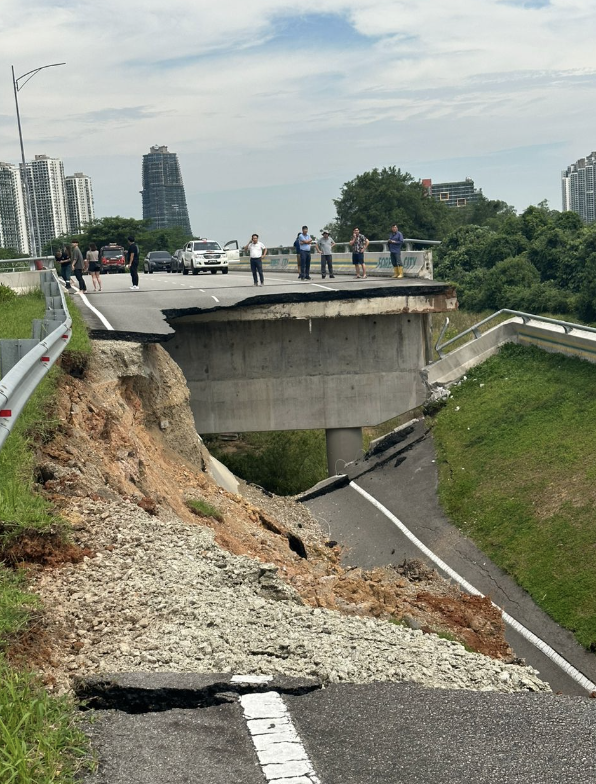 Luckily, no injuries or casualties were reported.
Forest City Management Investigating
Project staff in charge of the Forest City development quickly took action, and stated that they would cooperate with government departments in relation to the incident.
Forest City added that they would carry out a detailed inspection of the collapsed bridge as well, to ensure the safety of any users.
The residential development took to its official Facebook account to issue a statement in English and Chinese on the same day.
"In line with our fundamental principle – Safety First, People First, Forest City will conduct a thorough inspection on the entire bridge," they wrote.
An alternative road will also be built following the incident, and its construction is set to be completed on 26 July.
A Controversial Development
Forest City has seen its days in the media's spotlight, long before the bridge collapsed.
The estate spans an impressive 1,740 hectares, and its construction was announced all the way back in 2006—today, though, it's often likened to a ghost town.
Apparently, the estate was supposed to house 700,000 people, but reports in 2019 estimated that only 500 residents lived in its premises.
---
Advertisements

---
The project was built partially on reclaimed land from the Straits of Johor, and it's located near Singapore. However, Malaysians, Singaporeans, and other foreigners alike aren't purchasing units here because the apartments are expensive, and the estate is nearly lifeless.
The $100 billion project was built by a Chinese company, but whether it truly has a future remains to be seen.