Last Updated on 2020-12-04 , 2:15 pm
It's December and most of us are now stuck in Singapore with nowhere else to travel to.
But that doesn't mean your Christmas holiday here has to be sad and depressing.
Because you're not overseas with your loved ones, this year's a great chance for you to spice up your home and invite guests over to your home (fewer than 5 pax, please) for a short get-together.
And the best place to be at to get everything you'll need at an affordable rate?
Giant S'pore 2020 Christmas Special
To celebrate Christmas this year, Giant Singapore is running promotions that'll finally put those monies you've saved for your "overseas trips" to use.
With 4-day specials every week, Christmas roast feast sets to have a party in your own home, and Christmas decorations for that festive feels, Giant Singapore is determined to give you a Christmas in Singapore that's worth remembering without burning a hole in your wallet.
These are the dates that you should prepare your wallet for:
3 – 6 Dec
10 – 13 Dec
17 – 20 Dec
24 – 27 Dec
Let's start with the first week, shall we?
3-6 Dec 2020 Weekly Special
Giant Singapore's already known to be a place for affordable and essential products with its Lower Prices That Lasts campaign.
But for these four days (3-6 Dec 2020)? It's time to break your piggy bank.
After weeks of begging and haggling, we've finally convinced Giant Singapore to let us have a sneak peek at the four-day special promotion that'll be happening for the first week.
Here you go: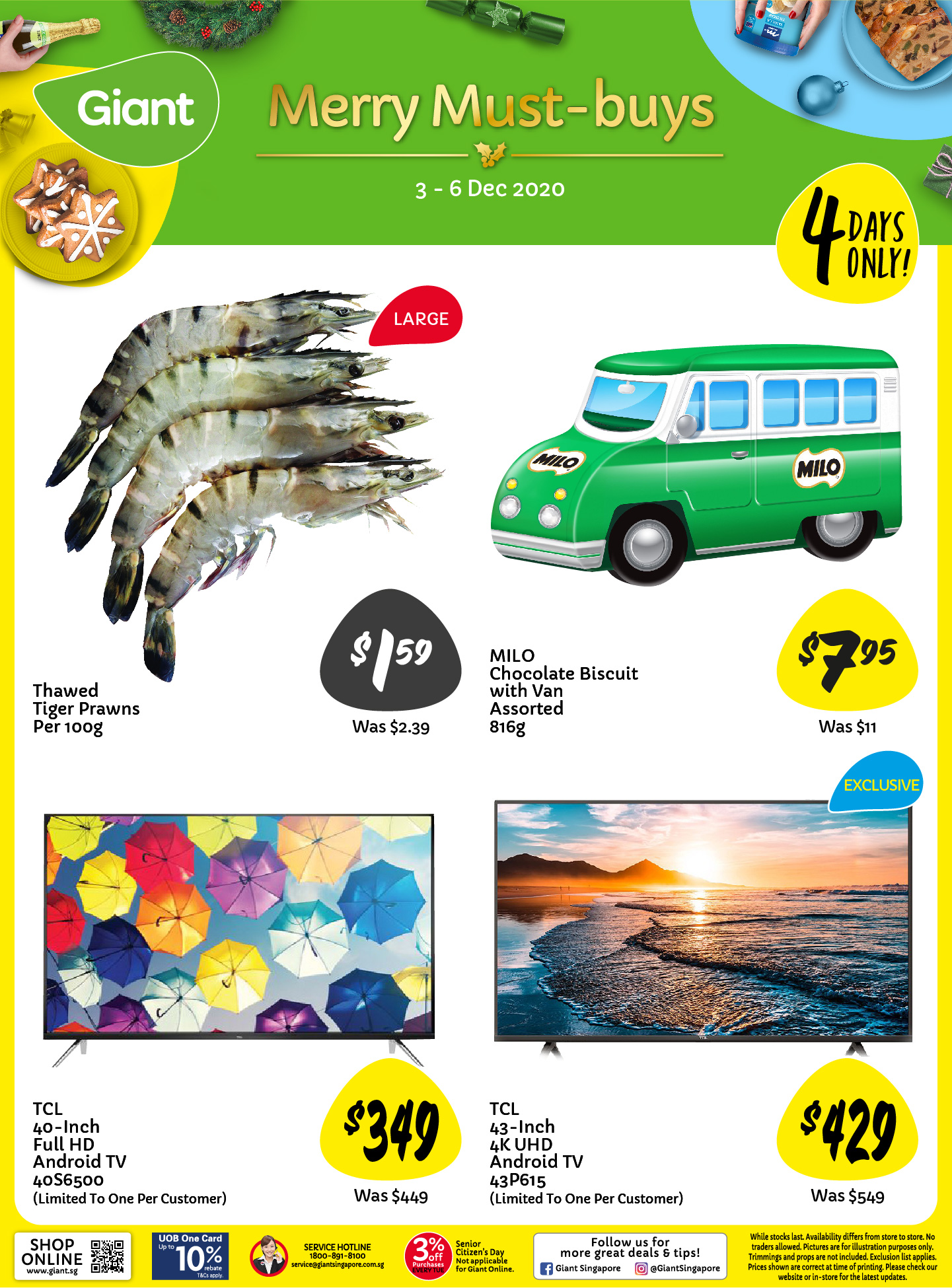 40-inch full HD TV for $349? I'm sold.
Christmas Dinner Sets
Want to have a dinner party in your own home but not willing to deal with the hassle for cooking for many people at once?
Don't worry because Giant Singapore has got your back covered.
From 13 Nov 2020 to 20 Dec 2020, you can place your order for Giant's Christmas feast sets with juicy, succulent meat at affordable prices for the entire family.
Choices include Halal and Non-Halal options under S$100: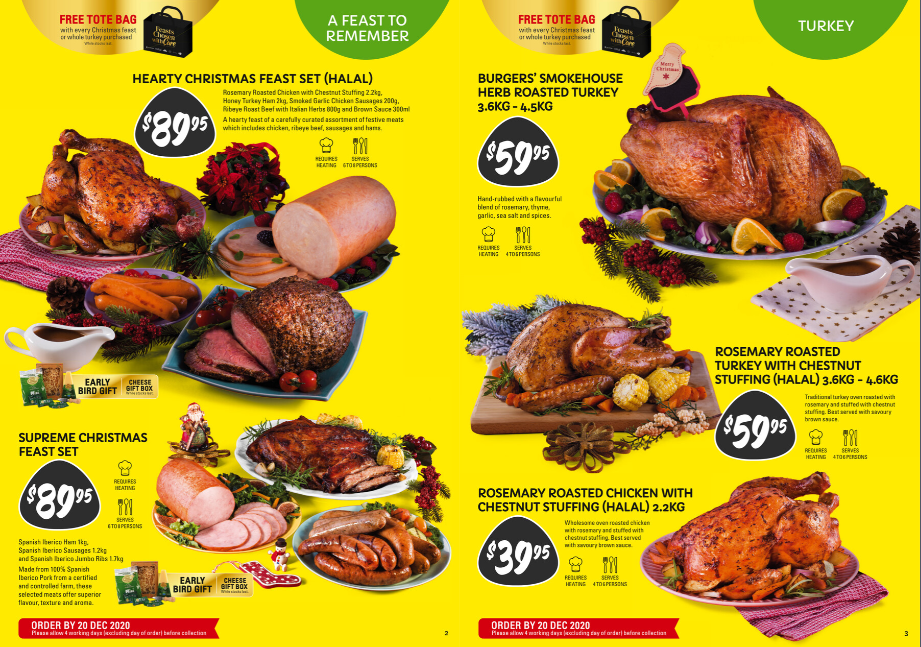 And honestly, what is Christmas without turkey and ham, together with cranberry sauces?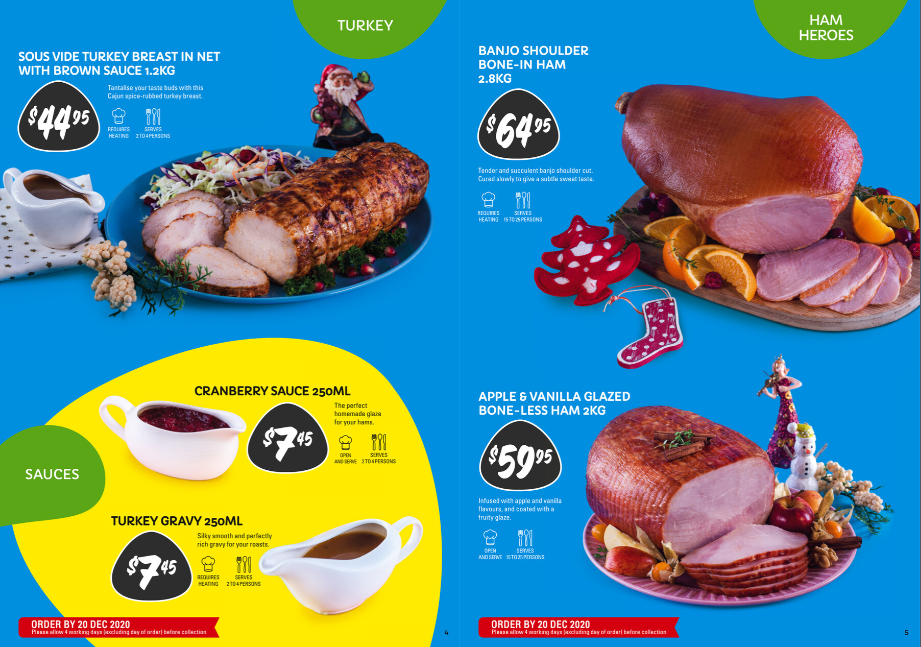 They even have snacking platters for people who are waiting for the party to start too.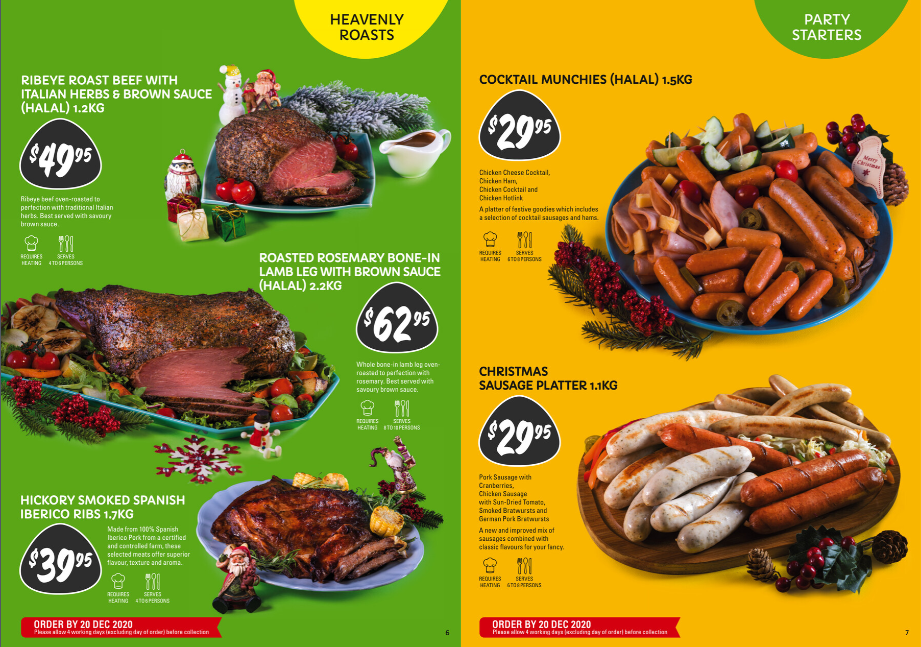 As mention, the items are already open for pre-orders and you can order and collect from the following outlets:
Tampines Hypermarket
IMM
Pioneer Mall
Sembawang Shopping Centre
Suntec City
You can place your order from now until 20 December, and collection is from 1 December to 25 December 2020, so even if you're not getting it for Christmas, but a simple gathering, it's still entirely possible.
Plus, don't say bojio
You can find out more about the Christmas sets here.
And it's not just food.
Christmas Everything
What's a Christmas party without some Christmassy decorations, or a Christmas gift exchange?
Well, Giant have you covered with their Christmas catalogue.
From Christmas trees the perfect size to fit into HDB homes…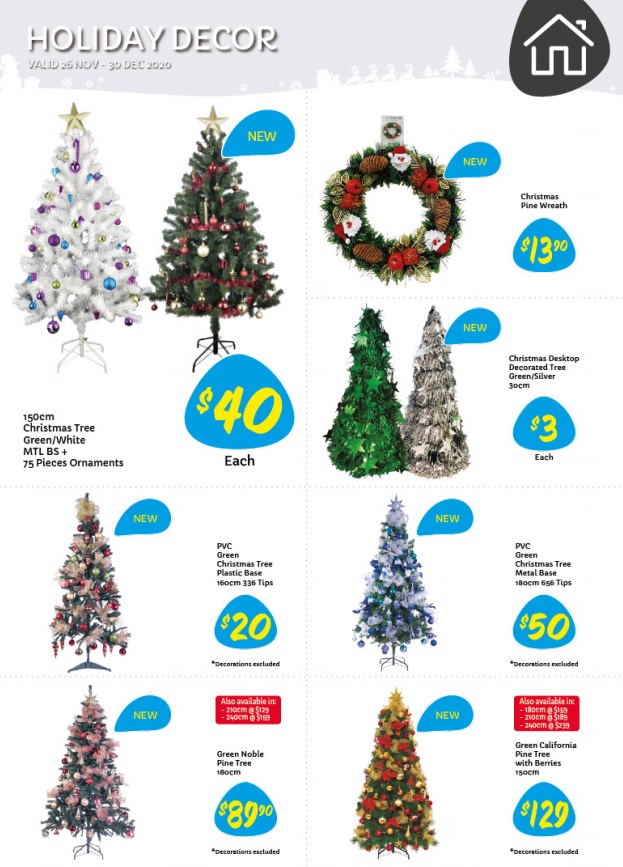 …to snacks that are essential for every visitor.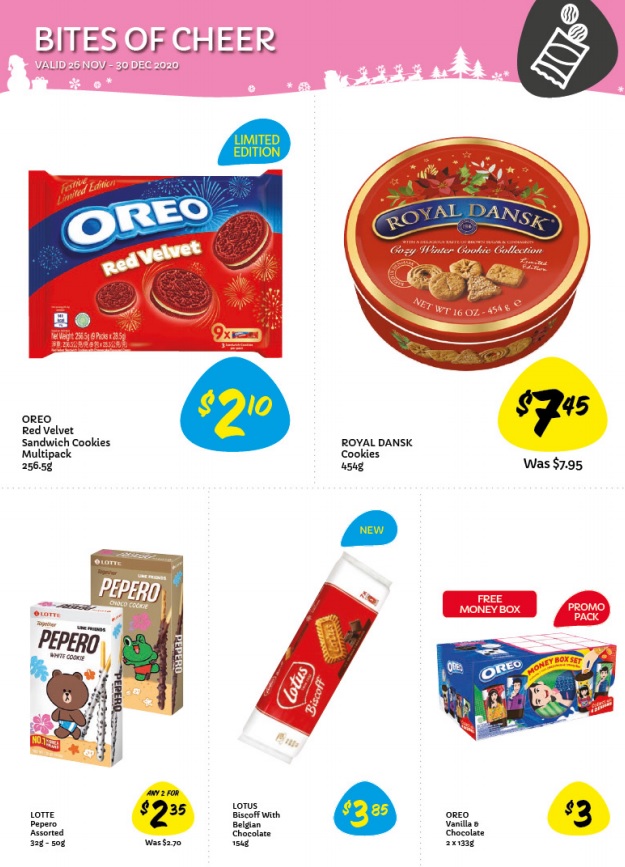 There's even a vast range of products perfect for Christmas gift exchanges for the little ones: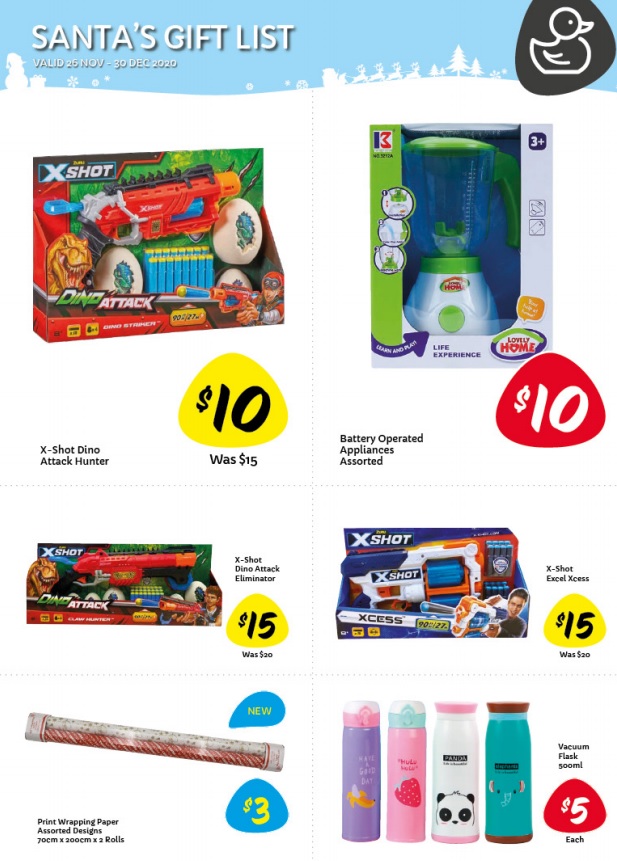 There are just a few pages of the catalogue – go through all the pages here!
And So, What Are You Waiting For?
No matter whether it's a Christmas Roast, some festive decorations or even gifts and gift ideas that you need, Giant's the place to go to this Christmas season.
For more info, you can check out their website where they update about what's going on daily.
Alternatively, you can follow them on their Facebook and Instagram accounts to catch the latest updates and promotions in Giant Singapore!
With that said, I'm off to do my own Christmas shopping now. See you there~
This article was first published on Goody Feed and written in collaboration with Giant Singapore.