---
Advertisements

---
Are you a durian lover? Do you love a good deal?
If you answered "yes" to both, you will be delighted to hear what we have to say.
Giant Tampines will be having a durian buffet starting at an affordable price of S$38 in June.
Now is the time to indulge if you haven't already. After all, the only reason to look forward to the middle of the year is that it is the time to feast on the King of Fruits.
Giant Tampines Hypermarket Is Holding Its Inaugural Durian Buffet
Get ready to indulge in the King of Fruits with Giant Tampines Hypermarket come this 2 June to 4 June. The official Facebook account of Giant Singapore made this exciting announcement earlier this week.
The hypermarket is offering a durian buffet for the very first time, and a huge variety of durians is on offer. These include the popular Mao Shan Wang, Black Gold, D13, Red Prawn, Golden Phoenix, and D101 varieties.
For those who have always wondered how the other durian types taste like but are too cheapskate to invest in a box to try, it seems like the solution to your problems has just arrived.
What better time is there to sample all the different varieties of durian in one sitting?
As DFI Marketing Director for Food and Own Brand, Southeast Asia, Lee Yik Hun, shares, this is a good chance to allow customers to "sample a wide range of durian varieties, including premium options, at affordable prices".
We'll elaborate more on the jaw-dropping prices in a bit.
---
Advertisements

---
If you are a durian eater but not a durian lover, Giant Tampines Hypermarket has something for you too. You can purchase individual durians at the hypermarket, starting at a ridiculously low price of S$2 per durian.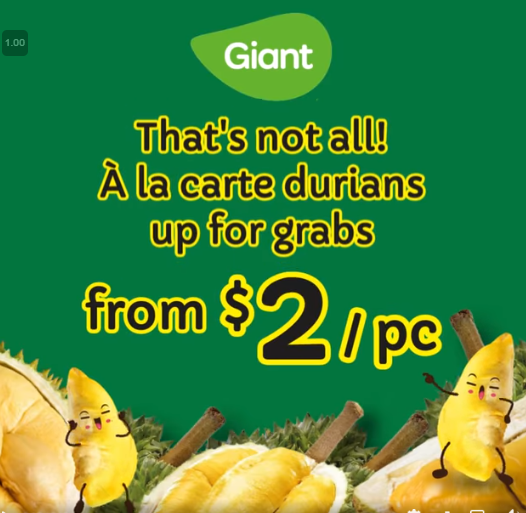 Yes, you read that right, just S$2 per durian.
You can even buy home additional durians for that attractive price if your loved ones were not able to join you for the buffet in person.
We can already smell the pungent and poignant durian fragrance in the air.
Join our Telegram channel for more entertaining and informative articles at https://t.me/goodyfeedsg or download the Goody Feed app here: https://goodyfeed.com/app/ 
Two Types of Durian Buffets Are Available
For those who are already making plans to head down to the buffet, it may help if you pre-book your spots.
Not just to avoid the disappointment of a fully booked location. There are also substantial savings to be had if you are an early bird with a good schedule.
Giant Tampines Hypermarket is offering two types of durian buffets, both with special prices for early birds who book, well, early.
For the Normal Durian Buffet, the early bird is a good S$38, and you save S$10 as compared to if you were a walk-in customer. That's enough for you to order fish instead of meat at your next cai fan (economical mixed rice) meal.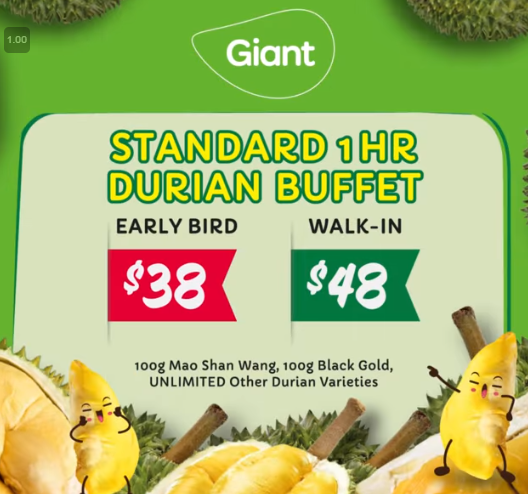 For that low price, you get to enjoy an unlimited supply of the durian varieties available, though you only get 100g each of Mao Shan Wang and Black Gold as those two are the popular (and typically more costly varieties).
If you are a durian snob and only want to eat Mao Shan Wang durian, then the Premium Durian Buffet may be for you.
---
Advertisements

---
For a reasonable S$68, the early bird ticket to the Premium Durian Buffet gives you unlimited access to all durian varieties.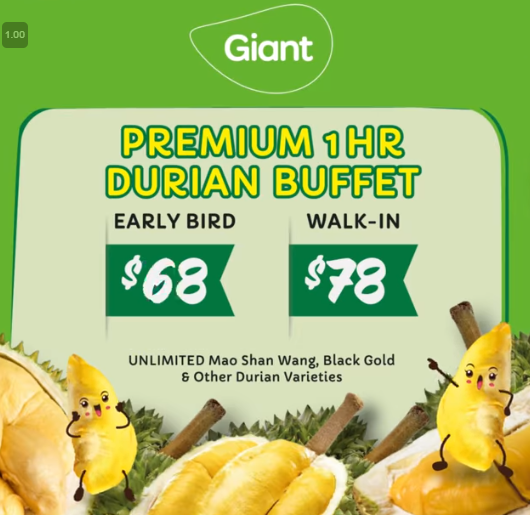 Do not fail to plan for this buffet, as you will be forking out an additional S$10 to pay S$78 as a walk-in customer for the premium buffet option.
If you are interested in going to the event, do bookmark your calendars and jio (invite) your friends quickly! The early bird registration period closes on 1 June 2023, a day before the buffet is scheduled to start.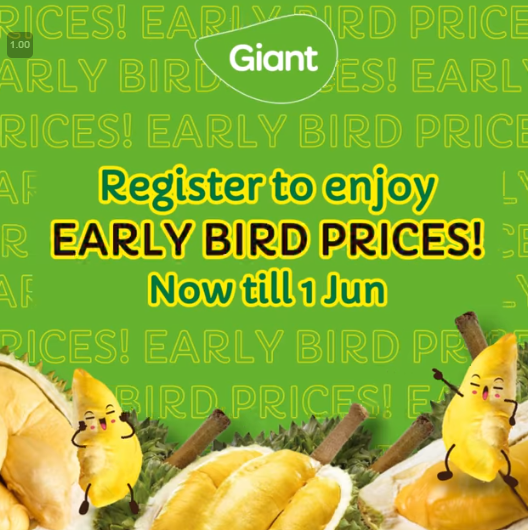 You can book your places through Giant Singapore's Facebook page.
All You Need to Know About the Durian Buffet Happening in June
Here are the key details for the durian buffet happening in a couple of days.
The durian buffet will take place for the first time from 2 June 2023 to 4 June 2023 over the coming weekend.
---
Advertisements

---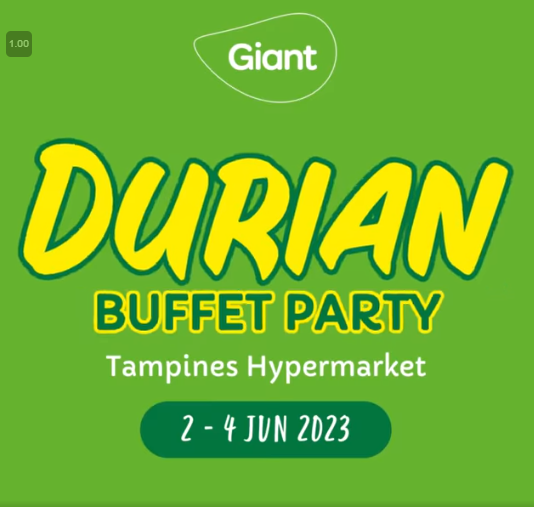 It will be held at the Giant Tampines Hypermarket Carpark, so you can enjoy some alfresco dining vibes while you savour the sweet and bitter pungent flesh of this spiky fruit.
There are a total of four different timeslots for the durian buffets. The dining time is restricted to one hour.
These are the timeslots available for you to feast on the durian:
3 pm to 4 pm
5 pm to 6 pm
6.30 pm to 7.30 pm
8 pm to 9 pm
Absolutely perfect if you want a teatime snack, have a pre-dinner indulgence or take up a post-dinner palate cleanser.
Do note that there are limited seats for each time slot. The buffet can only accommodate 100 people for each of the timeslots.
---
Advertisements

---
While that might seem like quite few slots to offer, this inaugural buffet is set to serve up to 1,200 people if all the time slots are fully booked for all three days of the buffet.
Given the sheer number of durian lovers in Singapore, we imagine the competition to be pretty stiff. Book yourself and your friends a slot soon to avoid disappointment.

Here's a rather unexpected timeline of the $2.8 billion money laundering case in Singapore as revealed by Minister Josephine Teo during a parliament sitting on 3 October 2023:
Read Also: