---
Advertisements

---
If you work in the tech industry, you may be living with the threat of being retrenched hanging over your head.
For some, losing their jobs involuntarily may sound the death knell for them.
For others, it may be the gateway to a better opportunity with high pay.
The latter scenario appears to be the case for some ex-Indeed employees who were allegedly hired by GovTech Singapore with a "high salary" after they were affected by the Indeed Singapore layoffs.
Here is more on what happened.
Indeed Singapore Employees Who Lost Their Jobs Were Hired by GovTech for A "High Salary"
Earlier this month, there was much buzz on Reddit (a social media site where people discuss hot topics ranging from affairs in Singapore to your favourite pets) regarding the hiring of some ex-Indeed Singapore employees.
The employer? None other than GovTech Singapore (also known as the Government Technology Agency of Singapore).
For those unaware, GovTech is the government-backed agency behind turning Singapore into a Smart Nation. The agency works on products, services and cybersecurity and governance.
Some of their notable achievements include the "Ask Jamie" Virtual Assistant that you see on almost every government website and Singpass.
While rehiring people who lost their jobs due to company reorganisation or budget cuts is nothing new, the alleged hiring of many ex-Indeed employees by GovTech raised eyebrows because of the generous salaries extended to these new hires.
Some Reddit posts which are now deleted suggested that the new hires were paid above market rate.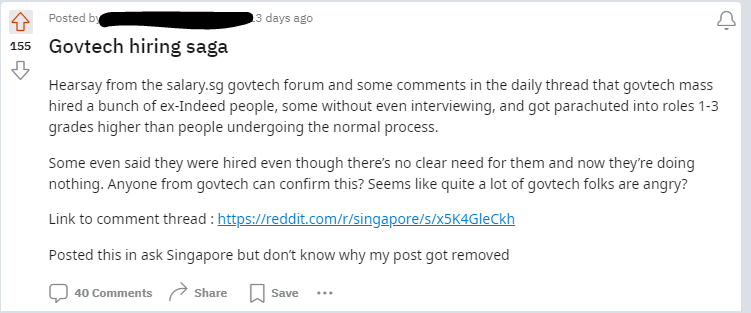 Other Reddit posts suggested that the new hires had their grades "parachuted" to one to three levels higher than the new hires would otherwise have scored.
Unsurprisingly, there was much debate and discussion about the acceptability of this and whether it was true.
GovTech Responds and Admits to Hiring Ex-Indeed Employees
Amidst all the hustle and bustle about the hiring of ex-Indeed employees at high salaries, GovTech has spoken about the issue.
Finally.
In particular, GovTech confirmed that they did hire about 60 former employees from Indeed.
Channel News Asia reported that GovTech responded to its queries regarding this fiasco, saying that "every candidate was interviewed as part of the process" and that the grades accorded to these new hires were based on "their equivalent grades within Indeed".
The remuneration was granted "accordingly".
GovTech further shared that this approach was an "agile hiring approach" which was meant to "balance speed with responsible hiring".
They also indicated that some "intact and functioning engineering teams" from Indeed were hired to work for GovTech, including for roles such as data scientists, software and quality engineers, user experience designers and product managers.