---
Advertisements
---
Bored of working from home…literally?
Would love to spend $15 to work from a comfortable 4-star hotel but just couldn't get a slot?
Well, if you're keen to work from home outside your home for just $15, there's now another place you might be interested in going to.
Golden Village.
And not just any Golden Village.
It's Golden Village Gold Class.
Here's what you need to know.
You Can Now 'WFH' in GV's Gold Class Lounge with Free Drinks & Popcorn for $15
Golden Village is a brand that we're all familiar with.
The premium GV (aka Gold Class), however, is a different story.
You get ultra-comfortable seats and even before the movie, you can lounge around in the Gold-Class Lounge while indulging in food and drinks with your friends before the movie starts.
Yes, it's safe to say that even the Gold-Class Lounge is a treat in itself.
And guess what?
This Covid-19 season, you can now enjoy the GV Gold-Class Lounge at Suntec City to your heart's content…for just $15.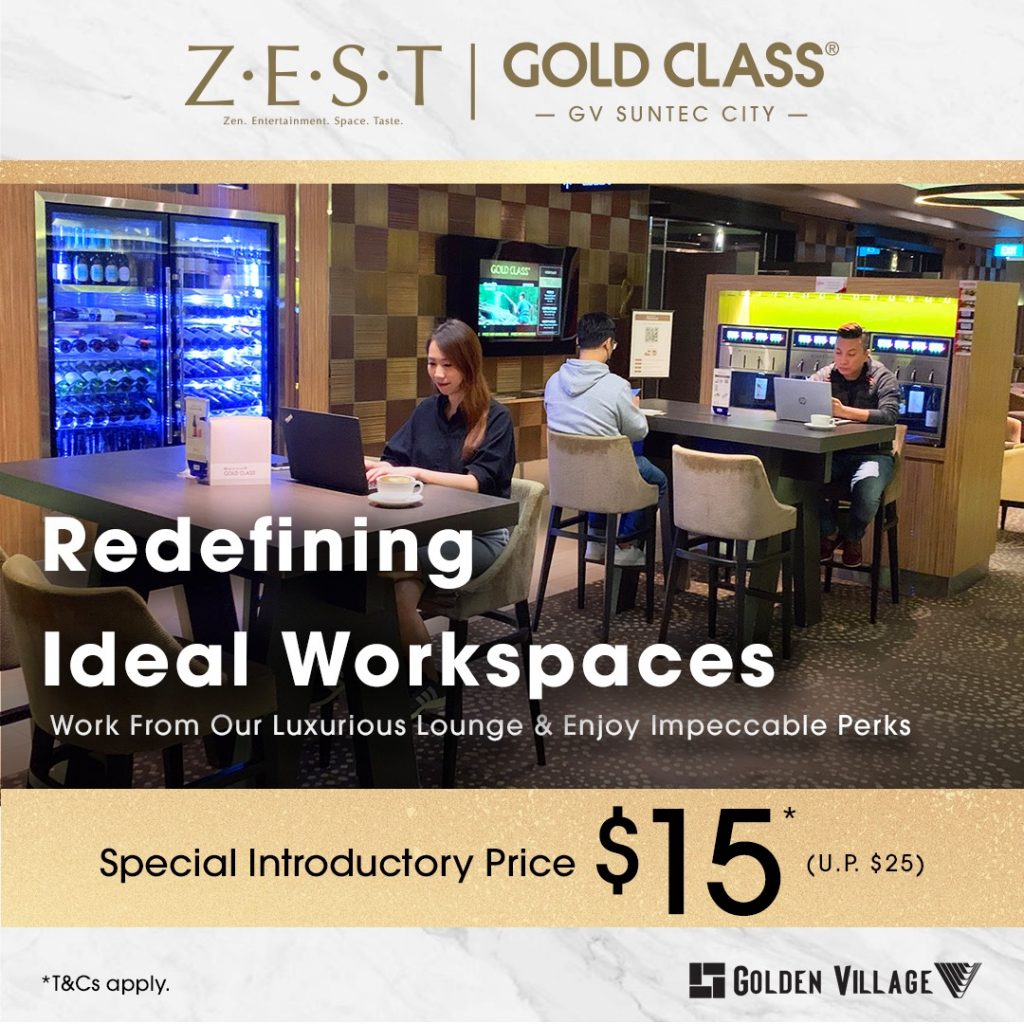 Called the Z.E.S.T @ Gold Class®, here's what you can expect to get for $15: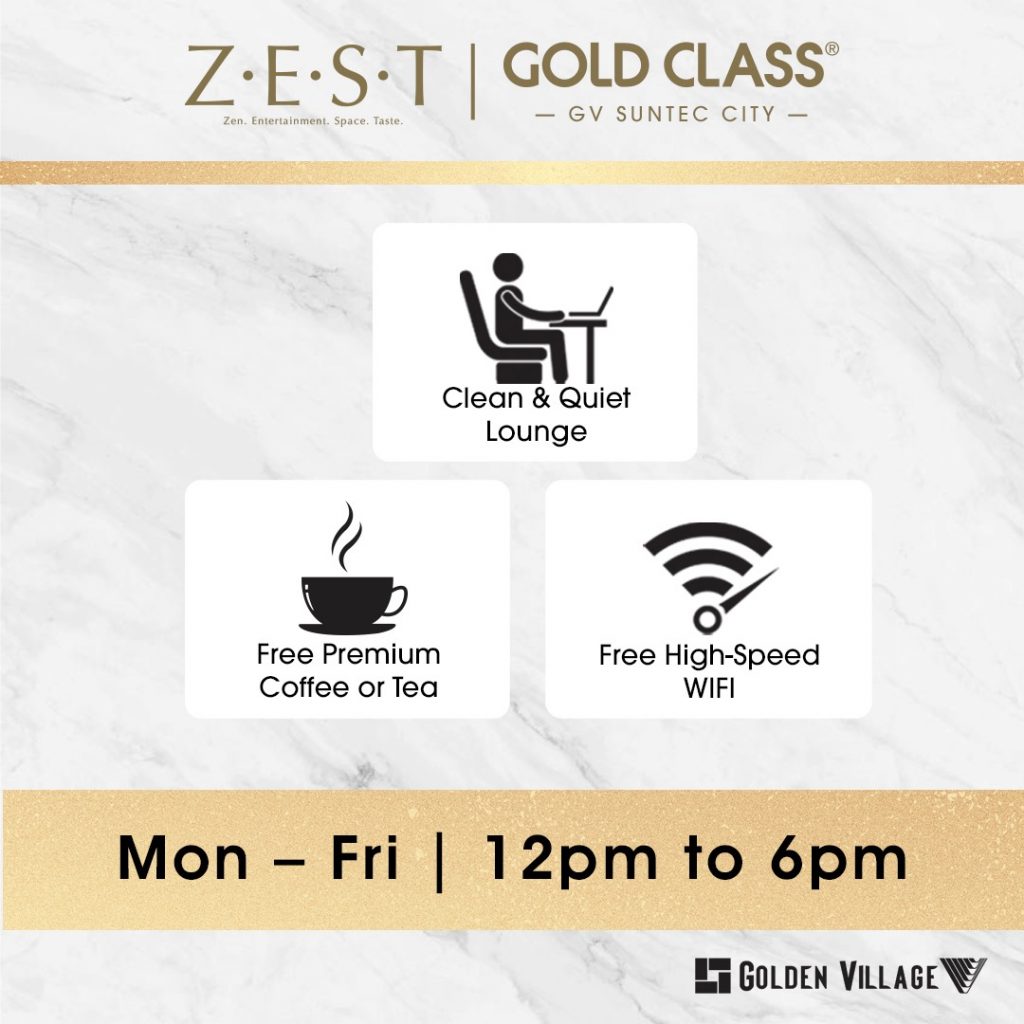 6 hours access to GV Suntec's luxurious Gold-Class Lounge from 12 to 6pm
High-speed Wifi access
One free cup of hot coffee or tea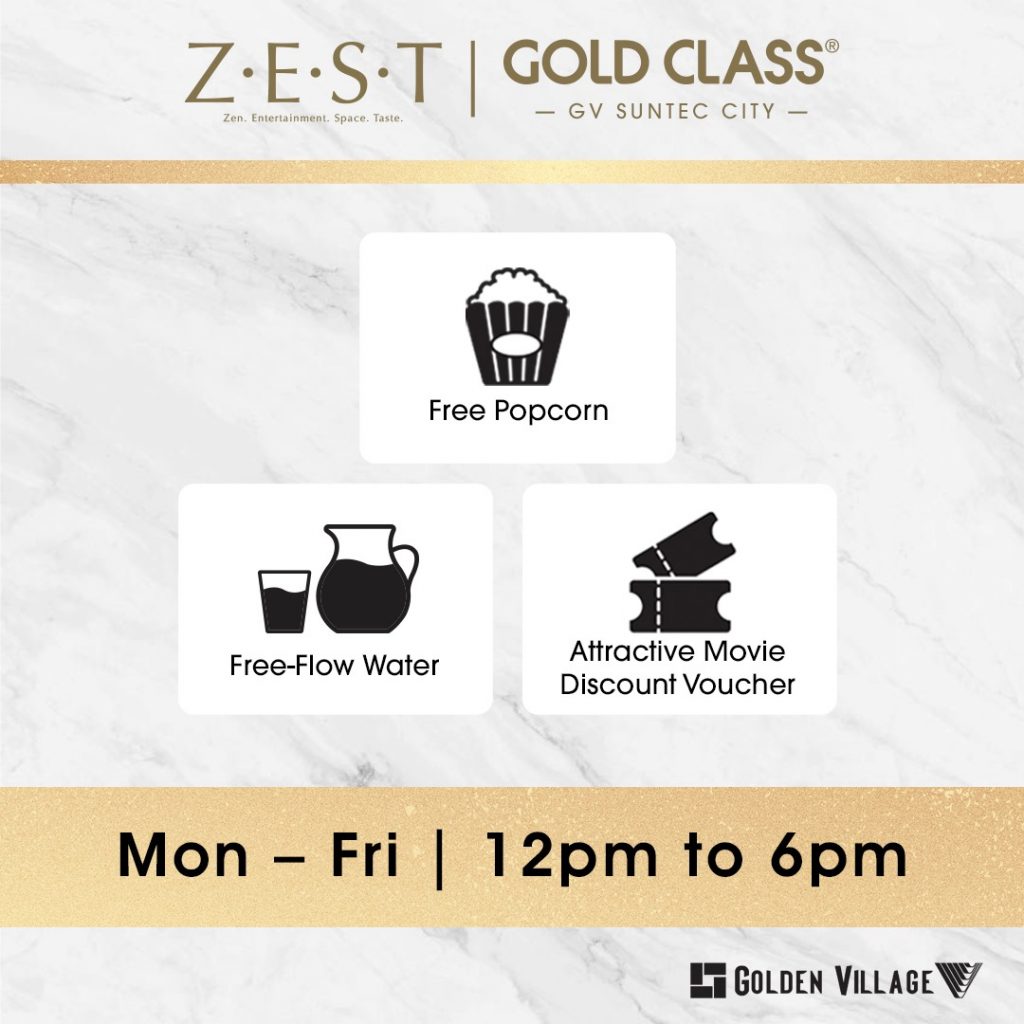 A box of regular popcorn
Free-flow plain water
A voucher that'll let you enjoy a movie at a discounted price ($6 instead of $9.50 for weekdays or $9.50 instead of $13.50 for weekends)
You Can Get A Comfortable Power Nap Too
People have always raved about the comfort level of Gold-Class cinema seats.
If you've not tried it before, you can do so by topping up $5 to your WFH package to enjoy a power nap in one of the luxuriously soft recliners.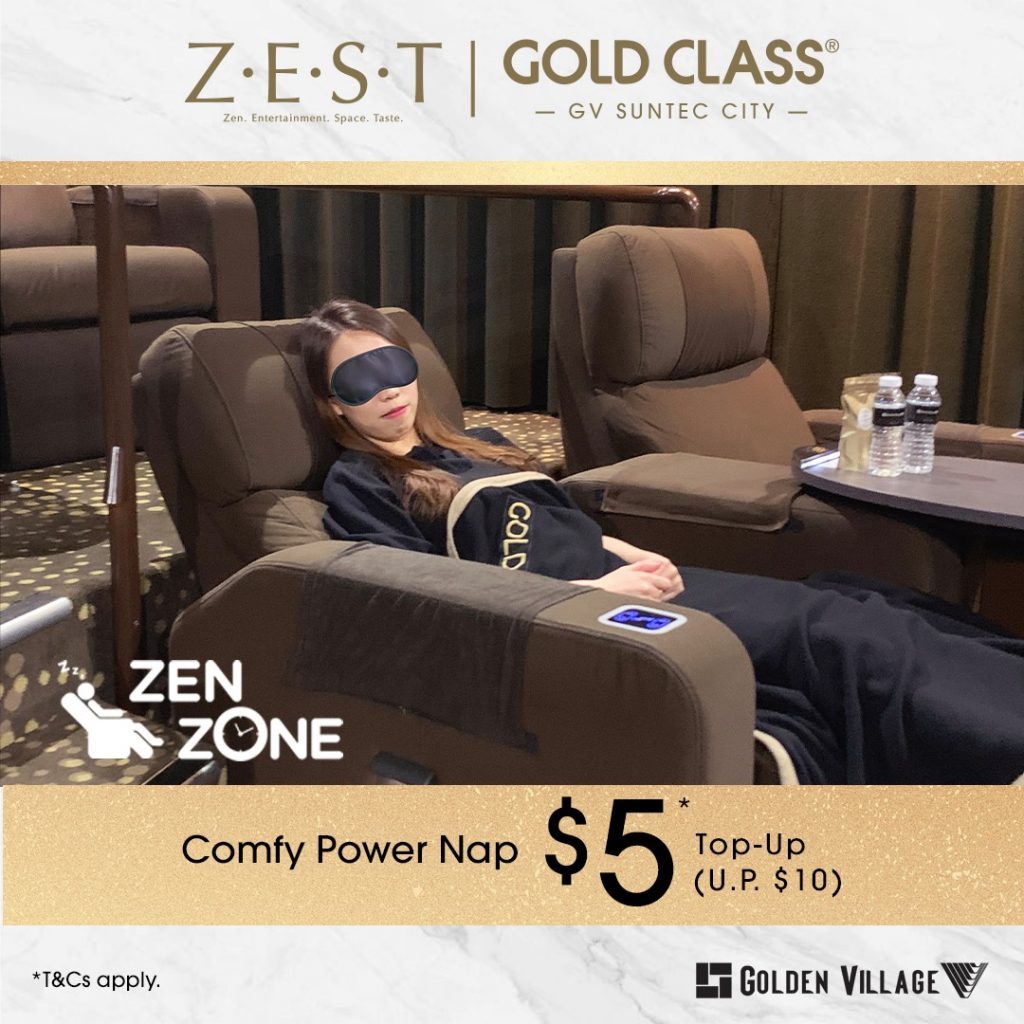 ---
Advertisements
---
You don't have to be worried about sleeping your day away either as you're only allowed to rest for 90 minutes (1 and a half hours).
Special Price Until End Of Oct
If you were to look at the visuals carefully, you'll see that the (admittedly attractive) prices all have an asterisk at the end of the number.
According to GV Singapore, the prices shown above are "introductory prices" which will end on 31 Oct 2020.
After which, the prices will return to the usual price: $25 for WFH package and a $10 top-up for napping.
This package is valid only from Mondays to Fridays and excludes Eve of Public Holidays and Public Holidays.
---
Advertisements
---
Seats are also on an availability basis so if you're interested in trying it out for yourself, you might want to move fast.
After all, we all know how Singaporeans are when it comes to trying something new, right?
Previously, when a 4-star hotel offered $15 WFH passes, it was so popular that on some days, it was completely sold out.
Don't say we bojio, eh?