---
Advertisements

---
Last Updated on 2022-10-15 , 2:05 pm
We've all been there. You're just going about your day, toiling away at work or school, when bam—your phone starts blowing up from Telegram notifications.
It's not a Nigerian prince promising you a life of luxury, nor a private message presenting you a shady part time job offer.
This time, you've been added into a group chat with messages flooding in faster than Jeff Ng's spam calls to his ex.
They look a little something like this: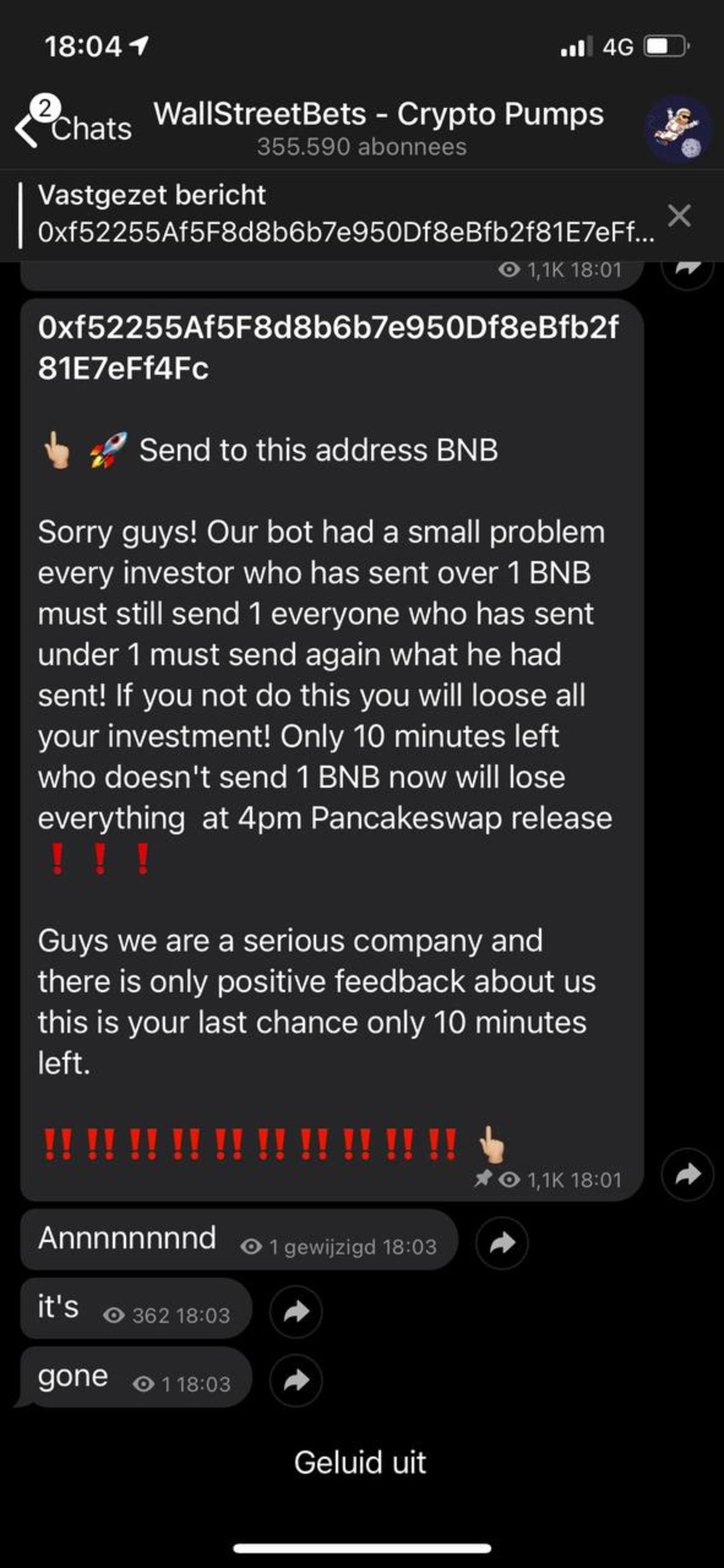 Or this: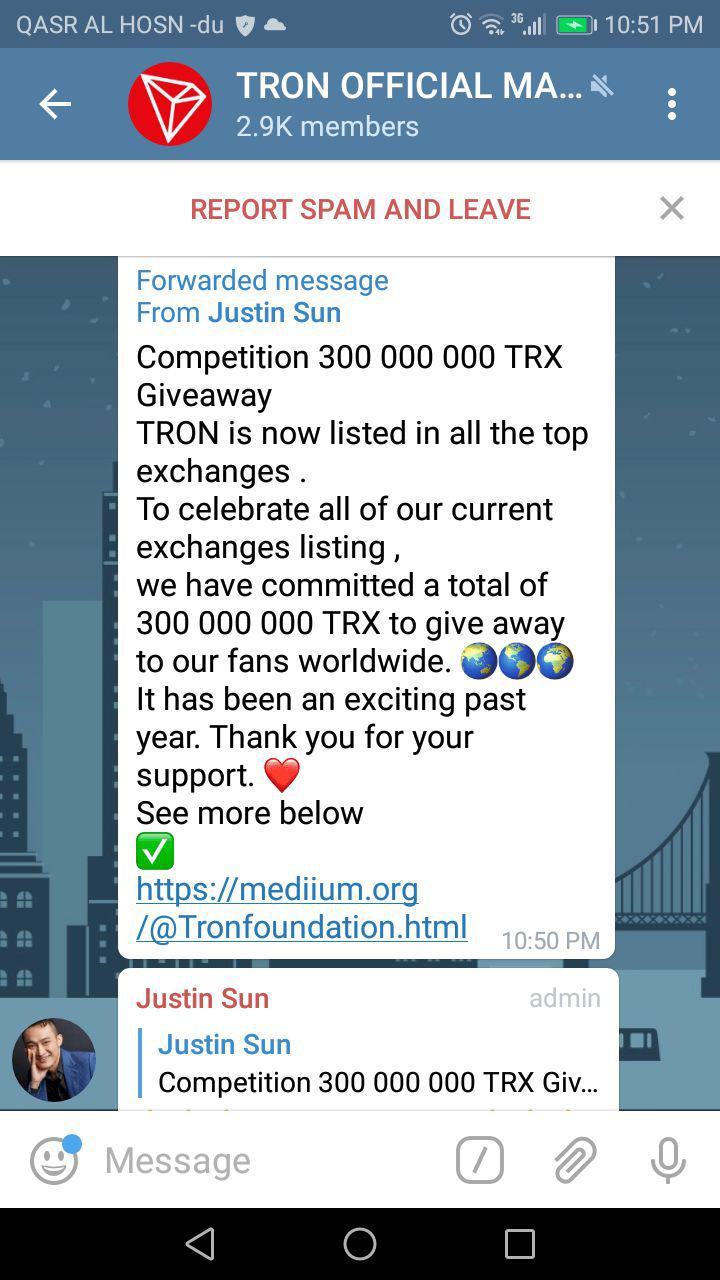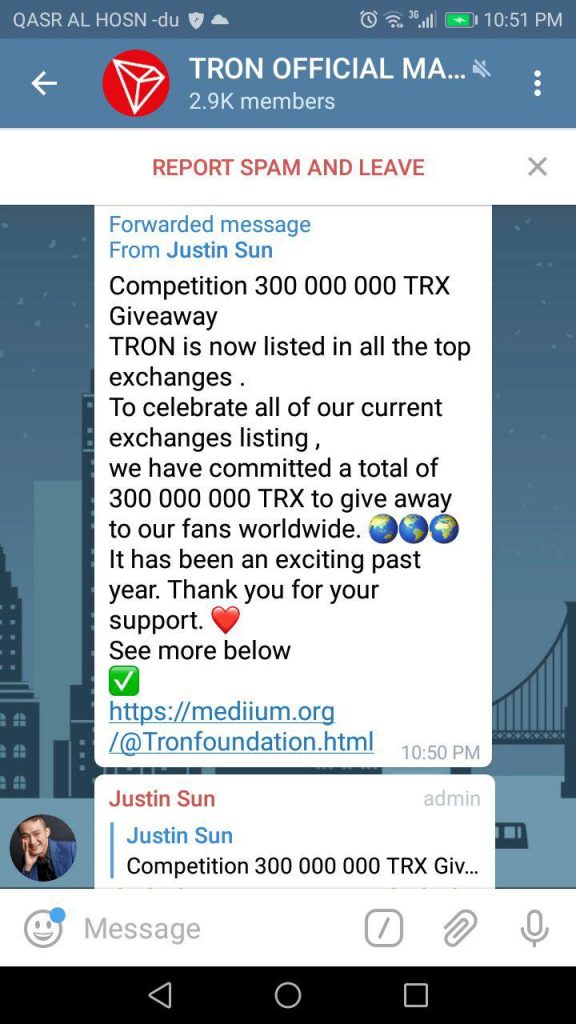 That's right, it's the fake investment scam where you're either introduced to a too-good-to-be-true lucrative investment opportunity, or promised a "monetary giveaway" from a company pretending to be a real financial institution.
Before we get into the two ways you can combat these scammers for good on your telegram app, let's break down the anatomy of a fake investment scam, shall we?
The Ins and Outs of a Telegram Group Scam (Like Stock Market Groups)
Their modus operandi is as follows:
Scammers will round up a bunch of potential victims like yourself, and add you into a group chat all at once (typically 100 or more users)
The first message will be from the Admin, presenting you the investment opportunity and promised payout worth a tidy sum
Then comes the influx of messages which look a little like this: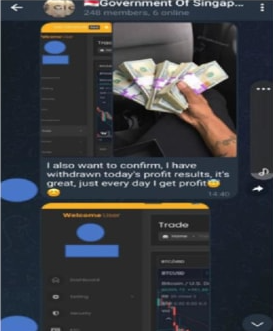 or
"Wow! I've already earned $500,000 in just 5 seconds with my 5 cents initial investment!"
Okay, maybe they don't sound as pretentious as this, but you get the jist. The point is, messages from fake customers showing off their colossal returns are just one of the telltale signs that it's an investment scam.
At this point, you can usually press the "report scam and leave" button at the top of the chat. "Take that, pesky scammer, I'm never falling for this," you'd think to yourself.
But within the next few days, the same thing would happen again when you get added to another chat.
You'd then repeat the same procedure with greater annoyance this time.
How to Stop Spam on Telegram (Stopping Strangers from Adding You Into Spammy Telegram Stock Market Groups)
The first way is to allow only your personal contacts to add you into group chats.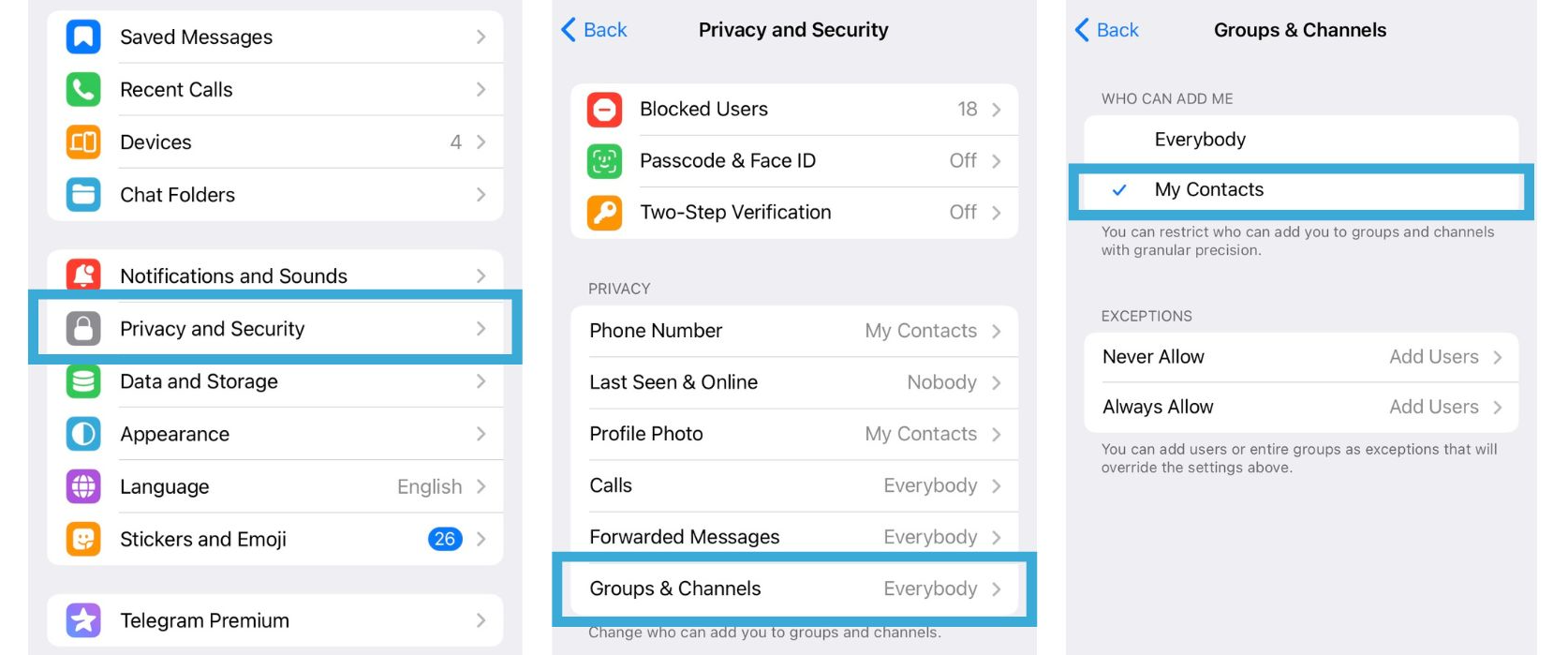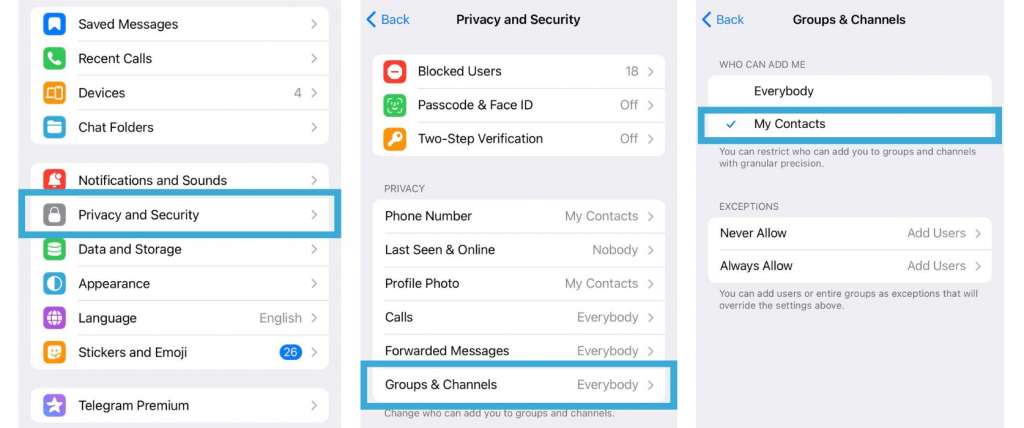 1. Open your Telegram app and go to the "Settings" by clicking the gear icon on your screen
2. Click on "Privacy and Security" from the list of options under settings.
3. Then, tap on "Groups & Channels."
---
Advertisements

---
4. Now, under the "Who Can Add Me" section, change your preference from "Everybody" to "My Contacts".
What this does is it prevents anyone who is not on your contact list (i.e. random strangers) from adding you to a group chat. If you require it, you can also prevent specific contacts from adding you to groups under the "Exceptions" section below.
While this seems to be the most effective way of combatting group scams, you could also block a user: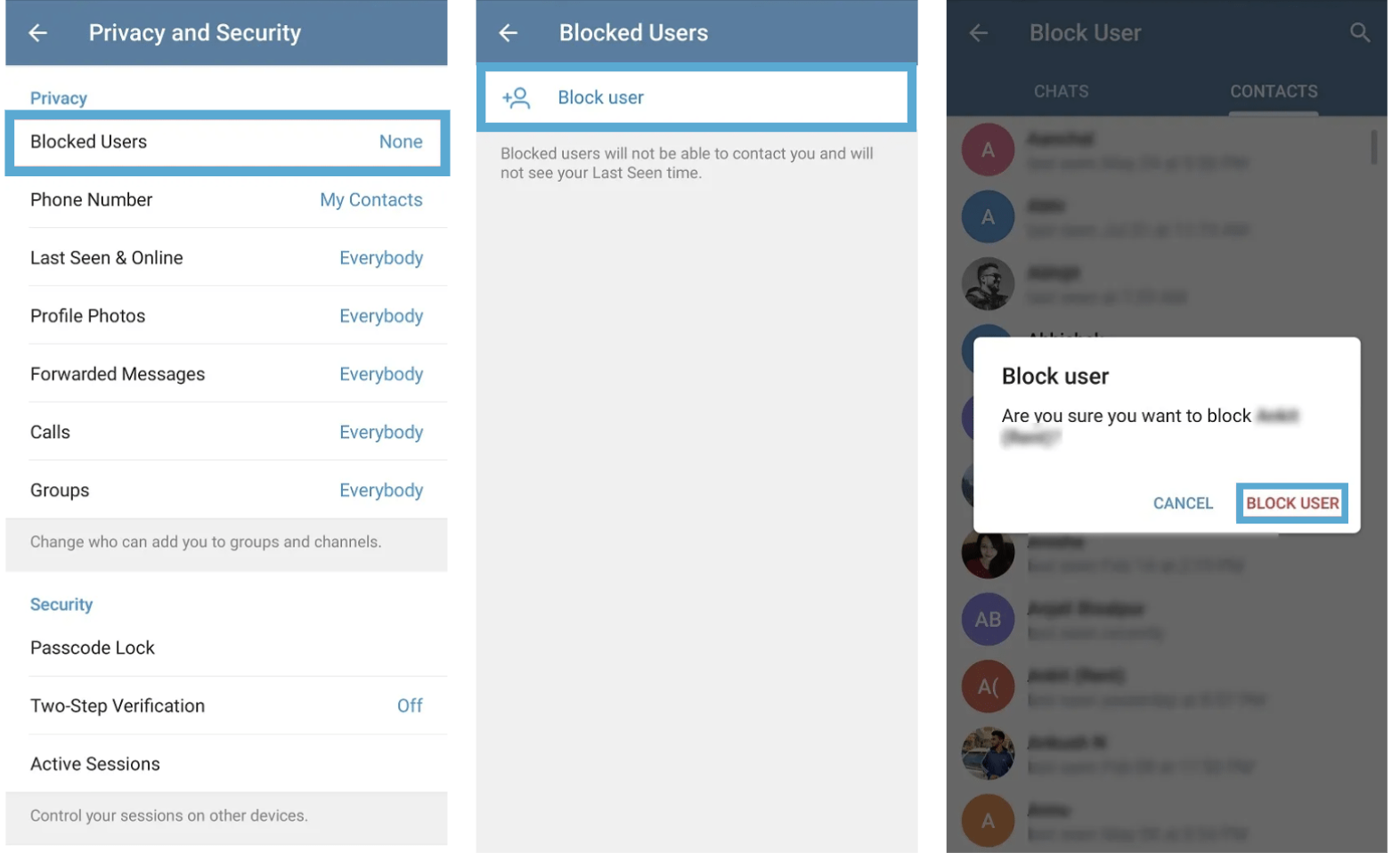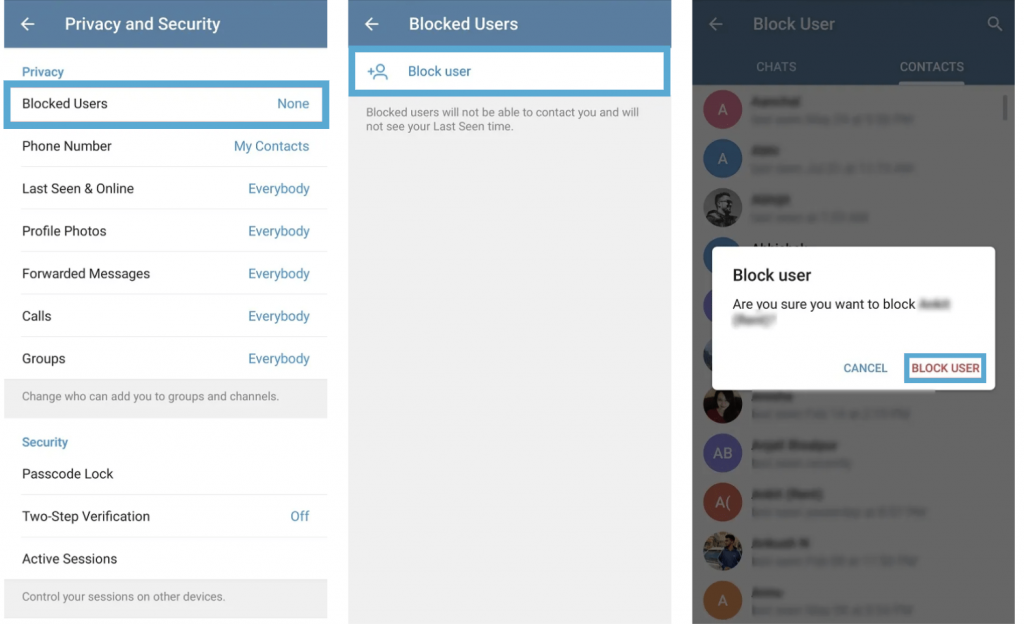 Head to the same "Privacy and Security" page
Click on "Block User"
Key in their number or contact name
This can be used on the admins of scam groups or lone wolf scammers who message you privately, albeit it's still less effective in preventing new scammers from messaging you entirely. 
Regardless, just remember: when in doubt, follow the crowd. Most people are usually pretty quick to leave these groups once they're added so take it as a sign and follow suit, to be safe.
To know more about scams in Singapore, watch these videos to the end:
---
Advertisements

---
Featured Image: Twitter (@promomain), knowyourmeme.com

Fresh grads, you don't need any experience to earn up to $4,200 with this "secret":
Read Also: