---
Advertisements

---
If you're thinking of turning your daydreams about being a movie star into reality, this might be your chance to have your big break.
Well, only if you're between the ages of 8 to 14.
If you're wondering why, it's because another I Not Stupid film by Jack Neo is in the making, years after the first two films were released in 2002 and 2006 respectively.
Yup, you heard me correctly.
Although it's been around 21 years since I Not Stupid first graced our screens (and made us feel less terrible about flunking our exams), it seems like Neo's far from done with the series.
The 63-year-old director first uploaded an announcement photo to his Facebook page yesterday (8 May) afternoon to inform members of the public that he would be holding a live stream later that night to introduce the online audition process for I Not Stupid 3.
The caption, which was written in Chinese, revealed that the newest I Not Stupid movie would be recruiting male and female actors of various ages.
More About the Audition for Children and Teenagers
After Neo's live stream yesterday (8 May), J Team Productions also compiled all the information that those wanting to try out for the auditions should take note of.
Firstly, for children and teenagers, the movie is looking for actors between the ages of 8 to 14. Both genders are welcome to apply.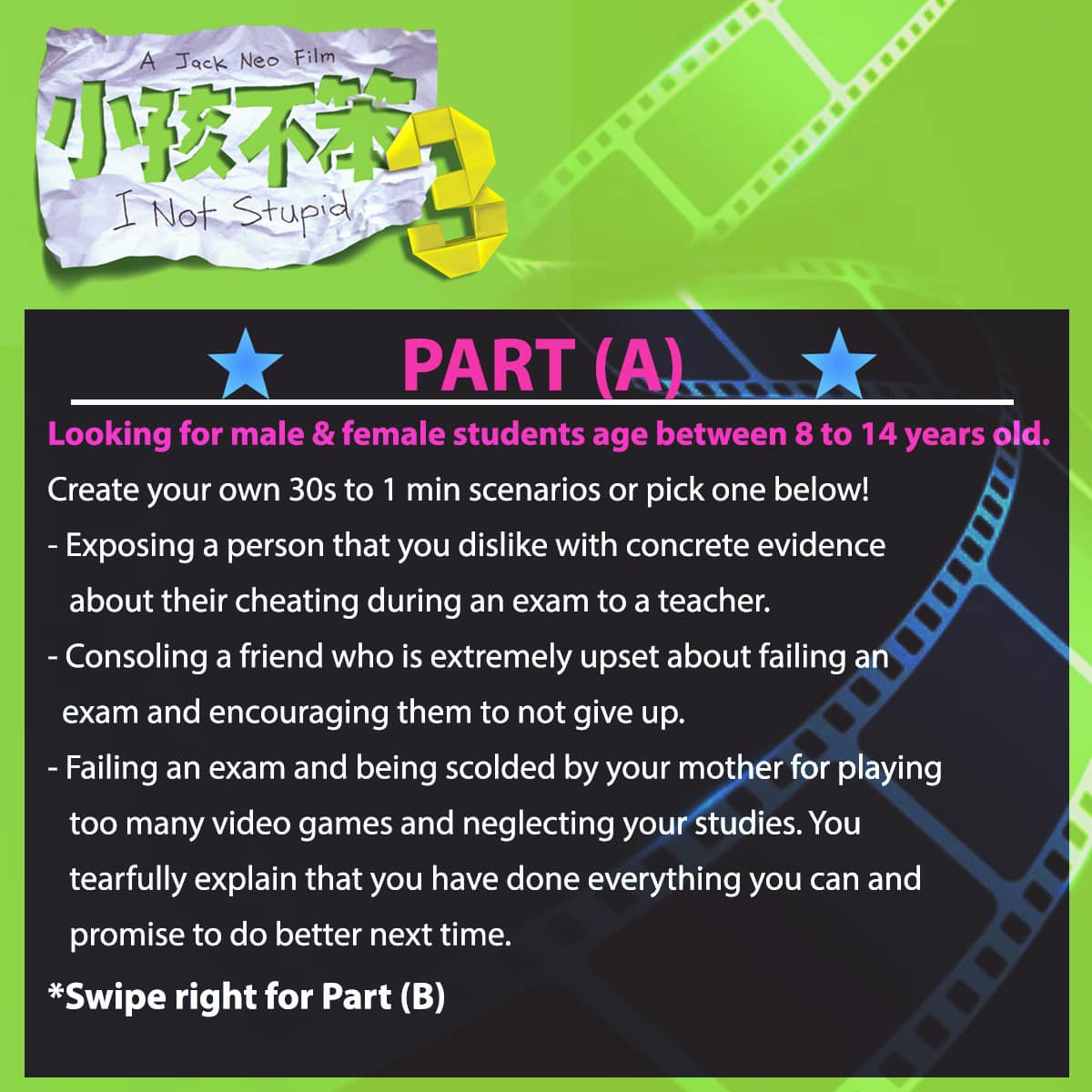 For the audition, individuals will have to film a clip of themselves acting out one of the three scenes:
Exposing a person to a teacher for cheating in an examination
Consoling and encouraging a friend who is dejected over failing an examination
Failing an exam and crying while being scolded by their mother
Well, I'm pretty sure most of us don't even have to have acting skills to carry out the third scenario; we can just tap on our prior experience with the exact situation. 
The audition clip should last for anytime between 30 seconds to a minute.
Also Looking for Women to Play the Role of Mothers
Apart from that, it was also revealed that the movie is recruiting women in their mid-30s to 50s.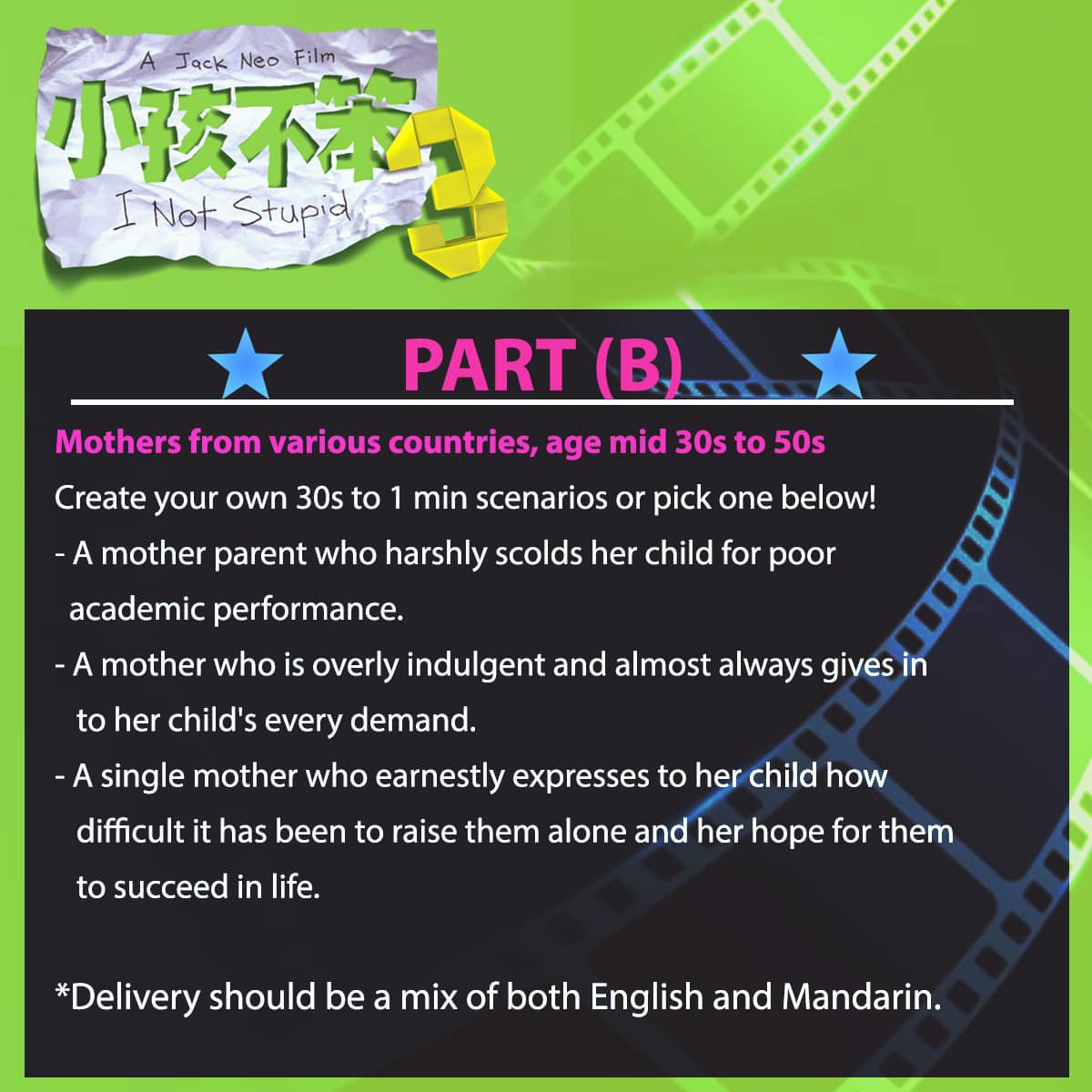 Similar to the audition for children and teenagers, auditionees will be required to submit a video between 30 seconds and one minute.
The audition will involve them taking on the role of a mother and acting out one of the three following scenarios:
Harshly scolding their child for the child's poor academic performance
Being overly indulgent towards their child
Expressing their difficulties as a single mother and talking about their hopes for their child
Additionally, while the Facebook post indicated that "mothers from various countries" are welcome to partake in the audition, the audition should be carried out in a mix of English and Chinese.
How to Submit Your Audition Tape
On that note, even though most of us probably wouldn't even dream of appearing in a Jack Neo film, some of us might already be scrambling to assemble our audition tape.
And here's how you can submit your audition video and (hopefully) start your journey of stardom.
After filming the audition tape, individuals can upload their video to Instagram, Facebook or TikTok.
---
Advertisements

---
They should also include both #inotstupid3 and #小孩不笨3 hashtags.
Apart from that, auditionees need to tag JTEAMSG's social media accounts, as well as mm2's Facebook or Instagram accounts.
Lastly, do note that submissions must be uploaded by 11.59 pm on 15 May.
Join our Telegram channel for more entertaining and informative articles at https://t.me/goodyfeedsg or download the Goody Feed app here: https://goodyfeed.com/app/
I Not Stupid 3 to Continue Focusing on the Education System
For those who've watched both I Not Stupid and I Not Stupid Too, you'd have known that the series primarily focuses on the education system and how families in Singapore often pressurise children to obtain good academic results.
And although there's no doubt that the education system has changed greatly since the first films were released, it seems like I Not Stupid 3 will still discuss similar themes.
Of course, these themes will be adapted to suit the current education system.
---
Advertisements

---
Additionally, although other details like production and release dates have yet to be announced, Neo disclosed that the movie will primarily focus on the lives of four children.
"If parents focus only on their children's academic achievements, they will neglect their other talents. Children are never stupid and, hopefully[,] through the learning process of the four children in this new movie, parents can learn to connect better with their children and allow them to grow into the best versions of themselves," Neo explained in a press statement.

Fresh grads, you don't need any experience to earn up to $4,200 with this "secret":
Read Also: