---
Advertisements

---
The festive season is soon approaching and many of us probably have plans for the upcoming weekend.
For some, it is an occasion to celebrate with their friends and families. For others, it is an opportunity for a short getaway to our neighbouring countries such as Malaysia.
For those who are travelling to Malaysia, do note the Immigration and Checkpoints Authority (ICA) has recently shared that heavy traffic along both causeways is to be expected during this period of time.
More People Visiting Malaysia
According to ICA, there were more than one million visitors that passed through both Tuas and Woodlands checkpoints over the previous weekend.
There were about 359,000 travellers that crossed the borders daily, which is closing up on the numbers before the pandemic when about 415,000 crossed the two checkpoints daily.
A simple search on One Motoring's website shows that there is a huge amount of vehicles that are queueing up to get past the two checkpoints.
From the images that are present at the time of writing, both checkpoints seem to be congested and filled with visitors flooding into Malaysia.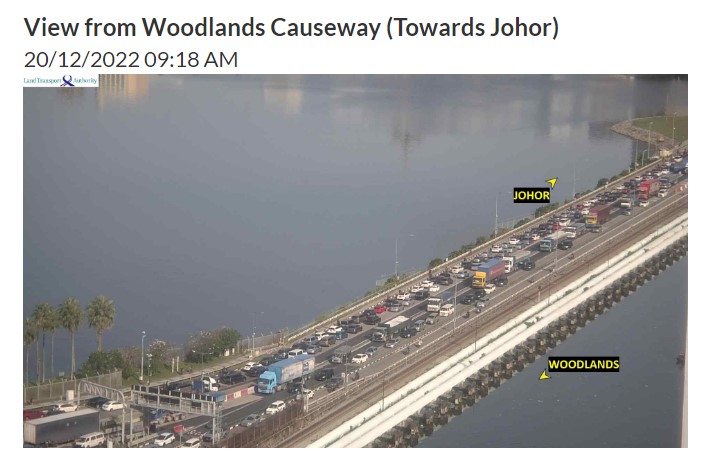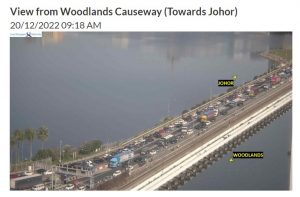 If there are so many visitors trying to enter Malaysia on the morning of a weekday, just imagine what the traffic situation would be like if one were to queue during the festive weekend crowd.
Due to the slow traffic, perhaps it is a wiser decision to delay any form of non-essential visits across both land checkpoints until after this busy festive period is over.
Unless of course you like to wait for a long period of time lah.
Long Waiting Hours for Public Transport
According to a visitor who only wishes to be known as Mr Lee, the situation for those visiting Malaysia via public transport options is not ideal either.
"The train tickets to Malaysia are all sold out weeks prior, so my family and I have no choice but to take the bus into Johor Bahru (JB)" said Mr Lee.
Apparently, taking the train into Malaysia is the more convenient and less time-consuming travel method to use.
"After clearing the Singapore Immigration, we waited 30 minutes for the bus that will bring us to JB checkpoint, upon reaching, we had to queue for 1 hour and 30 minutes before being able to clear the JB custom."
"This is definitely very crowded considering that I went on a Monday Morning." Added Mr Lee.
When asked about his plans, Mr Lee said that he wanted to bring his family for a short getaway during the year-end holidays but did not want to wait until the festive weekend to do so because he was afraid of the crowd.
However, despite him and his family going over during the weekday, there was still a huge number of visitors.
ICA Reminds Travellers
"Those who wish to travel via the land checkpoints by car or bus this holiday season are advised to factor in additional time for immigration clearance as the traffic volume is generally high and long delays are expected," said ICA.
To check on the traffic situation at the checkpoints, you can check ICA's Facebook page or visit One Motoring's website for live traffic updates.
Adding on, ICA also mentioned that motorists are advised to avoid cutting queues during the congestion as it can not only worsen the situation but also put people's safety at risk.
Visitors who are travelling between the two countries by bus are encouraged to use the automated lanes at the passenger halls if they are eligible to do so.
---
Advertisements

---
This is to prevent a hold-up at the manual lanes, which takes longer to clear a person.
Prior to travelling, visitors should also ensure that their passports have a validity of at least six months.
If your passport has less than six months of validity, there could be complications when trying to clear immigration.
You can apply for a passport renewal here.
For those with foreign vehicles that are planning to drive to Singapore, do ensure that you have a valid vehicle entry permit, an approval e-mail from the Land Transport Authority (LTA) and a valid Autopass card to avoid any sort of complication when crossing the boarder.
Singapore-registered vehicles leaving the country for Malaysia are to ensure that their fuel tanks are filled to three-quarters before reaching the checkpoints to prevent being turned away by the relevant authorities.
---
Advertisements

---
Long-term pass holders are to ensure that their particulars are up to date. If, for any reason, their particulars are not up to date, they will need to inform the ICA or Ministry of Manpower at the earliest possible time.
They can do so here.
Before reaching any of the checkpoints, individuals are to check themselves for any possession of prohibited items such as any sort of weapons or contraband items like Electronic cigarettes.
Those that wish to bring in controlled items are reminded to declare them to the authorities prior to being checked to prevent any form of misunderstanding that could arise.
In ICA's closing words, they mentioned that they hope to seek the understanding of travellers and that they can remain cooperative and patient during this busy period of time.
---
Advertisements

---
Read Also: 
Featured Image: Shutterstock (Cheng Wei) & Nylon Singapore.

Fresh grads, you don't need any experience to earn up to $4,200 with this "secret":
Read Also: