---
Advertisements

---
With the advent of social media, influencers have taken to collaborating with eateries.
You likely see many food reviews on your social media feeds daily.
Usually, these deals are mutually beneficial but sometimes, mishaps can occur.
The Incident
On 27 May, Chiangmai Thai Kitchen posted a Facebook post detailing their experience with 20-year-old influencer Marcus Lo.
From screenshots attached to the post, Lo had reached out to the eatery on 2 April, asking to collaborate.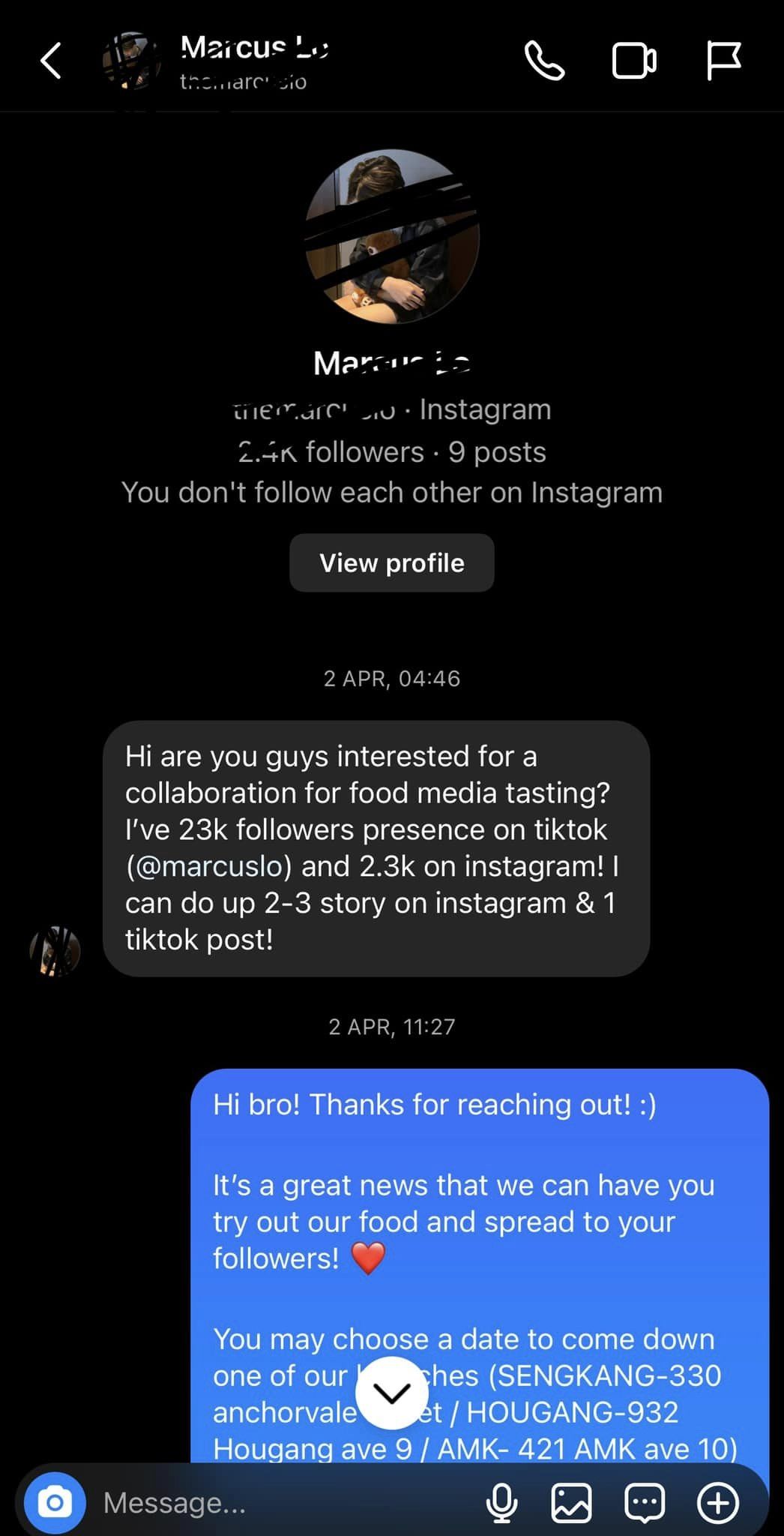 The eatery agreed, even giving him $100 shop credits to sponsor the meal.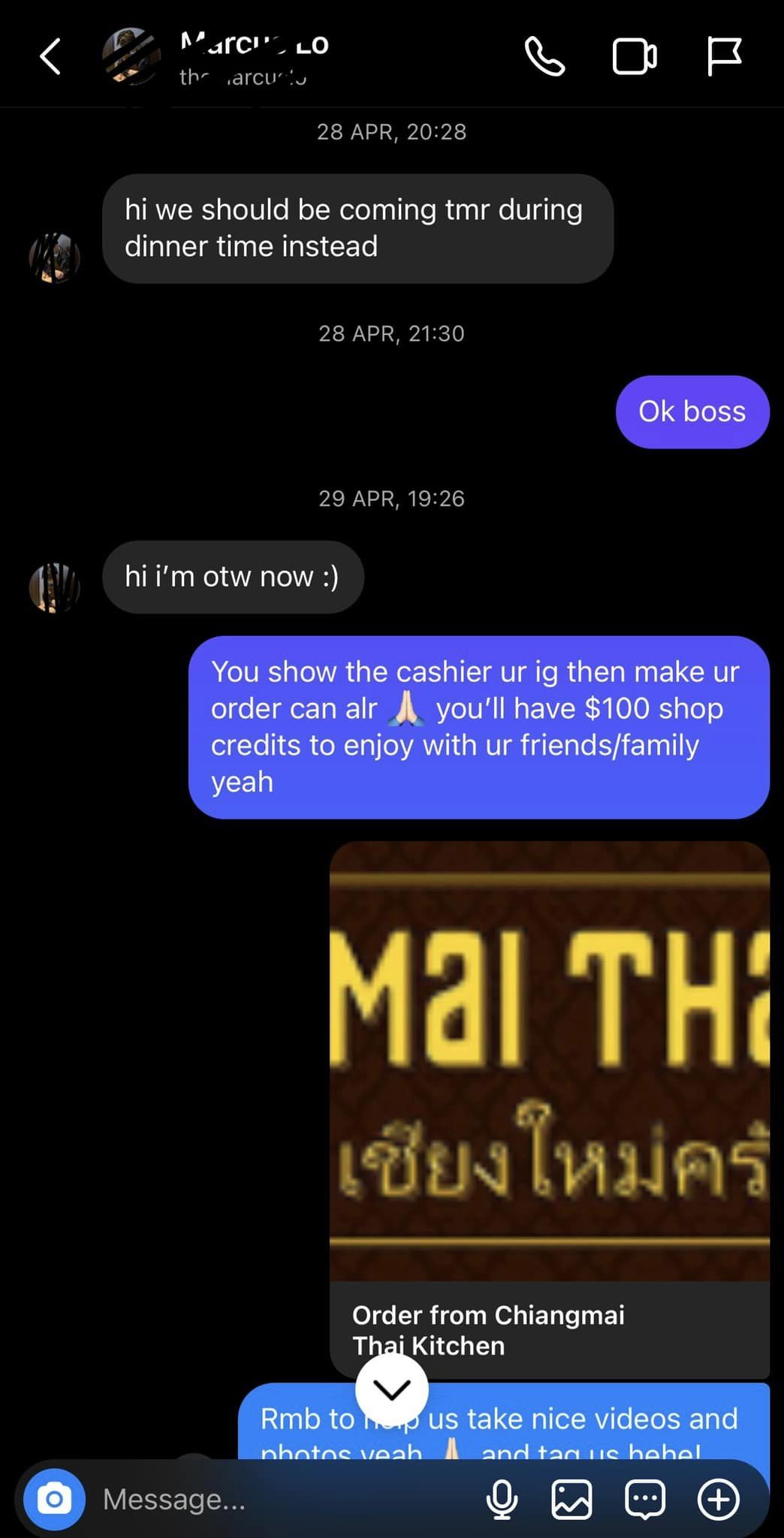 However, after Lo's visit, the eatery saw no new videos featuring them.
Despite the eatery's repeated attempts to reach out, the influencer neglected to reply.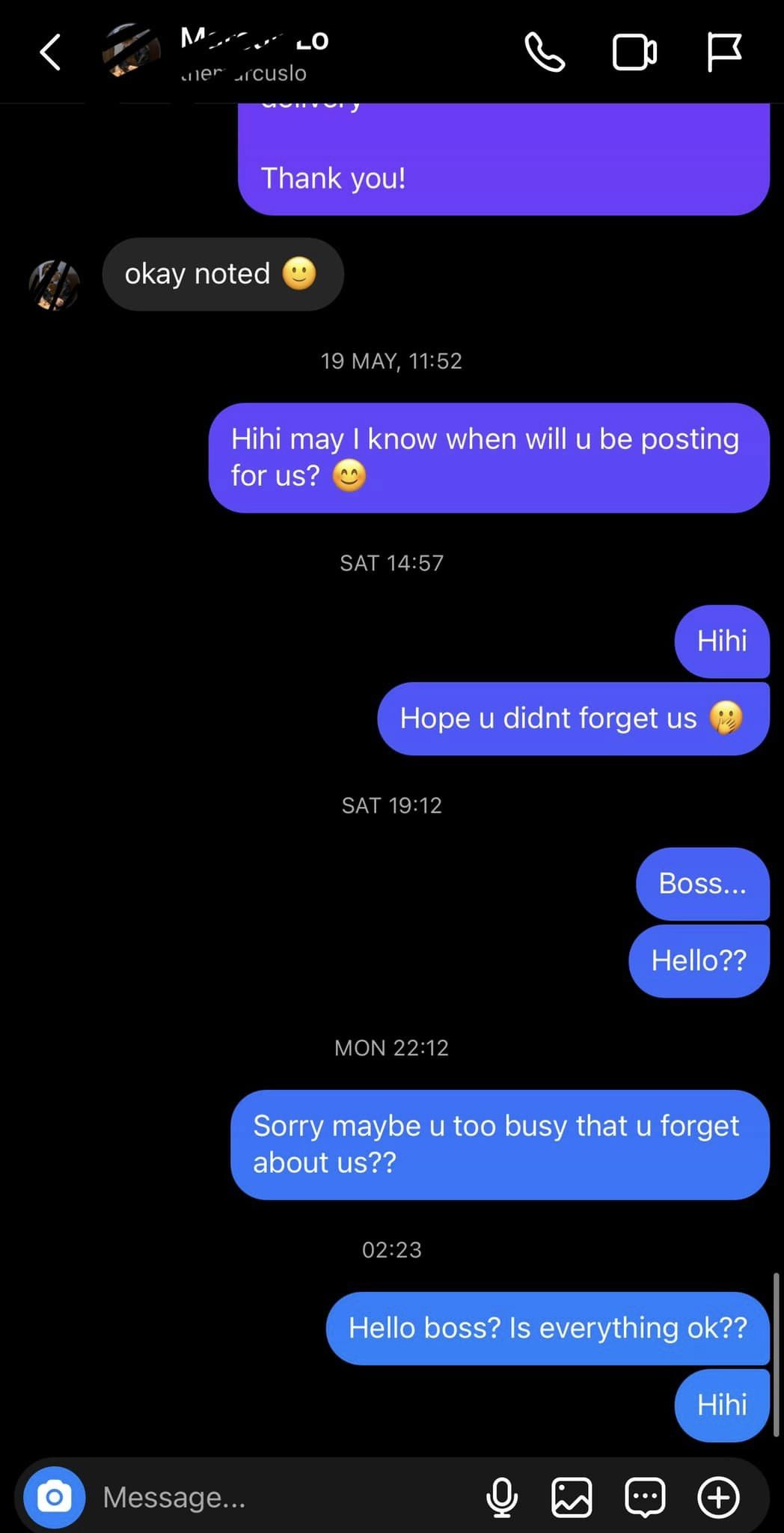 The eatery wrote, "Just posting to warn other vendors if they ever encounter this guy. He claimed to have 20k plus followers on TikTok bla bla bla. And ask for collabs. Then went MIA. 
"Can post IG stories and TikTok but can't reply to messages."
---
Advertisements

---
The eatery attached screenshots of Lo posting on social media while leaving their DMs unanswered.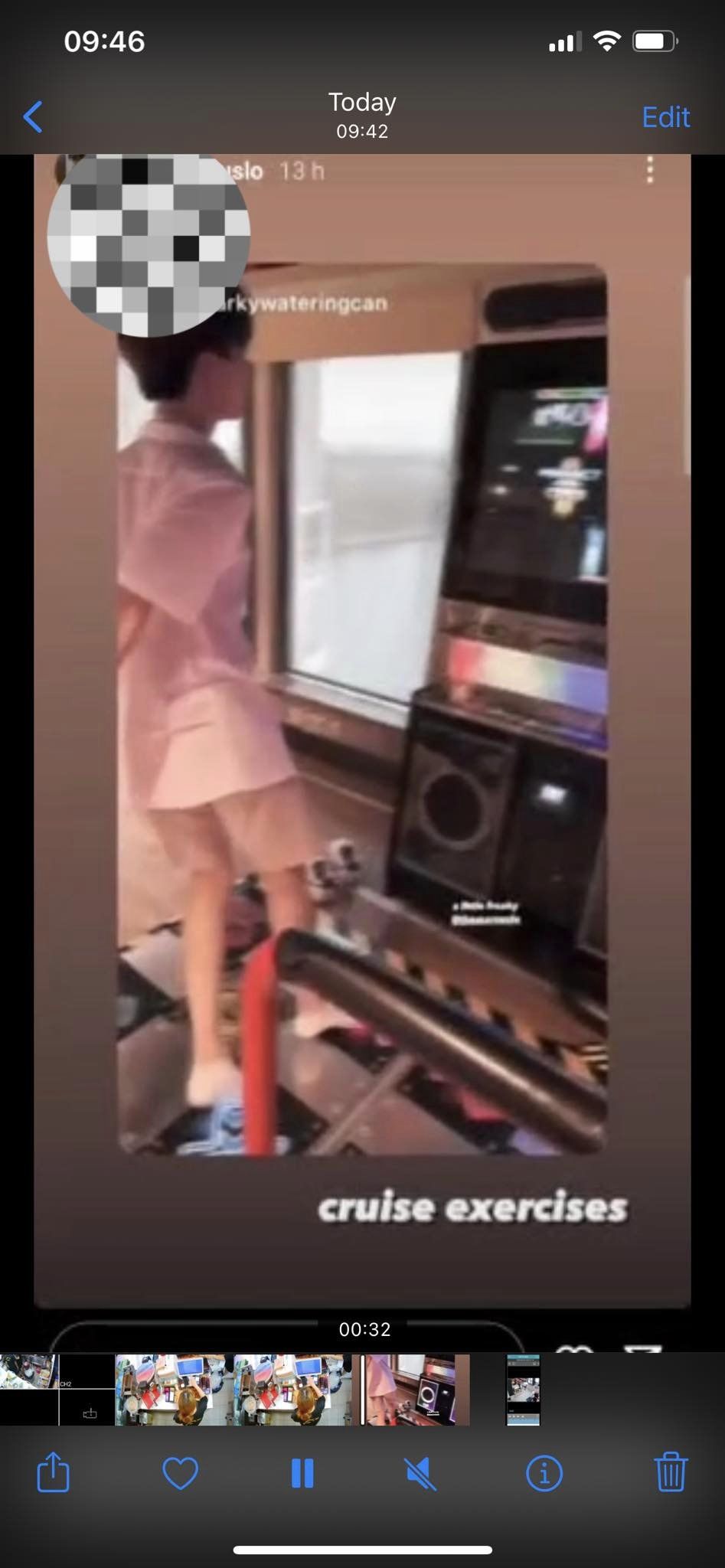 The eatery continued, "Market is bad now… $100 of food we might as well give to those who really need… We are sorry that we thought we could gain some exposure through him also."
Finally Posted a TikTok Video One Month After the Visit
On 28 May, a day after the release of the Facebook post, Lo finally posted a TikTok video about his experience eating at Chiangmai Thai Kitchen.
The 20-second clip shows the vast array of food the eatery sells, with captions gushing over the eatery's affordability and quality.
He also noted that the food "tasted very authentic".
Lo's Response
Lo has written a public apology under the eatery's post.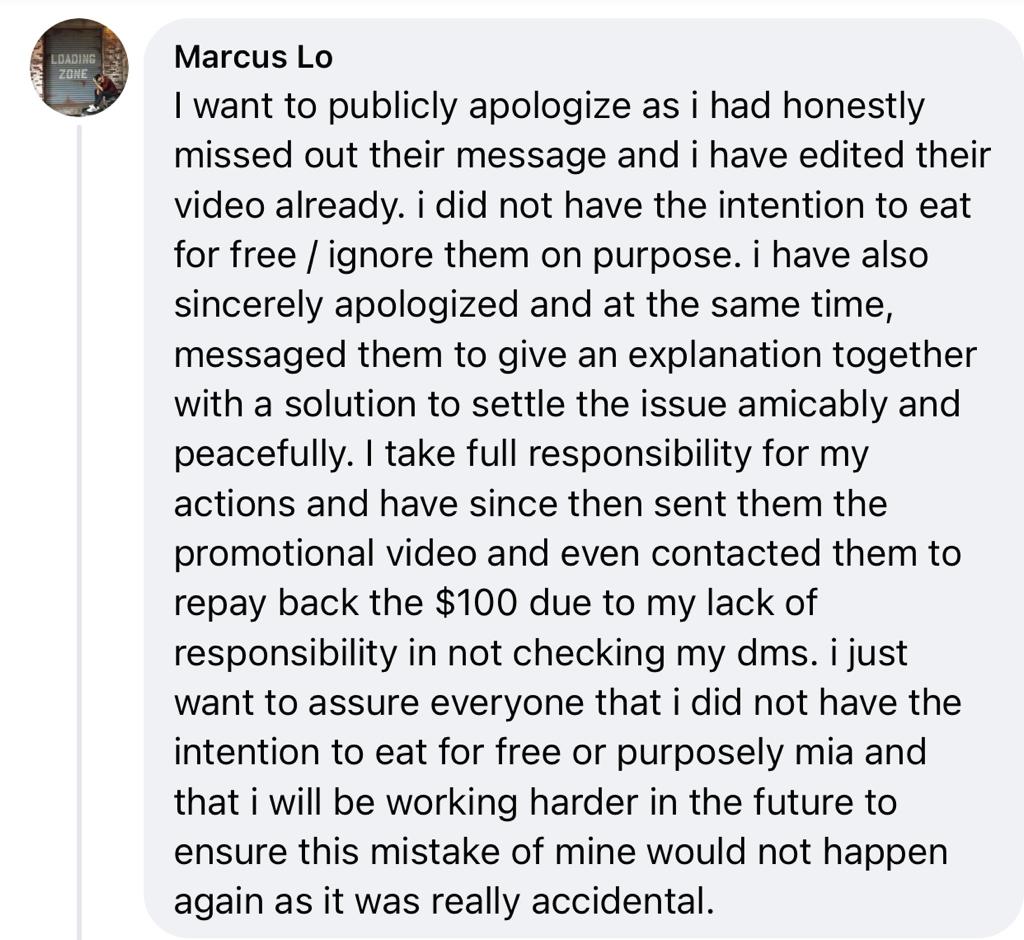 He clarified that he was not seeking a free meal and did not intend to ignore the eatery's DMs.
However, he is taking full responsibility and even offered to pay for the meal due to "not checking" his DMs.
He reiterated that he did not intend to eat for free or ghost the eatery and added that he will not repeat the mistake again. 
---
Advertisements

---
He attached a screenshot of his apology to the eatery to the comment.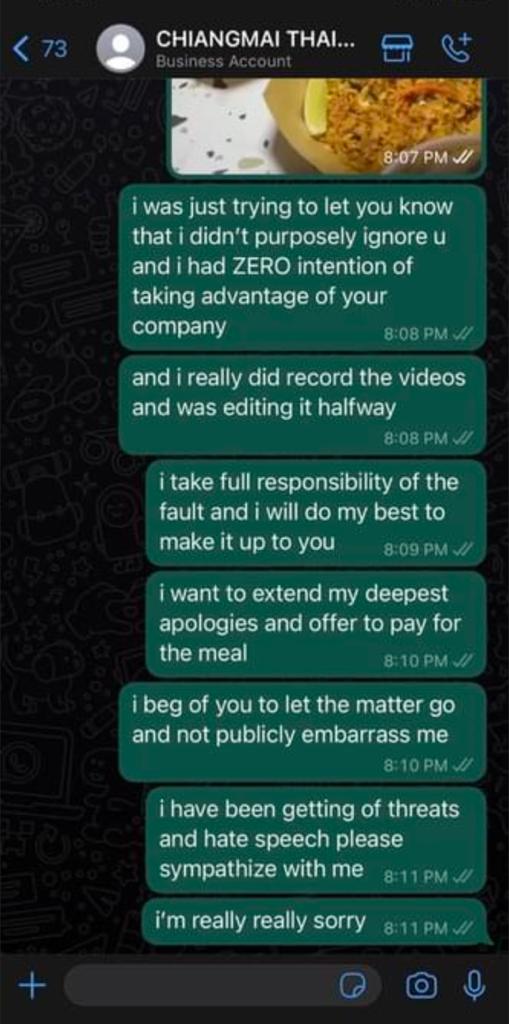 Besides repeating what he said in the comment, Lo asked the eatery to "let the matter go and not publicly embarrass" him.
He claimed that the incident had caused him to get threats and hate speech.
In response to a comment under his TikTok video calling him out for being "the guy who ran away from responsibility", Lo emphasised that he had been in the middle of editing the video.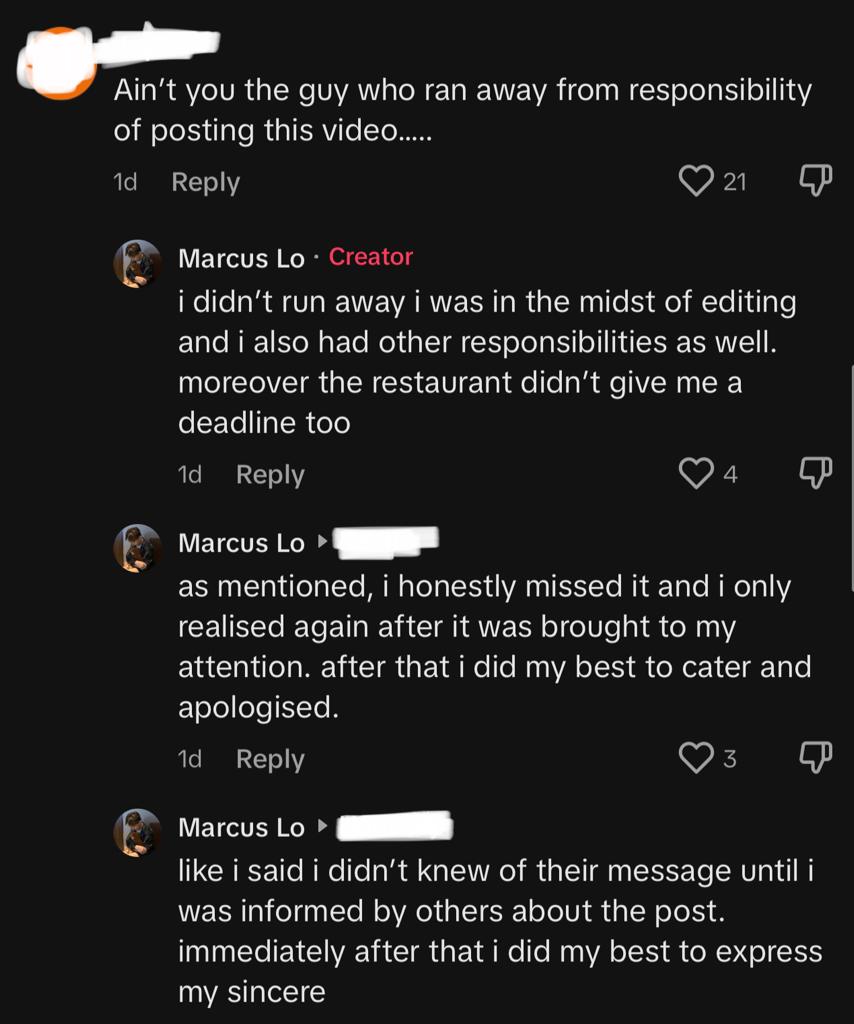 Furthermore, he had other responsibilities in his life to deal with as well and the eatery had not given him a deadline.
Speaking to AsiaOne on 29 May, Lo called the accusations a "misunderstanding".
---
Advertisements

---
He also claimed that the eatery had asked him to "take his time" to post the video.
He added, "If I wanted to purposely eat there for free, I would not have wasted my time and effort to record and edit the video in the first place.
"I'm not deflecting any faults, and I take responsibility for not checking my messages."
Join our Telegram channel for more entertaining and informative articles at https://t.me/goodyfeedsg or follow us on Twitter : https://twitter.com/goodyfeed
Eatery Accepts Apology
The original Facebook post has since been updated.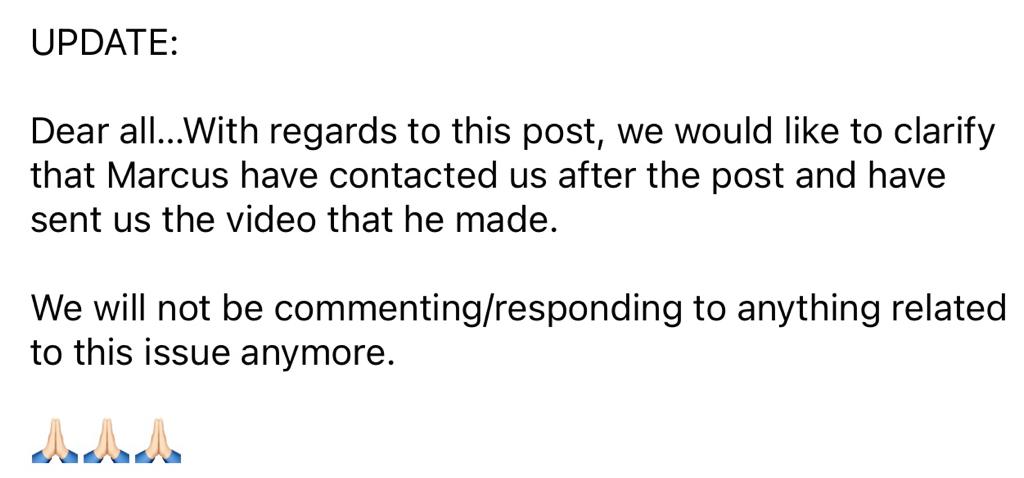 The eatery wrote, "Dear all… with regards to this post, we would like to clarify that Marcus has contacted us and sent us the video that he made.
---
Advertisements

---
"We will not be commenting/responding to anything related to this issue anymore."
Lo told AsiaOne that the eatery refused to remove the Facebook post even after he apologised.
Lo shared, "I told them that I have been receiving many hate messages and threats.
"I really appreciate if they don't ruin a 20-year-old's life."
The owner of Chiang Mai Thai Kitchen, 35-year-old Joseph, told AsiaOne that he would not remove the post.
Joseph felt that letting the post remain would be "better for Lo" as people would know he has reached out to apologise.
He noted that this was the first time an influencer had ghosted him since he began running the eatery in 2019.
He said, "Other influencers are so nice. They will reply even though they're busy and update us."
---
Advertisements

---
Despite this experience, Joseph said he is not deterred from collaborating with other influencers as long as they are "genuine and sincere".

Here's a rather unexpected timeline of the $2.8 billion money laundering case in Singapore as revealed by Minister Josephine Teo during a parliament sitting on 3 October 2023:
Read Also: