---
Advertisements

---
Most of us have heard of the phrase "You are what you eat," but when it comes to the stand-up comedian Jocelyn Chia, it's a little more like "You are what you do".
The comedian became the subject of a comedy after cracking several insensitive jokes about our neighbours across the causeway, particularly about the missing Malaysia Airlines flight MH370.
Yet, she isn't paiseh about it one bit. Not only does Jocelyn Chia claim that she's not cancelled, but she also doesn't seem apologetic for her words at all.
Jocelyn Chia Claimed She Isn't Cancelled Despite Massive Wave of Online Backlash
If you don't know about the Jocelyn Chia saga, here's a TLDR.
During her 89-second routine for Comedy Cellar in New York, the Singapore-born comedian Jocelyn Chia took several jabs at Malaysia—cracking jokes about the Singapore-Malaysia split in 1965 and sensitive topics like the missing flight MH370.
Since then, several important figures have spoken about the issue, including our favourite Ridout Road Minister, Dr Vivian Balakrishnan. Jocelyn Chia's social media accounts across Instagram, Twitter and Facebook were also disabled amid the backlash her routine attracted.
You can watch the full comedy routine which got Jocelyn Chia knee-deep in trouble here:
Despite the massive online uproar, the stand-up comedian still appears to be 100% buey paiseh about her jokes.
On Friday (9 June), Jocelyn Chia briefly regained access to her Instagram account, @chiacomedy, before it got disabled again. Regardless, she was able to sneak in a few words during that small window to get netizens riled up once more.
In a series of Instagram stories, the now-US citizen shared that contrary to popular belief, she neither deleted her Instagram account nor got "cancelled" by Instagram.
---
Advertisements

---
Instead, her account was allegedly suspended for "impersonating a celebrity".
Here's the twist: the "celebrity" in question, according to Jocelyn Chia, is herself.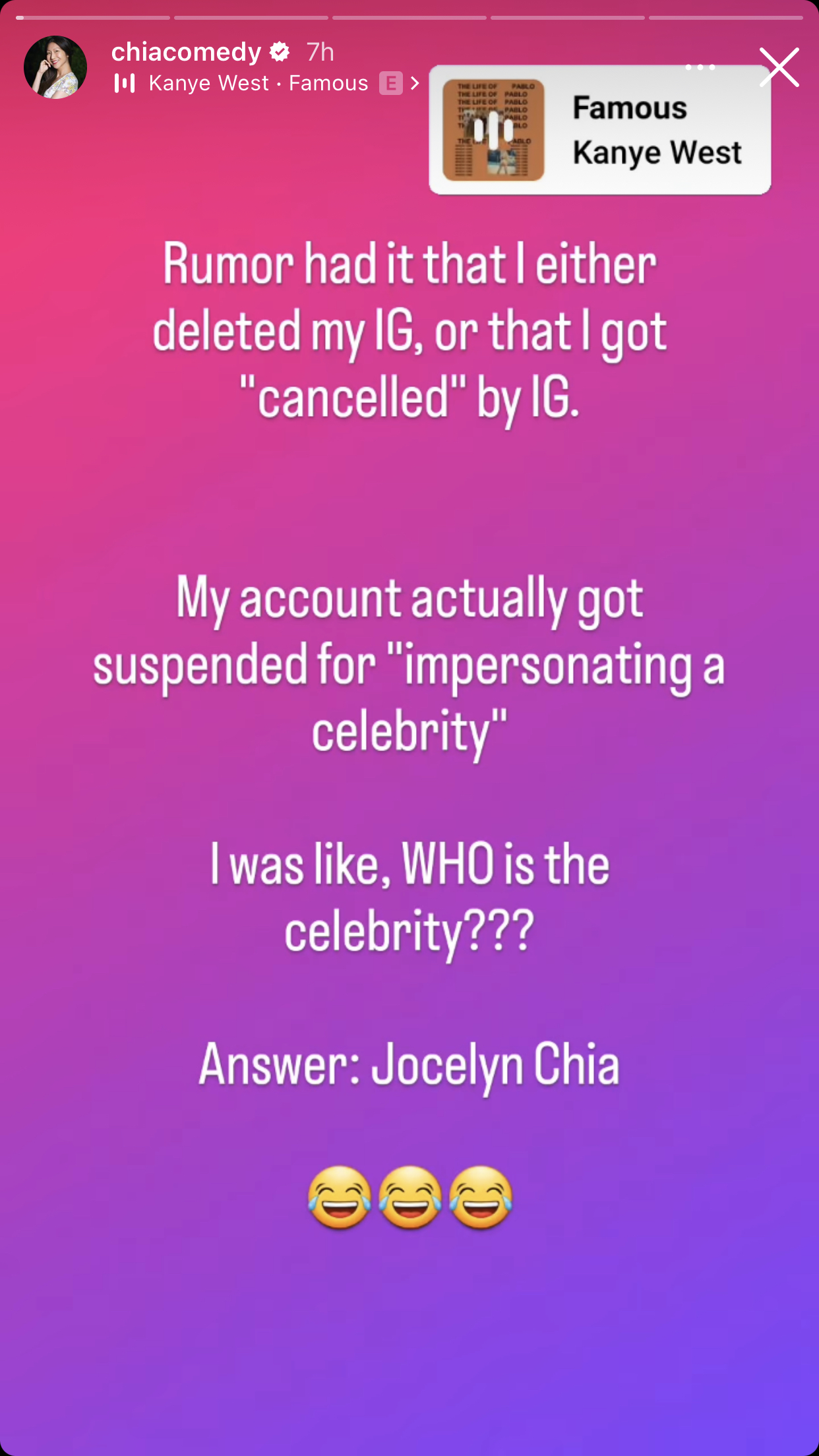 Her Instagram story was also accompanied by the track "Famous" by Kanye West, presumably referencing how her "celebrity" status now qualifies her to be "famous".
Doctor, lawyer, and now cancelled comedian? We don't think this is the type of "Hey, look Ma, I made it!" that most parents are looking for, but okay.
Jocelyn Chia Thanks Comedy Community Instead of Apologising for Insensitive Jokes
Jocelyn Chia also posted a few follow-up Instagram stories to the first one. However, don't get your hopes up, or as TikTok would say, reduce your expectations to zero.
None of the follow-up stories are cryptic apologies of any sort.
Instead, Jocelyn Chia thanked the comedy community, presumably for any support they've expressed in defence of her jokes about Malaysia.
Join our Telegram channel for more entertaining and informative articles at https://t.me/goodyfeedsg or follow us on Twitter : https://twitter.com/goodyfeed
If you thought the comedian would miss this opportunity to take more jabs at others, then both you and Jocelyn Chia need to "wake up your idea". Jocelyn Chia made sure to caveat her gratitude with "a few notable exceptions", calling out those in the comedy community who didn't stand with her.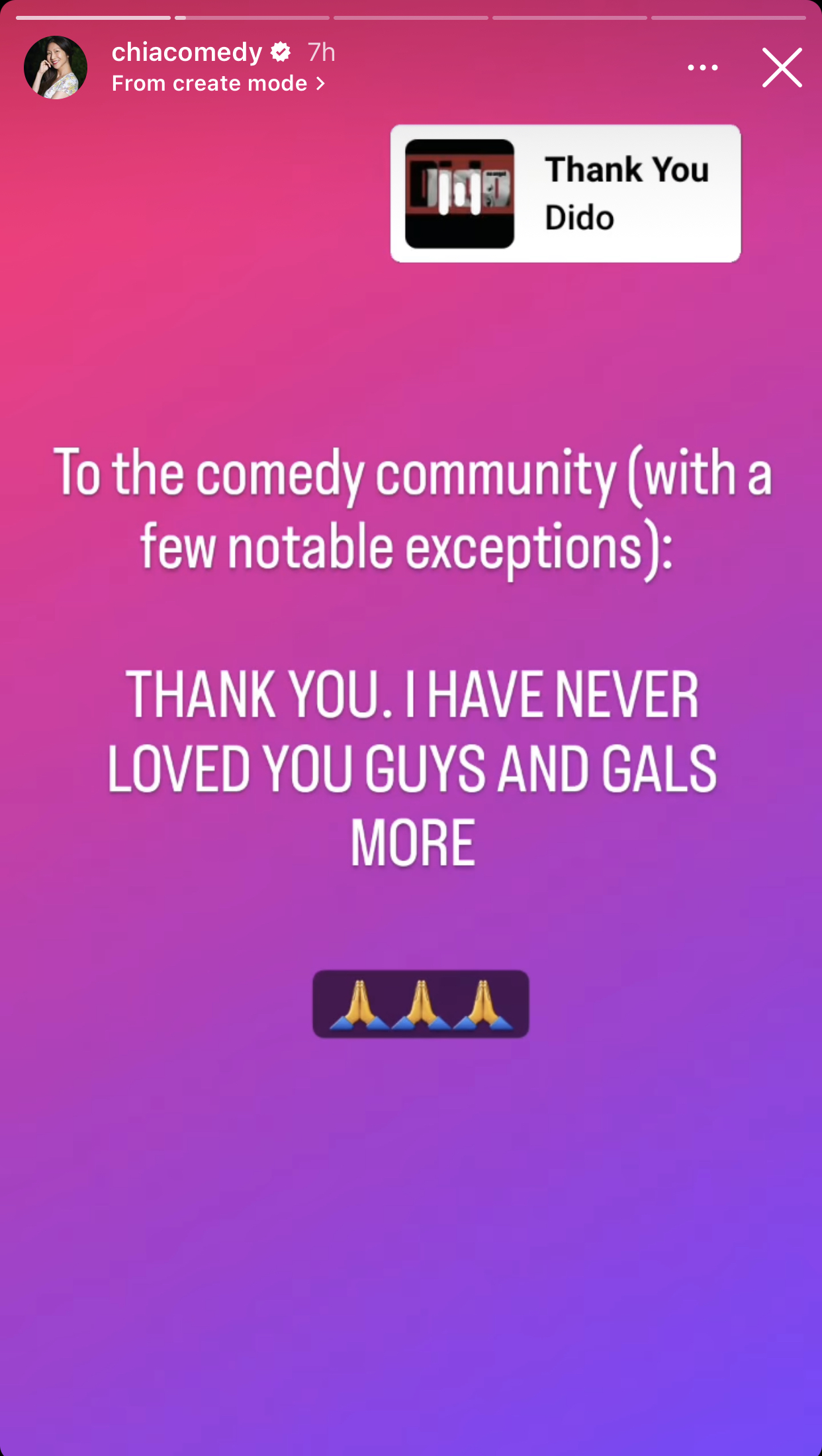 In another follow-up Instagram story, Jocelyn Chia also made sure to thank her non-binary friends in particular since her previous Instagram story thanked "guys and gals" specifically.
She also made another tongue-in-cheek comment about how failing to thank the non-binary community would be what really gets her cancelled.
---
Advertisements

---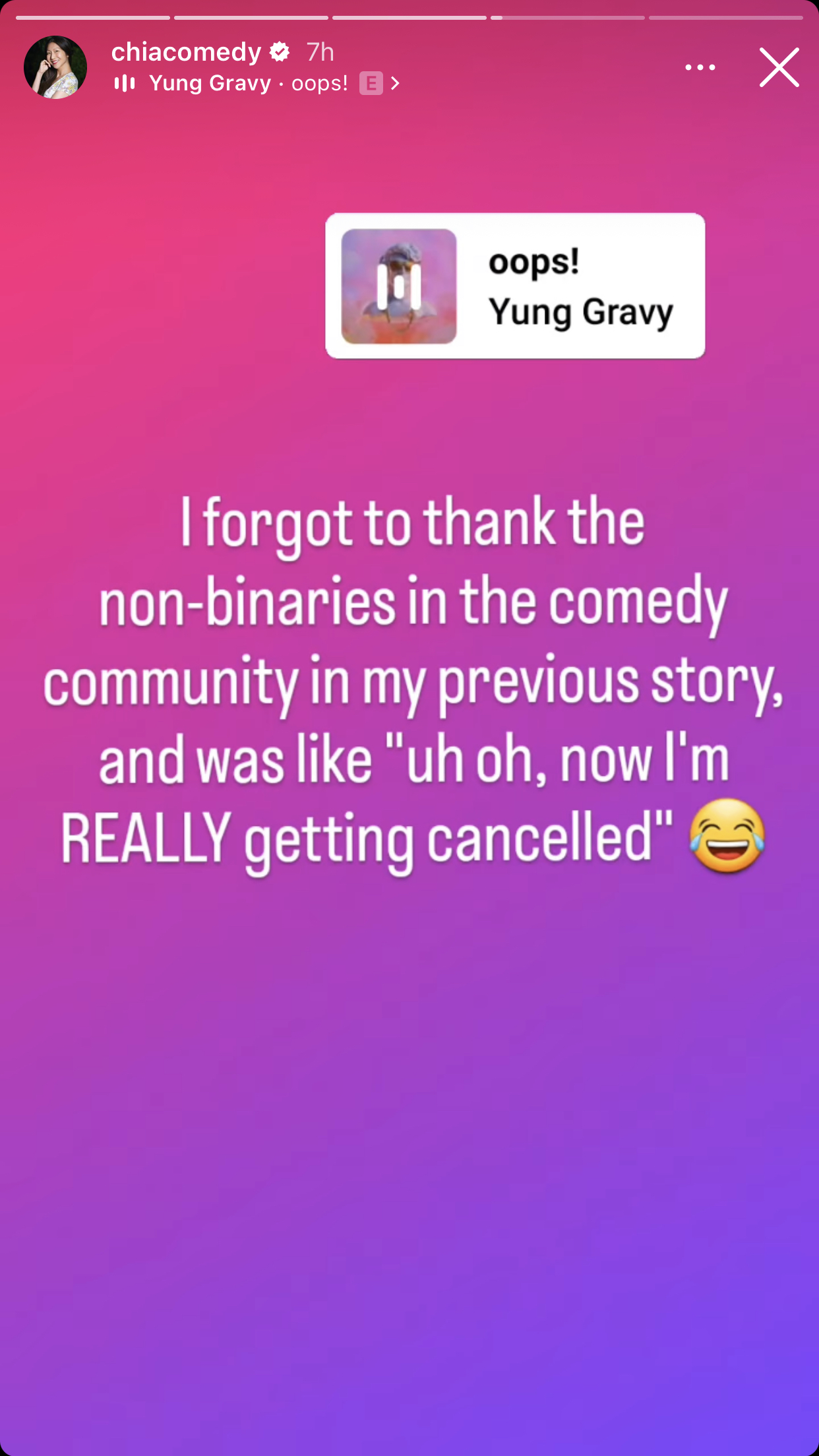 Well, her joke about the missing flight MH370 isn't her only joke that isn't landing.
Jocelyn Chia "Cancelled" By UMNO Youth Wing?
While the "celebrity" continues trying to figure out if she's cancelled, most have already "cancelled" the comedian.
A laundry list of high-profile figures has also criticised Jocelyn Chia's jokes, including Singapore's foreign minister Dr Balakrishnan, Singapore's High Commissioner to Malaysia Vanu Gopala Menon, Malaysian media personality Kudsia Kahar and Malaysian comedian Harith Iskandar.
Even the UMNO Youth Wing has "cancelled" Jocelyn Chia—in response to Chia's insensitive remarks, the UMNO Youth Wing be leading a protest march to the US embassy in Malaysia today (9 June) and lodging a police report against the comedian.
And the comedian wonders if she's cancelled.
You can read more about the Jocelyn Chia saga here.
---
Advertisements

---

Here's a rather unexpected timeline of the $2.8 billion money laundering case in Singapore as revealed by Minister Josephine Teo during a parliament sitting on 3 October 2023:
Read Also: