---
Advertisements

---
Four stalls in the coffee shop at Block 651 Jurong West Street 11 caught fire at around 5am in the morning on Sunday (30 Oct).
Initial suspicions indicate that the oil may have been too hot, such that it started a fire when a stall worker was frying century eggs.
The fire had quickly spread to three other stalls, thus filling the coffee shop with thick smoke.
Witness Account
When interviewed by Shin Min Daily News, Mr Huang, a 38-year-old employee of the noodles stall revealed that his stall shared the same space as the fried bee hoon stall.
Four workers had been present at the time of the accident.
The two employees of the fried bee hoon stall were prepping the food, and one of them was frying the century eggs.
They believe that the oil in the wok had been too hot. After the wok caught fire, the fire was sucked into and rose up to the hood exhaust, which began burning as well.
Upon seeing the fire was getting bigger, the workers immediately fled.
Since the two stalls beside the fire origin shared the same hood exhaust, the fire spread towards those stalls not long after.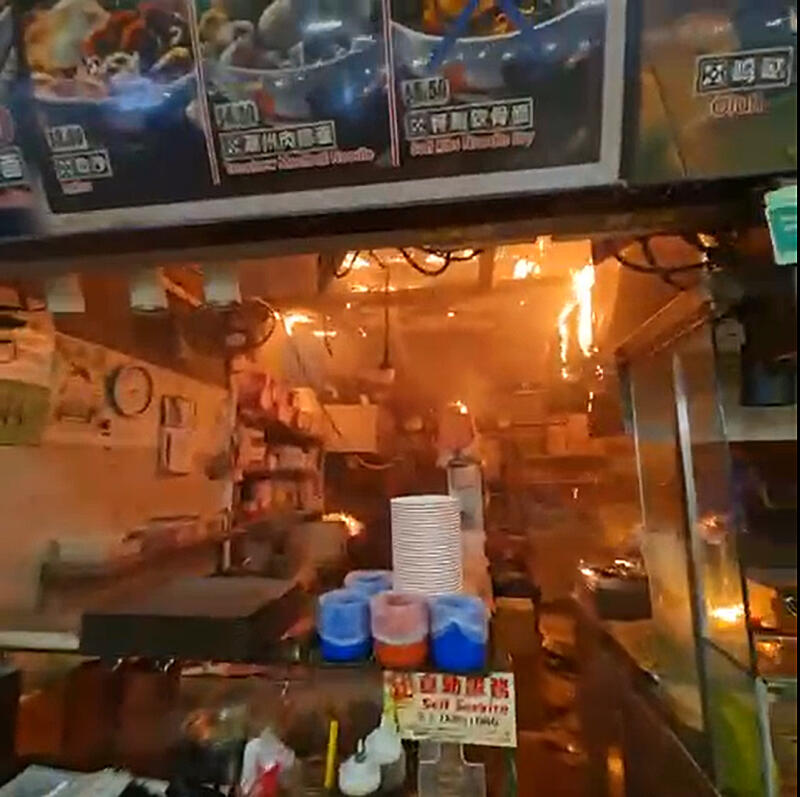 Mr Huang also told the employees in the stalls beside him to leave.
The fire took less than five minutes to spread. Mr Huang said this was the first time he had encountered such a situation in his five years of working in the food and beverage industry.
Thankfully, all of them managed to escape in time.
The Aftermath
When Shin Min reporters went to visit the coffee shop later that Sunday, the stalls were still cleaning up.
The involved stalls were scorched black and there were water stains on the floor.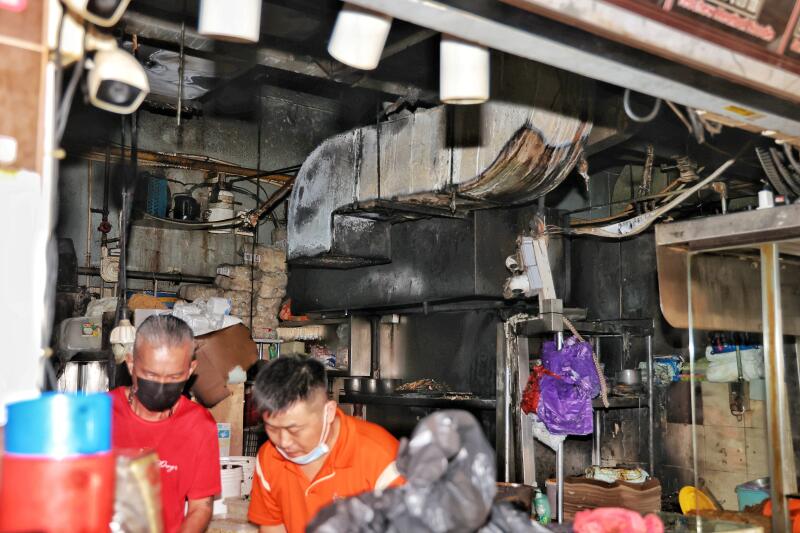 There are 12 stalls in the coffee shop, but only the beverage stall was open for business. The other stalls had to clean up.
Mr Dong, a 30-year-old working at the barbeque stall mentioned that although his stall didn't suffer any damages, the electricity and gas has been turned off.
Hence, they can only close for the day.
It is assumed that they will be able to resume operations on Monday (31 Oct).
In response to media inquiries, the Singapore Civil Defence Force (SCDF) confirmed they were alerted to the fire at the coffee shop. Two water jets were used to extinguish the fire.
Before the SCDF arrived, about 10 people from the coffee shop had evacuated on their own.
The cause of the fire is currently under investigation.
---
Advertisements

---
Read Also:
Featured Image: Facebook (Shin Min Daily News 新明日报)