When we think of Kampong Glam, we think of our learning journeys during our Primary and Secondary School days.
Now, we merely go to Kampong Glam for the vintage clothes and cat café at Haji Lane.
However, there's more to Kampong Glam than Haji Lane. Here are 10 facts and places to explore in Kampong Glam.
1. It is the Heart of Arts and Music in Singapore
Do you know that Kampong Glam is the heart of arts and music in Singapore?
From the beautiful murals around Bagdad Street to the live music on the kerbs of Haji Lane, other creative juices could be seen and heard the moment you enter Kampong Glam. That is if you are there at night.
These performers are homegrown musicians and they perform every night. You can find these musicians serenading you outside of Blujaz Café and along the streets of Haji Lane.
Blujaz/ Muzium/ Juice Clinic/ Funq
11 Bali Lane,
Historic Kampong Glam,
Singapore 189848
Opening hours:
Monday to Tuesday (9 am -12:30 am)
Wednesday to Thursday (9 am – 1 am)
Friday to Saturday (9 am – 2:30 am)
Sunday (12 noon – 12:00 midnight)
Piedra Negra/ Tres Amigos
---
Advertisements
---
Monday to Thursday (12 noon – 12:00 midnight)
Friday & Saturday (12 noon – 2:00 am)
Sunday (12 noon – 12:00 midnight)
2. Singapore's First Outdoor Gallery is here
Broke AF but going out with an Instagram 'model'? Bring her to Singapore's first outdoor gallery. It is not only free but the murals make great Instagram backdrops too.
Hidden in the back alleys, there are lanes of murals featuring over 30 unique artworks. They were created by local and international artists.
These murals are part of Singapore's first outdoor Gallery – Gelam Gallery.
---
Advertisements
---
This Instagram-worthy outdoor gallery could be found at the back lane of Muscat Street.
Remember to bring an umbrella and a portable fan for it will be the hottest gallery you'll go to.
Gelam Gallery
Muscat St, Singapore 198833
Open all-day
---
Advertisements
---
3. There used to be schools there now it's an art centre
28 Aliwal Street was the home of the former Chong Cheng and Chong Pun Schools. Now, it's the home of a multidisciplinary arts centre, Aliwal Arts Centre.
Aliwal Arts Centre is where many art-related events take place such as Aliwal Urban Art Festival and Aliwal Night Crawl.
The Art Centre is filled with artistic talents practising their crafts in different rooms. Plus, you can even find Munah and Hirzi there during certain event days.
Aliwal Arts Centre 
28 Aliwal St., Singapore, 199918
---
Advertisements
---
9am – 11pm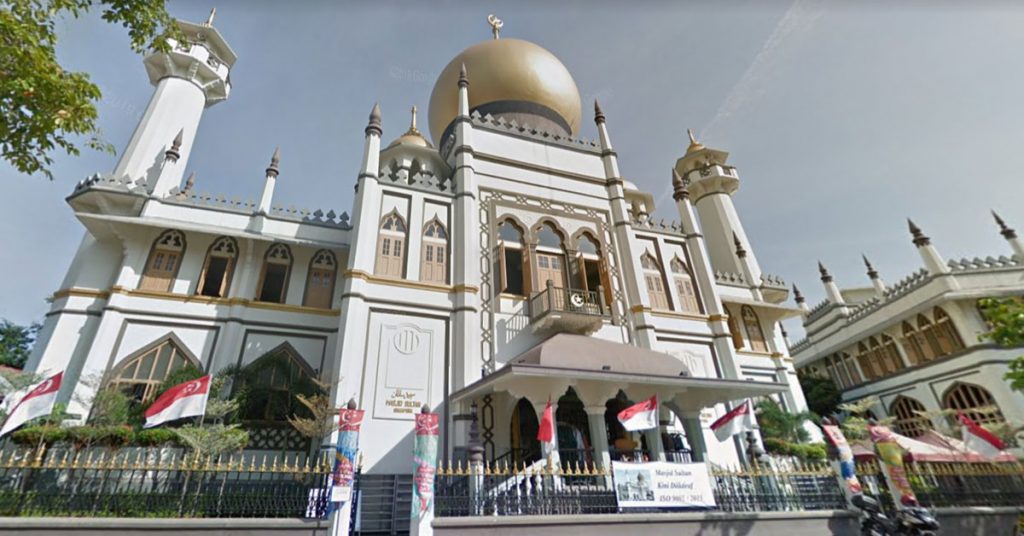 4. The Mosque will Light up 
Around 7 pm, the golden domes at the Masjid Sultan (Sultan Mosque) will glow and even change colours.
The 189-year-old Mosque started lighting up as a beacon for tourists a few years ago and have been lighting up ever since.
You would be able to see the beautiful lights emitting from the golden domes around 7 pm daily* and during Ramadan.
*Unsure if there are any changes during Covid
---
Advertisements
---
Currently, the Mosque is closed for tour visit but open for prayers.
Masjid Sultan
3 Muscat Street, Singapore 198833
Monday – Friday: 9.00 AM – 5.30 PM
Saturday: 9.00 AM – 1.00 PM
---
Advertisements
---
Closed during Prayer Times (12.30 PM – 2.00 PM & 4.00 PM – 5.00 PM)
5. Leaning Tower of Singapore 
Do you know Singapore to have its very own leaning tower-like in Italy? It's true!
Located at Jalan Sultan, the minaret of Hajah Fatimah Mosque could be visibly seen when you view it from a distance.
Unfortunately, you are not able to see the leaning tower of Singapore today for it has been corrected in the 1980s during extensive renovation work.
It is still good to know that we were once a little bit like Italy. 
---
Advertisements
---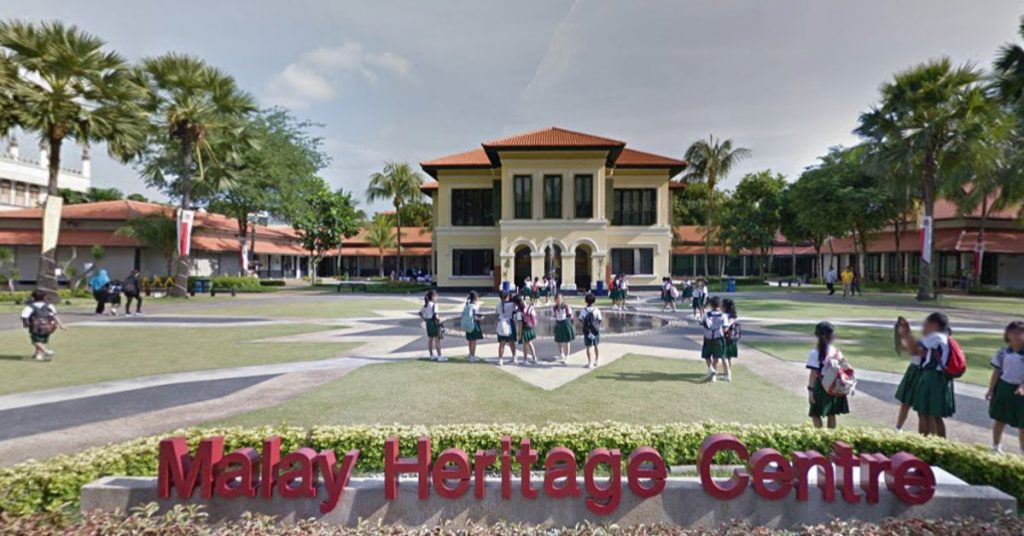 6. There's a mini shop, a museum and an auditorium in the Malay heritage centre compound
One of the places that you will be dragged along during your Social Studies excursion is the Malay Heritage Centre.
The Malay Heritage Centre is the home of a small tourist shop, a museum and an auditorium. If you want, you can rent the auditorium for your events.
Sometimes, you can even find music festivals rocking the space as well.
Malay Heritage Centre
85 Sultan Gate, Singapore 198501
---
Advertisements
---
The Malay Heritage Centre Museum
Tuesday to Sunday: 10 am – 6 pm (Last admission at 5.30 pm)
The Malay Heritage Centre Compound 
Tuesday to Sunday: 8 am – 9 pm.
7. Delicious Halal Restaurants
If you ask your Malay friends where to go for cheap and nice Malay food, they will probably recommend Kampong Glam.
---
Advertisements
---
There are various stalls and restaurants around Kampong Glam but one of my favourites is the Kampong Glam Café
The Kampong Glam Café has two levels and they offer an array of mouth-watering dishes like Nasi Goreng Pattaya and Soto Ayam.
Go early for they are always packed.
Kampong Glam Cafe
 17 Bussorah Street, Singapore 199438
---
Advertisements
---
 8 am – 2 am Daily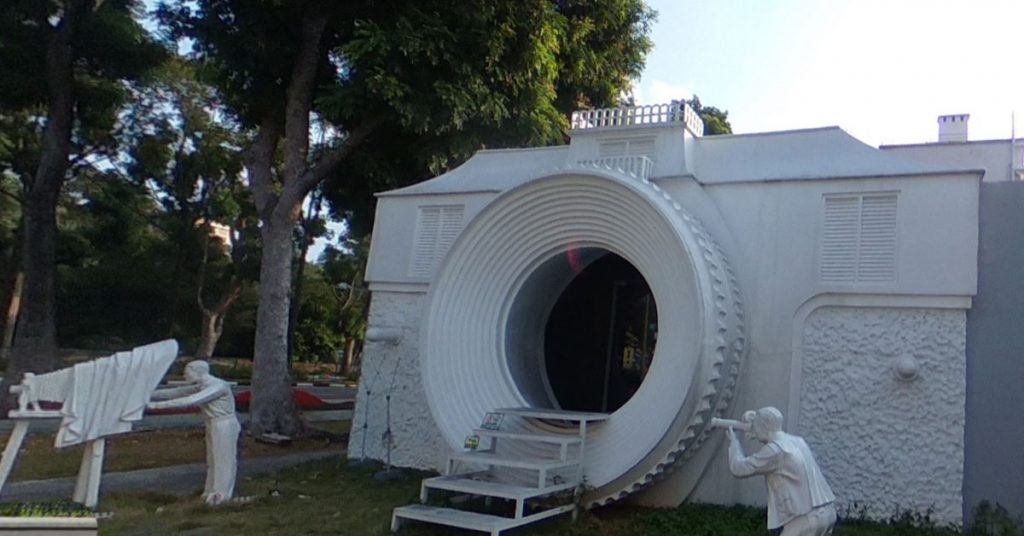 8. You can go into a large camera 
Taking too many selfies until you feel like you're going into a camera? Now you can go in one.
Be surrounded by a collection of over 1,000 different cameras in Vintage Camera's Museum Singapore. 
Aside from admiring the variety of expensive vintage camera, there are also short documentaries for you to watch that even features the Pigeon camera. 
Now we know some of the pigeons in Singapore may be a spy. 
---
Advertisements
---
Vintage Camera's Museum Singapore
8C/8D Jalan Kledek, Singapore, 199263
10:30am-9:30pm Daily 
Admission: $20 (Adult)
9. There's a flea market featuring local artists creations every month
Every month along Baghdad Street, there's an outdoor market where you can get our local artists crafts and creation. 
---
Advertisements
---
From handmade keychain to henna drawing services, So Gelam Market brings to you an array of stores run by many talented individuals.  
The market tends to be held on the last weekend of the month.
Due to the current situation, it is unsure when will So Gelam Market be held again.
So Gelam Market 
Baghdad Street
Singapore 199657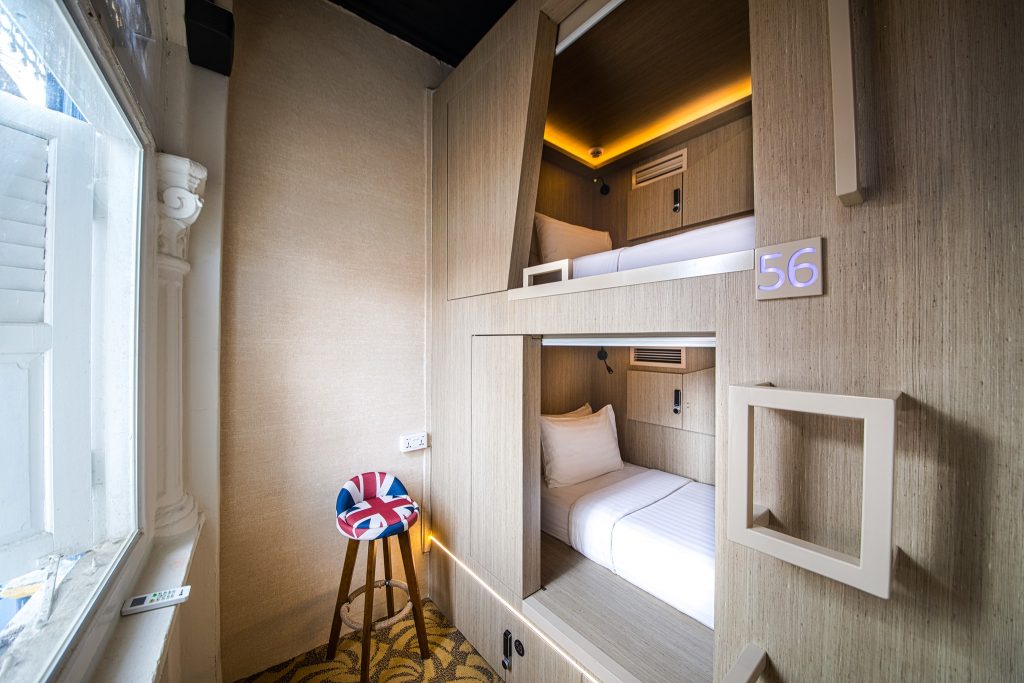 10. Experience Japan's Capsule Hotel 
Have you ever wanted to try out those individual pods in Japan? Now you can experience it at CUBE Boutique Capsule Hotel Kampong Glam.
CUBE Boutique Capsule Hotel is located at the heart of Kampong Glam so you can get your late-night cravings without worrying about what is opened.
There are two outlets for the CUBE Capsule Hotel – In Chinatown and in Kampong Glam.
CUBE Boutique Capsule Hotel (Kampong Glam)
55 Bussorah Street,
Singapore 199471
CUBE Boutique Capsule Hotel (Chinatown)
76, 78 Smith Street, Level 2 & 3,
Singapore 058971/72
Kampong Glam is more than just the place that you were forced to go to during your school trip. It is a mini heartland where you can experience the marriage of arts and culture.
Feature Image: Google Maps
---
After 8 months, NOC's Food King is back, but it's very weird and it might not be on YouTube. Here's why: