---
Advertisements

---
In case you haven't heard of Urban Hawker, it is the first-ever Singapore-style hawker centre in New York since 28 September 2022.
The idea of Urban Hawker was discussed with chef Anthony Bourdain many years ago. After Bourdain passed away, KF Seetoh made this dream come true.
It was created through a partnership between KF Seetoh and Urbanspace, which has multiple food halls in New York and across the United States.
Urban Hawker is a 14,000 sqft food hall that houses 17 vendors under its roof, all of which have been handpicked by KF Seetoh. Located at 135 W. 50th Street between Sixth and Seventh Avenues in Midtown, it is near Times Square in Manhattan.
It's therefore located at an expensive area, kind of like CBD in Singapore.
At the hawker centre, you can find our popular local eateries like White Restaurant, Kopifella, and Ashes Burnnit.
Some People Cringed at the High Prices of the Food
Although this is a refreshing idea, the main critique so far is the high price point of the food.
One of the vendors, Prawnaholic Collections, sold their prawn noodles at an US$18 (S$25.66) price tag. The same bowl of noodles costs about S$7 in Singapore.
View this post on Instagram
However, the founder, Alan Chong, clarified that he is paying his kitchen assistants US$5,000 (S$7,150) per month due to the long working hours. Perhaps it is time to be a hawker assistant instead of being a 9 am to 6 pm corporate worker? 
Alan also explained the cost of rentals, taxes, salaries, and housing in New York are higher.
---
Advertisements

---
KF Seetoh of NY Urban Hawker Slams People Who Hate on Urban Hawker
KF Seetoh also posted a Facebook post on 17 October 2022 to talk about those who hate Urban Hawker.
His comment addresses how these hawkers put in a lot of effort, time, and money to sell their food at Urban Hawker. These hawkers are just looking for better opportunities around the world as hawker food businesses. The industry is not very sustainable in Singapore—given the high standard of living in Singapore.
His main beef is how many people are comparing the prices at Urban Hawker to the prices in Singapore. To KF Seetoh, this is just like how people compared "Manhattan and Bukit Merah prices as if it's a Jupiter landing by Elon Musk."
"Our Urban Hawker hawkers, uprooted, braved new markets and laws, regulations, licenses and culture half a planet away—carrying our food flag and seeking greener pastures to do business. We should be proud and happy for them. You are merely jealous of them," he added.
He then ended with this:
"Best you go enjoy your $4 meals in Singapore before the industry realises something is wrong and everyone shuns the trade."
Ouch. 
Reactions from Netizens 
Reactions from netizens were positive, supporting the viewpoint of Seetoh.
A Facebook user commented that hawkers are also entrepreneurs and their hard work should be rewarded.
---
Advertisements

---

Another user did a rather logical comparison of chicken rice and mala. She also stated that "if consumers can pay $12 for chicken rice I believe it will come with a bigger portion (with vegetables and soup) which becomes a very wholesome meal."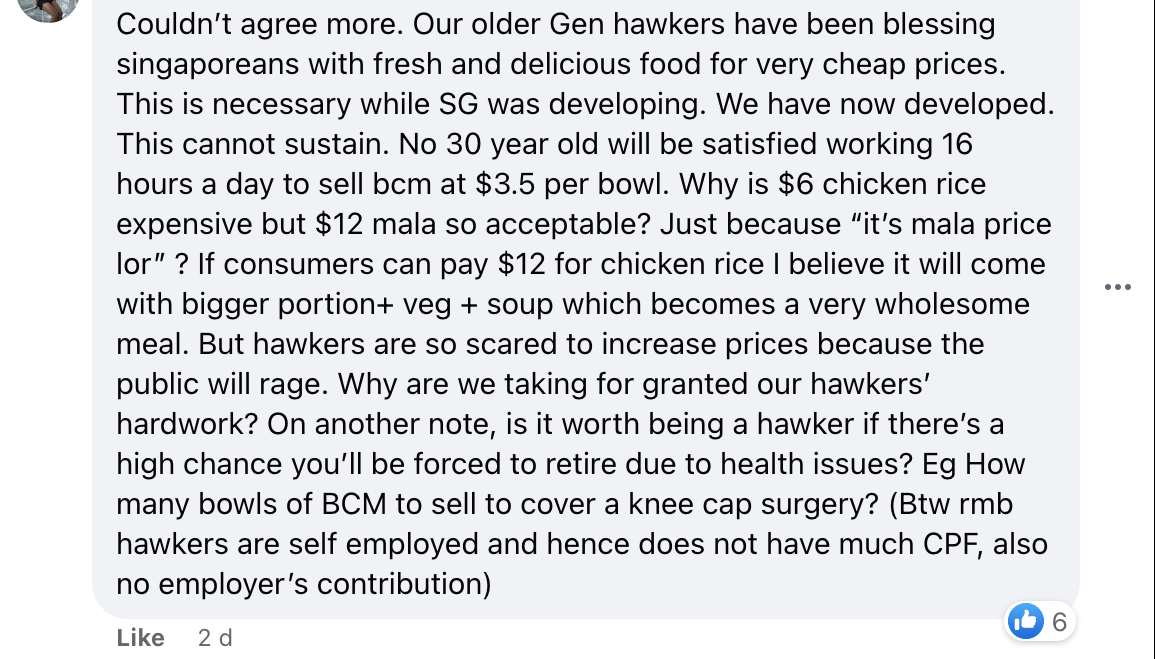 Indeed, the portions of food in New York are greater than in Singapore, which justifies the price difference as well.
But seriously, given the location, you can sell a cup of iced water for $10 and no one would bat an eye.
Read also:
Featured Image: Urban Hawker / Instagram.com & KF Seetoh / Facebook.com

Your parents are wrong: MSG (Monosodium Glutamate) is good for you (sort of). Here's the truth:
Read Also: