---
Advertisements

---
The MOM has recently released a Labour Market Report for 2022, including information and statistics on the values of Singapore's employment, retrenchments, job vacancies, and much more.
Here are the ten main statistics that you should know from MOM's latest Labour Market Report.
Total Employment Has Grown To A Record High
It has grown by an unprecedented 227,800, finally recovering to 2.9% above the pre-pandemic level in 2019. The total employment change was the highest ever since the record high in 2007, when total employment grew by 223,500. The increase came after an unprecedented decline of 166,600 in 2020. Pre-COVID, total employment grew by 61,500 in 2019 and 38,300 in 2018.
Retrenchments Have Doubled In the Fourth Quarter Of 2022
Unfortunately, the labour market report does not only come with good news. Retrenchments have more than doubled in the fourth quarter of 2022. This came after record lows in the previous three quarters (830 and 1,320 compared to the current 2,990).
Among those retrenched in the 4Q, 63% were residents, largely from sectors such as the Wholesale Trade, Electronics Manufacturing, and Information & Communications, all areas that focus on targeting the global market. One of the main reasons for retrenchments being a record high was business reorganisation and restructuring.
Job Prospects Remained Positive For Retrenched Workers
Despite this, retrenched workers found that the prospect of finding new jobs remained positive. Their percentage of retrenched residents who found employment within six months post-retrenchment increased to 73.1% in 4Q 2022, the highest since 2Q 2015 (73.6%).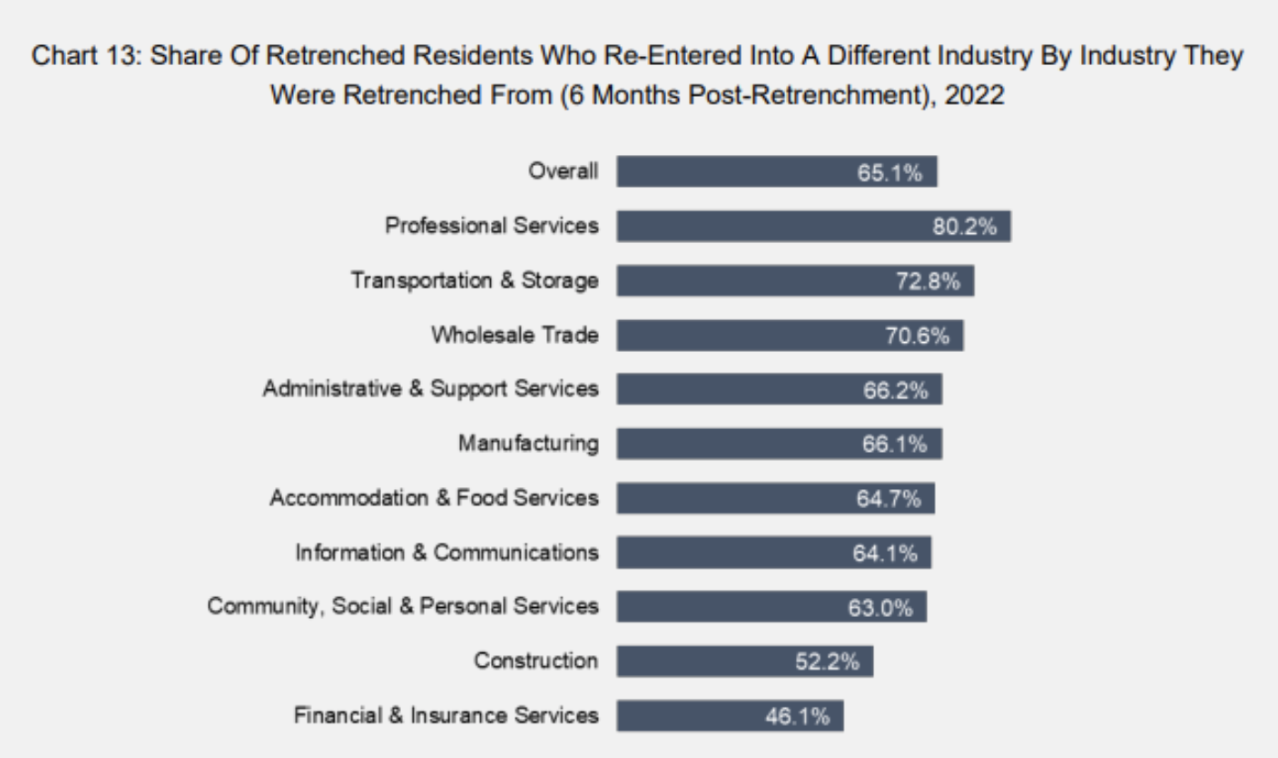 Job Vacancies Declined For Third Consecutive Quarter
Finding new jobs was not an issue for retrenched workers, but the number of job vacancies declined for the third consecutive quarter. Thankfully, it remained elevated compared to pre-pandemic periods, partly because non-resident employment has not fully recovered to its pre-pandemic level. 
This seasonally adjusted graph shows the ratio of job vacancies to unemployed persons: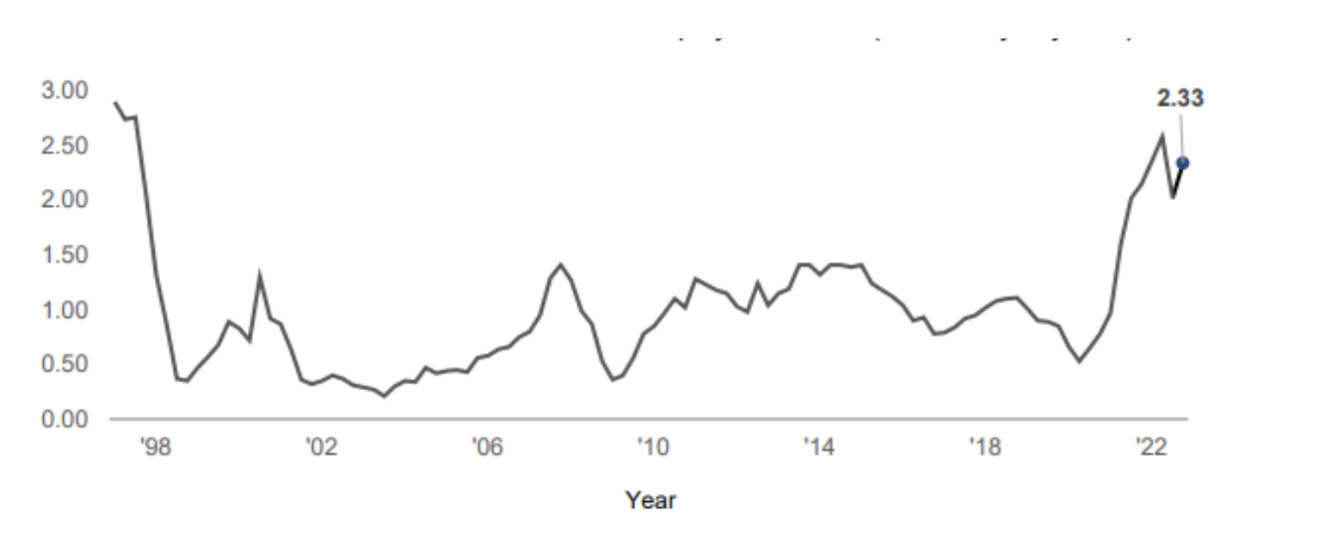 A Large Part of Job Vacancies in December 2022 Was From Growth Sectors
Most job vacancies in December 2022 continued to come from growth sectors such as Manufacturing and Construction, Information & Communications, Financial Services, Professional Services and Health & Social Services. 
Year-end hiring for Christmas also contributed to strong manpower demand from consumer-facing and tourism-related sectors, including Food & Beverage Services and Wholesale & Retail Trade.
Labour Turnover Eased in 4Q 2022
Both the recruitment rate (2.5%) and resignation rate (1.5%) declined marginally in 4Q 2022. Lower levels of labour turnover translate to employees working for longer periods in their jobs.
---
Advertisements

---
Across most sectors, the recruitment rate was above the resignation rate in 4Q 2022. Sectors that experienced high recruitment included Food & Beverage Services (4.3%) and Retail Trade (4.0%). This may be due to the rapid hiring pace to meet the demand for year-end festivities and higher tourist arrivals due to the normalcy of living with the pandemic.
Although Job Vacancies Have Declined, Hiring Sentiments Remain Positive In the Coming Months
According to company polls conducted by MOM, most firms in December 2022 expressed intentions to increase their workforce in the upcoming three months, although this proportion has declined over the quarter.
S'pore Still Holds One Of The Lowest Youth Long-term Unemployment Rates In The World
Singapore's youth long-term unemployment rate is one of the lowest when compared to other economies such as France (4.9%), the United Kingdom (4.6%) and Hong Kong (3.9%), as demonstrated by this graph.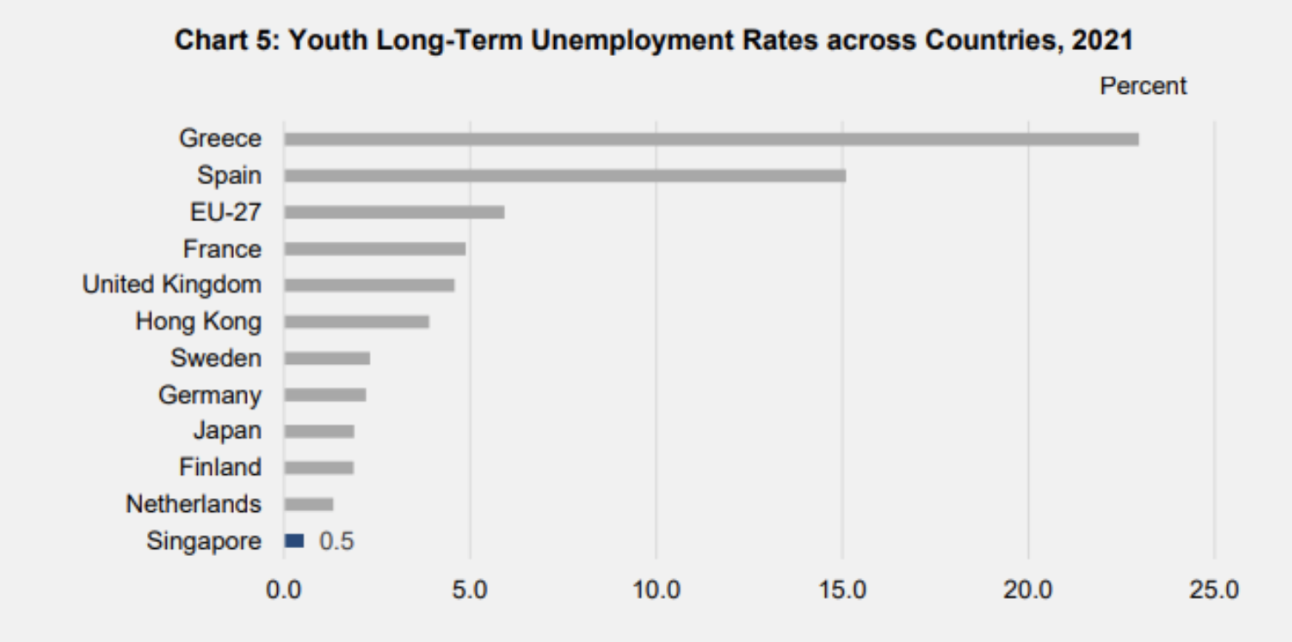 The number of youths not in employment, education or training (NEET) also remains low—maybe the kiasuism paid off.
Short Work-Week/Temporary Layoff Numbers Have Increased
The number of employees placed on short work-week or temporary layoffs increased to 1,040 in 4Q 2022, following five consecutive quarters of decline to 430 in 3Q 2022. 
This was largely from sectors such as Manufacturing and Food & Beverage Services. Thankfully, when compared to the highs experienced from the previous crises in 2Q 2020 and 1Q 2009, the number remained low. Like past quarters, most affected employees were on short work-week arrangements (1,010).
A Slowdown Is Projected To Occur In 2023
Moving forward, there is a projected slowdown in 2023, due to the doubling of retrenchments (4Q: 2,990; 3Q: 1,300), serving as a reminder of labour market volatility and global headwinds. This may translate into a moderation of labour demand and a slowdown in labour market momentum.

Here's why a 4-day workweek might finally really be possible in Singapore soon:
Read Also: