---
Advertisements

---
*Year 10,000*
An explorer has made it to the ruins of Singapore, once a great country known for its chicken rice, badminton players, and real-life dramas. 
In his journey around the country, the explorer finds nothing but discarded bubble teacups and lottery tickets, remnants of a vibrant culture.
Just as he's about to lose hope of finding life, he comes across a most curious thing: a queue. When he asks those lining up what they were queuing for, they all turned to him, shrugged, and said "don't know lor", before turning back to the front. 
Yes, as the above tale shows, we Singaporeans love nothing more than queuing. So, if an attraction has opened up, whether it be a fast-food chain or a nature reserve, there'll soon be residents lined up to enter it.
Long Queue Surfaced After News of MacRitchie TreeTop Walk Reopening Broke
A long queue formed outside the gate to MacRitchie's TreeTop Walk just days after news of its reopening emerged online.
A Facebook user by the name of Andrew Angkasa was in the area at the time, and snapped a picture of the queue.
Have a look: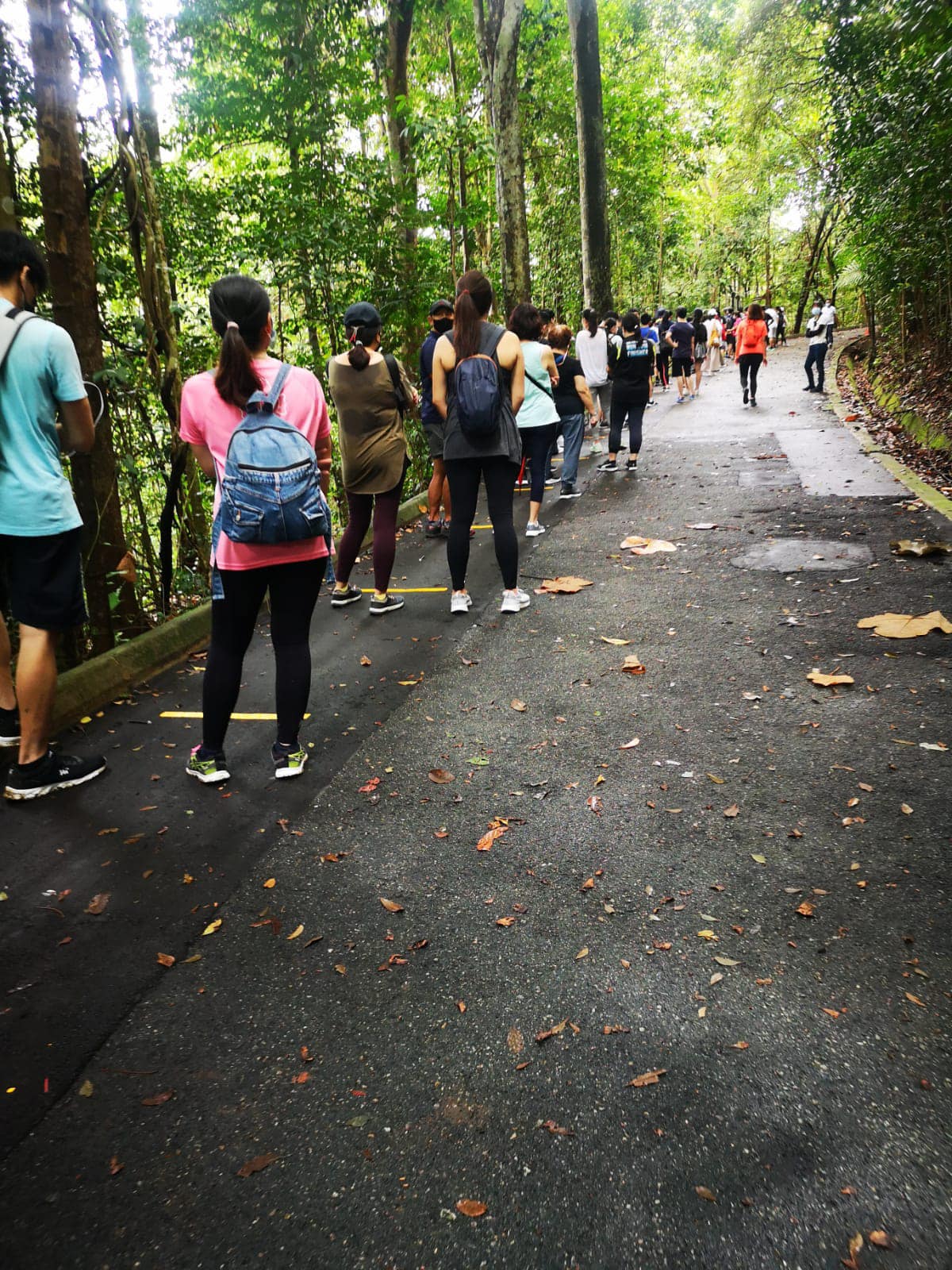 As you can see in the photo, officers have been deployed to ensure that all those queuing up are keeping a safe distance from each other, and from the looks of it, none of them is flouting the rules.
Mr Angkasa had shared the picture Singapore Hikers Facebook group, after which it went viral.
Commenters said that officers had warned those queuing that they would have to wait up to 45 minutes to get in, but some, fortunately, didn't have to wait that long.

In fact, one hiker who visited the nature reserve in the morning only waited 10 minutes to get to the popular TreeTop Walk.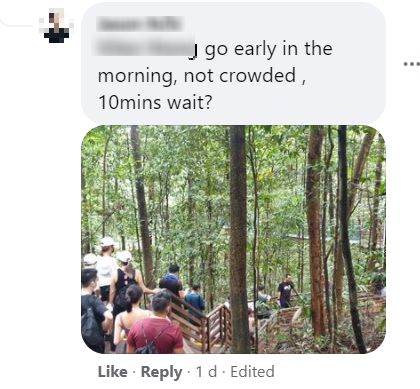 Best Time to Visit?
Some commenters said that they'd avoided hiking at MacRitchie as they knew it'd get crowded.
This begs the question: what is the best time to visit the TreeTop Walk?
For those who don't know, the TreeTop Walk reopened to the public last week after being closed for over a year.
It's now open to the public from 9am to 5pm on weekdays, and 8:30am to 5pm on weekends and public holidays.
But according to NParks, the best time to visit is on weekdays or between 10.30am and 3.30pm.
You can also check NParks' website which gathers real-time data on visitorship at parks in Singapore before heading out for your hike.
Read Also:
Featured Image: Facebook (Andrew Angkasa)