---
Advertisements

---
Couples usually want to invite all their favourite people to their wedding.
For this couple, Mcdonald's was on their invite list.
What they didn't expect was to receive a McNugget bouquet in return.
Received McNugget Bouquet in Return for Wedding Invite
On 21 May 2023, Instagram user @jiaaahuix_, who goes by Agnes, posted an Instagram reel about her experience. 
View this post on Instagram
Since then, the video has amassed over 3,000 views.
According to Agnes, she and her fiance, Darlyn, had some extra wedding invitations.
Thus, they decided to "have some fun" by sending these extra invitations to places that meant a lot to them.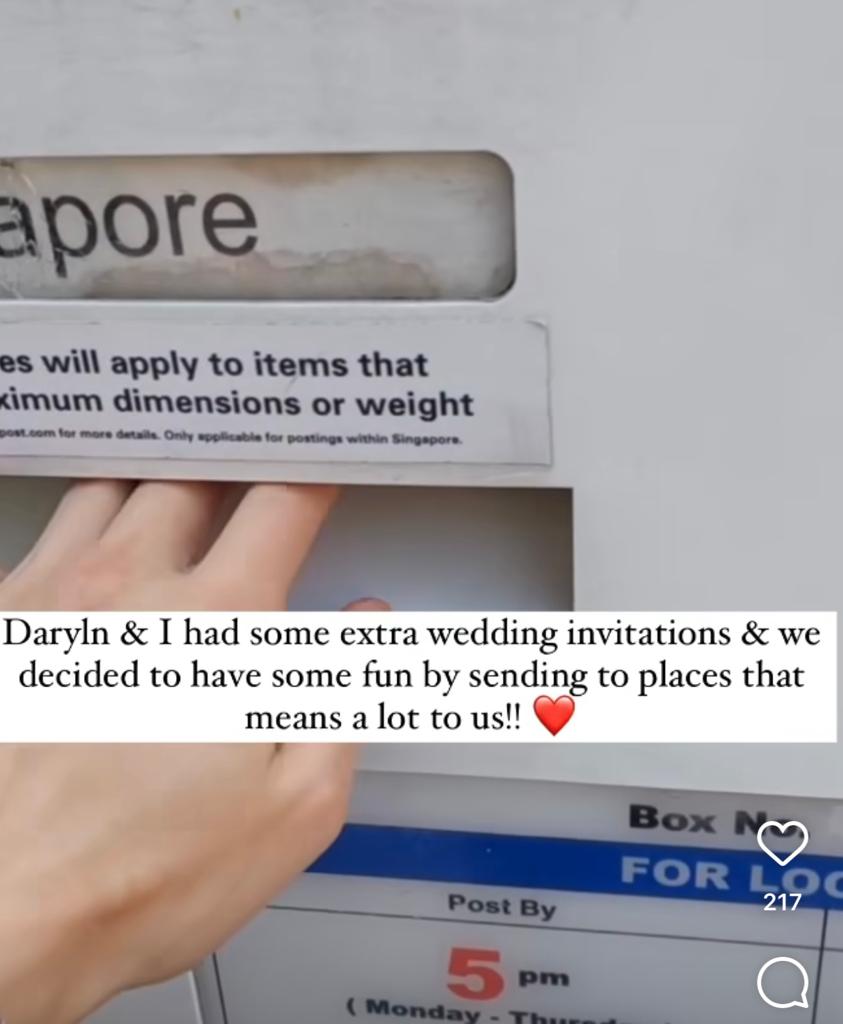 In an unexpected twist, a McDonald's marketing team member reached out to her via WhatsApp.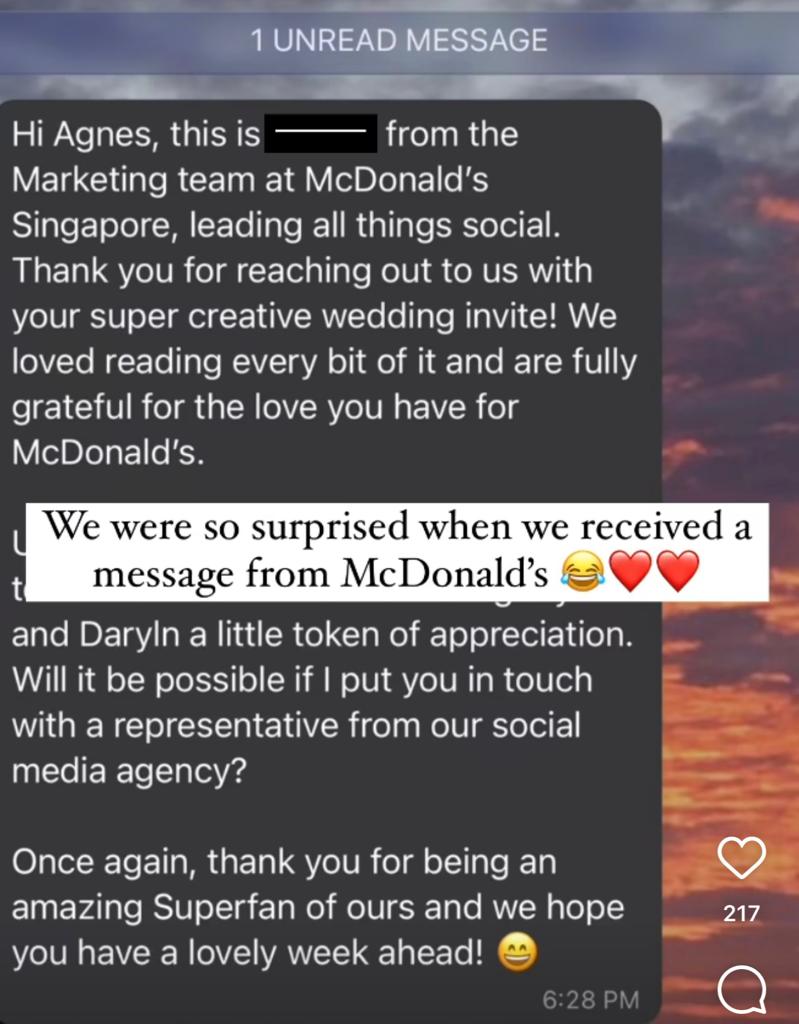 They wrote, "Thank you for reaching out to us with your super creative wedding invite! We loved reading every bit of it and are fully grateful for the love you have for McDonald's."
Soon, the couple received a McNuggets bouquet.
---
Advertisements

---
Yes, you heard that right.
The bouquet not only consisted of McNuggets but packets of barbeque sauce and curry sauce as well.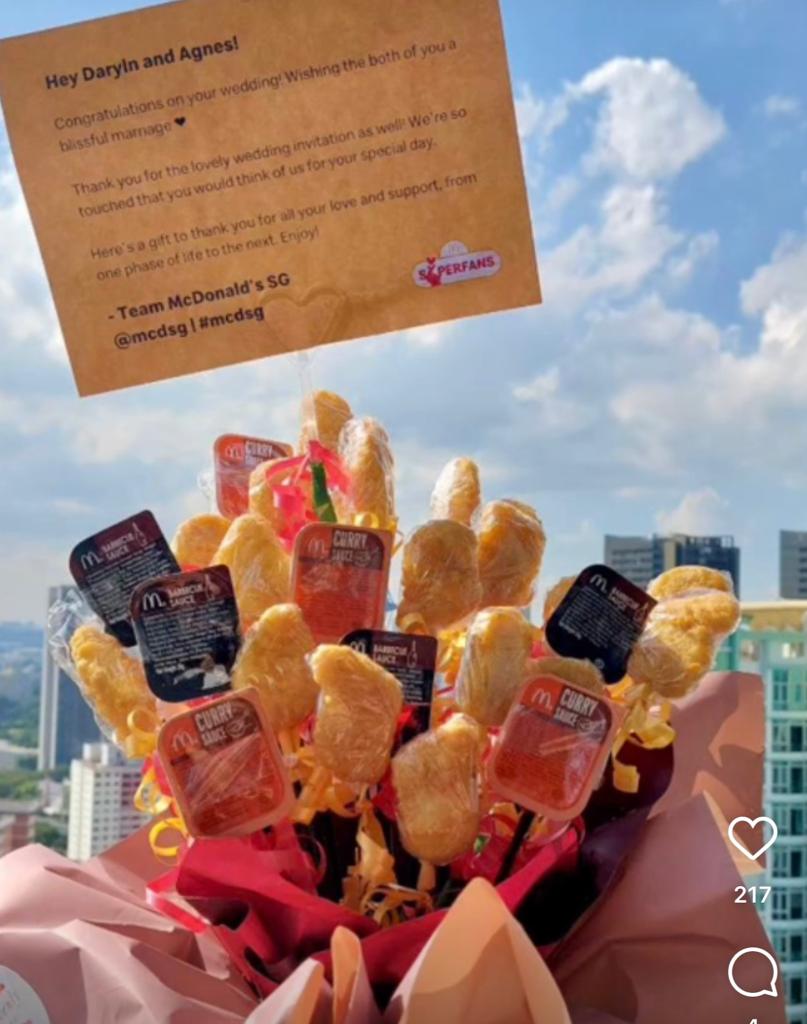 It even came with a sweet note from McDonald's that congratulated the couple on their wedding.
The note read, "Congratulations on your wedding! Wishing both of you a blissful marriage.
"Thank you for the lovely wedding invitation as well! We're so touched that you would think of us for your special day.
"Here's a gift to thank you for all your love and support, from one phase of life to the next. Enjoy!"
Agne's Explanation
Why does McDonald's mean so much to the couple?
According to Agnes in the reel's caption, "McDonald's is often our to-go place for breakfast/lunch/dinner/suppers, so we definitely had to send them one [invitation]!"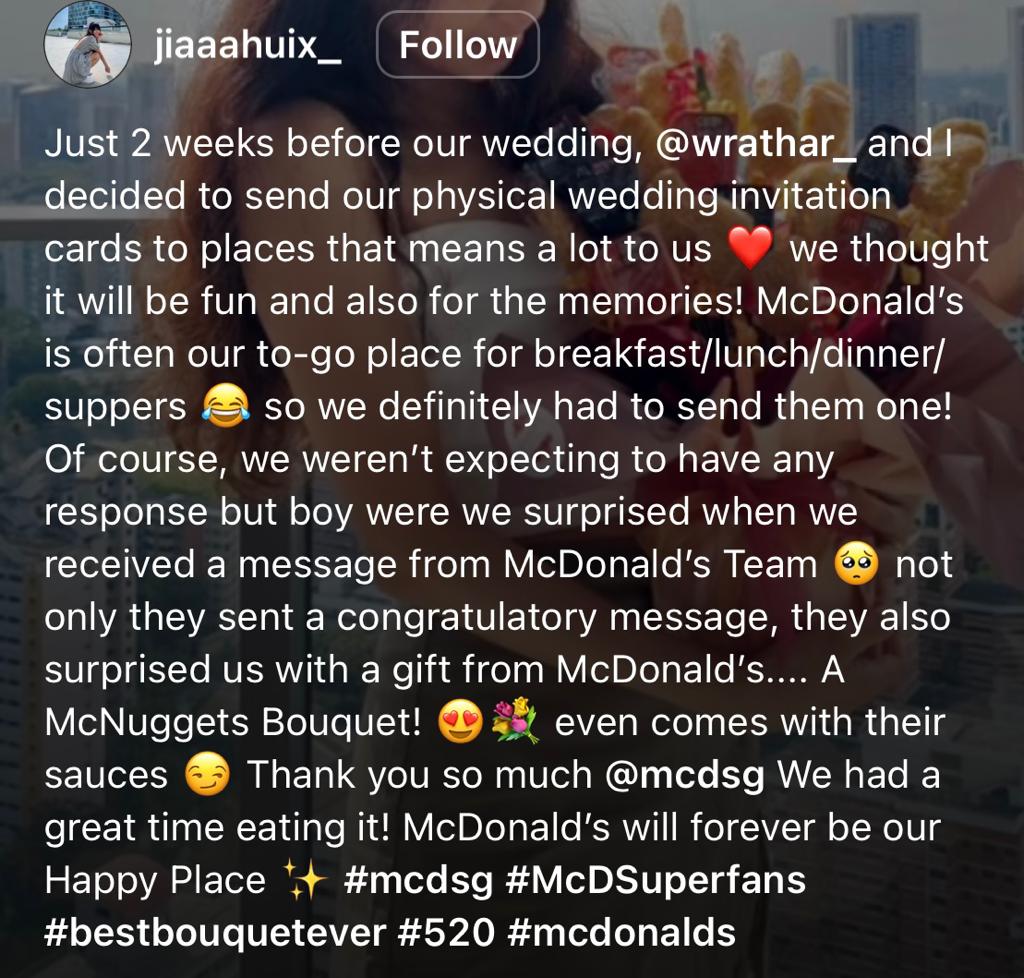 She explained that she and Darlyn had not expected a reply from the fast food chain and were pleasantly surprised by the bouquet.
She thanked Mcdonald's and wrote, "McDonald's will forever be our Happy Place."
---
Advertisements

---
Singaporean's Top Fast-Food Restaurant
Did you know that McDonald's is Singapore's top fast-food restaurant of choice?
This result comes from YouGov's 2023 QSR Rankings in Singapore.
When it comes to grabbing a meal, the fast food chain has a consideration score of 50.2.
Kopitiams rank second with a score of 30.4, while KFC comes in third with a score of 26.4.
However, McDonald's sometimes makes the news for all the wrong reasons.
In April 2023, a woman took to Facebook group Complaint Singapore to detail her daughter's experience at the fast food chain's Khatib outlet.
---
Advertisements

---
Apparently, the student and her friend had to wait for their meal for more than 1.5 hours.
Unfortunately, they eventually had to leave without food to return to school for lessons.
According to AsiaOne, McDonald's has contacted the affected customer to apologise.
A statement on 18 April said, "We had earlier reached out to the customer and are grateful that our most sincere apology was accepted with grace."
Join our Telegram channel for more entertaining and informative articles at https://t.me/goodyfeedsg or follow us on Twitter : https://twitter.com/goodyfeed
For Those Who Love McDonald's and BTS
If you love McDonald's and BTS, here's some good news.
---
Advertisements

---
On 21 May, McDonald's announced that from 22 May, the Jjiang! Jjiang! Burger Extra Value Meal will be available at only $7.

The BT21-themed burgers usually cost $9.50.
You don't even need to visit a McDonald's outlet as the promotion is also available via delivery.
However, the promotion will only be available for a limited time, so it's best to get your hands on a Jjiang! Jjiang! Burger Extra Value Meal soon. 

Your parents are wrong: MSG (Monosodium Glutamate) is good for you (sort of). Here's the truth:
Read Also: