---
Advertisements

---
Want to beat the morning rush hour?
Or are you chronically late and need a shortcut to your destination?
Fret not – this TikTok user has a solution for you, although we would advise you against adopting his solution.
Man Stops the MRT Train
A man in Singapore made a TikTok showing how he managed to stop the MRT train.
He did the impossible – but how did he do it?
View this post on Instagram
The TikTok starts with the caption "Life hacks: how to catch a train when you're rushing to work or meet with somebody."
It then shows the TikTok user running toward the train on the other side of the platform, presumably to switch from the red line to the green line at Jurong East MRT station.
When the screen doors were about to close, the user intentionally jammed his armed into them to prevent them from closing fully.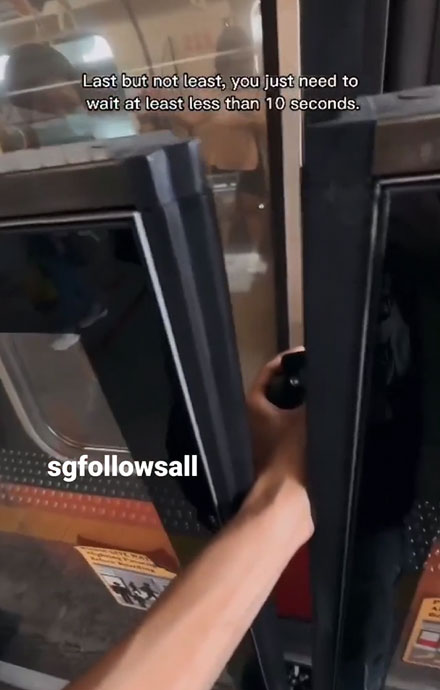 This effectively stopped the MRT train from leaving the platform and for all the doors to open again after approximately ten seconds.
The TikTok user and other commuters then got on the train.
Mission accomplished! He had successfully switched lines on the MRT and avoided having to wait for the next train.
While he seemed happy about it, some were happier than others about his actions.
Police Report Lodged
The man's antics were not received well by Singaporean netizens.
A police report has since been lodged against the man.
Netizens weren't very approving of his actions either, with many criticising him for being socially irresponsible.
Join our Telegram channel for more entertaining and informative articles at https://t.me/goodyfeedsg or download the Goody Feed app here: https://goodyfeed.com/app/
One particular netizen also rebuked the TikToker for his solution, calling it selfish as it benefits himself at the expense of others.
Others also raised their concerns about his safety, trying to wrap their head around why the man decided to risk his life with his actions instead of just waiting for the next train like the rest of us do.
Perhaps he's just quirky like that.
Safety Concerns
The screen doors on the platform are timed to close when the other train pulls into the station to deter commuters from rushing across the platform, causing safety issues.
As we're reminded of daily on our MRT rides, commuters are not to lean on the train doors as one could get caught between them when they slide open or close.
---
Advertisements

---
Read Also:
Featured Image: Instagram (@sgfollowsall)